It's the start of the outdoor season, so while it's great to celebrate with friends and family, maybe the salads are a good way to sneak in some extra healthy and satisfying ingredients.
Kamut® Wheat Berry Tangerine and Arugula Salad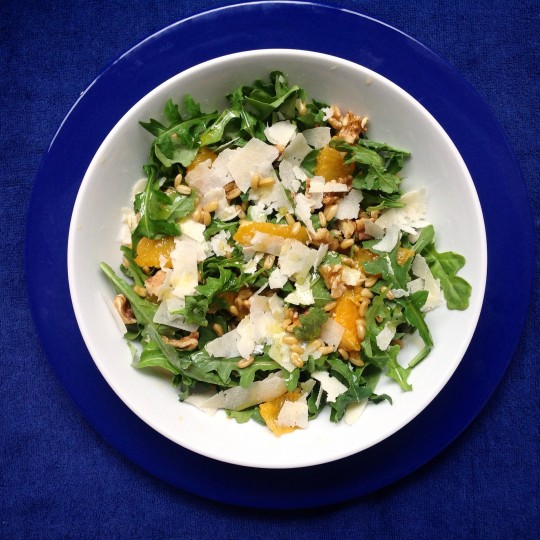 Super easy and really deliciously fresh and tangy!
Makes 2 servings
1 cup cooked Kamut® wheat berries
½ lemon
1 bunch aruglula – 2 loosely packed cups
2 tangerines (medium, peeled, sliced cross-wise & segments separated)
1 Tbs extra virgin olive oil
1 Tbs rice wine vinegar
½ cup walnuts (shelled, walnuts, roughly chopped)
½ cup pecorino romano cheese (ribbons, optional)
Salt and pepper to taste
In a serving bowl combine Kamut® berries, arugula, tangerine pieces, walnuts and olive oil. Mix well and squeeze with lemon juice and drizzle with rice wine vinegar. Top with Pecorino Romano ribbons, if using, before serving. Keeps in a tightly sealed container in the refrigerator for several days.
Kamut® Wheat Berry Spicy Gazpacho Salad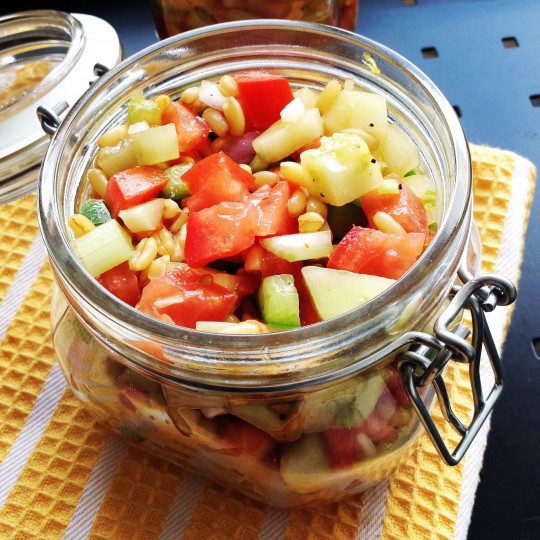 Up to you how spicy you make it!
Makes 4 servings
2 cup cooked Kamut® wheat berries
3 vine ripe tomatoes, finely chopped
1 green pepper, deseeded and finely chopped
1  cucumber, peeled, halved lengthwise, seeds removed and finely chopped
3  celery stalks, finely chopped (chop up the leaves too)
½  small red onion, finely chopped
2 Tbs extra virgin olive oil
2 Tbs fresh lemon juice
2 Tbs red wine vinegar
2 tps Worcestershire sauce
½ tps salt
½ tps fresh black pepper
Hot red pepper sauce to your taste
Put all the ingredients (up to the salt, pepper and hot sauce) in a large bowl. Mix well, then add the seasonings and hot sauce (several dashes) Set aside at room temperature to marinate for at least 20 minutes before serving. Add more hot sauce as required. Perfect to put into mason jars for a picnic!
Broccoli, Cherry Tomato and KAMUT® Pasta Salad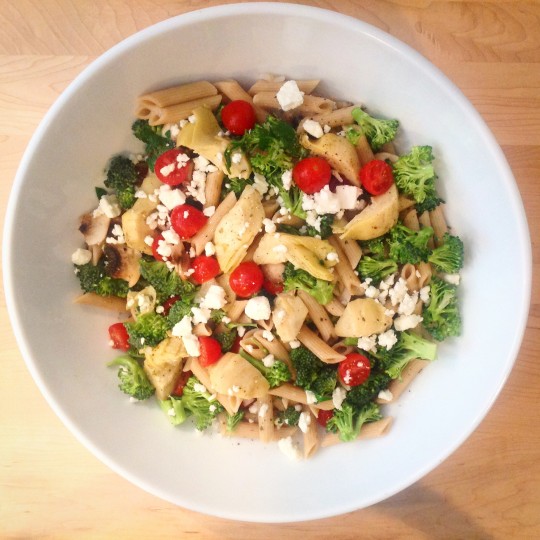 Not your typical pasta salad. The nutty, buttery flavor of the KAMUT® pasta combined with a fresh herb mixture and crisp, fresh broccoli and tomatoes delivers a lot of flavor and texture.
Makes 6-8 servings
Herb Mixture
½ cup finely chopped fresh parsley
½cups fresh chopped basil leaves
¼cup fresh chopped mint leaves
1tsp freshly grated lemon zest
Dressing
2 cloves garlic, peeled
¼cup low-fat buttermilk
½cup 2% low-fat cottage cheese
1Tbs fresh lemon juice
1Tbs red wine vinegar
1Tbs balsamic vinegar
1Tbs extra virgin olive oil
½tsp black pepper
½cup crumbled feta cheese
Salad
3 cups small broccoli florets
1½cups cups sliced button mushrooms
2 cups cherry tomatoes, halved
2 cups cooked KAMUT® pasta
½ cup shallots, minced
14oz can artichoke hearts, drained and halved
Panzanella Salad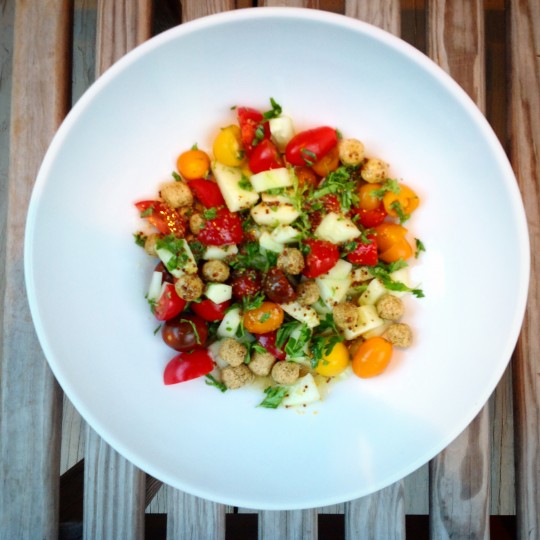 A classic Italian panzanella salad, all the great flavors and none of the gluten. Substitute the standard day-old bread with more nutrient-rich and gluten-free I Heart Keenwah herbes de provence quinoa puffs.
Makes 8 servings
1 bag Quinoa Puffs Herbes de Provence
1 box cherry tomatoes halved (get mixed colors if you can)
1 cucumber, peeled, deseeded and chopped into ½" pieces
1 red onion, peeled and chopped
1 clove garlic, peeled and finely chopped
1 small bunch of parsley, chopped
3 tsp vinegar (balsamic or champagne vinegar)
1 tsp Dijon mustard
2 tsp EVOO (extra virgin olive oil)
pinch of sea salt
Put all the chopped veggies, tomatoes, cucumber and onion in a large salad bowl. Add the chopped parsley and the bag of quinoa puffs and mix together.
For the dressing, combine the garlic, vinegar, olive oil, mustard and salt and whisk (the mustard will act as a emulsifier). Coat vegetables with dressing, mix evenly and let sit. Panzanella is a sort of salad that gets better with time — the vinegar cuts through the raw onion and garlic and the quinoa puffs absorb the natural juices of the raw tomato and cucumber.