There is nothing better on a cold winter day than a steaming bowl of delicious hot soup. These easy to make recipes can also be made in bulk and popped in the freezer—perfect for a quick lunch or a starter for a family dinner. We always make soups when we need to use up veggies that are not looking their best. Soups are very forgiving, so substitute different veggies if you need to!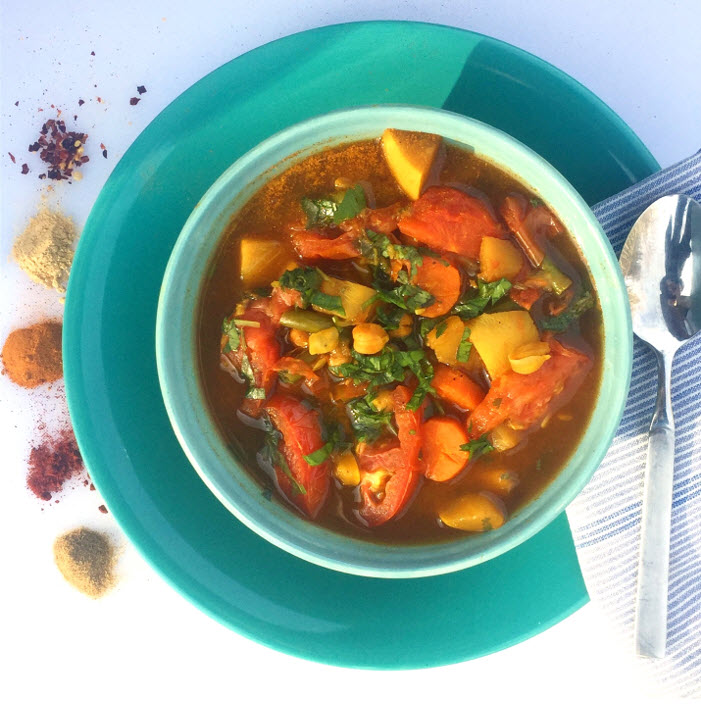 Moroccan Vegetable Stew
This recipe features a simple combination of winter vegetables, chickpeas, KAMUT® khorosan wheat berries, herbs, and spices and you can easily substitute veggies you have or what's at your local market. Butternut and other winter squash are packed with vitamin C, fiber, and cancer-preventive carotenoids. Aromatic spices like turmeric are being studied for their ability to suppress inflammation. The spices are what make this an amazingly aromatic stew. It's best after a day or two of cooking!
Makes 6 servings. (8 cups)
2 white turnips, peeled and cut into 1" pieces
1 c sliced carrots, in ½" slices
1 c finely chopped onion
1½ tsp ground cumin
1 tsp ground sweet paprika
½ tsp ground ginger
½ tsp ground turmeric
Pinch of cayenne pepper
4½ c reduced-sodium vegetable broth
2½ c butternut squash (acorn squash works well too), in 1" cubes
1 c chopped zucchini, in to ½" pieces
¼ lb string beans, trimmed and cut in 1½" lengths
1 (15 oz.) can    chickpeas (no salt added) drained
1 cup                cooked KAMUT® khorosan wheat berries
¾ tsp salt
Freshly ground black pepper
3 plum tomatoes, cut crosswise into ¾" slices
¼ c chopped cilantro
¼ c chopped flat-leaf (Italian) parsley
In medium Dutch oven (or large soup pot), combine turnips, carrots, onion, cumin, paprika, ginger, turmeric and cayenne. Pour in 2 cups of broth. Cover and simmer over medium heat for 10 minutes.
Add butternut squash, zucchini, string beans, chickpeas and remaining broth. Add salt and 3-4 grinds of pepper. Cover and cook until vegetables are tender, 20 minutes. Arrange tomato slices on top of the vegetables, cover, and cook until tomatoes are just soft, 5 minutes. Add cilantro and parsley and let sit, covered, for 10 minutes to allow flavors to meld. Serve hot, directly from pot.
If desired, cool, cover, and refrigerate for up to 2 days. Reheat, covered, over medium heat.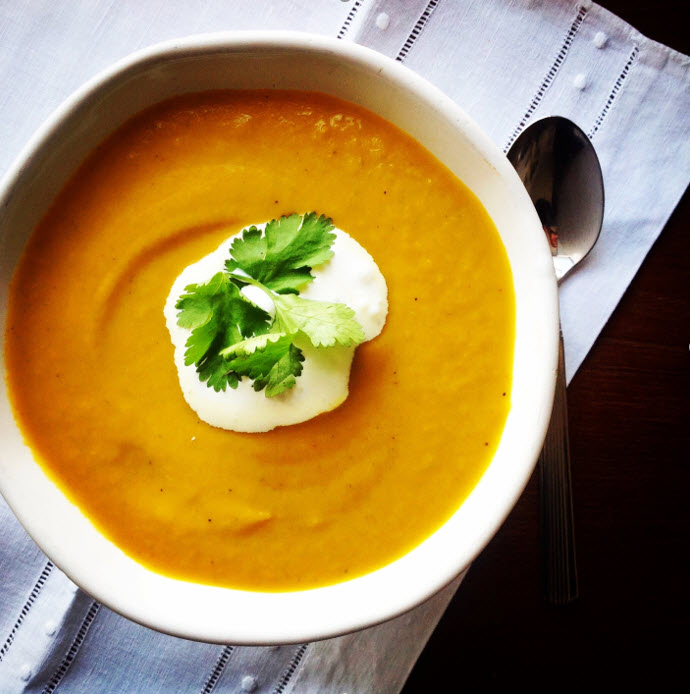 Carrot and Cilantro Soup
Makes 8 servings:
2 Tbs unsalted butter
2 Tbs extra virgin olive oil
1 large onion, diced
2 pounds carrots, peeled and diced
2 ribs celery, chopped
8 c chicken stock (or vegetable)
½ c chopped cilantro (including stalks)
1 tsp salt
½ tsp fresh ground pepper
¼ tsp cayenne pepper (for more heat use ½tsp)
crème fraîche for garnish (omit for vegan)
cilantro leaves for garnish
In large soup pot melt the butter and heat the oil. Add the onion and cook over a low heat until wilted, about 10 minutes. Add the carrots, celery, stock, cilantro, salt, black pepper and cayenne. Bring to the boil, reduce heat, cover and simmer until the carrots are tender, about 40 minutes. Allow to cool slightly, then puree the soup in batches. If serving chilled, put into the fridge—overnight would be preferable. If serving hot, return to the soup pot and heat through. Perfect served with crème fraîche and fresh cilantro leaves.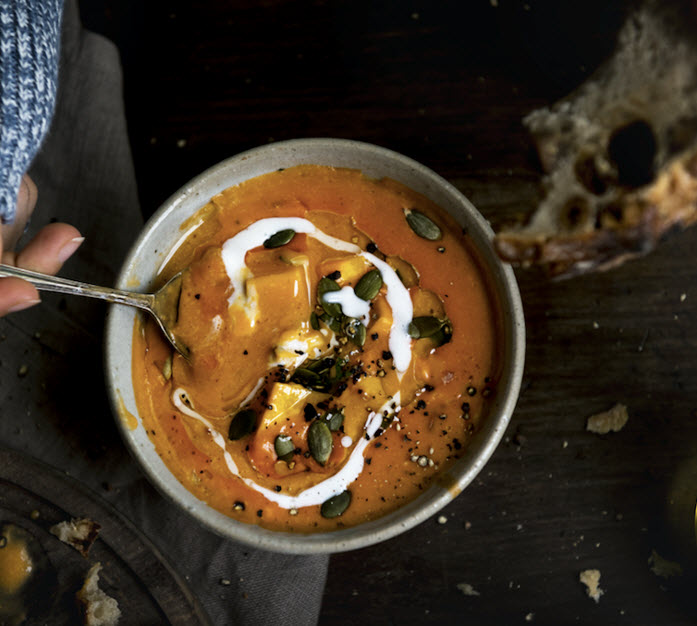 Caramelized Pumpkin Soup
A rich, cream-free, soup that will get you rave reviews. It's perfect fall through winter and will become firm favorite with friends and family.
You will need a blender.
Serves 4-6:
1 large pumpkin (approx. 3 pounds)
1 tsp extra virgin olive oil
3 Tbsp extra virgin olive oil
2 large yellow onions, sliced very thin
2 carrots, cut into fine julienne strips
1 tsp granulated sugar
½ tsp ground sage
4 c chicken stock (preferable low fat and low sodium)
salt and pepper to taste
pumpkin seeds for garnish
Cut the pumpkin in half and scrape out the seeds. (Keep the seeds if you want to toast then in the oven for a healthy snack). Brush the cut surfaces of the pumpkin with the teaspoon of oil, then lay cut side down on a baking sheet. Bake in the oven for one hour or until the flesh is very soft and the cut sides are slightly caramelized. Allow to cool, then scrape out all the pulp
While the pumpkin is baking, warm the 3 tablespoons of oil in a large soup pot over medium heat. Add the onions and carrots and cook for about 15 minutes, stirring often until soft. Sprinkle with the sugar and continue cooking, stirring often for a further 10-15 minutes, or until the vegetables are browned and caramelized.
Stir in the sage, stock and pumpkin pulp and bring to the boil. Let cool slightly, then working in batches, transfer to a blender and purée until smooth. Season with salt and pepper and ladle into individual bowls.
I like to serve it drizzled with a little cream and top with freshly made croutons and pumpkin seeds.