When it comes to the Fall season, there's nothing quite as comforting as warm meals that can be enjoyed outside by the campfire. Whether you be sharing a hot drink with friends, laughing about memories with family, or telling spooky stories to your kids, there is something about a night around the campfire that brings people together—that and campfire food of course!
So, if you're looking for a few quick and easy recipes to enjoy on a crisp fall night around the fire, here are a few of our favorites: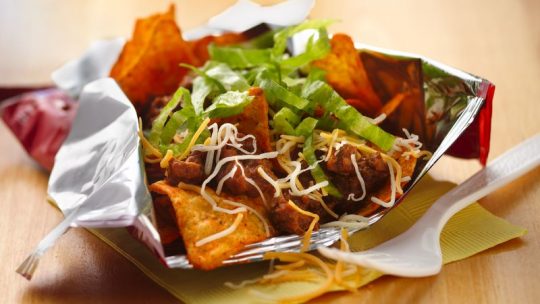 Tacos in a Bag—Happy Money Saver
Ingredients (6 Servings)
6 mini bags Doritos
1lb Ground Beef
1pkg Taco Seasoning
5 cups Cheese
1 Cup Shredded Lettuce
Optional Toppings: Salsa, Beans, Avocado, Sour Cream
Instructions:
Brown your Ground Beef or Turkey.
Drain, add one packet taco seasoning and 1 cup water.
Simmer 4 minutes.
Grate your cheese, shred your lettuce.
Take a Doritos Bag, crunch it up a little.
Then open up the bag with scissors on the long side.
Add your taco meat, lettuce, cheese, sour cream and any other ingredients you like. Eat with a fork right from the bag!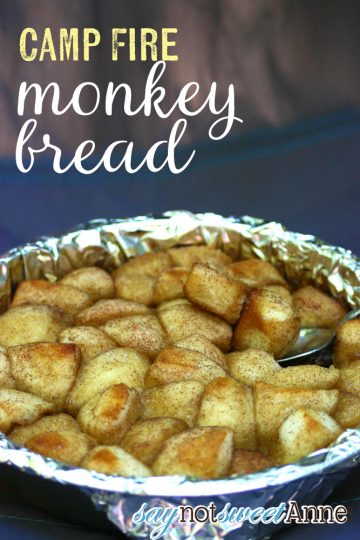 Campfire Monkey Bread—Say Not Sweet Anne
Ingredients:
1 can buttermilk biscuit dough (This is the thing that needs refrigeration)
1/2 cup cinnamon sugar. (We always keep a pre-mixed amount of cinnamon sugar in the pantry. If you are making it just for this, start with 2 tbs cinnamon to 1/2 cup sugar. Taste and add more cinnamon if you'd like.)
1/2 cup brown sugar
1 stick salted butter
Instructions:
Pack all of your ingredients pre-measured. It will make life easier. Line your dutch oven (or an old cake pan) with heavy duty alluminum foil. Use a little of the butter to grease the foil as well.
Open the biscuits and cut each one into quarters. They look irregular but don't worry about that now.
Pour cinnamon mixture into a plastic bag and add biscuits a few at a time. Shake to coat, then add the coated biscuit bits into your pan/dutch oven. Repeat until all the biscuits are in the pan.
Melt the butter over the fire and stir in the brown sugar. No need to dissolve or cook, just melt the butter and add the sugar.
Pour butter and sugar mix over the biscuits.
Place another layer of foil across the top of your dutch oven to catch any stray ashes and keep them from your food, then put on the lid. If using a cake pan, wrap it thoroughly in foil to make sure everything is sealed in tight.
Bake in dying coals (350°-375°) for 5-10 minutes or until puffed up and center is cooked through. Be careful to avoid direct heat on the bottom, as it might scorch.[Alternately you can do this on a camp stove, portable camp oven, or grill. Same temp and time, but you'll have to watch it and adjust based on your cooking method.]
That is it! Remove from the heat and let cool enough to pull apart and enjoy!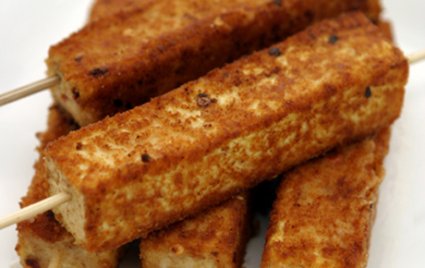 Savory Grilled Tofu On-A Stick – Whole Foods Market
Ingredients:
1 package firm or extra-firm tofu
1/2 cup sweet and hot mustard
1/2 cup seasoned dried bread crumbs
pinch of chile pepper flakes
6 bamboo skewers, soaked in water for 30 minutes
Olive oil cooking spray
Instructions
1.Place block of tofu on cutting board. With a sharp knife, cut into three equal sections lengthwise. Cut each section in half lengthwise so that you end up with six "sticks." Arrange several layers of paper towels on a plate and place tofu on top. Place several layers of paper towels on top of tofu and press down to remove excess moisture.
2. Arrange tofu in a container large enough to store the pieces in a single layer. Using a knife or a brush, spread mustard evenly on all sides of the tofu. Cover container and place in refrigerator to marinate for at least 3 hours or overnight.
3. Transfer bread crumbs to a large plate. Add pepper flakes and stir together. Thread each piece of tofu onto a skewer. Coat each piece of tofu in bread crumb mixture, pressing down gently to make sure the crumbs stick. Transfer to a plate as done and spray tofu all over with olive oil cooking spray.
4. Lightly spray grill with olive oil cooking spray and preheat. Grill tofu over medium heat, turning so that all four sides become browned and crispy. Remove from grill and transfer to a platter. Serve immediately. (To cook in the oven, preheat oven to 375°F and omit skewers. Use a fork to place marinated tofu into bread crumbs to coat. Place on a lightly greased baking sheet and bake for 10 minutes or until browned and crispy.)