Picnic prep should be easy with lots of fresh seasonal ingredients. Keep it light and flavorful with simple salads that everyone will love
These three favorites are real crowd pleases, not only are they vegan and vegetarian they are hearty enough for even the biggest appetite!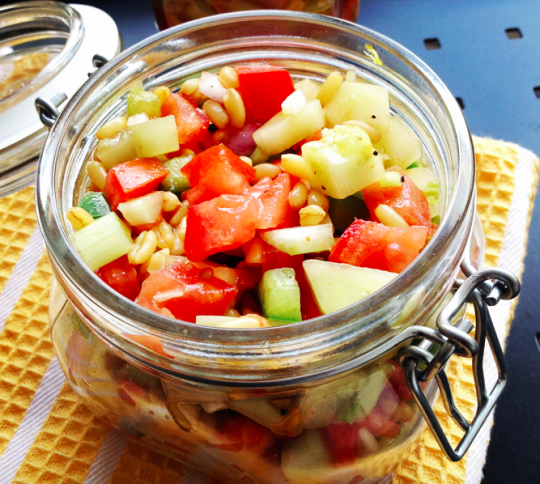 Kamut® Wheat Berry Spicy Gazpacho Salad
 Up to you how spicy you make it!
Makes 4 servings
2 cups of cooked Kamut® wheat berries
3 vine ripe tomatoes, finely chopped
1 green pepper, deseeded and finely chopped
1  cucumber, peeled, halved lengthwise, seeds removed and finely chopped
3 celery stalks, finely chopped (chop up the leaves too)
½ small red onion, finely chopped
2 Tbs extra virgin olive oil
2 Tbs fresh lemon juice
2 Tbs red wine vinegar
2 tps Worcestershire sauce
½ tps salt
½ tps fresh black pepper
Hot red pepper sauce to your taste
Put all the ingredients (up to the salt, pepper and hot sauce) in a large bowl. Mix well, then add the seasonings and hot sauce (several dashes) Set aside at room temperature to marinate for at least 20 minutes before serving. Add more hot sauce as required. Perfect to put into mason jars for a picnic!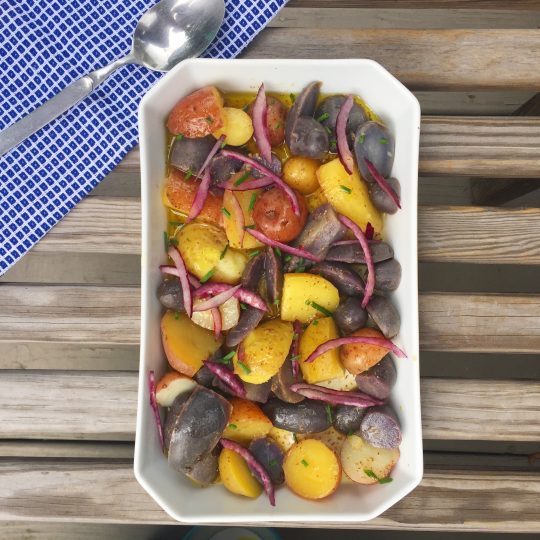 Potato Salad with Mustard Vinaigrette
This tangy vinaigrette version is a great alternative to the traditional mayo-based potato salad – be warned it gets gobbled up real fast!
¼ cup extra virgin olive oil
3 Tbs white wine or rice wine vinegar
2 Tbs grainy mustard
¾ tsp freshly ground black pepper
¼ tsp kosher salt
1½ lb multicolored fingerling potatoes, halved
½ cup thinly sliced red onions
2 Tbs finely chopped fresh chives
Combine first 5 ingredients in a large bowl. Place potatoes in a medium saucepan, cover with water by 3 inches, bring to a boil. Reduce heat to medium-low, cook 20 minutes or until potatoes are tender. Drain well. Add the hot potatoes to the dressing, toss gently to coat. Add onions and chives, toss.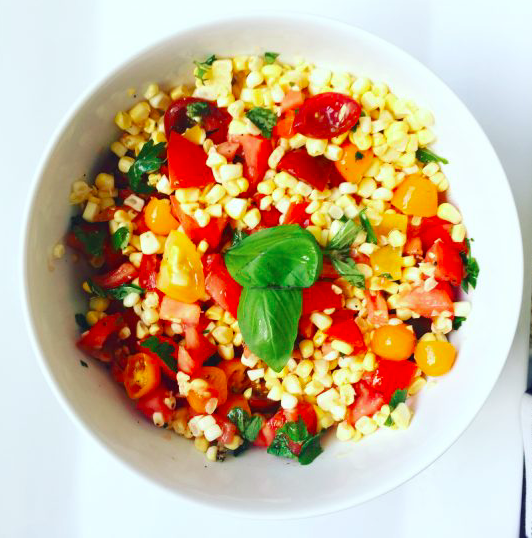 Corn and Tomato Salad
So simple, and so delicio
Makes 6 servings
1 large heirloom tomato, cut into ½" dice
1 cup halved cherry tomatoes – mixed colors look great
½ tsp kosher salt
⅓ cup extra virgin olive oil
1 Tbs fresh, chopped parsley
3 Tbs red wine vinegar
1 Tbs grainy Dijon mustard
1 Tbs low sodium soy sauce
1 Tbs white miso
1 medium shallot, minced
3 cups fresh yellow and white corn kernels
12 fresh torn basil leaves
2-3 fresh basil leaves for serving
Place tomatoes in a large bowl. Sprinkle with salt and let stand for 30 minutes. This brings out the juices and they will meld with the dressing.
Combine the oil and next six ingredients (through shallots) in a screw top jar and shake well until blended.
Add vinaigrette, corn and basil to the tomatoes, gently combine and top off with fresh basil leaves!