In celebration of July being National Picnic Month, the eco18 team took a little field trip to the park! Because we love everything green, sustainable, and eco-friendly, we made it our mission to make our little picnic as environmentally friendly as possible, using some of our favorite brands to make this outing extra special!
Today we are going to be sharing with you our five favorite brands that are sure to help you pack up the perfect picnic basket—while still managing to cut down on the waste and garbage that often comes with eating outdoors.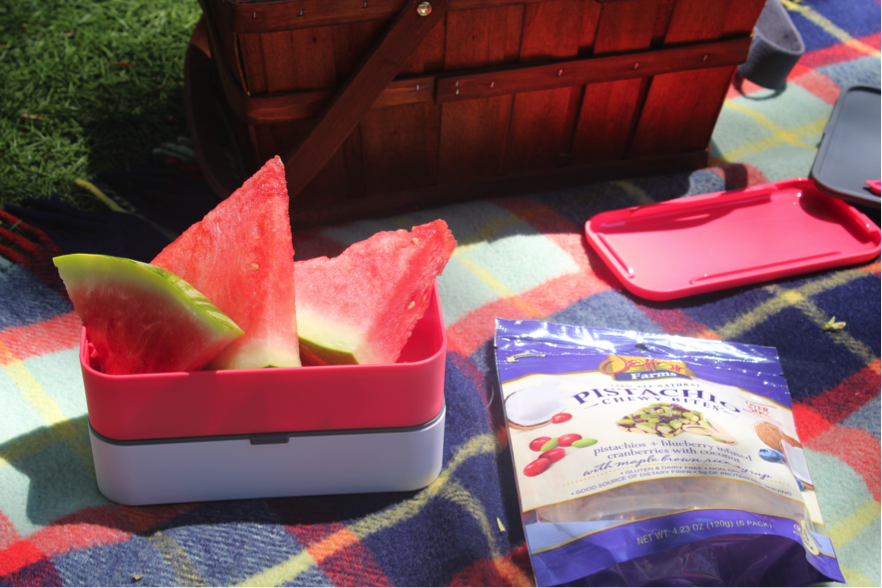 First up, to make sure our food was staying fresh, we stored our stash in the MonBento  MB Original Box and the MB Square Box. MonBento is a France based brand that focuses on fusing the chic and classic Parisian look, with the minimalistic and practical Japanese approach. We are huge fans of bento boxes here at eco18, as it's an easy and adorable way to eat healthy, eat what you like, and eat on the go. And best of all, these boxes are sturdsy as can be, and will MAJORLY cut down on your paper and plastic bag use. According to MonBento, 32% less food is wasted by people using a bento container in comparison to those using plates. So not only will you be wasting less throw-away plastic, these boss boxes will actually cut down your food waste as well. And what a stylish way to do it!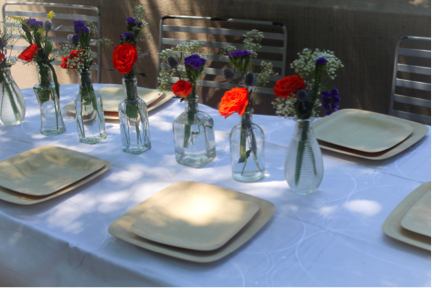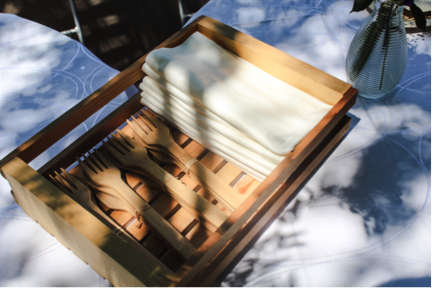 If your picnic is going to be more of a party, we loved using these Bambu All Occasion Veneerware Bamboo Plates and Cutlery!Easy to just pop in your bag, these are fabulous alternatives to using traditional paper plates or plastic forks, that (let's face it) are going to end up in the trash right after using them. These products are made from 100% certified organic bamboo, which is a renewable resource, compost approved, chemical and pesticide free with no bleaches or dyes. While these plates are meant for single use and are disposable and biodegradable, if cleaned well they can even be reused. As Bambu puts it themselves, you can't get a cleaner, greener and better quality picnic plate! Too cool, huh?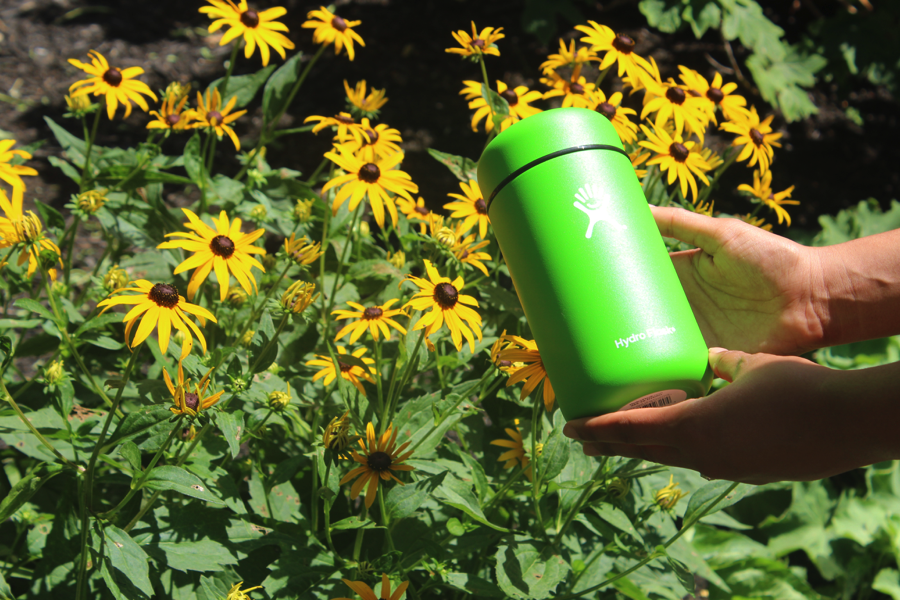 When putting in all that effort to prep and plan for your picnic, there's nothing that would be more of a bummer than opening up your basket and seeing that your food has melted, gotten soggy or is just plain gross. Well, that's where Hydro Flask comes in. This awesome Food Flask is made of stainless steel construction and has TempShield Insulation that is sure to keep cold foods cold and hot foods hot. And what's a picnic without a pitcher of our favorite drinks?! On our trip to the park, we beat the heat by packing our favorite Hydro Flask Growler and Rocks Cups—perfect for keeping our happy hour drinks at the right temperature. The first stainless steel growler on the market, Hydro Flask technology has made it pretty much impossible for your drinks to go flat. This growler features a Fresh Carry System, which allows beer to stay carbonated, as well as TempShield Insulation, which prevents condensation and keeps your cups cool. What makes us love Hydro Flask even more is the story behind them. Hydro Flask is committed to making our planet greener and more sustainable for the future generations, and are proud partners with Parks For All, who are focused on building, maintaining, restoring and providing better access to public parks! So pack up your picnic basket, grab your Food Flask, and head to the park with this awesome product.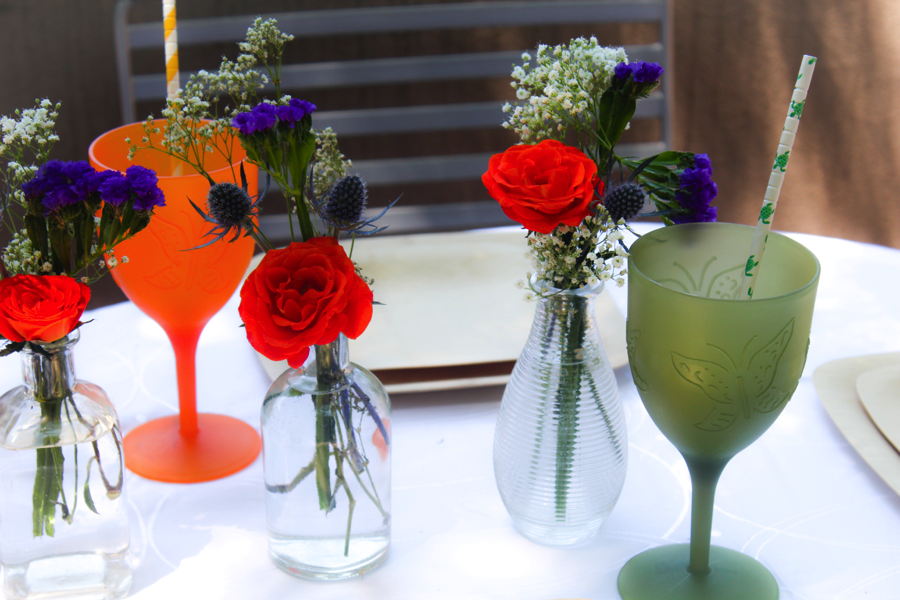 Whether you're sipping on a smoothie, a cocktail or just some good ol' water, straws are pretty much a summer picnic essential—the downside? Traditional plastic straws are among the top 10 debris items, and are made of polypropylene, a plastic designed to last forever. Plastic straws have wracked up a pretty bad rap, considering each day we use 500,000,000 straws—enough to fill 46,400 school buses per year! So what's the compromise here? Well, it's simple enough. Switch over to using Aardvark Paper Straws. Aardvark straws are eco-friendly, and biodegradable making them a perfect way to sip away without any guilt! Best of all, Aardvark is taking some serious steps to not only face the issue of plastic for the future, but are even attempting to fix some plastic problems caused in the past. After learning of the severe impact plastic straws have had on marine wildlife, specifically Sea Turtles, Aardvark released these adorable turtle inspired straws, with which 15% of all sales go towards saving the Sea Turtles! An adorable, and efficient way to go green.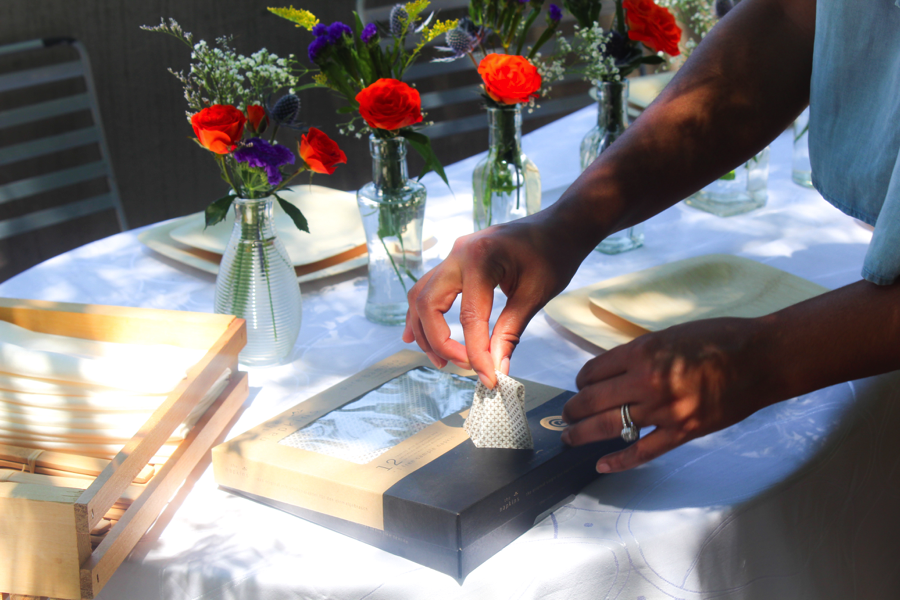 Because a picnic isn't a picnic without some messy hands and sauce on your face, The Napkins Single Use Pure Bamboo Napkins are here to save the day. Designed in Switzerland and produced in Italy, the quality and classiness of these single use napkins blew our minds. And what shocked us even more were the environmental benefits of using them! Pure Bamboo napkins are made of bamboo fibers, are eco-friendly, sustainable and 100% compostable! Because your feast is bound to get messy, these are a great option to pack in your basket and keep your picnic clean and green!