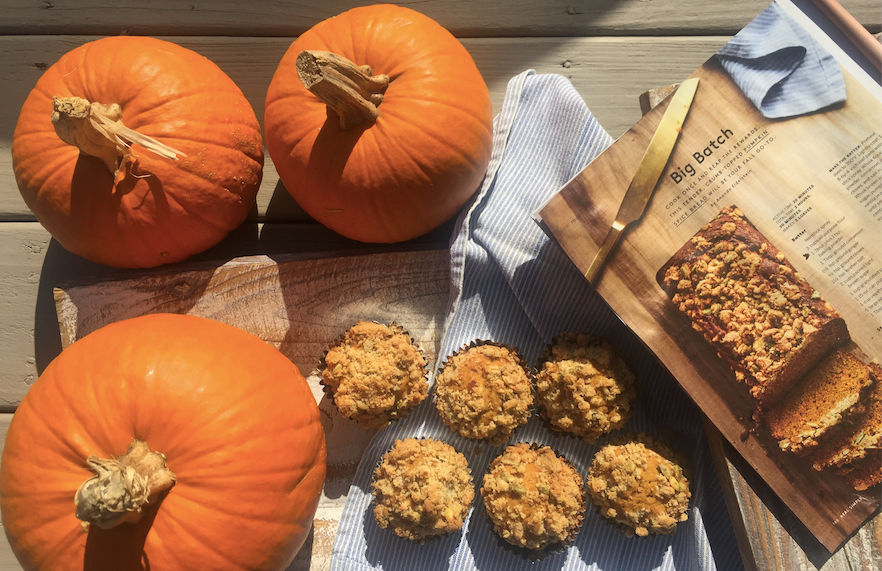 We just love this recipe. The big batch makes three small loaves or you can make one large one and some muffins. Whatever you make, be prepared for it to be eaten up very quickly…it's moist, delicious and people keep coming back for more!!!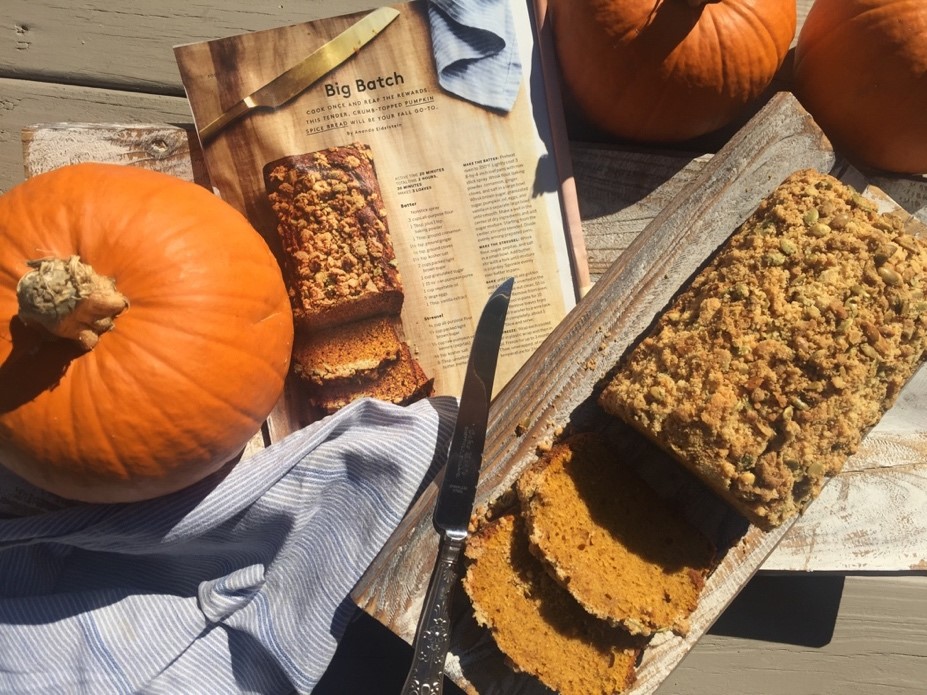 BATTER
Non-stick spray
3 c Kamut® All-Purpose flour
1 Tbs + 1 tsp baking powder
1 Tbs ground cinnamon
1 ½ tsp ground ginger
½ tsp ground cloves
1 ½ tsp Kosher salt
2 c packed light brown sugar
1 c granulated sugar
15 oz can pumpkin puree
1 c vegetable oil
5 large eggs
1 Tbs Vanilla extract
STREUSEL
¾ c Kamut® All-Purpose flour
½ c packed light brown sugar
1/3 c raw pumpkin seeds (pepitas)
½ tsp Kosher salt
6 Tbs unsalted butter, melted
MAKE THE BATTER
Preheat oven to 350 degrees F. Lightly coat three 8" x 4" loaf pans with non-stick spray (We used a 9" x 5" loaf pan and also made 8 large muffins)
Whisk flour, baking powder, cinnamon, ginger, cloves and salt in a large bowl.
Whisk brown sugar, granulated sugar, pumpkin, oil, eggs, and vanilla in a separate bowl until smooth.
Make a well in the center of the dry ingredients and add sugar mixture slowly. Starting from the center, stir until blended. Divide evenly among the prepared pans.
MAKE THE STREUSEL
Whisk flour, sugar, pepitas, and salt in a small bowl. Add butter and stir with a fork until the mixture is crumbly. Sprinkle evenly over batter in pans.
BAKE
Bake until loaves are golden and have risen as the topping begins to "crack". Insert a toothpick to see if it comes out clean. Average time 55 to 70 minutes. Shorter if making muffins, longer if making a larger loaf. Remove from the oven and let cool for 10 minutes. Remove from pans and transfer to a wire rack to cool completely for an hour.
TO FREEZE
Wrap each loaf in plastic wrap and then foil. Freeze or up to 3 months. Thaw, unwrapped at room temperature for 3-4 hours.