Meet Audra Mulkern: founder of the Female Farmer Project™, international speaker, James Beard 2019 Finalist, writer, photographer, one of Reader's Digest Country Women Magazine 45 "Amazing Women", and an incredible inspiration to hundreds of women and girls across the world! Check out her answers to our 18 questions below!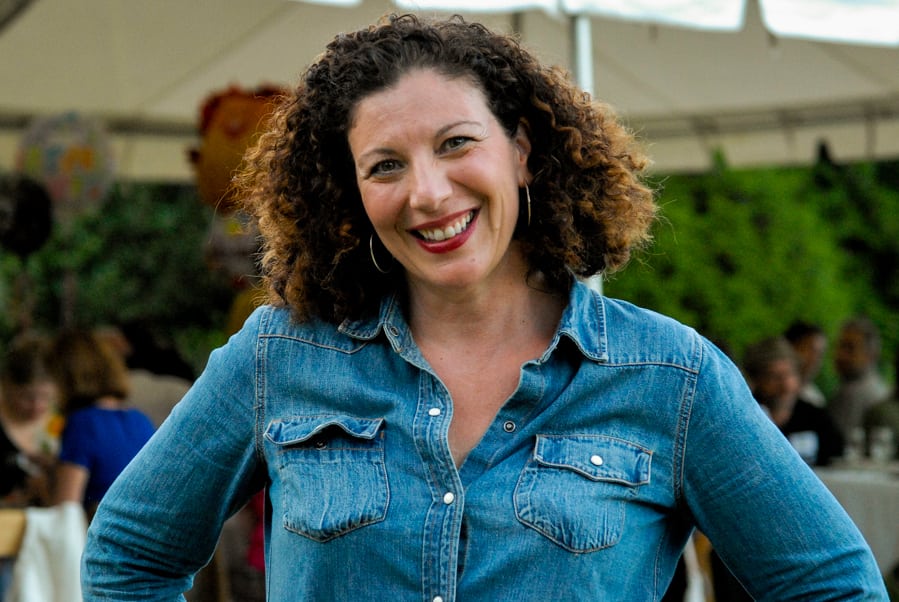 Where are you from?
My folks moved around quite a bit, I've lived in Anchorage, Los Angeles, Phoenix, Nampa, ID, Central California. A mixture of rural and urban living.
Where are you based now?
I live in the Snoqualmie Valley in a small farming community outside Seattle, WA
What first caught your interest in agriculture and farming?
It was when my first child was born – I wanted to access the food I saw being grown in my own community but had no way to access it. At the time there were no farmers markets, websites existed for those who knew how to code one, Facebook didn't exist, there really wasn't a local food movement. I joined my first CSA in 1999 – so I guess you could call me an early adopter to the idea!
What inspired you to begin the Female Farmer Project™ and begin filming the documentary "Women's Work"?
I built relationships with my local farmers over the years – hosted CSA pick-up sites, ran their social media pages, helped develop marketing programs and events. I wanted to help to connect the eaters to the producers, to cultivate their understanding of local food and the work that went into production of it. One day while standing in the middle of the Carnation Farmers Market I had an epiphany. Behind every single table was a woman. It was literally quite a lightning bolt when I realized that these women, many of them my dear friends, were the economic engine of my community. They were the landowners, business-owners, entrepreneurs that no one gave credit to. Because they weren't a 'Main Street' business, they often were not invited to the table. It made me angry. That realization came with another epiphany, this has been going on for generations – the documentary looks into the history of women and agriculture, and what the consequences are when women aren't counted.
The Female Farmer Project™ is a multi-platform project with portraits, podcasts, essays, film, and narrative – why did you make the decision to tell female farming stories this way?
I set out initially to just make a visual record of the women in my community. I didn't own a camera or know how to use one, so I had to teach myself that first. And then I realized we needed some narrative to accompany the images, so I took writing classes. Then people started asking for me to bring these stories to life on stage – so I took some public speaking workshops. But at some point, I wanted to step behind it and have women tell their own stories. I am building a platform in order for them to be told. That's what the podcast and film and farmer-authored essays do – there is power when women tell their stories.
Throughout your time filming for the Female Farmer Project™, is there a specific moment or memory you have that really changed the way you viewed farming?
Well I certainly have changed my household habits! We strive for very little waste, water, food and packaging. When you see how much work it takes to produce food, you don't ever take it for granted again. We also like to grow a few things at home – herbs, tomatoes, some greens – but for the most part we let the farmers do their thing. It takes far too much water for me to grow food as well as they do – and on probably a fraction of the water. As stewards of land and water – they are much more efficient at use.
Founder, producer, interviewer, keynote speaker, podcaster, writer, visionary, photographer … you've done it all! What do you see as your unifying mission throughout these different positions?
This mission is simple. To give voice to the over 1 million women working in agriculture. To empower them to find their own voices and seek leadership roles in order to change the system to one of equity. Every time we publish something, we ask ourselves, 'what is the behavior change we seek'. We align ourselves with non-profits like Farm Aid, The National Farmers Union, and Farmland Trust orgs, in order to create change. Along the way, we have worked on other stories that intersect: farmer mental health, rural broadband expansion, systemic racism, black farmland loss, and the rampant sexual abuse of women farmworkers.
How did your career with Microsoft impact the work you do now?
There are so many lessons that I bring from my Microsoft days. I was fortunate to be at the company during some of the most exciting times in technology. I loved the excitement of building software that improved people's lives. I think that's been the biggest driver in my work. That everything I do – photography, writing, podcasting, public speaking, etc. – are just advocacy tools to improve people's lives. At Microsoft, some of the core values are really about doing meaningful work, asking the hard questions, being flexible in your approach and getting out of your comfort zone – always strive to do what is just past your abilities so that you continue to grow.
Do you see a place for technology in the future of farming?
Yes, I am a firm believer in the future of tech for farming. So many possibilities! It's exciting to see image recognition technologies, AI (Artificial Intelligence) to help better plant or as a food waste preventer. Precision Ag is definitely a growth industry. Microsoft has a new product called FarmBeats that is at the intersection of AI and IoT (Internet of Things) – it enables data-driven farming. Their sensors send data to the farmer that helps drive decisions about water, fertilizer and pesticides and hopefully reduce the usage of all three. I am part of the Refresh Food and Tech Working group that explores the intersection of food and tech and help inform public policy to ensure that development and adoption is for the common good.
What do you think the greatest worries and dangers are for farmers in the US today?
It's not hyperbole to say we are in a new farm crisis. Things are tough for farmers right now. According to the USDA, income for U.S. farmers has declined nearly 50 percent since 2013 and is at its lowest level since 2002. More than half of farmers are losing money and most have second jobs. Suicide rates are extremely high. Through writing and photography, we have been compelled to document this precarious and significant moment in agriculture. In 2017, we partnered on a feature article for the Guardian (supported by the Economic Hardship Reporting Project) about the farmer suicide epidemic, which is one consequence of the current farm crisis. An analysis by the Centers for Disease Control and Prevention suggests that male farmers die by suicide at nearly twice the rate of the general population. It ultimately inspired both state and federal legislation for increased behavioral health resources for people working in agriculture.
What kind of audiences do you speak to?
I've had the pleasure of speaking to both agriculture and non-agriculture audiences. I've been invited to speak to women farming groups, bankers, restaurant and bar owners, college students, bartenders, chefs and every-day citizens who care about the land and the people who steward it.
What was it like to have your photographs and work featured internationally, translated, and presented for the United Nations, Reader's Digest, and more?
It's so rewarding. Honestly. Its that whole 'show, don't tell' philosophy. To have the images in front of the people who drive policy is a triumph. Another one of those Microsoft lessons I brought with me is to capture mindshare. That's how the images serve this project. They capture mindshare, they capture the imagination of people, they inspire emotion within. But also, when girls and young women see these women, it inspires confidence. When you see it, you can be it.
What does it mean to you to be such a strong, inspirational woman in your field? Does the responsibility ever feel overwhelming?
At times it's so tremendous that I lose sleep. It's a huge responsibility to advocate for a group of people. I want to do right by them with every single decision that I make.
Who/where do you look when you find you need inspiration?
I've been fortunate to have a few incredible women in my life that I can look to and ask for help: my work wife and storytelling partner, Debbie Weingarten; Kari Warberg-Block, female farmer and CEO of Earthkind; filmmaker and conservationist, Susan Rockefeller. I'm also incredibly inspired by Melinda Gates. I met her one time during our Microsoft days, and her work to amplify and lift women globally is so incredibly inspirational and aspirational.
For people looking to get more involved in their local farming and produce communities, what publications, books, or podcasts should they watch, read, or listen to if they want to kickstart their agriculture education? Do you have a favorite book on this subject?
Of course they could come to femalefarmerproject.org and read the stories, the essays written by the farmers, and listen to our podcast! The themes are universal, its not just for farmers. A favorite new podcast is Sarah Smarsh's The Homecomers. Laura Reiley's Farm to Fable series from a few years ago is incredible and relevant to this day. Rancher, Farmer, Fisherman is on my list.
Do you have any advice to give to young women looking to follow in your footsteps that you wish you had been told when you were just getting started?
You know, I didn't have and still don't have any direct mentors in this particular space. There is no roadmap of how to do this seemingly crazy thing that I set out to do. One time as I lamented this to a girlfriend, she gave me the best advice I have ever received. She quoted poet Antonio Machado – "there is no path, the path is made by walking.' This journey is a walk. Sometimes I have to double back, sometimes I have to hack down the bramble in front of me, and sometimes it's a steep uphill climb. I hope I am making a path for others to follow.
In the hubbub of traveling, writing, speaking, filming – what do you do when you need to make time for yourself and your loved ones?
I have been married for 28 years and have two nearly grown children – spending time with them is a delight! We love to cook meals together; we have bowling and gym dates and we try to plan a big international vacation every few years together. The last big one was to Tokyo, Kyoto and Hong Kong – we visited farms, farmers and dove into the food scene in each city.
You've accomplished so much and are inspiring to thousands around the world, can you give us a sneak peek into what's next for you?
Wow, thank you! I am currently working to finish funding the film production budget. It is quite the professional challenge to fundraise for a farmer documentary during a farm crisis. Nearly every farm-adjacent industry is struggling and I'm asking them to donate money. I struggle with that knowing how hard it is right now, but I also know it's a moral imperative to tell the stories of the women who worked to feed America through every crisis this country has seen. I am also working with different members of Congress to introduce and pass laws that improve the lives of those working in agriculture and living in rural America. That includes mental health resources and rural broadband expansion.
Thank you Audra for your inspiring work and for continuing to share the true faces of farming! To stay up to date with Audra's work, check out her website here and follow The Female Farmer Project™ on Instagram, Twitter, and their website!
Header Photo provided by Audra Mulkern