Stephanie Karadzhov began Sophisticated Florals after working in a greenhouse where she was required to spray chemicals extensively. Now, she grows flowers and greenery using organic methods, and she sells her arrangements at her own downtown storefront, at Cobblestone Farmers Market, and for large events like weddings. In this month's edition of 18 Questions, we sit down with Stephanie and learn more about her journey and experiences as a florist!
What is your background?
I graduated college in 2007 from NC State and then went to work at a nursery in Chesapeake, Virginia. We had to spray a lot of chemicals there. So when I came back down to North Carolina in 2009, I was motivated to start growing chemical-free.
In the beginning, it was "Karadzhova's Specialty Cuts." I grew flowers for the farmer's market and did some horticulture at a local country club. We sprayed a lot of chemicals at the country club, too. I worked at the country club for 10 years, during which I simultaneously grew for the farmers market and created wedding arrangements, and then in 2017, I opened a flower boutique and gift shop in downtown Winston-Salem on Burke Street.
What is available at the storefront?
We have a lot of house plants and other things that are local to North Carolina or made in the USA. The storefront is also another outlet for giving consumers access to what we grow in the garden. The push to buy local flowers has been revamped over the last couple of years, and it's nice to have a market for it.
Have you been gardening all your life?
I started gardening in elementary school. I would enter what I grew into the Dixie Classic Fair in middle school. When I lived in an apartment in Chesapeake, I didn't grow as much, but when I returned to North Carolina, I picked it back up, and now here we are!
Why do you choose to grow organically?
When I worked at the greenhouse in Virginia, my ex-husband also worked there. He sprayed so much that the residue would sit on top of his shoes and cause his toenails to change color. Once I started growing for myself, I didn't want to experience that!
The USDA Organic certification is notoriously difficult to receive, but you do grow organic flowers. What barriers have you encountered when looking into a certification?
We never officially got the organic certification because you have to grow for so many years, and they have to come out and test. We live in a highly residential area, and I was worried about overspray.
Is it common to grow organically without a certification?
We sell at Cobblestone Farmers Market, which has rules in place for how food and flowers are grown. Therefore, we do have to grow organically for our market, so any bug preventative, fertilizer, etc., has to be on the OMRI list. Growing organically without a certification is actually quite common among farmers who sell at the Cobblestone Farmers Market.
How does your business compare to commercial floristry?
I do have to remind many people that, unfortunately, just because flowers are local doesn't mean they will be cheaper. For example, the local cooperative has beautiful tulips, but ten stems can be $22-25. It's $14-15 at the wholesaler, and at Trader Joe's, it's $5-6. But of course, the quality and styles vary.
What happens in the winter?
I don't have much that grows in the winter, so I'll use some of our woody cuts. There is a local cooperative that sources from farms closer to the coast of North Carolina or South Carolina, which gives me some options beginning in February.
Do you have a preference for the flora that is indigenous to North Carolina?
We use some local flora, but many of the flowers are too fragile to grow in our garden. We often grow flowers that originated in Africa or South America, but our temperaments are relatively similar, meaning they can grow really well here. We use many textures from the local landscape, whether it's hostas or ferns, different shrubs, or even heuchera.
Are there any flowers and greenery you use that other florists often miss?
We use zinnias, cosmos, and specific varieties of sunflowers that commercial growers often overlook. There are so many varieties of sunflowers; in fact, there are hundreds, and they come in different colors and sizes and with different branching patterns. I love to use unique flowers.
What has your experience been like at the Cobblestone Farmers Market?
Mostly positive. We started selling at Cobblestone in 2010. We've developed a good relationship with many people who come year after year to see us. That inspires me to keep coming back. The market can also help with visibility and drive traffic to the shop on Burke Street. But we do have people question whether we grow organically, even though it's an organic-focused market, and some complain about prices. The fact is, you can buy flowers and greenery at the grocery store at a cheaper price, but they are often smaller and not as unique.
How do you try to keep costs down?
We don't want to charge people an arm and a leg, so giving customers what they want in the budget they want is a delicate balance. I see what is available in our garden and what is at the local cooperative, then go back and forth with the customer to arrive at a final design. It's highly dependent on the season and the customer.
What is the process of envisioning a floral arrangement?
It's different for each person. Some people will see my work on Instagram or Facebook, give me a price point, and maybe give me a color palette, then leave it up to me. Other people will send inspirational pictures. Others have trouble envisioning what they want, so they like to see arrangements piece by piece. I look at what's available for the week from the garden and local cooperative and derive inspiration from there.
In a few words, what is your unique "style"?
Many people say "whimsical" and "flowing." It's hard to describe in words!
Please share some images of your favorite arrangements you have done in the past!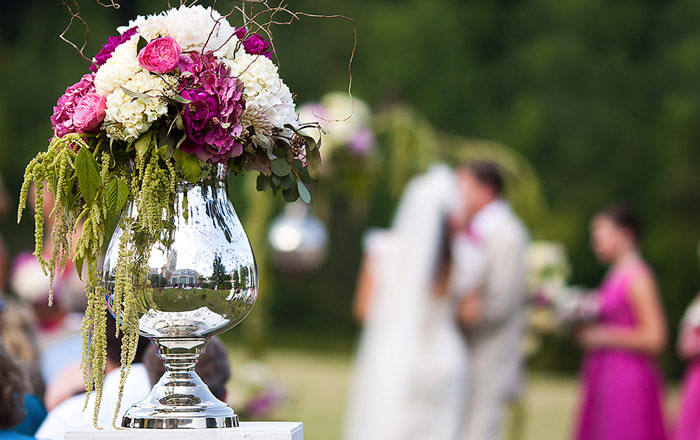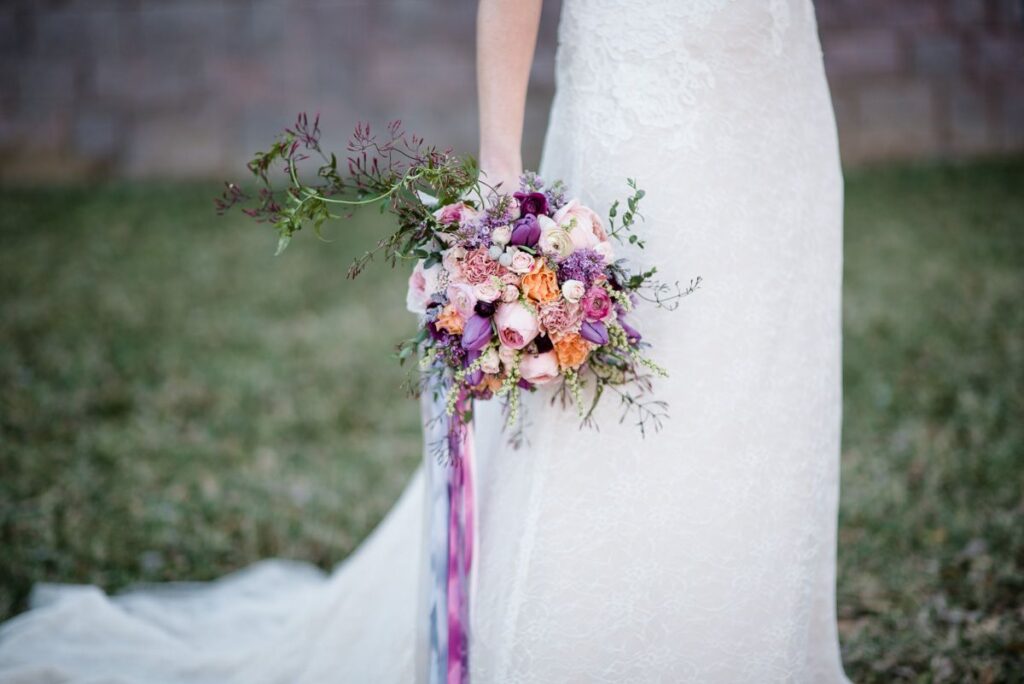 Where do you grow your flowers and greenery?
I got married last fall, and I have more of a shaded yard at my house, where we grow things like hostas, ferns, and azaleas. I have planted more sun-loving items like yarrow at my husband's house. Most of the garden is at my parent's house, where I grew up. We grow on about a quarter acre there.
Do you have any help in the garden?
I have wonderful help from Sarah, an employee who comes and helps one or two days each week. My mom puts in 15-20 hours a week, and my dad puts in 10-15 hours a week. I'm very grateful to them.
What's next?
The business has grown incredibly over the past 15 years, and I feel it could evolve again in the next year or two, based on how people spend their retail dollars. As a business owner, you have to be open to change. I want to carefully consider how we show up at the market because it demands a lot of our time, and the returns should match that.