This years Summer Fancy Food Show, which we visited, was the largest since it was established in 1954. More than 2,670 exhibitors filled the halls of the Javits Center in New York with the latest in specialty food and beverages from across the U.S. and 55 countries. The 62nd annual event, held June 26-28, drew more than 47,000 industry professionals to view the latest innovations from 2,670 exhibitors. With sales surging to a record $120.5 billion last year, the specialty food industry is booming. Driving product development in the specialty food industry are consumer issues of health, transparency and sustainability. Protein-packed products and protein being called out, non-G.M.O. labeling and non-G.M.O. products that were reformulated pointed to "healthy snacks" being a big trend.
Others trends included:
"Everything bagel" is not just for bagels anymore. The flavor cropped up in yogurt, nut mix, mustard and hummus.
New twists on classics included savory yogurt, spicy granola, chocolate chip hummus and pepper-packed honey.
Coconut and pumpkin were everywhere, as was maple. Elderflower made a strong showing in teas and bottled drinks and pickled products were plentiful.
Truffles had a strong showing and were two of our top 18 picks
So, after walking the vast halls, eating and tasting, here are 18 of our favorite things!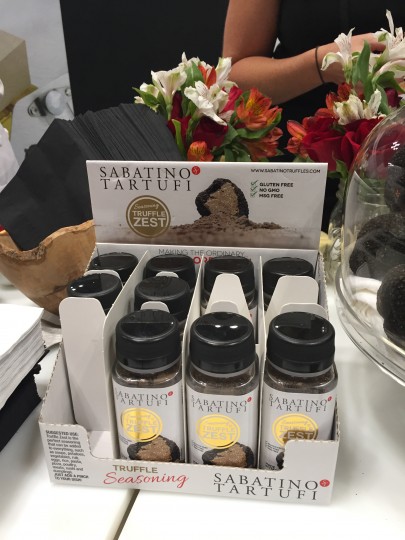 Sabatino Tartufi– The ultimate truffle company that spans three generations of family dedication to producing the finest products possible. We tried their Truffle Zest and it was one of the standouts from the whole show. A simple, yet ingenious way to elevate even a plain potato chip! They also sampled it on cracker with hummus and the result was truly amazing! As they say, "Get Zested," we did and we will!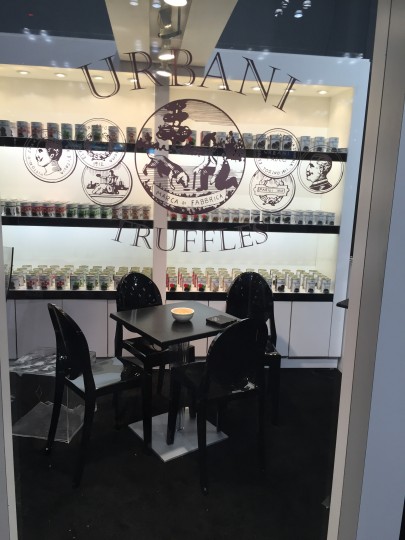 Urbani ­– Another amazing truffle company that was serving up an array of delicious samples –from pizza to pasta, all liberally laced with the pungent and decadent aroma and taste of truffles. It was difficult to walk away from this booth as everything they were serving was wonderful. When it comes to truffles, the Italians know how to do it. The company was founded in 1850 and has an enviable worldwide reputation for outstanding quality.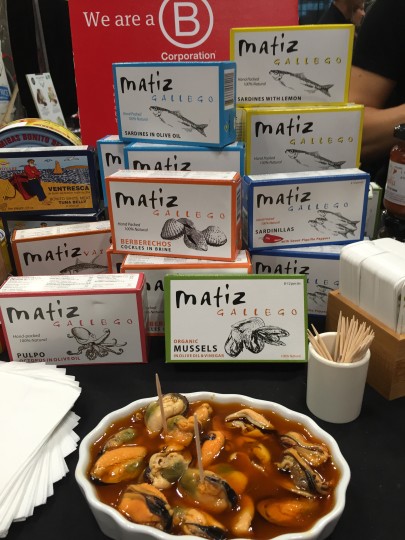 Matiz Gallego Seafood – At the Culinary Collective booth we sampled some delicious seafood products from Matiz. They employ artisan fishing methods and their old master cannery know-how is certainly reflected in the final product – moist, tender and uncommonly flavorful. The Matiz tinned seafood line includes sardines, mussels, octopus and bonito tuna. We tried the mussels and a wonderful Matiz Firey All i Oil that was just out of this world!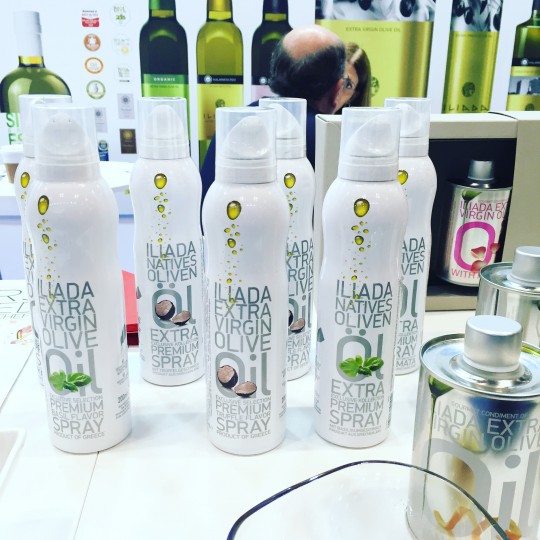 Iliada Spray Oils – We love the Illada Olive Oils, from the region of Kalamata, Greece, especially their line of Flavored Oils. Now they have launched them in a spray can – very convenient and perfect for those of us who may be a bit heavy-handed when pouring oils! The packaging is so pretty you will want to leave it out on your counter tops. The basil and truffle flavors were on display and we can't wait to try them.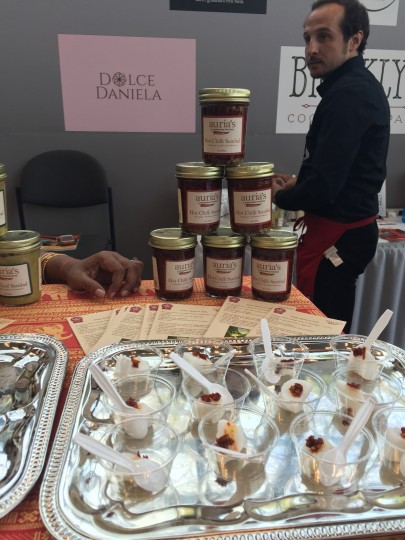 Aurias Malaysian Kitchen – Sambal is a Malaysian condiment made of ground spices, and always fresh chiles. We thought their Lime Leaf Sambal Sauce was a great condiment on rice because it was flavorful and added a little bit of spice to anything you put it on. We tried it on some plain white rice, which definitely added a lot of flavor to the rice. We also tried the other flavor they offered: Hot Chili Sambal. It is another great condiment, with a lot more spice than the Lime Leaf Sambal.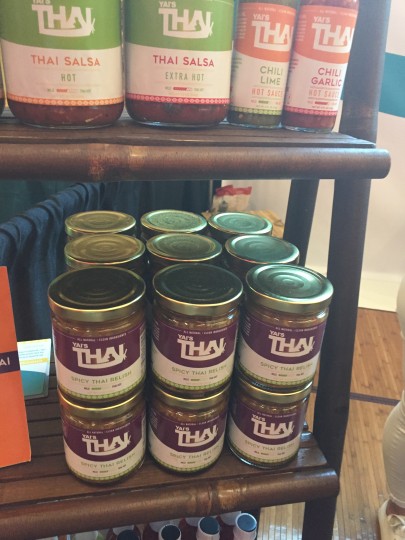 Yars Thai – An all-natural and clean ingredient company that offers various Thai inspired sauces, relishes, and salsas. We tried their Spicy Thai Relish, and Extra Hot Thai Salsa, which were both flavorful with quite a lot of heat! It combines typical condiments with a fusion of Thai inspired food, and spices. If you can't handle the heat they offer a mild version of the salsa which is perfect for someone who still wants a little bit of a kick to their salsa but not too much.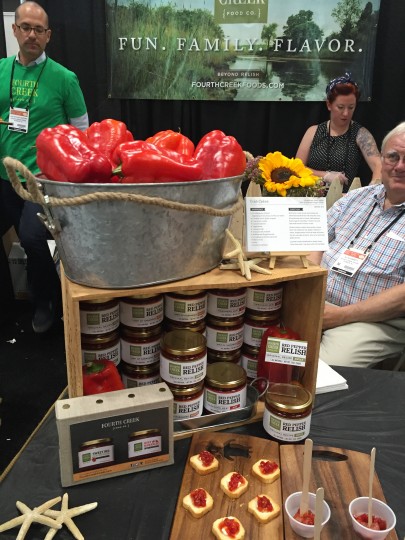 Forth Creek Foods – Their Sweet Red Pepper Relish can be used as an ingredient or even a condiment. It has a little bit of spice and flavor to anything you put it on. And the cool thing about this product is it's a little bit spicy, but also a little bit tangy. A combination we enjoyed! It's definitely an out of the ordinary relish—in a good way. Perfect for a barbecue.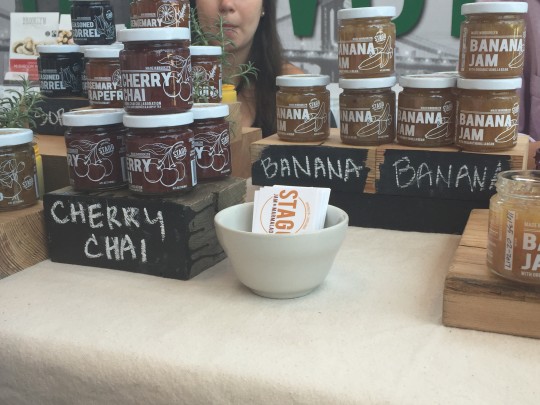 Stagg Jam and Marmalade – Stagg is a Brooklyn based company that makes handmade, gluten free, and vegan jams and marmalades. We loved their Lemon Poppy seed jam, and Spicy Orange Marmalade. They tasted so fresh and natural, and would be fabulous on top of muffins or even try them out on some vegetables! They make all their jams and marmalades in small batches so you know they are fresh every time.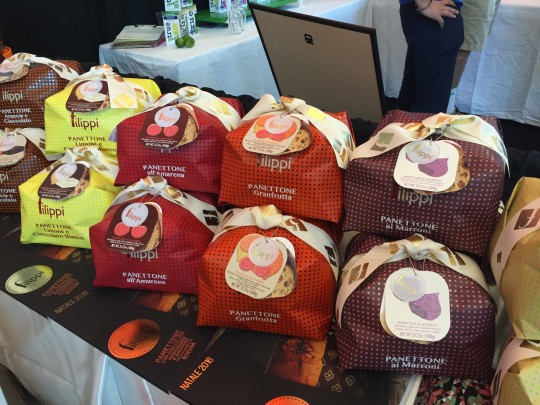 Filippi Panettone – This was some of the best Panettone we have ever had! It was so moist and fresh tasting, unlike anything we have ever had before. They offer several different flavors of Panettone which is great because there is definitely a flavor out there for everyone. Their packaging was delightful, it was very colorful and elegant, a very new approach to the typical panettone packaging. Filippi is an Italian company that makes amazing Panettone and other delectable Italian pastries. If you ever get the chance, we highly recommend trying this product!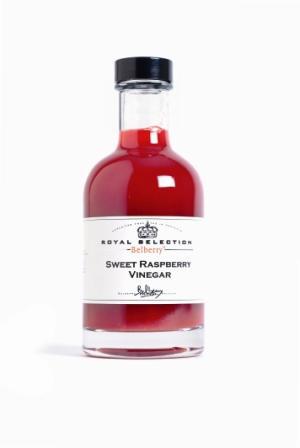 Royal Selection Belberry – Royal Selection offers a variety of different fruit and vegetable flavored cider vinegars, and they are something out of this world. We loved the idea of having flavored vinegars that you could put on anything. It brought something different to your average apple cider vinegar. Their flavors include Sweet Tomato Vinegar to Green Cucumber Vinegar.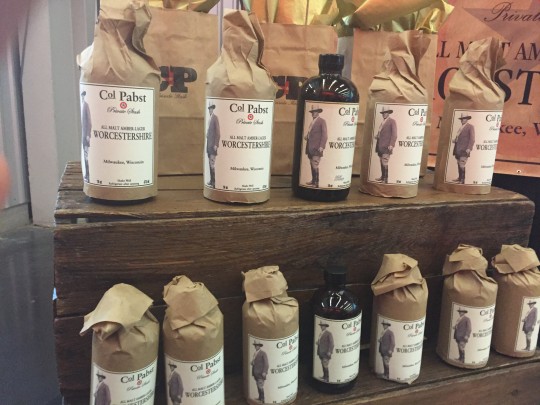 Col Pabst – Colonel Gustave Pabst was a master brewer, a prohibition fighter, a farmer and conservationist. He passed his love of beer and cooking with beer down to his children, grandchildren and great-grandchildren. Now they are sharing his "Private Stash" all-malt amber larger Worcestershire Sauce! The sauce is small-batch brewed with fresh Milwaukee lager and 21 all-natural ingredients from around the world, making it the most rich and flavorful Worcestershire Sauce we have ever tasted.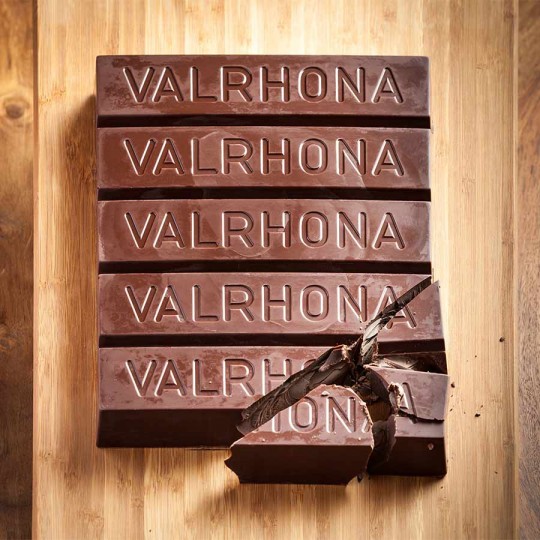 Valrhona – One of our favorite chocolate brands, in the Spring of 2015 launched Illanka 63% Grand Cru, a superb dark chocolate made from the Gran Blanco bean harvested in the Bigote River Valley in Northwest Peru. This rare bean grows on trees that are up to 150 years old. The success of this chocolate has resulted in a boom for the local cocoa communities, creating much needed jobs and improving the local economy. At the show, Valrhona announced the Valrhona Clean Water Project to improve the livelihood and public health in the village of Los Ranchos and the Bigote River Valley…good job!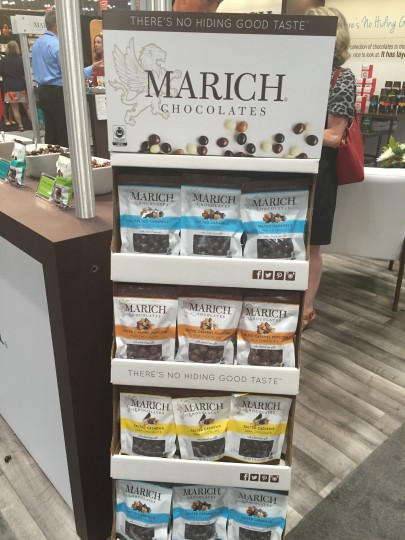 Marich Chocolates – are a line of delicious, snackable, sharable and giftable chocolates. Using only amazingly good ingredients they craft each bite to reveal an incredibly craveable taste experience. They use a proprietary blend of high quality chocolate sourced from primarily Ecuador, the Dominican Republic and the Ivory Coast in their layered chocolates. The majority of Marich ingredients are sourced locally in California, however, they search globally for a variety of premium ingredients that are best of class in other regions, to make a really addictive line of chocolate delights!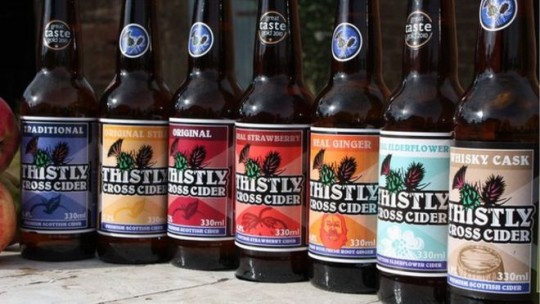 Thistly Cross Cider – We visited the Scottish pavilion and were lucky enough to try a Thirsty Cross Cider. The one we had was an elderflower cider – amazing! These ciders are made in small batches on a family-run farm on the East Coast of Scotland. They are matured for six months and they use only natural ingredients like hand-picked, home-grown fruit.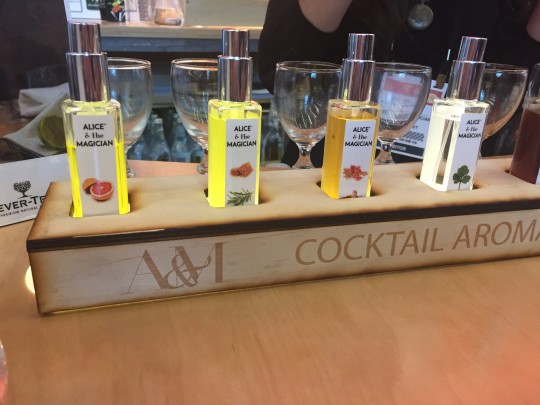 Alice & the Magician – There was something truly magical about these cocktail aromatics that have been created to be "misted" on top of a drink rather than being stirred in. Every aroma feels completely "true-to-nature," because they are made from only natural, wild crafted and organic (where possible) ingredients. The two brothers who created this line have a combined 30 years experience as chefs and bartenders and instinctively understand the relationship between scent and flavor. It's impossible to describe the sensory experience these aromatics impart – you really have to try them!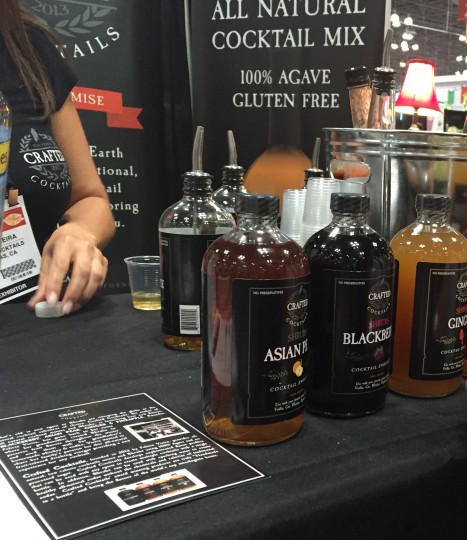 Crafted Cocktails – a new and innovative way to bring a high end cocktail home without all that added sugar. Crafted Cocktail offers cocktail mixes and shrubs which are non-alcoholic cocktail mixes that can be added to any alcohol to have your very own high-end cocktail at home. The Shrubs, which were some of our favorites, are made with agave, and vinegar.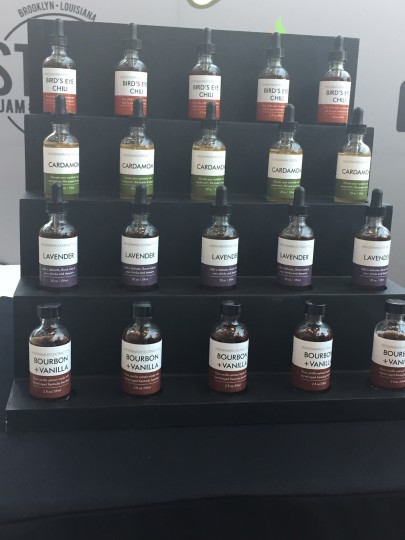 Woodward Extract Co. – a small Brooklyn based company producing flavored extracts that branch outside your typical vanilla extract. We loved the Bird's Eye Chili extract, which brought a little bit of a spice, something unusual in an extract. They offer two extracts right now: the Bird's Eye Chili and Bourbon, and Vanilla, though they plan on expanding to more flavors very soon, starting with Lavender.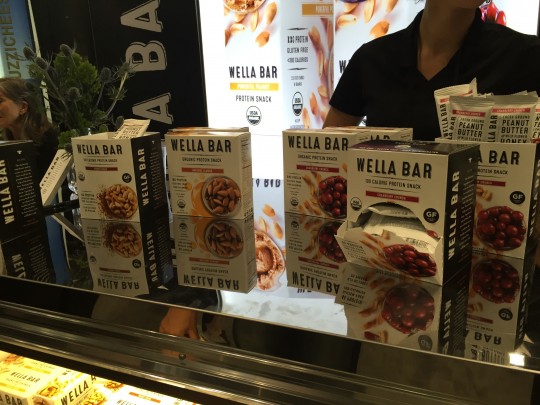 Wella Bar – Wella Bars use fresh ingredients, which are certified organic, and non GMO. They have three different flavors: Powerful Peanut, Cranberry Crunch, and Awesome Almond. All three flavors are very different from each other but they all have the same thing in common, they are fresh tasting and filling. One of the best protein bars we have ever tried that actually tastes like something fresh and unprocessed, we loved them!