This article was updated on November 4th, 2020.
Last year we found this recipe on Olivia's Cuisine, and it quickly became a favorite recipe worth repeating! And what makes it even better? Rather than serve it over rice, we love it overcooked with KAMUT® wheat berries because it adds its distinctive and more flavorful taste, making this a very satisfying dish.
Here's How to Get the Best Turkey Chili, Using KAMUT® Wheat Berries
2 lbs lean ground turkey
28 oz can black beans, drained
15 oz can kidney or pinto beans
28 oz can crushed tomatoes
15 oz can petite-diced tomatoes
1 yellow bell pepper, chopped into small pieces
1 green bell pepper, chopped into small pieces
2 c chicken or vegetable broth
1 sweet onion, finely chopped
3 cloves of garlic, minced
2 Tbsp olive oil
2 Tbsp chili powder
1 Tbsp brown sugar
2 tsp Tabasco hot sauce
1 tsp dried oregano
1 tsp dried basil
1 tsp garlic powder
1 ½ tsp sea salt
½ tsp cayenne pepper (optional)
To serve: Sour cream, shredded cheddar cheese and green onions to serve
Tortilla chips to accompany
2 cups cooked Kamut® wheat berries
In a large heavy-bottomed pot, heat the olive oil over medium-high heat. Add the onions and the garlic and sauté until translucent. Make sure you stir constantly so you don't burn the garlic!
Add the bell peppers and cook for a couple of minutes, until tender. Add the turkey and cook until browned, breaking it up with a wooden spoon. Add the black beans, the kidney (or pinto) beans, the crushed tomatoes, the diced tomatoes, the chicken (or vegetable) stock, the chili powder, brown sugar, hot sauce, oregano, basil, garlic powder, sea salt and cayenne pepper (if using) and stir until everything is combined.
Once the chili boils, lower the heat to low and let it simmer uncovered for 30 to 45 minutes or until it thickens.
Serve over cooked Kamut® wheat berries and top with the green onions, a handful of shredded cheese, and a dollop of sour cream… enjoy!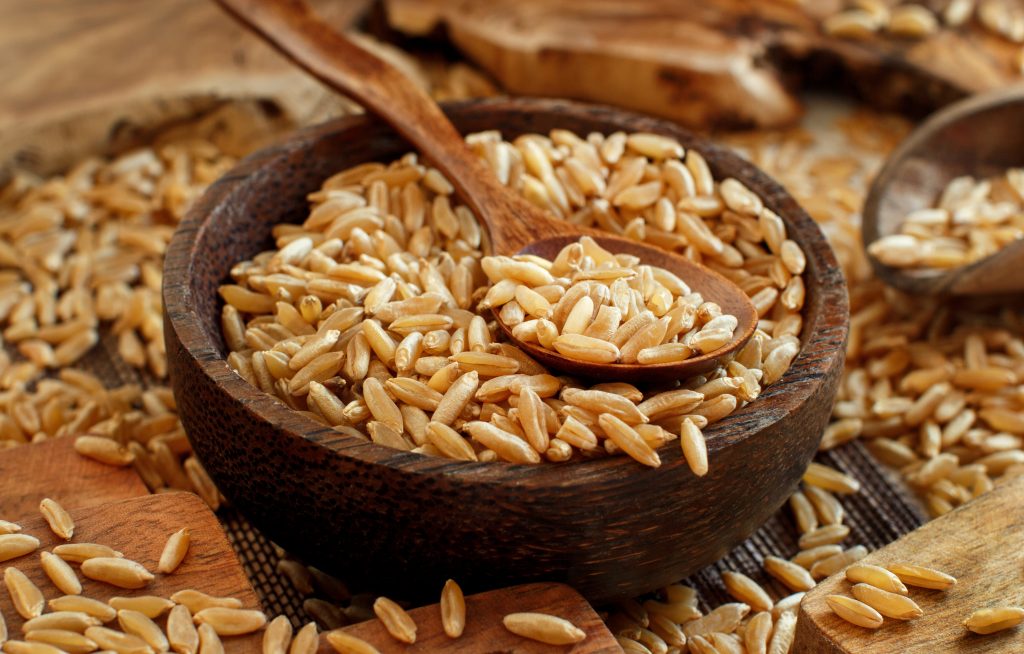 How to Cook KAMUT® Wheat Berries | Bob's Red Mill (You Tube)