Thanksgiving is a time to go all in! With so many people on special diets, it can be a challenge. So, to make it a little easier, these three vegetarian sides will not only work for turkey lovers, but vegetarians can enjoy a hearty, healthy and delicious meal. All three can be prepared in advance making for less stress and time in the kitchen on the actual day!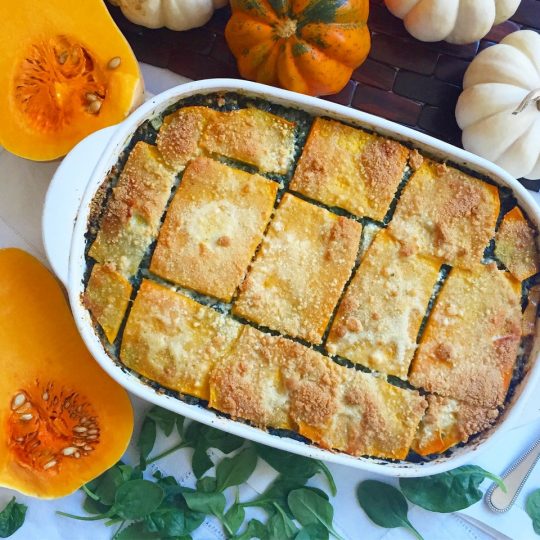 [vc_separator type="normal" position="left" color="" border_style="dashed" width="" thickness="" up="" down=""]
BUTTERNUT SQUASH AND SPINACH GRATIN
Great for a crowd! Makes a perfect side dish for roast meats, or a vegetarian main course.
Serves 6 as a main course, 8-10 as a side dish:
3                             10 oz packs of frozen spinach
5 tbsp                    unsalted butter
1 c                          onion finely chopped
5 lb                        butternut squash
3                            garlic cloves, minced
1 c                          heavy cream
¼ c                       freshly grated parmesan cheese
2 tbsp                   creamed horseradish
4 tbsp                   crème fraiche
1 tbsp                    salt
¾ tbsp                 freshly ground black pepper
¼ tbsp                 freshly grated nutmeg
Defrost the frozen spinach, squeeze to remove all the water, then coarsely chop and place in a large bowl. Melt three tablespoons of butter in a pan and cook the onion and garlic for 3-5 minutes. Add the onion mixture to the spinach, then add salt, pepper, cream, nutmeg, crème fraiche and creamed horseradish. Stir to combine then set aside.
Preheat oven to 400 degrees, butter a 3-quart shallow dish (approx. 9'x13", not glass).
Peel, seed and quarter the squash and cut into ¼" slices. Layer the squash and spinach in the dish—starting and ending with the squash—three to four layers of each.
Sprinkle the top squash with the parmesan cheese and dot with the remaining two tablespoons of butter. Bake for 25-30 minutes until bubbling, then pop under the broiler for 2-3 minutes to brown the top.
This can be assembled one day ahead and put into the fridge. Let stand at room temperature for one hour before baking.
This dish is absolutely worth the time it takes to assemble. Any leftovers can be frozen and reheated.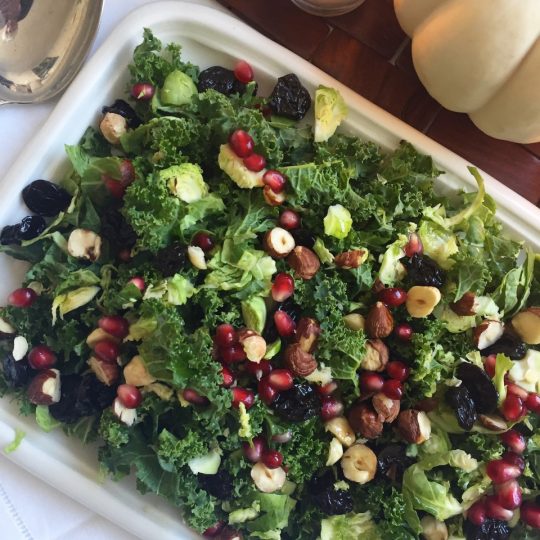 HOLIDAY SALAD
The perfect thing about this salad, other than how delicious it tastes, is that it can be made ahead of time. The less you have to do on the day your home is full of family and friends the better!
Serves 8
1 c                        hazelnuts
¼ c                     white balsamic or white wine vinegar
2 tbsp                 honey
1¼ tsp                kosher salt
1 tsp                    Dijon mustard
¼ tsp                  freshly ground black pepper
½ c                     olive oil
1                          large bunch kale, ribs removed, leaves torn into bite sized pieces (about 10 cups)
1 lb                     Brussels sprouts, trimmed and shredded (about 6 cups)
1 c                       dried cherries
1 c                       pomegranate seeds
Preheat the oven to 350 degrees. Roast the hazelnuts in a single layer on a rimmed baking sheet until golden brown, 8-12 minutes. Cool, then rub between your fingers to loosen skin. Roughly chop the nuts and set aside.
Whisk vinegar, honey, salt, mustard and pepper in a medium bowl, then slowly whisk in the oil.
Add the remaining ingredients to a large bowl and toss with the dressing. This can be served immediately or refrigerated overnight. Before serving add the hazelnuts and toss to combine.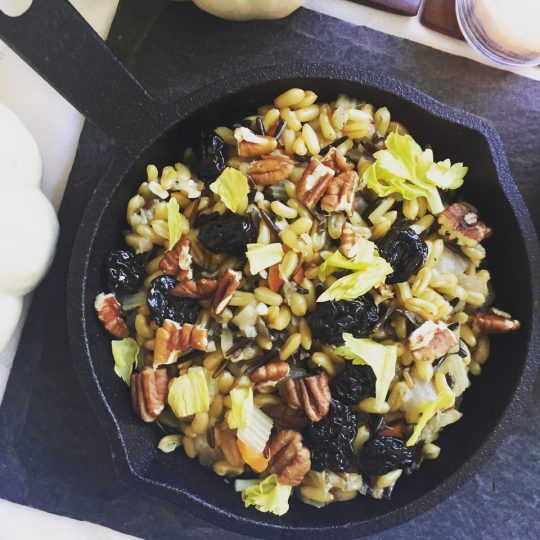 WILD RICE AND KAMUT® WHEAT BERRY PILAF
This delicious dish is a great go-to side dish, and it keeps well in the fridge. It can be made several days ahead, and topped when ready to serve.
Serves 12
2 tbsp                      olive oil
1½ c                        chopped yellow onion
1 c                            chopped celery (about 3 stalks) reserve the leaves for garnish
1 c                            chopped carrots
1 c                            wild rice
2 tbsp                     unsalted butter
1 tbsp                      minced garlic
1 tbsp                      chopped fresh sage
1 tsp                        chopped fresh rosemary
1 tsp                        kosher salt, divided
1 tsp                        freshly ground black pepper, divided
5 c                           vegetable stock
2 c                           uncooked Kamut® wheat berries
¾ c                         sweetened dried cherries
¾ c                         toasted, chopped pecans
Soak the Kamut® wheat berries overnight in 8 cups of water. Drain and rinse.
Heat the oil in a Dutch oven over medium heat and add the onion, celery, carrots and wild rice. Cook, stirring occasionally, until vegetables are tender, about 10 minutes. Add butter, garlic, sage and rosemary, cook stirring constantly for one minute. Sprinkle with half teaspoon and salt and pepper and pour in the stock. Add the Kamut® wheat berries, stir and bring to the boil. Cover and simmer until rice and wheat berries are tender and most of the liquid is absorbed, about one hour. Remove from heat and let stand covered for 10 minutes. Stir in the remaining half teaspoon of salt and pepper, top with cherries, pecans and celery leaves.