We made this as a deep-dish pie – just more awesome pumpkin and cream cheese swirled delight to enjoy!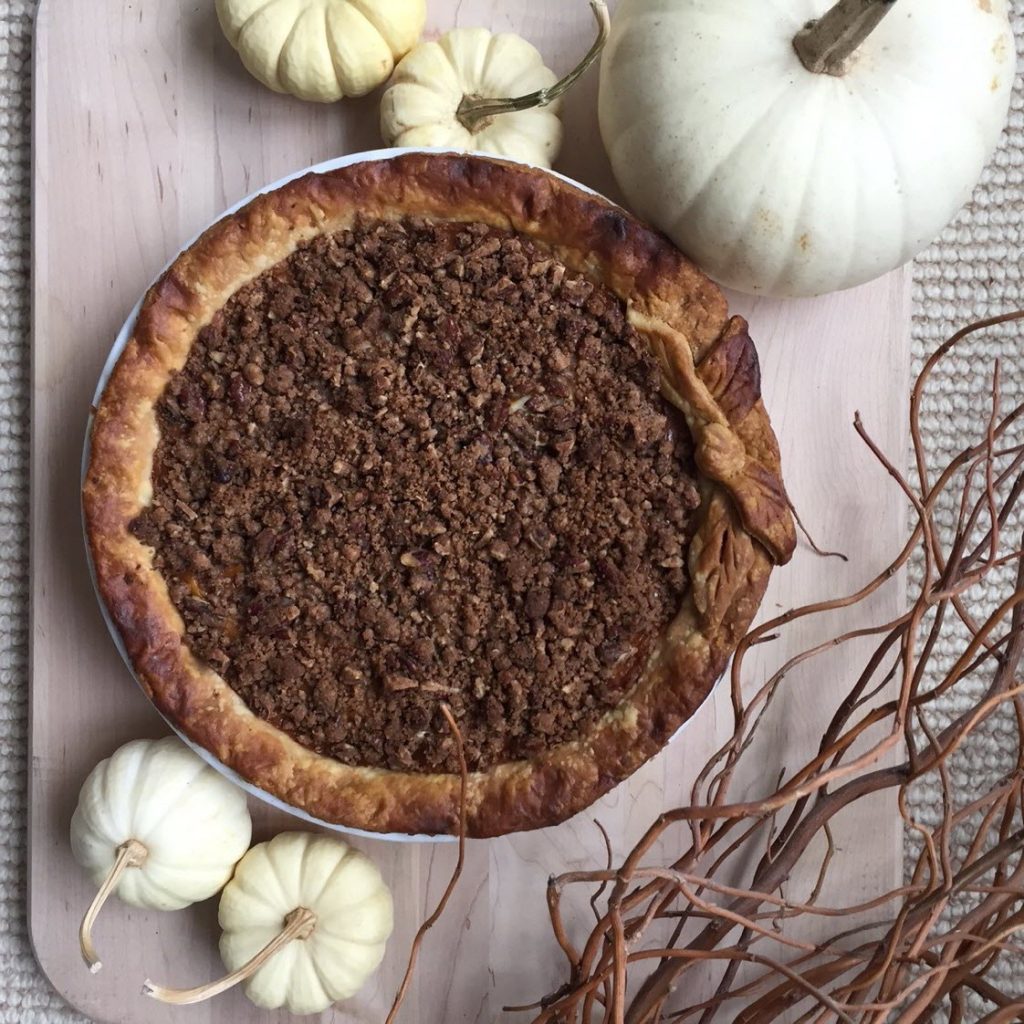 Pie Crust
2 ½c Kamut® All-Purpose flour (plus more for work surface
2 sticks unsalted butter, cut into small pieces
2 Tbs granulated sugar
1 tsp salt
¼-½ c ice water
Pumpkin Filling
2 large eggs
1 15-ounce can unsweetened pumpkin pie puree
2 5-ounce cans low-fat evaporated milk
½ c packed light brown sugar
1 tsp pumpkin pie spice
¼ tsp salt
Cream Cheese Filling
4 oz reduced ft cream cheese softened
2 Tbs milk
3 Tbs confectioner's sugar
1 tsp Vanilla extract
Streusel
½ c Kamut® All-Purpose flour
½ c packed light brown sugar
2/3 c chopped pecans
½ tsp salt
4 Tbs unsalted butter, melted
Make the Pie Crust
Butter a 9" pie pan.
In a food processor, pulse flour, granulated sugar, and salt until combined. Add butter and pulse until mixture resembles coarse meal, with a few pea-size pieces of butter remaining. Add 1/4 cup ice water in a steady stream, pulsing until dough is crumbly but holds together when squeezed (if necessary, add up to 1/4 cup more ice water, 1 tablespoon at a time). Form dough into a disk, wrap tightly in plastic and refrigerate until firm, 1 hour.
Preheat oven to 375 degrees. On a lightly floured surface, roll out dough just over 1/8 inch thick. Transfer to the pie pan, adjusting dough as needed to fit flat against bottom and sides. Trim dough and crimp the edges and prick the bottom with a fork several times. Line dough with a layer of parchment and fill with pie weights or dried beans. Bake for 15 minutes. Carefully remove parchment and weights from the crust, return to oven and bake until golden brown about 10 minutes; cover edge with foil if over-browning.
Make the Fillings
Whisk eggs, pumpkin, evaporated milk, light brown sugar, pumpkin spice, salt in a large bowl until smooth.
Whisk cream cheese milk, confectioner's sugar and vanilla in a separate bowl until smooth.
Pour the pumpkin mixture into the prepared crust, drop spoonfuls of the cream cheese mixture into the filling spacing them evenly. Draw the top of a skewer through both mixtures to create a swirl design. Bake the pie for 30 mins. Meanwhile, make the streusel.
Make the Streusel
Combine the flour, light brown sugar, pecans and salt in a small bowl. Add melted butter and stir with a fork until mixture is crumbly. Sprinkle evenly over the pie and bake until the center springs back when touched about 30 minutes. Remove from the oven and let cool completely on a wire rack, about 3 hours before serving.