Every generation is defined by how people were raised and the events that marked the society they lived in while growing up: music, television, the economy, and key events around the world.
Since 1960 there have been three distinct generations in a rapidly changing world that shaped their lives and their views of the future: Generation X, also known as the MTV generation; Millennials, who grew up in the Information Age; and Generation Z, who were born after 1995 and have never known a world without computers and cell phones. Although Generation X and Millennials showed some interest in environmental issues, it is Generation Z, now 20 percent of the U.S. population, who are becoming the most active and engaged in what they perceive to be the most important issue of today.
According to a study from Sparks and Honey, 26 percent of adolescents between 16-19 years old volunteer on a regular basis. But it's not only about volunteering; many are taking their actions and demonstrations to the streets in support of measurements to combat climate change, human rights, and equality. This generation is creating groups and organizations to generate awareness about their interests and concerns. They are working to educate their peers and are full of ideas that they bring to life through their social media platforms.
During the conference Raise the Green Bar, we met three young leaders who provided a refreshing and encouraging wrap-up panel that left us with a sense of hope of what to expect of a whole new generation of advocates. Rachel Parent, founder of KidsRightTonow.org & GenEarthEvent.org, Alexandra Villaseñor, Youth Climate activist and Shelby O'Neil, founder of Junior Ocean Guardians & No Straw November, are a young group of activists that refuses to limit their efforts to a "one generation-only movement."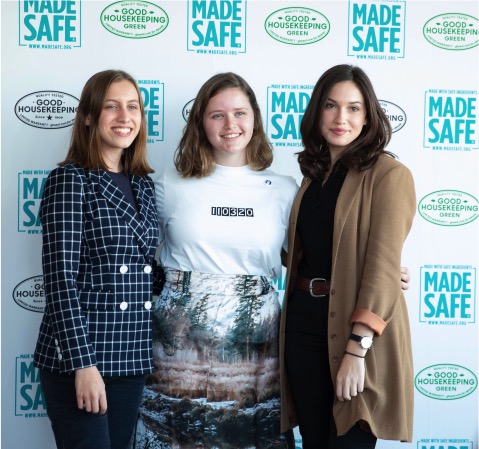 Photo (From left to right): Alexandra Villaseñor, Shelby O'Neil and Rachel Parent.
Rachel Parent is an activist with a focus on issues related to genetically modified organisms (GMOs) in foods, and especially government regulation in regard to food labeling. She is the founder of the non-profit Kids Right To Know, an effort that "seeks to inform, educate, and motivate kids to stand up and make a difference." Rachel thinks, "We can get other people involved by providing solutions like regenerative agriculture."
Shelby O'Neil is the founder of Junior Ocean Guardians and No Straw November. She began volunteer work at an Aquarium and was so inspired by the environmental issues facing the Oceans that she decided to take action. Shelby and her Jr. Ocean Guardian Ambassadors visit lower grade level school children and host beach cleanups to spread the word on alternatives to single-use plastics and also the importance of recycling. On October 2017, the California Coastal Commission unanimously approved Shelby's "No Straw November" Resolution. And in the summer of 2018, both the California State Senate and Assembly officially passed SCR-139 No Straw November to officially recognize November in California as No Straw November.
Alexandra Villaseñor is a climate activist that follows the Fridays for Future movement. She is a co-founder of the US Youth Climate Strike and founder of Earth Uprising. Alexandra was inspired to take action after experiencing smoke clouds from the November 2018 Camp Fire in California. As an asthma sufferer, she became physically ill and started searching about climate change and temperature rises which contributed to the fire's severity. In May 2019, Alexandra was the recipient of the Disruptor Award from the Tribeca Disruptive Innovation Awards (TDIA), received a scholarship from The Common Good public advocacy organization, and was awarded a Youth Climate Leadership prize from Earth Day Network. She believes that "We can get other people involved with education."
Young activists are taking a stand for their future and the future of those who haven't been born yet. They are using their voices and the power of their social media platforms to shape the future of America and the world. How are you contributing to the future of this young generation?
Header Photo Credit: The New York Times