Spinach is not only an amazingly versatile veggie, but it's also an impressively healthy leafy green packed with vitamins and protein. At just seven calories a cup, eating spinach is a great way to get essential nutrients in your diet without any guilt. As a significant source of vitamin K, it helps your bones retain their calcium with one cup of spinach having about 3% of your daily intake of calcium. It contains other minerals which are useful to your bone health like manganese, phosphorus, copper, magnesium, and zinc. For your muscles, spinach contains the antioxidant coenzyme Q10, which plays a role in strengthening the heart muscle and can prevent cardiovascular disease. Eating this green veggie can also help improve eyesight and reduce the risk of cataracts. Spinach contains lutein, which helps your eyes protect themselves from the sun's UV rays. Lutein can also help prevent macular degeneration, an eye disease which can lead to blindness if left untreated. Spinach also contains beta-carotene, which helps the eyes maintain a healthy level of moisture and has high levels of potassium, which helps lower high blood pressure. Along with potassium, spinach also contains folate, which helps relax blood vessels, further lowering blood pressure. And, it can be used to make super easy, super delicious recipes. These two recipes make it to our table on a regular basis.
SPINACH AND STRAWBERRY SALAD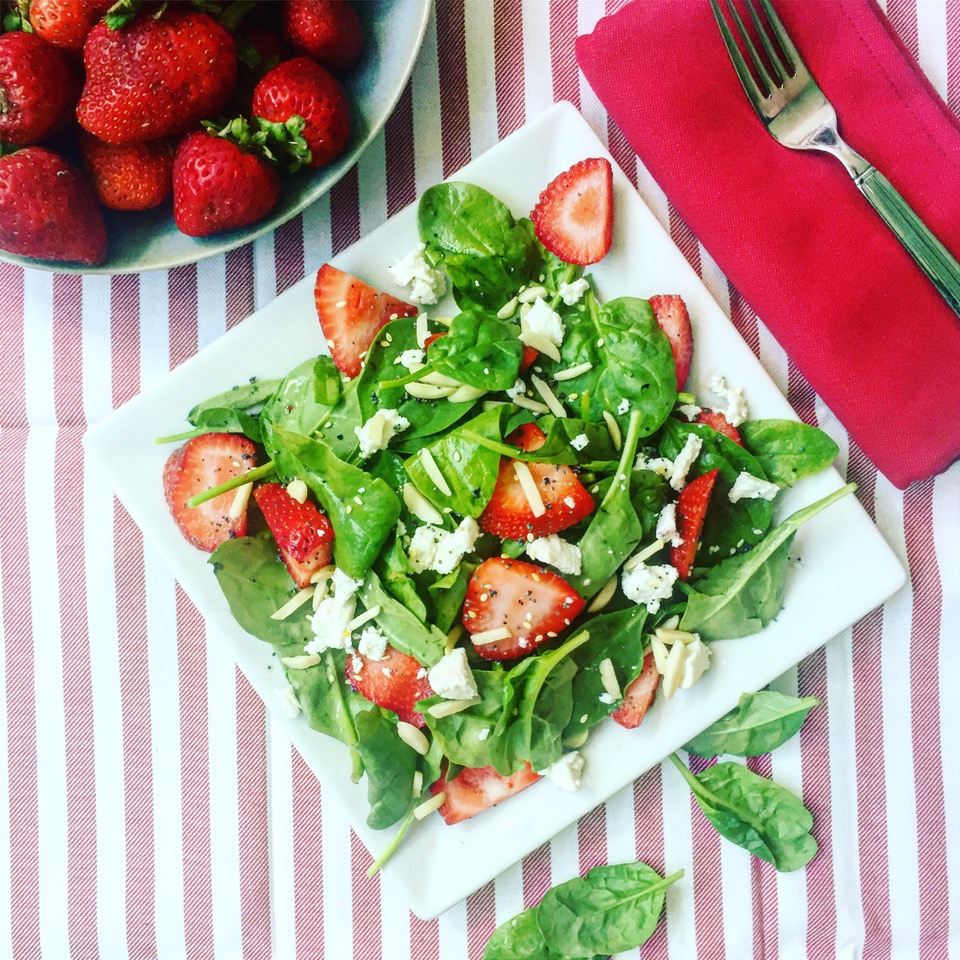 A deliciously tangy and sweet summer salad. 
Serves 4
Dressing:
1 Tbs sesame seeds
1 Tbs poppy seeds
½ cup Extra Virgin Olive Oil
¼ cup rice wine vinegar
¼ tsp paprika
¼ tsp Worcestershire sauce
In a medium bowl, whisk together the sesame seeds, poppy seeds, sugar, olive oil, vinegar, paprika, Worcestershire sauce, and onion. Cover, and chill for one hour.
Salad:
10oz fresh spinach – rinsed, dried and torn into bite-size pieces
1quart strawberries – cleaned, hulled and sliced
¼ cup almonds, blanched and slivered
In a large bowl, combine the spinach, strawberries and almonds. Pour dressing over salad, and toss. Refrigerate 10 to 15 minutes before serving.
SPINACH, MUSHROOM OMELETTE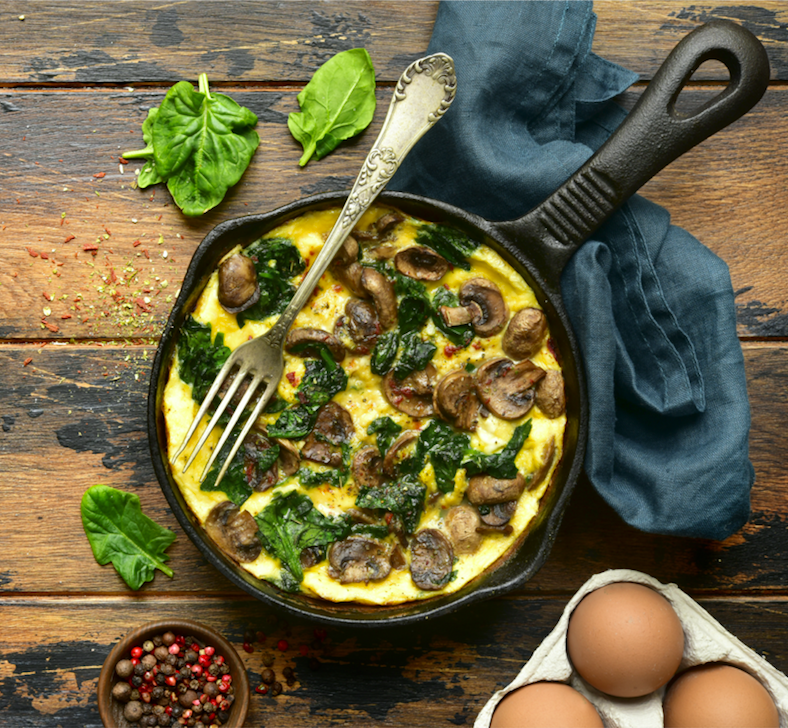 Omelets are the most versatile of dishes, perfect for breakfast, brunch or a light meal.
Serves 2
1 egg
3 egg whites
1 Tbs grated Parmesan cheese
Tbs Shredded cheddar cheese
¼ tsp salt
1/8 tsp crushed red pepper flakes
1/8 tsp garlic powder
1/8 tsp pepper
1 cup sliced fresh mushrooms
1 Tbs finely chopped green pepper
1 Tbs freshly chopped onion
½ tsp olive oil
In a small bowl, beat the egg and egg whites. Add cheeses, salt, pepper flakes, garlic powder, and pepper; mix well. Set aside.
In an 8-in. cast iron skillet, sauté the mushrooms, green pepper and onion in oil for 4-5 minutes or until tender. Add spinach; cook and stir until spinach is wilted. Add egg mixture. As eggs set, lift edges, letting uncooked portion flow underneath. Cut into wedges. Serve immediately.