We recently attended the 38th annual Natural Products Expo West & Engredea, the world's largest natural, organic and healthy products event. This year again saw another record-setting show with more than 85,000 attendees including industry pioneers and a new generation of innovators shaping the future of healthy products. The show, produced by New Hope Network, was held March 7-11. New Hope Network again increased the event's campus to encompass the entire Anaheim Convention Center, extending exhibits into the newly expanded North Halls that held over 800 companies. Education sessions and social events were held throughout campus at the Marriott and Hilton hotels, as well as in the Grand Plaza and Arena Plaza.
The conference featured a robust education program including keynote presentations by award-winning actress, social advocate and mom of three, Jennifer Garner and organic industry pioneer John Foraker, co‐founders of Once Upon a Farm; and nationally bestselling author and internationally recognized expert on food systems, Anna Lappé. The new Esca Bona Story Stage featured keynote speaker Rose Marcario, CEO of Patagonia Inc. and Patagonia Works.
Top 10 Trends
Plant-based Inclusion
The alternative trend took root and has been taking off in the last year with no signs of slowing down. Veganism's health and environment-focused counterpart is driven by increasingly educated customers who are seeking products that have a lesser impact on the environment and a long-term health benefit.
Cauliflower Power
Cauliflower has been around the Expo block a time or two but it appears to have made it known that it's here to stay. Now in crisp and still in crust form. cauliflower seems to be the Millennial's replacement for gluten, sugar, grains, and meat and we kinda love it!
Crushing Keto
A small fringe trend called the ketogenic diet is now a full-blown lifestyle making ways in even mainstream circles. But it's no longer good enough to call yourself low-carb, keto certifications are the new stamp of approval for foods competing for the small daily budget of carbs allowed by each keto abider.
Tumeric Still
It wasn't just hot in 2017. With plenty of buzz around inflammation in 2018, we can only expect turmeric products to fill our pantries and serve as the save-all of 2018. Turmeric boasts benefits including improved cognitive function, reduction in the symptoms of depression, and the treatment of Alzheimer's.
CBD Buzz

The many health-promoting properties of cannabidiol, or CBD, has put this ingredient on everyone's radar. Now the gold rush is on as legacy brands and startups alike incorporate full-spectrum industrial hemp-derived oil containing CBD into topical products and supplements.
Global Flavors

Thanks to worldly entrepreneurs, shoppers don't have to go far to get a taste of something new – globally inspired foods are booming. And behind the businesses making them are founders with stories and personal connections to their products that emanate a sense of authenticity that consumers pick up on.
Purpose Driven
Today's environmentally aware consumer has their eye on details—and are also armed with tools to sort them out. So, for brands, having an environmental statement is no longer enough. Companies in-tune with eco-conscious consumers have an environmental purpose with measurable actions that are crucial elements of their brand storyline.
Collagen Evolution
Collagen supplements are coming off the shelves and into jerkies, bars, and bites. These snacks deliver the same skin, hair, joint and gut benefits in a tasty and satisfying snack. The collagen market is booming as more and more people discover the effectiveness of the ingredient.
Beet It
You can't beat beets apparently. Now we love them, but not everyone does! But they were showing up in everything from Matcha to hummus! Love them or hate them, beets are earning a second look as the next superfood from boosting endurance to antioxidant packed, healthy snacking.
Beyond Popcorn
Popcorn just happens to be one of our favorite snacks, but a whole new generation of popcorn is emerging. Not just inventive and delicious flavors, but as a functional, activated food for all the family. We're in!
And now, our top 18 picks from the show, curated from a list of more than 50 products we tried and tested!
PERSONAL CARE:
We love this category, and this show was no exception! What we did notice was that there was an increase in kids brands, men's grooming and personal care was stepping it up when it came to environmental sustainability.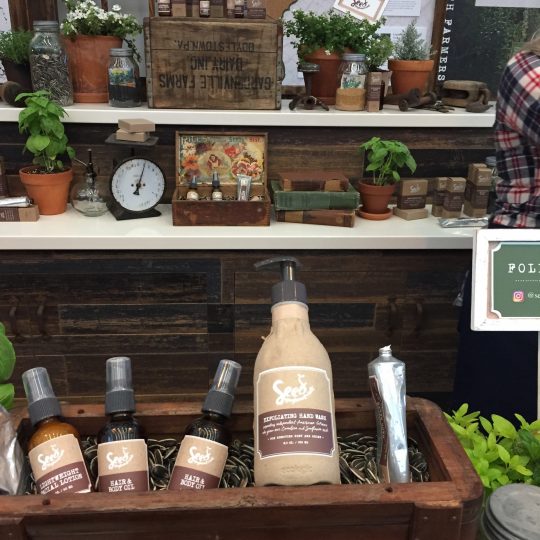 A new brand that was premiering at the show in advance of their EarthDay launch, Seed Phytonutrients is committed to crafting natural skin, hair, and body care products with purpose. Their philosophy is fourfold: supporting organic American farmers; preserving seed diversity; promoting natural beauty by using ingredients with integrity; and leading environmental sustainability with the first shower-friendly paper packaging in the beauty industry. Not only is that a philosophy we can fully support, but the line featured some amazingly good products.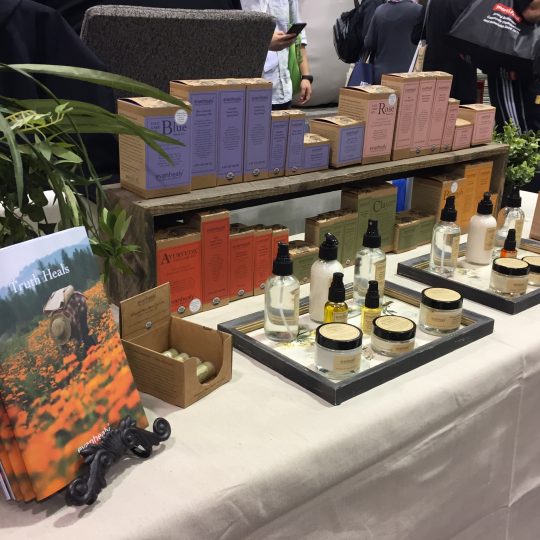 This beautiful collection of holistic and organic skin care products is inspired by the wisdom of nature, formulated to support the rhythms of the body, and created to transform the modern perception of beauty. Formulated with organic and wild-crafted plants, sourcing traditionally and empowering tribal villages and women's co-operatives, and incorporating time-honored practices like the use of flower essences in the Dr. Bach tradition. Evan Healy commits to truth in all things.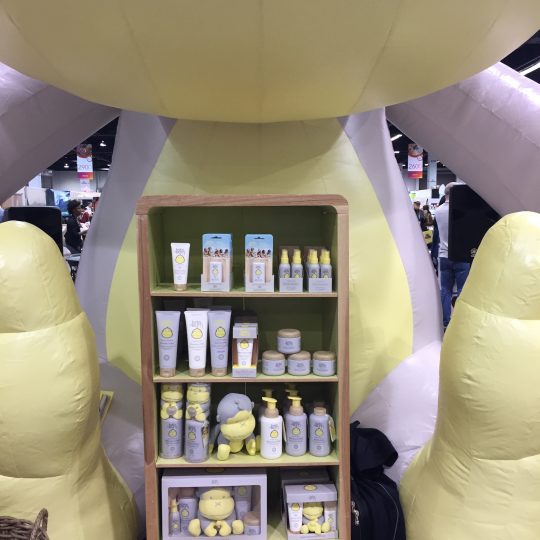 This booth with its giant monkey made us smile. So did the really cool products for babies and toddlers! Created by parents for their kids, Baby Bum captures the essence, aesthetic and socially conscious vibe of the simple beachside community where it was developed. With most of the ingredients from renewable plant sources, nothing goes into the products without going through their families first.
HEALTH & WELLNESS:
We made a beeline to the supplement hall to make sure we had the stamina for a two-day marathon around all the booths! Here are our favorites, and yes we tried them all, except the CBD as they were not allowed to sample the product in California!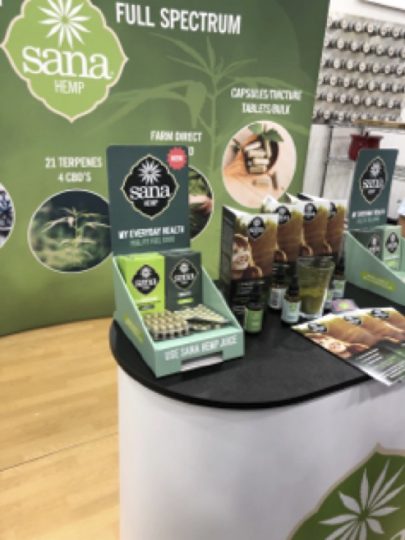 CBD oil took center stage at Expo West this year as the Expo held its first-ever CBD Summit. The brand showcased two different mgs for CBD oils and CBD in soft gels. They had an un-flavored and a peppermint flavored oil for display. When it comes to CBD oil, it's important to know where it's sourced from as many of these products can come from overseas and contain fillers. We love that Sana's products are farm direct and non-gmo and all-natural.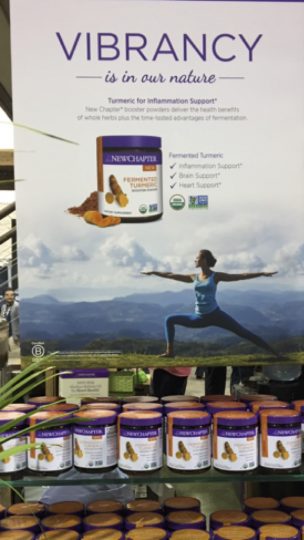 New Chapter Fermented Turmeric
Turmeric was still very popular this year and could be found in everything from powdered dietary supplements to snack foods and cereals. But our favorite turmeric supplement was this fermented turmeric powder from New Chapter. It's organic and fermented which means it also has probiotics. It tastes delicious blended into a juice or smoothie and it's also dairy free.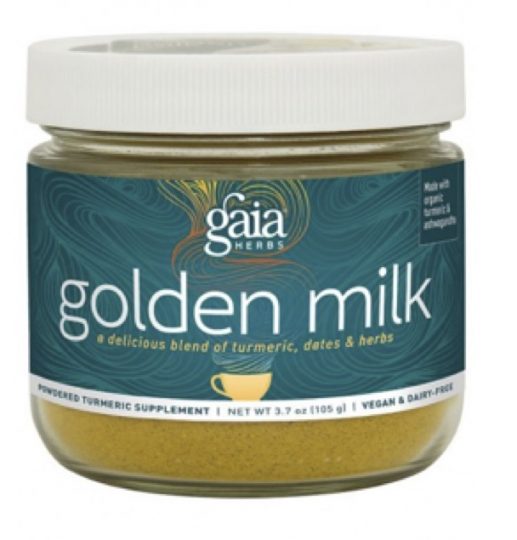 Golden milk lattes are everywhere right now, and if you are looking to recreate this delicious and spicy beverage at home then look no further. Gaia Herbs Golden Milk is made with delicious blend of turmeric, dates and herbs like ashwagandha root which is great for stress relief. It tastes great mixed into your favorite nut milk and can be sipped at night as a warm beverage before bed. It also tastes great mixed into a smoothie.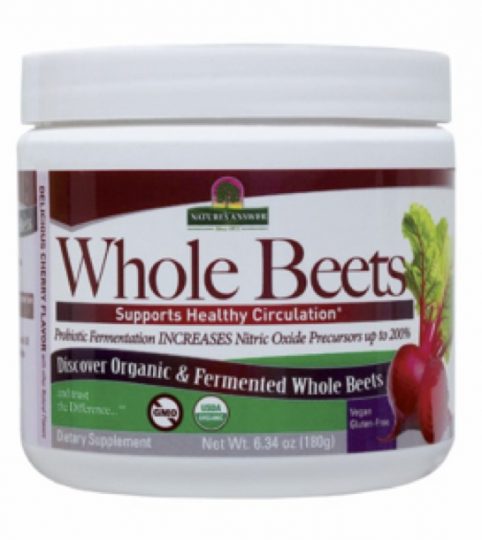 Beets could be found in a lot of products at this year's Expo West, but our favorite was this organic and fermented beet powder from Nature's Answer. We were surprised at how delicious this powered tasted, especially in a smoothie. Plus, the fermentation gives the added bonus of probiotics in each serving. It's also vegan and gluten-free.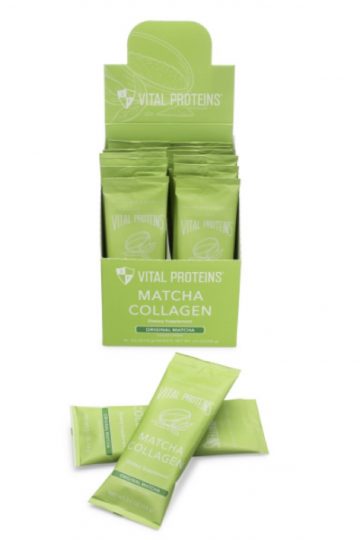 Vital Proteins Collagen Matcha
We love adding collagen protein to our matcha so we were thrilled to try Vital Protein's collagen matcha at Expo. This matcha can be used in a variety of different ways, including traditional matcha tea hot or cold, added to a smoothie or baked into matcha-infused baked goods. Think of this as a protein powder with the added bonus of antioxidant support that also promotes bone, joint and skin health. It's a must-have for any matcha lover if you ask us. These can be purchased as travel packets or as a whole jar.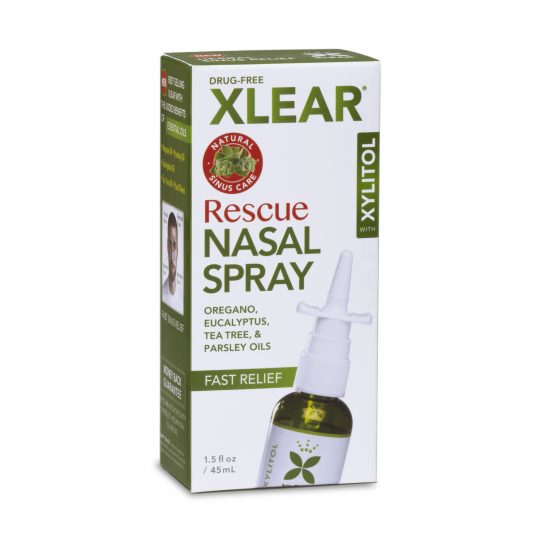 Heavily congested and almost deaf with ears that would not "pop" after the plane landed, we headed over to visit XLEAR. Their saline nasal sprays with xylitol are a great natural solution. This new product with essential oils of Oregano, Parsley, Eucalyptus, Tea Tree and Pau D'Arco did the trick. The next morning the ears were clear, no pain and we could breathe again. We'll never travel without it!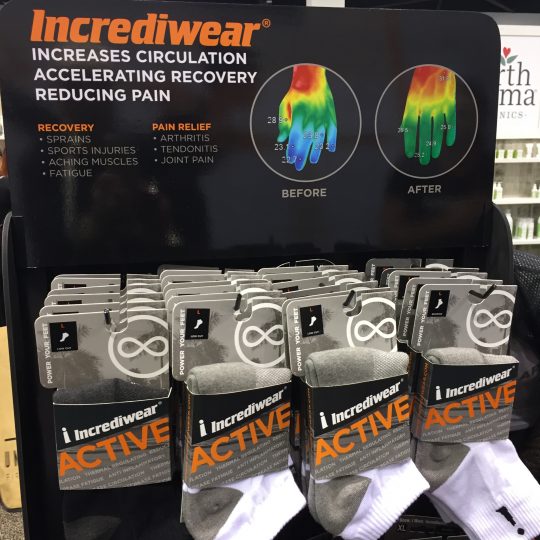 One of our eco18 team members has incredibly painful foot issues, not a good thing when walking for three days at a trade show! However, she discovered Incrediwear® a brand of clothing items that are supposed to increase circulation accelerating recovery and reducing pain. The skeptic that she is, she had low expectations that the socks would work – they did! She has reported that wearing them in the evening after hours on her feet, that her neuropathy pain was greatly reduced.
HOME:
We are always on the look-out for more sustainable options to replace plastic and reduce waste. Having been admonished for using a plastic straw in one of our Instagram posts (our bad) we were on the hunt for a better option.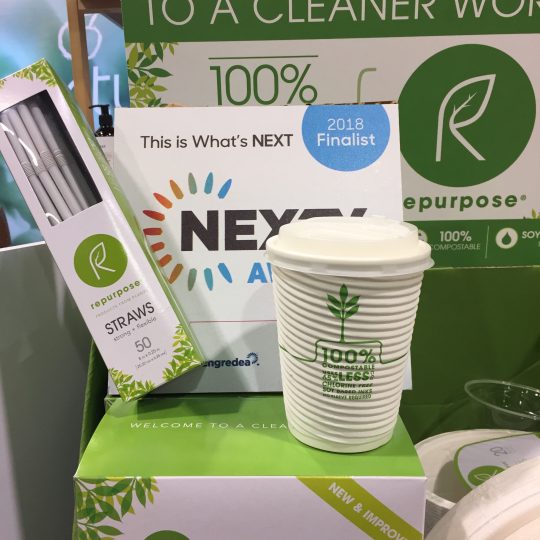 We found this great brand that produces a line of sustainable tableware that looks out for the health of you, your family, and the planet. All their products are made exclusively from plants and they are on a mission to reduce the number of plastics in our environment and offer high quality, durable, and guilt-free renewable alternatives that are price competitive. And yes, they have certified compostable straws that look and feel like plastic straws but made with plants!
FOOD & BEVERAGE:
One thing for sure is that there is always plenty to snack on at Expo West. This year more than ever and we did our best to try as much as we possibly could! We do love to visit some of the international booths to get some flavors from around the world as well as try all the new functional food offerings. There were some great food innovations this year!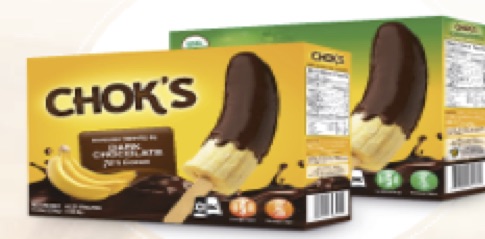 From Ecuador Amerifoods, a company that's now in 43 countries with their lines of organic fruits and vegetables, were featuring a new product to their Chok's line, Organic Mango bits covered in organic dark chocolate. Well, we went back to sample this more than once! It's a line extension to their organic banana covered in chocolate – that too was great. But, the combination of cold dark chocolate and sweet mango was like a fiesta in your mouth.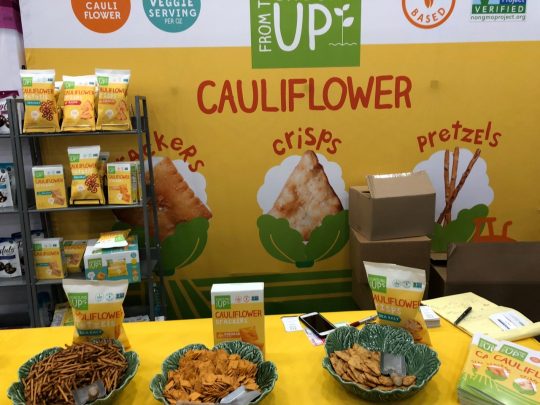 Wouldn't life be perfect if all food had the nutritional content of cauliflower yet tasted like a crunchy pretzel snack? The innovators at From the Ground Up set out to make that a reality, with their bold new line of snacks including crackers, crisps, and pretzels. Not sure if it's exactly like eating a raw cauliflower, but it is high in fiber, low carb, and nutrient dense. For the salt and crunch lover, this product certainly delivers.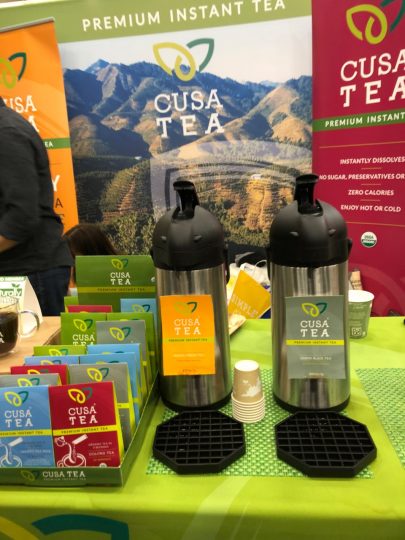 Instant tea gets a bad rap these days. But even the most seasoned tea lover wouldn't mind saving a few minutes or losing the bag once in a while. Founder Jim Lamancusa, uses and innovative process to dehydrate the tea while preserving the flavor – and much of the nutritional value as well. The taste could satisfy any tea snob's palate, with on-the-go convenience to match.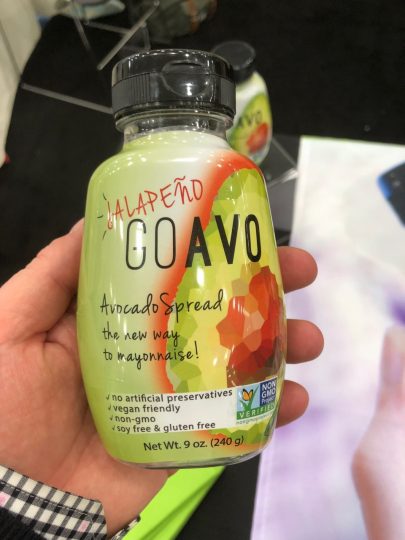 Just when you thought the world didn't need another avocado product. Think again! This mayo avocado infusion is a new kind of spread with homemade tangy taste and an energetic design. The people behind GoAvo put their money where their mouth is, so to speak, as each bottle contains 85% avocado. The result is a line of three delicious flavors, jalapeno, basil, and original. We are looking forward to seeing this brand grow.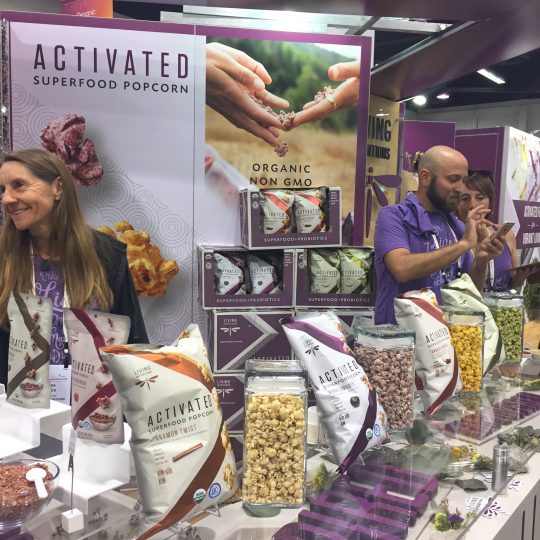 Living Intentions: Superfood Popcorn
Living Intentions believes everyday food can be elevated. Their new Superfood Popcorn takes an already loved snack and turns it into a superfood. With unique varieties, which are just bursting with flavor, we tried Tandoori Tumeric, Salsa Verde – yes it's green in color, Berry Superfruit, and Cinnamon Twist. This brand is proving that there is seemingly no limit to the healthier ways to experience popcorn.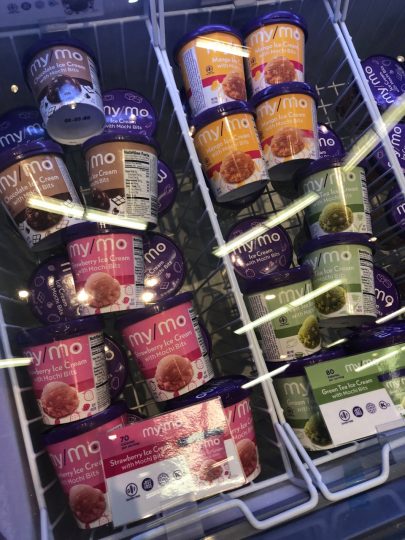 The taste of these Mochi Treas from My/Mo really stole the show. They were powdery and doughy on the outside with a delightfully hard creamy center. Their cheerful bold colors and design made the overall experience a happy pleasant one. The size of the individual mochis were perfect for a quick portion-controlled snack. Each one is 110 calories and there were vegan varieties as well. Whether or not you're a fan of mochi, this dessert really delivers the best healthier frozen dessert we could ask for.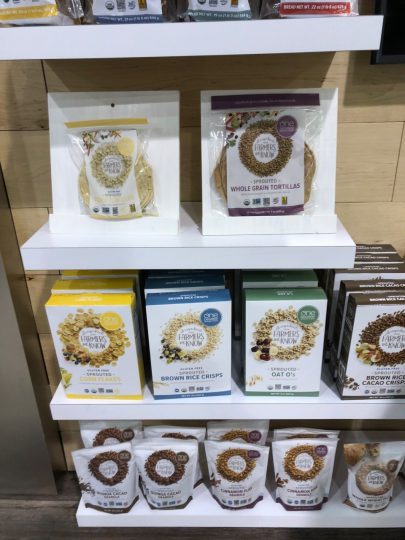 The first thing we noticed is the design of their packaging— which stopped us dead in our tracks! The look features the grains and ingredients framing the tagline "All ingredients from farmers we know." This design is effective in highlighting their central message, yet celebrates taste and exudes transparency. It was no surprise that the people behind this brand, founder Stan Smith and Family out of Canada, encompassed the ideology that makes brands great. Honest traceable foods, "from farmers we know" means that they take steps to become aware and familiar with the people behind the suppliers of their ingredients. It's brands like these that remind us that simple, uncomplicated approaches with conscious ingredients and thoughtfulness of the supply chain are still relevant. It's products like these that make the natural foods expo and category great.