Photo: Adobe Stock – Every October 13th the world observes the International Day for Disaster Risk Reduction, and in 2020 the focus is on governance.
If there's something to learn from the COVID-19 pandemic and from the 4 million acres that have burned in California in 2020, is that there's a need to reinforce a global culture of risk-awareness and disaster reduction, especially considering that the climate crisis will only continue manifesting in the nearest future. This is why the United Nations designated in 1989 the International Day for Disaster Risk Reduction.
Every 13th of October, the world observes the International Day for Disaster Risk Reduction as a reminder of the need of clear visions, plans and efficient organization bodies that make decisions based on the evidence provided by science, in pro of the public. This means that every country should have in place local and national strategies to respond and protect lands, infrastructures, public health, environment, natural resources such as water and energy, among many others.
This year, the world faces a pandemic caused by the Severe Acute Respiratory Syndrome Coronavirus 2 (SARS-Cov-2), which is expected to reach a mortality rate of around 1%, 10 times higher than average for the seasonal flu, but still is not the worst pandemic based on mortality rates from past pandemics. Nevertheless, the impact of COVID-19 can be observed at every level: emotional, psychological, and economic to say the least. One can think that –although at a high cost- this is an opportunity to prepare for future disasters.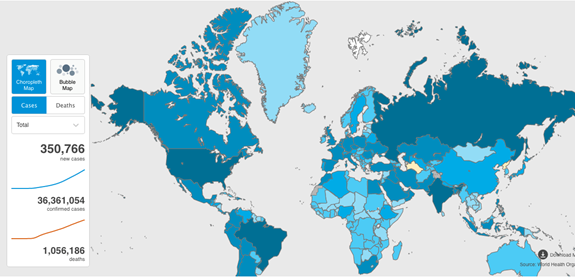 World Health Organization (WHO) Dashboard: Globally, as of October 12th, 2020 there have been 37,423,660 confirmed cases of COVID-19, including 1,074,817 deaths.
According to the USAID, natural disasters will be more frequent in the future and are expected to take a greater toll due to climate change, a growing world population, and more people settling in hazard-prone areas. "With each disaster, development gains may be lost as infrastructure is destroyed, poverty increases, and economic opportunities and livelihoods are interrupted or lost."
Although every country needs to play their part, these are global issues that require global collaboration to reach "good disaster risk governance," and that ultimately save lives, reduce the amount of people affected, and manage the economic losses caused by natural disasters.
In the United States, FEMA's National Preparedness Goal established the following areas as their main mission to protect the community: prevention, protection, mitigation, response and recovery. There are also multiple resources available with valuable information on how to prepare for natural disasters. You can visit https://www.ready.gov/ for tips to face a pandemic, wildfires, flooding, hurricanes, earthquakes and more.
Yet, this International Day for Disaster Risk Reduction calls for a more active role from governments and private sectors, to join forces and work towards the common goal of protecting the world. The climate crisis requires action. It's imperative to reduce the ever-rising greenhouse gas emissions that are already impacting natural ecosystems, economy, human lives, and livelihoods. The Intergovernmental Panel on Climate Change (IPCC) insists that global emissions need to be reduced to net-zero within the next few decades to avoid a dangerous increase in global temperatures and an irreversible impact.
5 Historic Disasters of Great Proportions
The Federal Emergency Management Agency (FEMA) considers the following natural disasters of historical proportions due to the impact it had in the agency, and in their future handling of similar disasters.
Hurricanes Irma, Maria, and Harvey – 2017

Consecutive hurricanes Harvey, Irma, and Maria caused long-lasting damage across the impacted areas. Recovery efforts for Hurricane Maria, in particular, are ongoing and will be one of the largest post-disaster humanitarian and reconstruction efforts in our history.

California Wildfires – 2017

The California fires in 2020 are record-breaking, becoming the largest fire in the state's history.

Hurricane Sandy – 2012

Congress passed the Sandy Recovery Improvement Act of 2013 to streamline the recovery of public infrastructure.

Hurricane Katrina – 2005

1,800 people died as a result of the devastation. Katrina caused billions of losses to infrastructure and to the economy. Congress passed the Post-Katrina Emergency Management Reform Act of 2006.

California Northridge Earthquake – 1994

Registered 57 deaths, $25 billion in damage plus $40+ billion in economic loss, making it the costliest earthquake disaster in U.S. history.