Tis the season for some pumpkins, long-sleeves, and DIY Fall decorations! With the days getting shorter and the weather getting cooler, we want to help you make your space cozy and cheerful in an eco-friendly and easy way. Check out some of our favorite fall decorations below, turn on your coziest October playlist, and get crafting!
1) Decorating with food.
The possibilities are endless here! We all know that with a little paint and some pumpkins, everyone can spruce up their front porch or living room with some fall fun. But we've got another food DIY to try – apple tea candle holders. All you need are some red (or green) apples, a knife, oil, and tea candle holders to make these beautiful candles for the mantle. You can also fill a long dish or tray with other apples or small stones tucking them in tight to offer some more stability or put them on candle holders. Check out lamberdebie's blog for the step-by-step!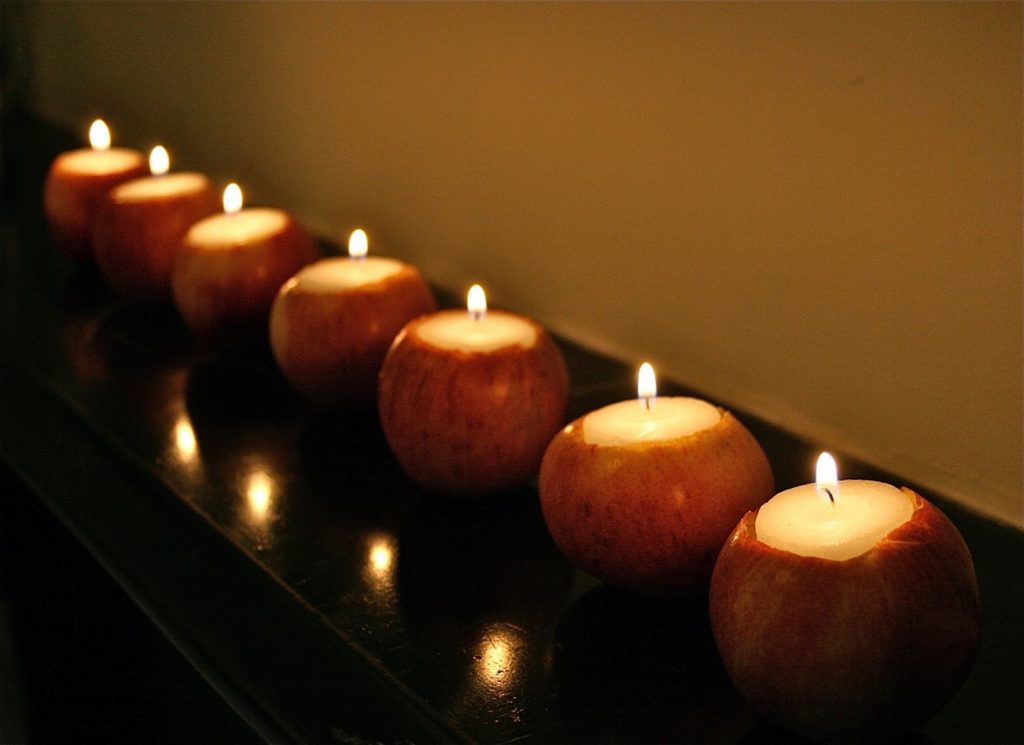 Image via lamberdebie's blog
2) Take some inspiration from outside.
If you want to soak up the brisk fall air and get the kids involved, grab your masks and coats and head to the park or backyard! We recommend these framed DIY Leaf Prints for the do-it-yourself expert, or if you want to keep it simple, take a look at these painted acorns! Acorns are perfect for clear vases or bowls to add some ambiance to a room.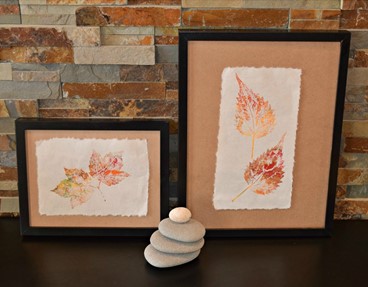 Check these out from Little Miss Dexterous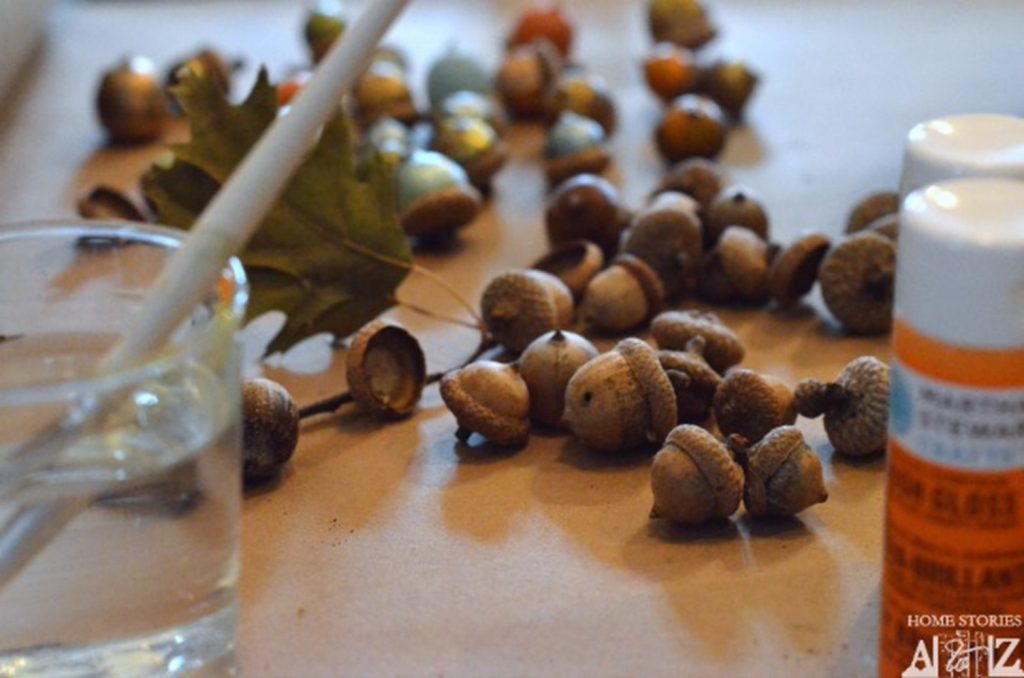 Check out Home Stories A to Z for the steps to paint acorns!
Use what's already in your home.
The phrase "one man's trash is another's man treasure" definitely applies to these super cute trash-bag spider webs and egg carton bats! To make the webs, simply cut a trash bag edges so there are two squares, fold them (you might need tape for this), and snip away! See the tips at HGTV.com. For the egg carton bats, head over to DIY & Crafting. All you need is some egg cartons, paint, googly eyes, and pretty yarn!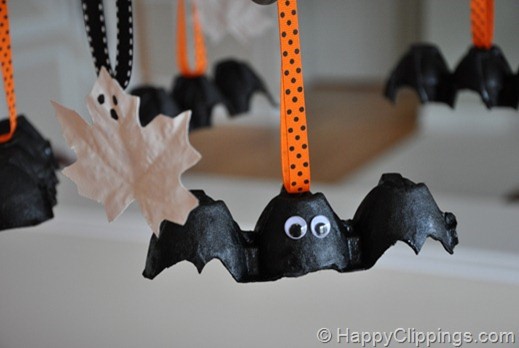 Learn more about these egg carton bats at DIY & Crafting
3) Set the tone with these fall scents.
Nothing quite beats the smell of some pecan pie or a cup of apple cider, but all you need to make your home smell like fall is a quick trip to the grocery store! Throw some oranges, apples, vanilla, and cinnamon sticks into a pot of boiling water and bring the water down to a simmer and your house will smell incredible in minutes. Check out these simmer pot recipes at The Happier Homemaker. Or, if you want your décor to do double-duty, you can make these scented pinecones with a freezer bag, cinnamon essential oils, and water!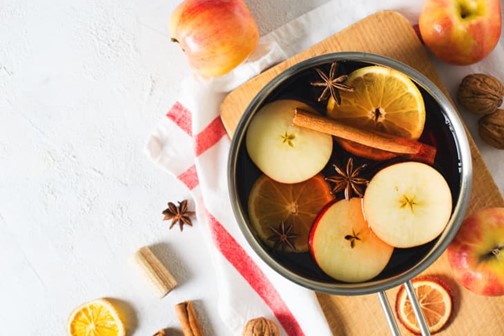 Check out more Simmer Pot Recipes at Apartment Therapy, too!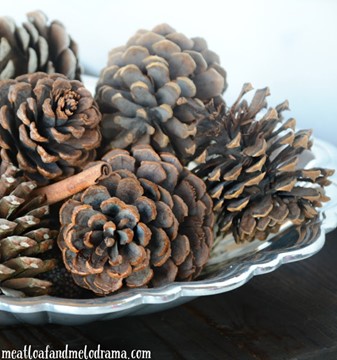 Find the step by step guide for these perfumed pinecones at meatloafandmelodrama.com!
4) Don't forget the front door!
There are dozens of ways to decorate your front door with leaves, wreaths, signs, and more, but if you want one that the whole family can get involved in, check out these twig letters! After picking up a white or black wooden letter from a crafts store, send the kids to collect the twigs, while you heat up the hot glue. Put it all together and you have a cute front door fall decoration like the one below. Head over to The Happy Housie to see the tips!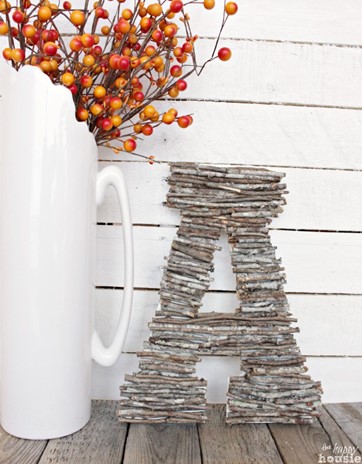 Check out The Happy Housie for these cute twig letters!
So, with the fall equinox right behind us and the coming winter ahead of us, take a second to enjoy fall with these fun DIY fall decorations. Let us know your favorites by tagging @eco18dotcom!