Between Halloween, Thanksgiving, and fall in general there are pumpkins everywhere, so take advantage of this wonderful and versatile plant! We all know that pumpkins are great for decoration, but they also make for great beauty products, gardening supplies, and of course food! Keep in mind that one pumpkin can be used for many projects. For example, if you carve out a jack-o-lantern, save the pulp for a homemade exfoliator and roast up those seeds for a tasty treat! This way you can showcase pumpkins around your house and on your plates guilt-free!
DECORATIONS/AROUND THE HOUSE:
Pumpkins are great for decorations or for replacing household items. Whether you want to have a festive centerpiece or to spice up a dinner party, pumpkins are the perfect place to start!
Floating Pumpkin Candles:
Buy 6-8 miniature pumpkins that are 3"- 4" across
Buy the same number of votive candles
Hold a votive candle over the top of the pumpkin and trace a circle around it
Using a knife, carefully cut out the circle so that a votive candle will fit into the hole snugly
Repeat with all the candles
Fill bowls or pails with water, light the candles, and float the pumpkins in the water 
Carved Pumpkin Air Freshener:
Cut off the top of a medium pumpkin, carve out the center
Cut holes in the sides to vent with an apple corer or carve a jack-o-lantern
Rub your favorite seasonal spices on the inside of the pumpkin top–not vanilla extract because the candle flame may ignite the alcohol
Place a beeswax tea light candle in the bottom of the pumpkin
Light and let burn–never leave a burning candle unattended
Serving Bowls:
Preheat over to 350°F
Cut off the top and carve out the center for each pumpkin
Place hollowed-out pumpkins on a baking sheet lined with aluminum foil
Brush the insides and the tops with a little vegetable oil
Season as desired
Bake for 35 minutes
Vase:
Cut off the top and carve out the center
Place a container filled with water inside along with a bouquet of your favorite flowers
BEAUTY:
Pumpkins contain enzymes and antioxidants that offer results similar to gentle alpha-hydroxy action: they remove dead skin cells, while its beta-carotene-rich antioxidants nourish your skin! In addition to pumpkins and all their glory, a couple of common ingredients in the following beauty products are cinnamon and coconut! Cinnamon is gently warming, stimulating, and antibacterial and contains antioxidants that provide a beneficial boost. Coconut is a lovely natural moisturizer. These following recipes are easy to make, smell absolutely heavenly, and do divine things for your skin and hair!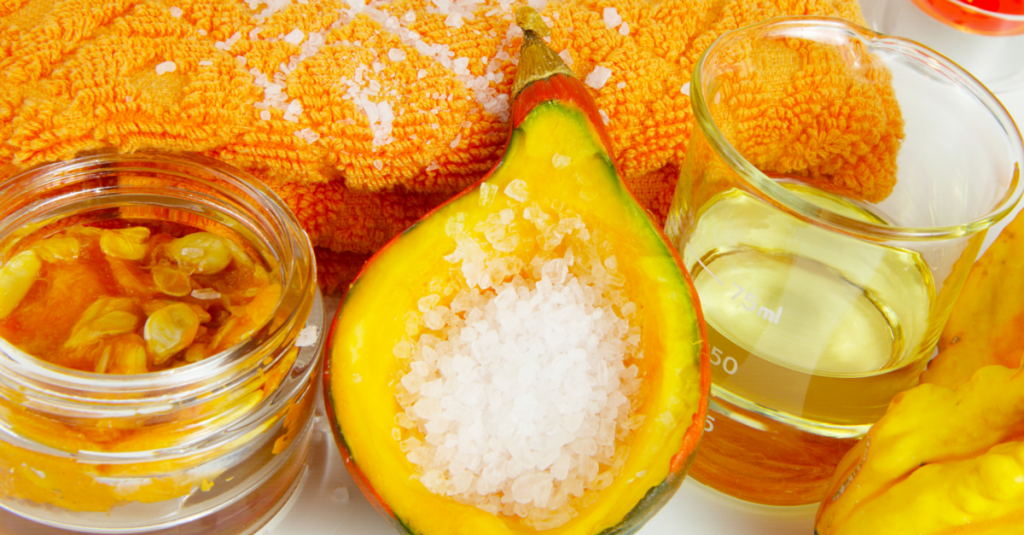 Face Exfoliator:
Put pumpkin seeds in a food processor until they are a fine-grain texture—it's okay if you leave those stringy bits on the seeds
Mix in 3 tablespoons of honey, which creates a moisture barrier, and 5 drops of cinnamon oil
Scrub your face for a minute
Leave on for 10 minutes for a complete exfoliation
Peel-off Facial Treatment:
Start with ¼ cup of pumpkin puree
Mix in 1 egg and 1 teaspoon of milk
Spread on face and let dry for 10 minutes
Remove with warm water and follow with a toner & moisturizer
Face Mask:
Start with ¼ cup of cornmeal
Mix in 1 tablespoon of pumpkin puree, 2 tablespoons of honey, and 2 tablespoons of freshly crushed raw cranberries, which contains wrinkle-preventing enzymes
Gently massage into your skin for 2 minutes
Rinse
Body Scrub:
Start with ¼ cup of brown sugar
Mix in ¼ cup of pumpkin puree and 1 cup of olive oil, which creates an exfoliating scrub with serious moisturizing properties
Apply to skin in a circular motion using a washcloth
Rinse
Body Mask:
Start with ½ cup of pumpkin puree
Add ½ cup of liquid coconut oil
Add ½ teaspoon of ground cinnamon
Blend together
Massage into skin while you're in the shower
Body Butter:
Start with ½ cup of pumpkin puree
Mix in ½ cup of solids from a can of coconut milk and ½ teaspoon of ground cinnamon
Massage gently into skin
Leave on for 10 minutes
Rinse with water and pat dry
Hair Mask:
Start with 1 cup of pumpkin puree
Mix in 1 tablespoon of liquid coconut oil, 1 tablespoon of honey, and 1 tablespoon of Greek yogurt until smooth
Coat your hair and let the mask sit under a shower cap for 15 minute
Rinse out before washing your hair
FOOD:
There are so many pumpkin recipes that it was hard to pick just a few of my favorites. I tried to limit it down to one recipe for each meal! However, there is no such thing as too many pumpkin dishes! Pumpkins are packed with antioxidants and vitamins such as beta-carotene, a provitamin that is converted to vitamin A in the body and is essential for eye health. Research suggests that it might also help prevent heart disease. Furthermore, just one cup of pumpkin provides about three grams of fiber and is only 49 calories. Don't forget the seeds either! One ounce provides a strong dose of protein, magnesium, potassium, and zinc.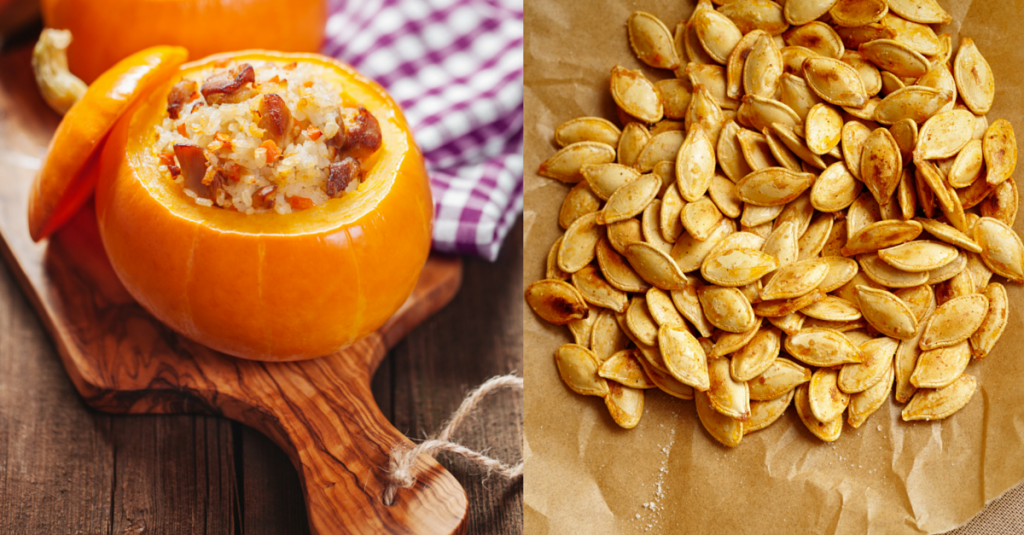 Pumpkin Pancakes:
Mix 1¼ cups of all-purpose flour, ¼ cup of white sugar, 2 teaspoons of baking powder, ½ teaspoon of ground cinnamon, and ¼ teaspoon of ground nutmeg together
Whisk 1 cup of milk, ½ cup of pumpkin puree, 1 beaten egg, and 1 tablespoon of vegetable oil
Pour milk mixture into flour mixture and stir until just moistened—the batter will be slightly lumpy
Heat a lightly oiled griddle over medium-high heat to 350°
Drop batter by large spoonfuls onto the griddle and cook until bubbles form and the edges are dry for 1 to 3 minutes
Flip and cook until browned on the other side for about 1 minute more
Repeat with remaining batter
Stuffed Pumpkin
Carve out 1 small pumpkin, wash out and dry
Cook ½ lb. of pork, ½ lb. of ground beef, and 1 small onion, drain off fat
Peel 5 to 6 potatoes, mash, and combine with meat
Season with sage, salt, pepper, and poultry seasoning
Put mixture in pumpkin and place the pumpkin in a dish of shallow water
Bake for 1 hour at 350°F or until fork goes into shell easily
Pumpkin Soup
In a heavy, large saucepan melt 2 tablespoons of butter over medium heat
Add 1 chopped onion and cook until tender for about 5 minutes
Stir in 1 teaspoon of dried thyme, 1 can of stewed tomatoes, and 2 cups of pumpkin puree, bring to a simmer
Stir in warmed 4 cups of low sodium canned chicken stock and return to a simmer, cook for 20 minutes
Puree soup in 3 batches in a blender
Season with fresh grated nutmeg, salt, and pepper
Stir in ½ cup of heavy cream and return to simmer
Serve with 2 scallions, thinly sliced
Pumpkin Guacamole
Whisk the following ingredients together: 1 small avocado (peeled and mashed), 2 cups of pumpkin puree, 1 ½ teaspoons of lime juice, 1 ½ teaspoons of lemon juice, 1 small onion (finely diced), ¾ teaspoons of red chili powder, ½ teaspoon of garlic powder, ½ teaspoon of ground cumin, ½ teaspoon of onion powder, ½ teaspoon of black pepper, and ¼ teaspoon of kosher salt.
Serve with tortilla chips or your favorite Mexican meal
Roasted Pumpkin Seeds
Preheat oven to 300°F
Toss 1½ cups of raw whole pumpkin seeds in a bowl with 2 teaspoons of melted butter and 1 pinch of salt
Spread the seeds in a single layer on a baking sheet and bake for about 45 minutes or until golden brown, stir occasionally
Pumpkin Bars
Preheat oven to 350°F
Grease bottom and sides of 15x10x1-inch pan with cooking spray
Beat 2 cups of Original Bisquick™ mix, 2 cups of granulated sugar, ½ cup of vegetable oil, 2 teaspoons of ground cinnamon, 1 teaspoon of baking soda, 4 beaten eggs, and 2 cups of pumpkin puree with electric mixer on low speed for 30 seconds
Beat on medium speed for 2 minutes
Stir in ½ cup of raisins
Pour into pan
Bake 25 to 30 minutes
Cool completely for about 2 hours
Pumpkin Spice Smoothie
Combine the following ingredients in blender: ½ cup of pumpkin puree, 1 medium frozen banana, 1 cup of almond milk, 2 tablespoons of maple syrup, ½ teaspoon of vanilla extract, ¼ teaspoon of ground cinnamon, 1/8 teaspoon of ground nutmeg, 1/8 teaspoon of ground cloves, 1/8 teaspoon of ground allspice, and ½ cup of ice
Puree until perfectly smooth
Divide between two glasses and serve immediately
GARDEN:
While growing pumpkins is a little tricky, pumpkins can still be great tools for the garden! Pumpkins naturally compost and as they break down they will help enrich the soil.
Planter:
Cut off the top and carve out the center
Fill it with soil and bright plants like fall mums
Leave it outside as a festive decoration for a few days
Plant the whole thing and the pumpkin will provide fertilizer for your plant as it naturally composts
Compost:
Take out the seeds
Throw the pumpkins into compost
The list truly goes on for pumpkin projects! Use your creativity to utilize pumpkins to their fullest potential in order to be as sustainable as possible. For all you animal lovers, you can always toss leftover pumpkin seeds and pulp into your yard for birds and other critters or you can leave you jack-o-lanterns out after Halloween for a furry friend! Feel free to comment with any pumpkin ideas you have, we would love to hear them!