Fall is a food lover's dream season!! I can't wait to get into the kitchen as soon the weather changes. A quick trip to the farmers market sets me up for a weekend of fun, trying out new recipes and making some tried and true favorites. This weekend I played around with a fresh take on a grain bowl using black lentils… it made for a delicious light, healthy lunch. Then a big batch of my signature caramelized pumpkin soup for the freezer, and my favorite roasted root veggies for an easy side dish with roast chicken.  Happy Fall Cooking!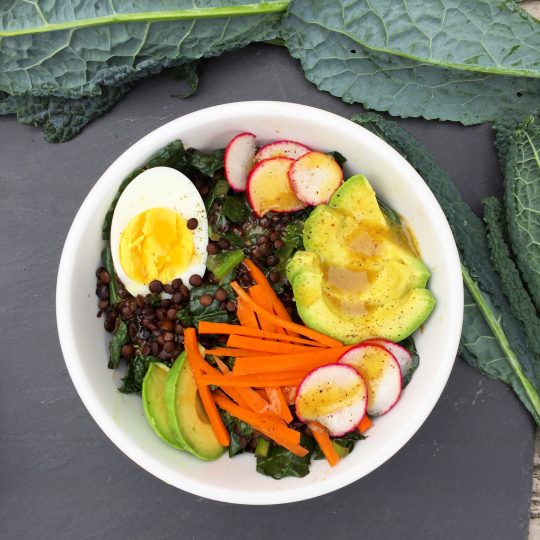 KALE AND LENTIL BOWL
The reigning leafy green packed with Vitamins A, C and K, for a simple and nutritious bowl.
Serves 4:
2       cups matchstick-cut carrots
4       radishes thin sliced
2       eggs hardboiled and cur in half
1       cup uncooked black lentils
3       cups unsalted vegetable stock
1/2   tsp salt
1       bunch (7-oz) lacinato kale, chopped
2       avocados, sliced
salt and pepper to taste
Dressing:Bring stock, lentils
Bring stock, lentils and salt to boil in a large saucepan. Cover and reduce to medium, and simmer until lentils are tender, about 45 minutes. Stir in kale, remove from heat, cover and let stand until kale is slightly wilted, about 5 minutes.
Divide the kale and lentils between 4 bowls and then arrange the egg, avocado, carrots and radish on top. Drizzle with dressing and it's ready to go, enjoy!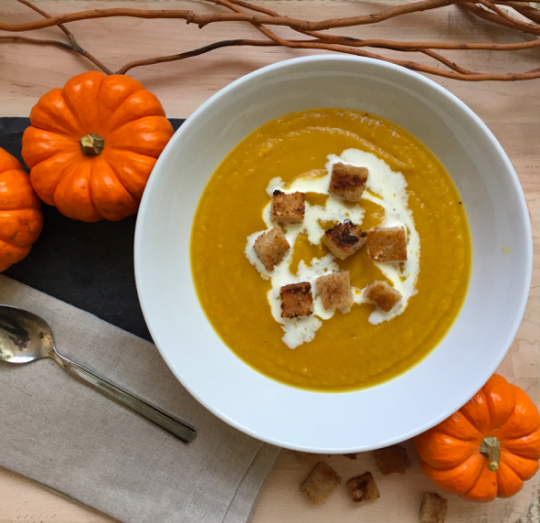 CARAMELIZED PUMPKIN SOUP
A rich, cream-free, soup that will get you rave reviews. It's perfect fall through winter and will become firm favorite with friends and family.
You will need a blender.
Serves 4-6:
1       large pumpkin (approx. 3 pounds)
1       tsp extra virgin olive oil
3      tbsp extra virgin olive oil
2      large yellow onions, sliced very thin
2      carrots, cut into fine julienne strips
1       tbsp granulated sugar
1/2   tsp ground sage
4       cups  chicken stock (preferable low fat and low sodium)
salt and pepper to taste
Cut the pumpkin in half and scrape out the seeds. (Keep the seeds if you want to toast then in the oven for a healthy snack). Brush the cut surfaces of the pumpkin with the teaspoon of oil, then lay cut side down on a baking sheet. Bake in the oven for one hour or until the flesh is very soft and the cut sides are slightly caramelized. Allow to cool, then scrape out all the pulp
While the pumpkin is baking, warm the 3 tablespoons of oil in a large soup pot over medium heat. Add the onions and carrots and cook for about 15 minutes, stirring often until soft. Sprinkle with the sugar and continue cooking, stirring often for a further 10-15 minutes, or until the vegetables are browned and caramelized.
Stir in the sage, stock and pumpkin pulp and bring to the boil. Let cool slightly, then working in batches, transfer to a blender and purée until smooth. Season with salt and pepper and ladle into individual bowls—or for a spectacular centerpiece into a hallowed-out winter squash or pumpkin shell.
I like to serve it drizzled with a little cream and top with freshly made croutons.
This soup freezes well.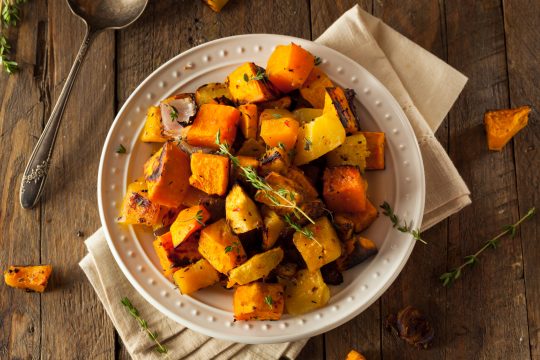 ROASTED VEGGIES
I have always loved vegetables even as a kid. My younger brother and I would fight over the last roasted potato! So, to me, any vegetable you can roast is a good thing. I've seen people eat all of the veggies they profess to hate including –parsnip, turnip and even brussels sprouts–when they are mixed together and roasted. Try it!
Serves 4:
2        Large parsnips peeled, cored and cut into 1" dice
3        Large carrots peeled and cut into ½" pieces
2        Large potatoes peeled and cut into 1" dice
1        Small butternut squash peeled and cut into 1" dice
2        tbsp Olive oil
1        tsp Spike (optional)
salt and pepper
Preheat the oven to 425 degrees F. Pour oil into the bottom of a roasting pan, swirl it around so the bottom of the pan is covered. Put in all the prepared vegetables, sprinkle with the salt and pepper. I like to add some Spike, it adds a great savory flavor. Put into the oven and cook until golden and crunchy on the edges, about 35-45 minutes. Turn the veggies 2-3 times while cooking.