Chocoholics! This is the easiest chocolate recipe ever. As it requires no cooking, it's perfect for non-bakers – a foolproof chocolate dessert!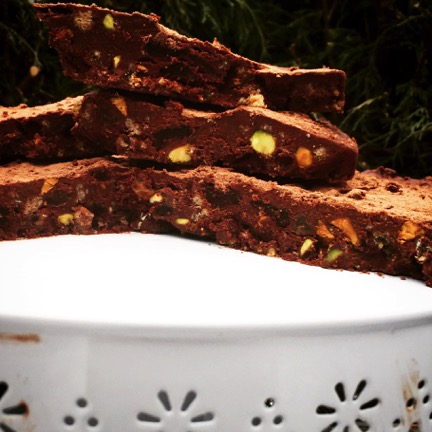 Makes 12 servings
8oz                  dark chocolate – 75% cacao – broken into pieces
4oz                  unsalted pistachio nuts, roughly chopped
2oz                  dried sour cherries
2oz                  golden raisins
3Tbs                rum
2oz butter
5floz heavy cream , lightly whipped
8oz sweet oat cookies, roughly chopped
Cocoa powder for dusting and extra whipped cream for serving.
The day before you want to make this, soak the raisins and cherries in the rum overnight.
To make the torte, place the chocolate pieces and the butter in a large heatproof bowl, sitting over a saucepan of gently simmering water. Keep the heat low and allow the chocolate to melt – should take about 5 minutes for it to become smooth and glossy. Remove the bowl from the pan, give the chocolate a good stir and allow to sit for 2-3 minutes. Fold in the whipped cream, soaked fruits, pistachios and chopped cookies. Mix well.
Spoon the mixture into an 8" spring form pan that has been lightly greased with a flavorless oil. Cover with plastic wrap and refrigerate for at least four hours. To serve, dust the surface with a little cocoa powder. Cut into wedges and serve with whipped cream.