This February came in with an Arctic blast, so what better for "Meatless Monday" than hearty, warming one-pot dishes that are easy and satisfying. Here are two of our favorites.
KAMUT® BERRY RIBOLITA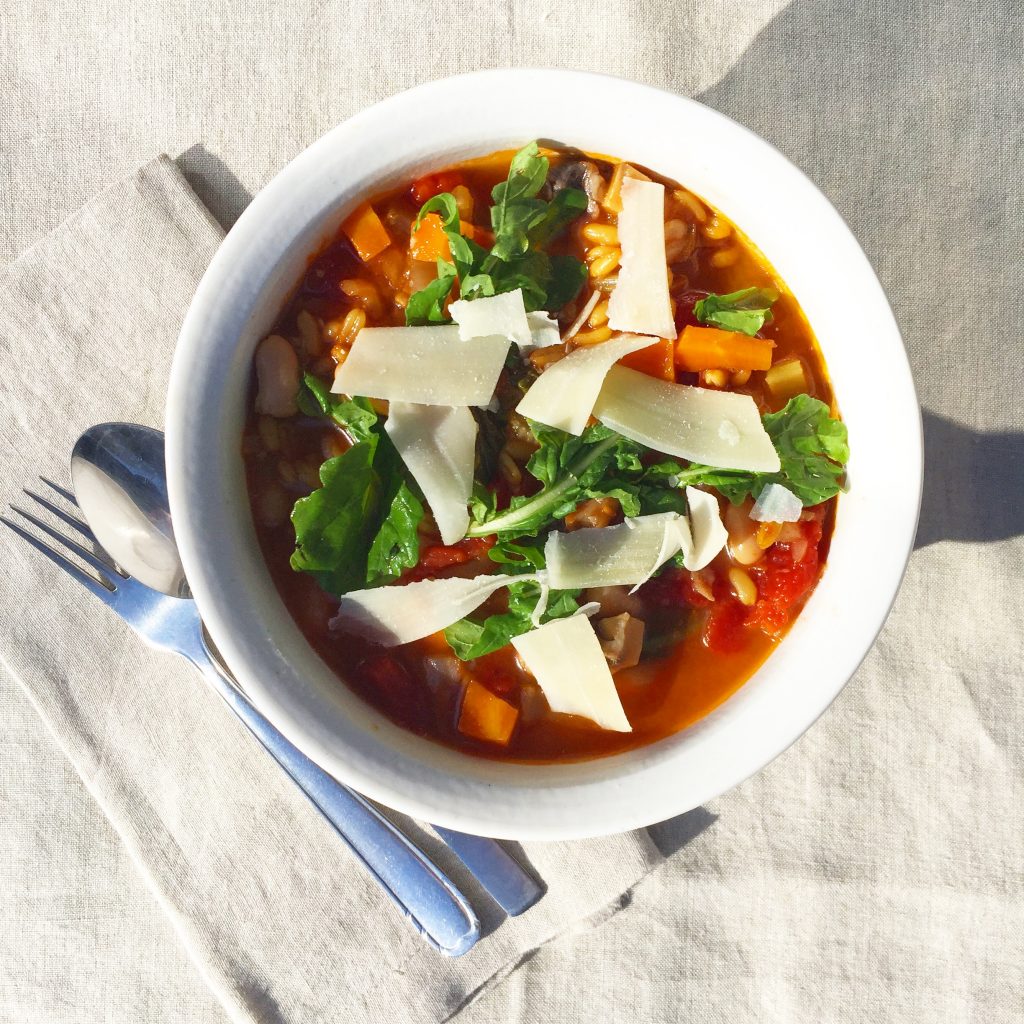 Whole grains turn any "one-dish" into a super-nourishing meal. This veggie packed twist is a take on an Italian favorite, packed with flavor and easy to make – no fuss!
Kamut® wheat berries replace chunks of bread traditionally used in this Tuscan dish that begins with left over minestrone. They add a chewy, satisfying texture as well as multiple health benefits!
Makes 6 servings. (8 cups)
1 (28oz.) can whole, peeled plum tomatoes, drained
3 Tbs Extra Virgin Olive oil
1½ cups finely chopped yellow onion
2 Tbs minced garlic
½ tsp crushed red pepper
1 cup chopped carrot
1 cup chopped celery
2 cups chopped cremini mushrooms
6 cups water
1 cup Kaumut® wheat berries (soaked overnight)
1¾ tsp kosher salt
¾ tsp black pepper
1 (15oz.) can cannellini beans(no salt added) drained and rinsed
2oz. Parmesan cheese rind
5 cups baby arugula (about 5oz.)
2Tbs sherry vinegar
2oz. shaved Parmesan cheese
Take three tomatoes from the can and finely chop (about ½ cup). Heat the EVOO in a Dutch oven over medium heat. Add the chopped tomatoes, onion, garlic and red pepper. Cook stirring often for about seven minutes until the tomatoes are deep red and caramelized. Add carrot, celery and mushrooms, cook stirring occasionally until browned, about eight minutes. Add the 6 cups of water, Kamut® berries, salt, black pepper, beans, rind and remaining tomatoes and bring to a boil. Reduce heat to medium, partially cover and simmer for 40 minutes until wheat berries are tender. Stir occasionally.
Add arugula and vinegar, cook for one minute. Discard Parmesan rind. Divide soup into six bowls and top with the Parmesan cheese.
FOUR BEAN VEGETARIAN CHILI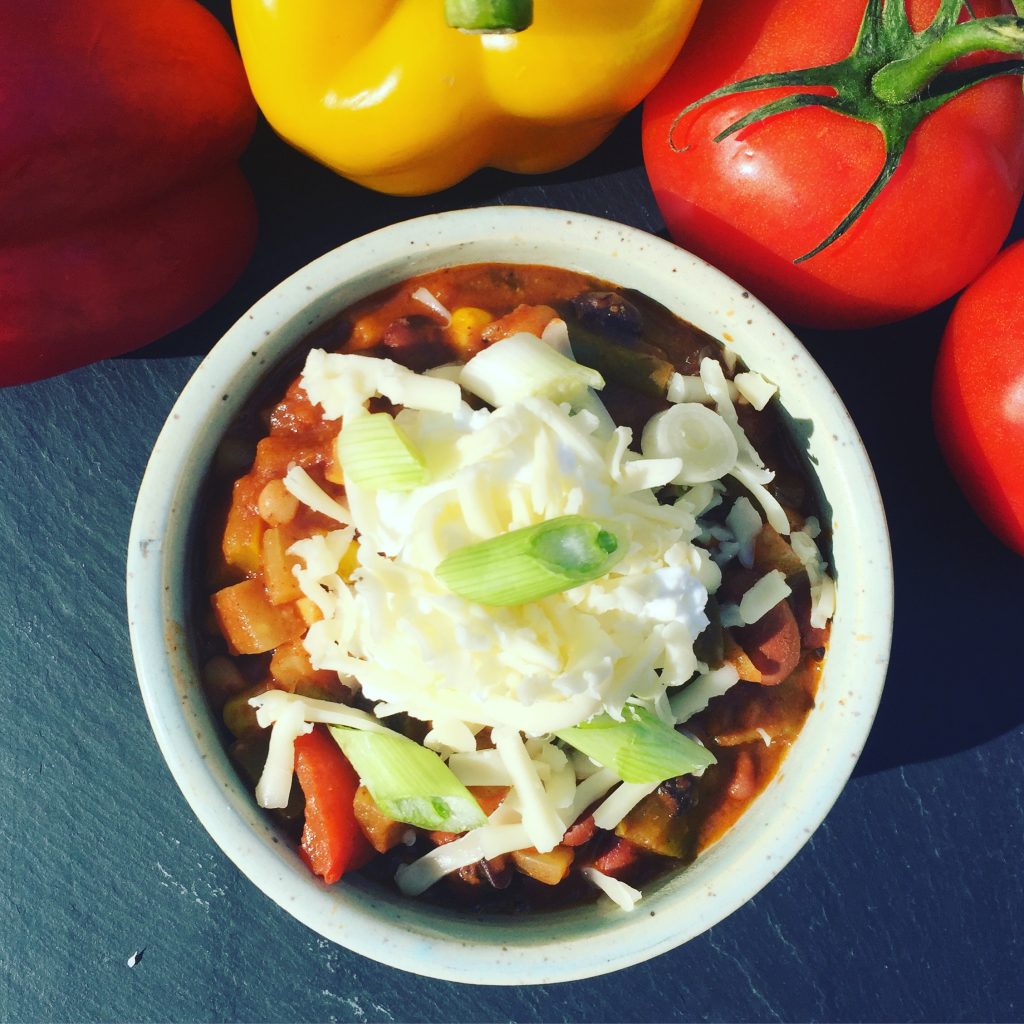 If you weren't told you would never guess that this robust chili was meatless! So hearty and delicious you won't miss the meat.
Serves 6:
1 yellow pepper – seeded and cut into ½" squares
1 red pepper – seeded and cut into ½" squares
1 orange pepper – seeded and cut into ½" squares
2 fennel bulbs, remove the tops, core and finely chopped
2 c cooked red kidney beans
2 c cooked black beans
2 c cooked white beans
1-1/2 c green beans, trimmed and cut into ½" pieces
1 c sweet corn
16 oz whole canned tomatoes, drained and chopped (reserve juice)
2 large tomatoes peeled and chopped
1 tbsp extra virgin olive oil
1/4 tbsp cayenne pepper
1 tbsp coriander
1 tbsp cumin
2 tbsp chili powder
1 tsp oregano
Water or tomato juice as needed
Salt and freshly ground black pepper to taste
Shredded Monterey Jack cheese, yogurt and diced scallions for serving
Warm the olive oil and spices (cayenne pepper, coriander, cumin, chili powder and oregano) in a large heavy saucepan over medium heat for two minutes. Add the chopped peppers and fennel, stir and cook for 5 minutes stirring continuously. Stir in all the tomatoes, beans and corn, bring to the boil, then reduce the heat and simmer for 30 minutes adding water or tomato juice as needed. Season with salt and pepper. This is best left for 24 hours in the fridge after cooling to bring out all the flavors. I like to double up on the ingredients and freeze in small batches.
Serve garnished with the shredded Monterey Jack cheese, yogurt and diced scallions—just make sure you have enough, everyone always comes back for seconds!!