There is nothing more delicious than simple, no fuss, and fresh from the farmer's market easy-to-make appetizers. Here are three of our favorites.
Tomato-Avocado Toasts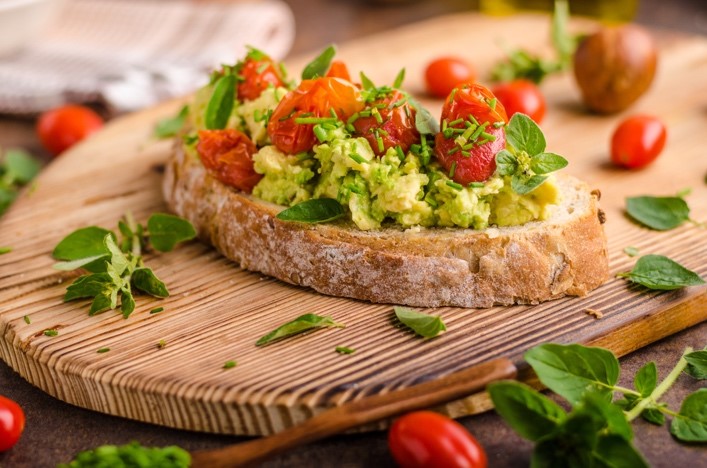 Entertaining can be easy — and good for you. These light bites with lycopene-rich tomatoes and heart-healthy avocados are a simple appetizer that's sure to please
1 small baguette (5 ounces)
2 Tbs olive oil
1 ripe avocado
1 tsp fresh lemon juice
1 pint grape tomatoes, quartered
Coarse salt and ground pepper
Preheat oven to 350 degrees. Slice baguette diagonally into sixteen 1/2-inch-thick slices; brush both sides with a total of olive oil. Bake on a baking sheet until golden, about 8 minutes.
Halve avocado lengthwise and remove pit; scoop the flesh into a small bowl. Mash with lemon juice; season with coarse salt and ground pepper. Spread on toasted bread; top with grape tomatoes.
Herbed, Asparagus, Phyllo Tart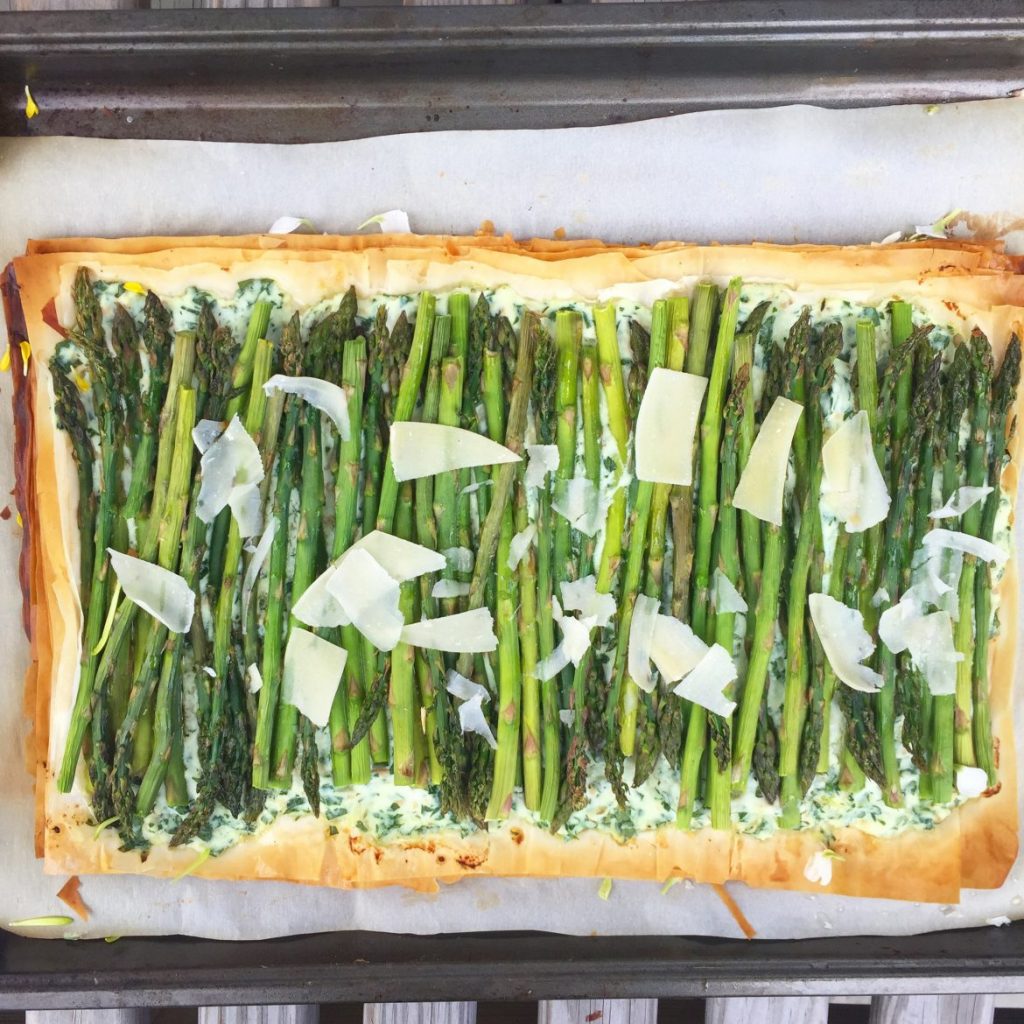 An impressive starter or a great side dish, this is super easy to make. Don't be afraid of the phyllo, there's nothing to it!
Makes 8 servings
¾ cup part-skim ricotta cheese (vegan or dairy-free swap)
¼ cup chopped fresh flat-leaf parsley
1½ Tbs 1% low-fat milk (vegan or dairy-free swap)
1 Tbs fresh thyme leaves
1 garlic clove grated
½ tsp Kosher salt
12 14"x9" frozen phyllo pastry sheets, thawed
3½ Tbs olive oil (you can use butter if you prefer)
1 tsp olive oil for baking
1½ lb medium asparagus spears trimmed to 6½"
2 oz Parmigiano-Reggiano cheese shaved (optional)
Preheat oven to 400 degrees.
Stir together ricotta, parsley, milk, thyme, garlic and half the salt. Set aside.
Line a baking sheet with parchment paper, and place one phyllo sheet on it. Lightly oil and top with another sheet. Repeat until all the sheets have been used. Spread ricotta mixture over the top leaving a ½" boarder. Arrange asparagus spears over the top and brush with the teaspoon of oil. Bake until phyllo is brown and crisp, about 25 minutes.
Sprinkle with remaining salt and top with shaved cheese.
Sunshine Gazpacho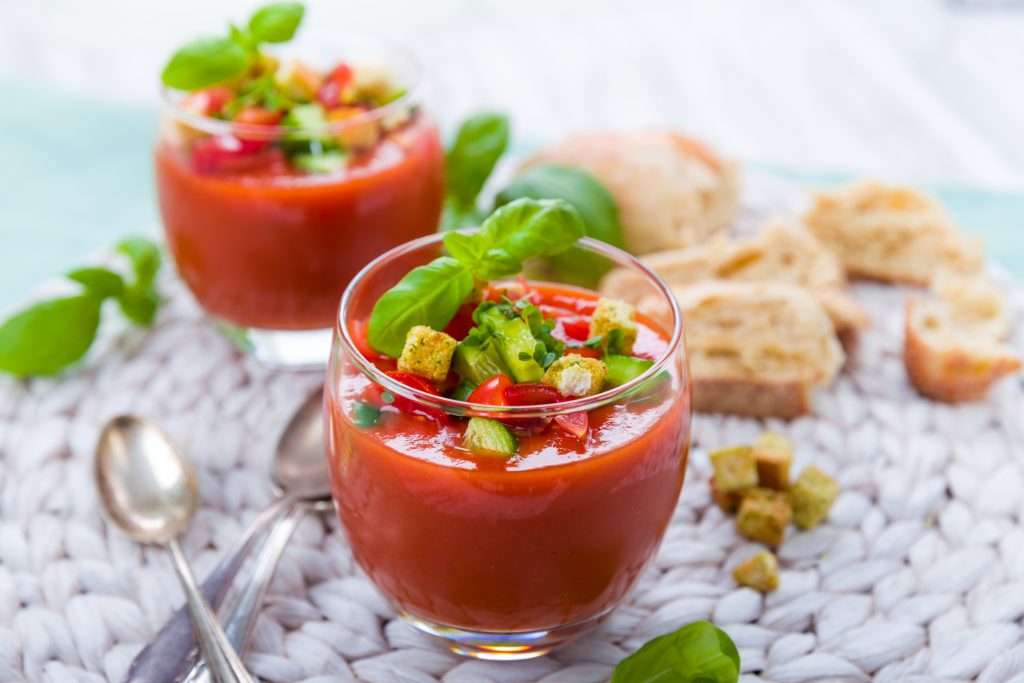 We just love the warmer weather…farmers markets, fresh produce, no-cook meals… it's just the perfect time of year to take advantage of nature's bounty! The difference between fresh, farm-grown tomatoes and store-bought ones is like night and day. So, when you are making a simple dish like this, that is all about flavor, get the best, freshest, farm-grown ingredients you can find. You may pay a little extra, but the taste will be out of this world!
Makes 12 small servings
½ cup Extra Virgin Olive Oil (EVOO)
½ cup oloroso sherry
¼ cup sherry vinegar
1¼ tsp kosher salt
3 lb ripe tomatoes, quartered
1 English cucumber, peeled and chopped
1 green bell pepper, stemmed, seeded and chopped
2 garlic cloves
1 cup rustic whole-wheat bread, cut into ½" cubes
6-8 small multicolored cherry tomatoes, quartered
Edible flowers, micro-greens or fresh herbs for decoration
Combine the first 8 ingredients in a food processor or blender (work in two batches if necessary). Process until tomato mixture is well blended. Pour the mixture through a medium strainer into a large pot or pitcher. Chill at least 30 minutes in the fridge.
Preheat oven to 450 degrees. Place bread cubes on a sheet pan and cook for 7 minutes or until they are crisp and golden brown. Cool for 5 minutes.
To assemble, ladle about ½ cup of the gazpacho into glass serving bowls of glasses. Top with bread cubes, cherry tomato pieces and decorate with edible flowers, micro-greens, or fresh herbs.