We've never met a pumpkin pie we don't like!! Here are three of our all-time favorites with a twist!
MILE HIGH PUMPKIN PECAN PIE
If you can't decide between pecan or pumpkin pie, then you'll love this recipe. A classic that is so impressive and irresistible, you'll want to make it again and again!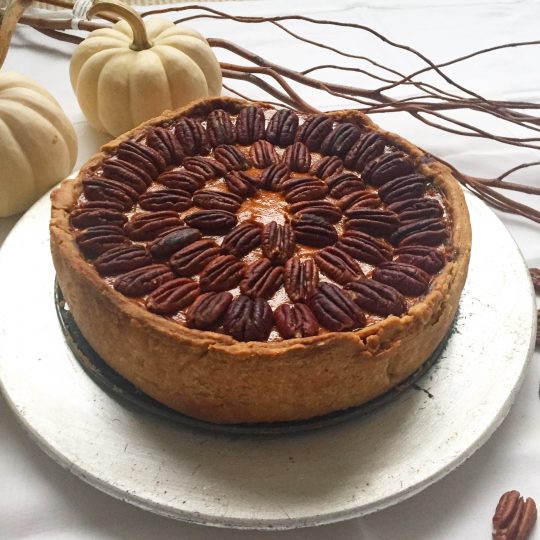 For the Crust
2 ½ cups KAMUT® Brand khorasan all-purpose flour (spooned and leveled), plus more for work surface
2 Tbs granulated sugar
1 tsp fine salt
2 sticks cold unsalted butter, cut into small pieces
¼ to ½ cup ice water
For the Filling 
1¼ cups light-brown sugar
¾ tsp fine salt
2 tsp ground cinnamon
½ tsp ground nutmeg
4 large eggs, lightly beaten
1 can (29 ounces) pure pumpkin puree
1 can (12 ounces) evaporated milk
½ cup heavy cream
2 tsp pure vanilla extract
1-2 cups pecan halves
Make the crust: 
In a food processor, pulse flour, granulated sugar, and salt until combined. Add butter and pulse until mixture resembles coarse meal, with a few pea-size pieces of butter remaining. Add 1/4 cup ice water in a steady stream, pulsing until dough is crumbly but holds together when squeezed (if necessary, add up to 1/4 cup more ice water, 1 tablespoon at a time). Form dough into a disk, wrap tightly in plastic and refrigerate until firm, 1 hour (or up to 2 days).
Preheat oven to 400 degrees. On a lightly floured surface, roll out dough just over 1/8 inch thick. Transfer to a 9-inch springform pan, adjusting dough as needed to fit flat against bottom and sides. Trim dough, leaving a 1 1/2-inch overhang (reserve scraps); freeze 15 minutes. Line dough with a double layer of parchment and fill with pie weights or dried beans. Bake on a rimmed baking sheet 30 minutes. Carefully remove parchment and weights; use reserved scraps to patch any holes in crust. Bake until deep golden, 30 minutes; cover edge with foil if over-browning.
Meanwhile, make filling: In a large bowl, whisk together brown sugar, salt, cinnamon, and nutmeg. Whisk in eggs, then pumpkin, until smooth. Slowly whisk in milk, cream, and vanilla. Reduce oven temperature to 350 degrees. With edge covered with foil, pour all but 1 cup filling into crust, return to oven, and carefully add remaining cup filling; bake 1 hour. Remove pie from oven and top with pecans. Bake until filling is just set but slightly wobbly in center, 20 to 25 minutes more. Let cool completely on a wire rack, about 3 hours. With a serrated knife, cut off the overhang and unmold.
PUMPKIN CHEESECAKE – NO-BAKE, GLUTEN, GRAIN AND DAIRY FREE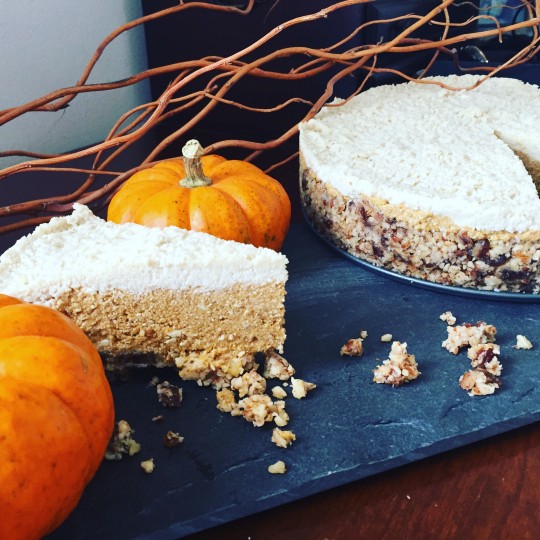 This cashew "cheesecake" is a great alternative to traditional cheesecake and there's no baking!
MAKES: 6″ CAKE (Double the ingredients for a 9″ cake)
Crust Ingredients:
1¼ cups         raw almonds (or another nut)
6                       soft medjool dates, pitted
1 Tbs                maple syrup
1 Tbs                coconut oil
Top White Layer Ingredients:
1½ cups         raw cashews, presoaked and strained (soak overnight for best results, or soak in boiling water for 20 minutes)
3 Tbs              lemon juice
2 Tbs              non-dairy milk
6 Tbs              maple syrup
2 tsp               pure vanilla extract
dash of salt
Pumpkin Layer Ingredients:
White layer mixture, less ¾ cup of it, which should be set aside (see step 4)
2 Tbs              maple syrup (or liquid sweetener of your choice)
2 Tbs             coconut oil, liquified
1¼ cups         pumpkin puree, room temp
2 tsp               cinnamon
¼ tsp              allspice
¼ tsp              cloves
⅛ tsp              nutmeg
⅛ tsp              ground ginger
1.Place all crust ingredients into a food processor and process into a sticky crumble. Transfer into a springform pan and shape into a crust pushing it up the sides. Set aside.
2.Add pumpkin layer ingredients to the blender with the remaining white mixture and blend until mixture is smooth and uniform.
3.Pour pumpkin cheesecake mixture into the crust in the springform pan. Smooth out the mixture a little using a spatula.
4.Pour white layer mixture (the ¾ cup that was set aside earlier) on top of the pumpkin layer, being careful not to mix the two layers in the process. Gently smooth out the surface.
5.Freeze the cheesecake for 4-5 hours (or overnight) to set, and then transfer and store in the fridge until ready to serve.
PUMPKIN CHEESECAKE PIE IN A GINGERSNAP CRUST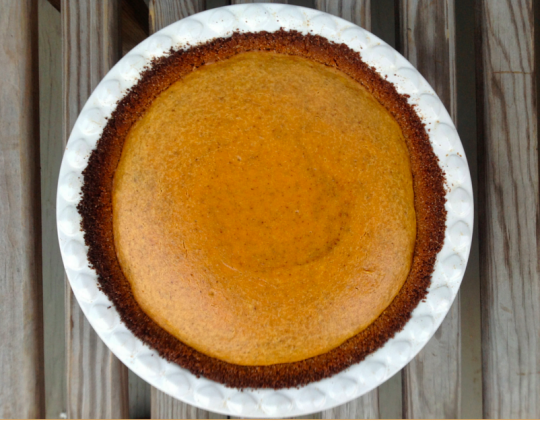 The best of everything, crunchy, spicy crust and light, smooth pumpkin cheesecake filling!
Serves 8:
Crust
6 oz gingersnaps, pulverized into small breadcrumb size pieces
3 Tbs granulated sugar
4 Tbs melted, unsalted butter
Filing
12 oz cream cheese at room temperature
¾ cup granulated sugar
1 cup canned pumpkin puree (not pie filling)
1 large whole egg
1 large egg yolk
1½ Tbs all-purpose flour
¾ tsp cinnamon
½ tsp ginger
¼ tsp cloves
½ tsp salt
Making the crust:
Preheat the oven to 350 degrees. Pulse gingersnaps and sugar in a food processor until fine crumbs. Add melted butter and mix until combined. Press mixture evenly onto the bottom and up the sides of a 9" pie dish. Put in the freezer for about 30 minutes. Then, bake the crust until golden, about 15 minutes and let cool completely. Reduce the oven to 325 degrees.
Making the filling:
In a bowl (or food processor) stir or pulse the cream cheese until smooth. Add sugar and pumpkin and mix or pulse till smooth. Add egg and egg yolk together with the flour salt and spices. Mix until incorporated. Pour into the prepared crust and bake for about 30-35 minutes until set. Let cool and then refrigerated for at least 4 hours before serving.