Spring is finally in the air, and it's time for some lighter fare. Avocados are a favorite of mine; they make simple dishes more flavorful and healthy. The avocado is virtually the only fruit that has monounsaturated fat. According to the Dietary Guidelines 2010, good fats are those that can lower bad cholesterol levels and are beneficial when consumed in moderation. Avocados contribute good fats to one's diet, providing 3 grams of monounsaturated fat and 0.5 polyunsaturated grams of fat per 1oz. serving. Avocados are cholesterol free, sodium-free, and more than 50 percent of the fruit's fat content comes from monounsaturated fats.
Here are two really simple and delicious avocado recipes
1. Spicy Avocado-Cucumber Soup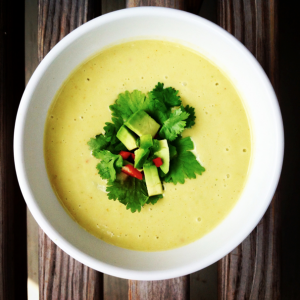 A luscious soup that's an excellent make-ahead dish—simply puree everything and chill! If you don't want it too spicy then dial back on the serrano!
Makes 8 servings
Soup
2 x 12oz – cucumbers—peeled, seeded and chopped
3 – Hass avocados, coarsely chopped (reserve ½ avocado for garnish)
2 tsp – Thai green curry paste
2 tsp – sugar
2 tsp – finely grated lime zest
1 – serrano chile, seeded and chopped
2 ½ cups – water
1 x 13oz – can unsweetened coconut milk
3 TBS – fresh lime juice
Sea salt to taste
Garnish
10 -12 – cilantro sprigs
½ – avocado finely chopped
½ – red pepper finely chopped
In a food processor, puree the cucumbers until smooth. Add the avocados, curry paste, sugar, lime zest and chile. Process until blended. Add the 2½ cups of water, coconut milk and lime juice and process until smooth. Transfer the soup to a large bowl and season with salt. Cover and refrigerate until chilled (30 – 60 minutes).
Ladle the soup into small bowls or cups for serving, garnish with the chopped avocado, red pepper and cilantro sprigs and serve.
2. Tuna Ceviche with Avocado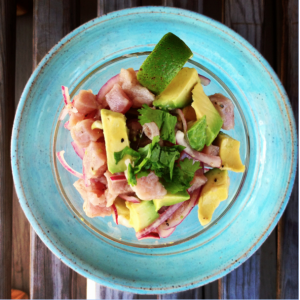 A simply delicious ceviche that is so easy to make. Perfect served with crispy corn chips!
Makes 4 servings
1 lb – sushi-grade tuna, sliced ¼ inch thick
1 – small red onion, halved and thinly sliced
¾ cup – fresh lime juice
1 tsp – freshly ground black pepper
2 – Hass avocado, cut into ½ inch dice
¼ cup – coarsely chopped cilantro, plus leaves for garnish
Sea salt to taste
Stack the slices of tuna. Using a very sharp chef's knife cut the tuna into neat ¼ inch cubes. Transfer the cubed tuna to a medium glass or ceramic bowl and stir in the red onion, limejuice and black pepper. Cover with plastic wrap and refrigerate for 1 hour, stirring gently every 15 to 20 minutes (the tuna will change color slightly as it chills).
Just before serving, gently fold in the diced avocado and chopped cilantro. Season the ceviche with sea salt. Transfer the ceviche to individual glasses. Garnish with cilantro leaves.