Each year, Earth Day—April 22—marks the anniversary of the birth of the modern environmental movement in 1970. With just one year to go for the 50th Anniversary we thought we would take a look at where we are now and what the future holds.
On April 22, 1970, 20 million Americans took to the streets, parks, and auditoriums to demonstrate for a healthy, sustainable environment in massive coast-to-coast rallies. Thousands of colleges and universities organized protests against the deterioration of the environment. Groups that had been fighting against oil spills, polluting factories and power plants, raw sewage, toxic dumps, pesticides, freeways, the loss of wilderness, and the extinction of wildlife suddenly realized they shared common values.
Earth Day 1970 achieved a rare political alignment, enlisting support from Republicans and Democrats, rich and poor, city slickers and farmers, tycoons and labor leaders. By the end of that year, the first Earth Day had led to the creation of the United States Environmental Protection Agency and the passage of the Clean Air, Clean Water, and Endangered Species Acts. "It was a gamble," Gaylord Nelson, Earth Day founder recalled, "but it worked."
Fast forward to March 15, 2019, school and university students in more than 100 countries went on strike to demand that politicians take urgent action on climate change. The protests were organized on social media under Fridays for the Future banner and inspired by the 16-year-old Swedish activist Greta Thunberg, who was in her 30thweek of striking on Fridays. This generation of activists have what no other generation has had, the power of social media to activate on a global basis. And they demand to be heard.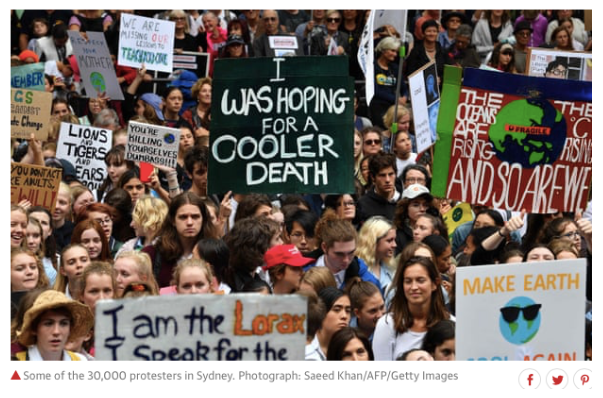 In Sydney, Australia, where about 30,000 children and young people marched from the Town Hall Square to Hyde Park, university student Xander De Vries, 20, said: "It's our time to rise up. We don't have a lot of time left; it's us who have to make a change so I thought it would be important to be here and show support to our generation." This sentiment was echoed around. the world. From Australia to America, children put down their books to march for change in the first global climate strike.
The event was embraced in the developing nations of India and Uganda and in the Philippines and Nepal – countries acutely impacted by climate change – as tens of thousands of schoolchildren and students in more than 100 countries went on "strike", demanding the political elite urgently address what they say is a climate emergency.

In the US, Marcela Mulholland, a 21-year-old student from Florida, who in her lifetime has witnessed how rising sea levels are threatening her home and community, urged young people across the world to continue their campaign. "There's no better way to find hope and meaning in this trying time than working alongside fellow people who share my grief for the world," she said.
Elsewhere in the United States, young people carried hand painted signs sporting their own slogans: "Denial is not a policy". More than a hundred students marched across the Capitol's lawn in DC, chanting "What do we want? Climate action. When do we want it? Now," and were urged on by speakers organized by the Youth Climate Strike US. "It is time the world listens to these young people and pays attention to what we're asking for," said 16-year-old Maddy Fernands, the group's press director.
While it's clear that these impassioned young students are challenging the establishment on the reality of the state of our planet, what do most Americans think? Recent data from the Pew Research Center surveys took stock of U.S. public opinion about climate change and the degree to which climate change threatens the ecosystems of the Earth.
Americans have a long to-do list for the president and Congress. Protecting the environment has been near the middle of the public's priorities in Center surveys over the past decade, while dealing with climate change has been lower on the list. But the shares of Americans who consider each to be a top priority have grown considerably since 2011. The increase has been especially pronounced among Democrats.
Rising sea levels could endanger coastal communities, which are especially vulnerable to floods and storm surges. Our 2018 analysis found that two-thirds of Americans who live within 25 miles of a coastline (67%) say climate change is affecting their local community at least some, compared with half of those who live 300 miles or more from the coast.
Republicans see more risk than Democrats when it comes to the effects of climate policies on the economy. Around six-in-ten Republicans (57%) said in 2018 that such policies hurt the economy. In contrast, most Democrats said climate policies either help (45%) or make no difference (39%) to the economy
Millennial Republicans were twice as likely as Republicans in the Baby Boomer or older generations to say the Earth is warming due to human activity (36% vs. 18%). GOP Millennials were also less inclined than older generations in the GOP to support increased use of fossil fuel energy sources. For example, 43% of Millennial Republicans said they favored the increased use of coal mining, compared with 71% of Republicans in the Baby Boomer or older generations.
So, politics, money and ignorance are standing in the way of saving our home planet. People used to believe the world was flat, well it was OK if that's what they wanted to think, it really didn't harm anyone. But, ignoring climate change affects us all.It's not a partisan issue, it a human issue. What's the point of a robust economy if the earth is no longer habitable. The clock is ticking and half of America needs to wake up to reality before Earth Day 2020 if we are to have a fighting chance of reversing the effects of climate change.
Ref: https://www.pewresearch.org/fact-tank/2019/04/19/how-americans-see-climate-change-in-5-charts/