It's finally getting warmer and as much as we have been loving the comfort food, it's time to dial it down on the premade mac and cheese, salt laden soups and baking goodies that have consumed us during these challenging times. That's not to say we can't enjoy them every now and again, but they can't be our staple diet, not if we want a robust immune system that will serve us well in the days, weeks and months to come. And if there is going to be a meat shortage, bumping up the salads will make life a whole lot easier and you really won't miss the meat, I promise!
Here are four of my personal favorites. They're super simple and quick to make, all the ingredients are easy to find and above all they are just delicious, make sure you don't go overboard on the dressings. If you need a little something on the side, flatbreads are perfect. Light and crispy, low in carbs and calories and for extra nutrition try them made with Kamut® wheat flour – super yummy!
So, let's get chopping! And remember, it's OK to substitute and mix it up a bit!
Greek Salad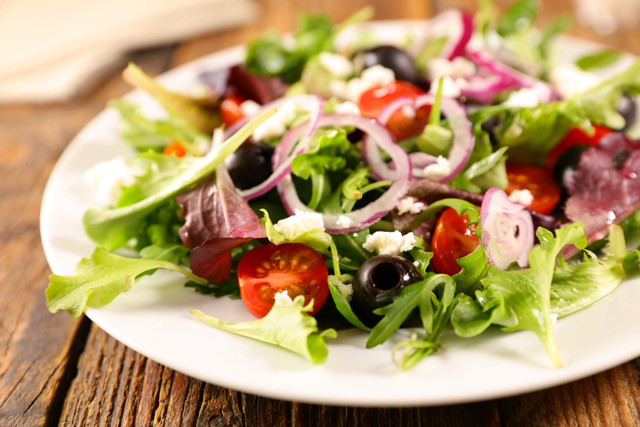 My all time go to salad for a super quick lunch.
Serves 4:
1 pt. grape or cherry tomatoes, halved
1 cucumber, thinly sliced into half moons
1 cup halved kalamata olives
½ red onion, thinly sliced
¾ cup crumbled feta
2 Tsp red wine vinegar
¼ cup extra-virgin olive oil
½ lemon – juice
1 tsp dried oregano
Kosher salt
Freshly ground black pepper
Make salad: In a large bowl, stir together tomatoes, cucumber, olives, and red onion. Gently fold in feta.
In a small bowl, make dressing: Combine vinegar, lemon juice, and oregano and season with salt and pepper. Slowly add olive oil, whisking to combine. Drizzle dressing over salad.
Caprese Salad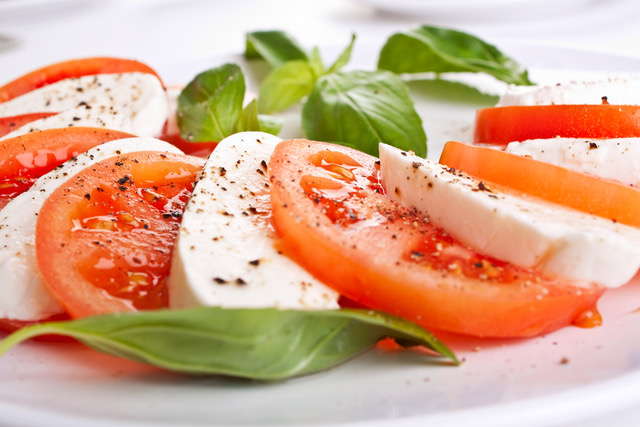 One of my favorite seasonal salads! Not only it is the simplest thing in the world to prepare, but also it just tastes like summer on a plate! The quantity of ingredients really depends on how hungry you are, so the following is a suggestion for a light lunch for two people.
Serves 2:
8oz fresh mozzarella – cut into ¼" thick slices
2 large organic beefsteak or vine ripened tomatoes cut into ¼" thick slices
15 – 20 fresh basil leaves
extra virgin olive oil for drizzling
balsamic vinegar for drizzling
sea salt and fresh black pepper for seasoning
Layer alternating slices of mozzarella and tomatoes add basil leaves between the slices and on top. Drizzle with the olive oil, and I like to add balsamic vinegar – because I just love it! Season with salt and pepper to taste.
Pear and Roquefort Salad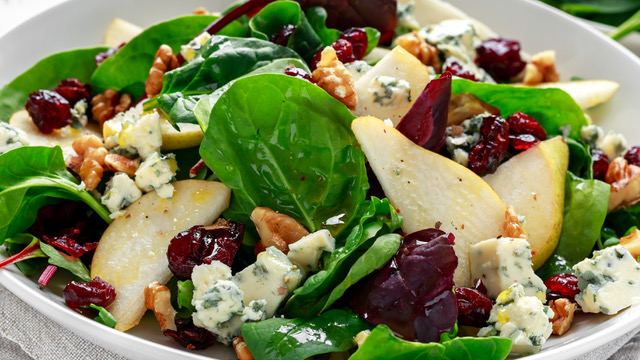 Serves 6
1 head leaf lettuce, torn into bite-size pieces (or fresh spinach)
3 pears – peeled, cored and chopped
5 oz Roquefort cheese, crumbled
2 avocado – peeled, pitted, and diced
½ cup thinly sliced green onions
¼ cup white sugar
½ cup pecans
½ cup dried cranberries
⅓ cup olive oil
3 Tbs red wine vinegar
1½ tsp white sugar
1½ tsp prepared mustard
1 clove garlic, chopped
½ tsp salt
fresh ground black pepper to taste
In a skillet over medium heat, stir ¼ cup of sugar together with a tablespoon of water
Continue stirring gently until sugar has melted and caramelized the pecans. Carefully transfer nuts onto waxed paper.
Allow to cool and break into pieces.
For the dressing, blend oil, vinegar, 1 ½ teaspoons sugar, mustard, chopped garlic, salt, and pepper.
In a large serving bowl, layer lettuce, pears, blue cheese, avocado, and green onions. Pour dressing over salad, sprinkle with pecans and cranberries, and serve.
Spicy Shrimp and Avocado Salad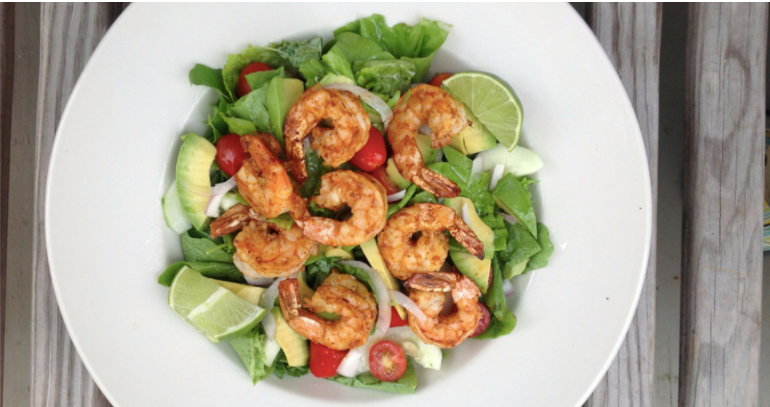 Spicing up shrimp is what makes this salad amazingly full of flavor. For a BBQ appetizer you can just serve a big plate of the shrimp on their own—make a lot, they are irresistible!
Serves 4:
You'll need 24 – 32 large uncooked shrimp, peeled and deveined (keep the tails on).
Marinade for the shrimp:
2 tbsp fresh lime juice
1 tbsp olive oil
2 tbsp chili powder
1 tsp cumin
1/4 tsp fresh black pepper
1/2 tsp red pepper flakes
2 peeled garlic cloves
1/2 tsp hot pepper sauce
In a medium bowl, mix all the ingredients, add shrimp, toss well. Cover and leave in refrigerator for 30 minutes. When ready to cook, heat the grill to medium high, and cook for 3-4 minutes each side
Salad:
24 cherry tomatoes cut in half
1 cucumber, peel and remove seeds. Cut in half lengthwise and chop into ¼" slices
16oz mesclun salad mix
1 medium Hass avocado – peeled and cut into ½" cubes
1/2 small red onion sliced very thin
1 lime, sliced for serving
sea salt and fresh black pepper for seasoning
Lemon Vinaigrette
2 tbsp fresh lemon juice
5 tbsp olive oil
1 tsp rice wine vinegar
1/2 tsp salt
1/2 tsp ground black pepper
Put all the ingredients into a screw top jar and shake well. Arrange the salad on serving plates, top with shrimp and serve with the lemon vinaigrette.
You can also use this recipe for filing Fajita's – simply delish!