Soups are a winter favorite and with the right ingredients they can be just what the doctor ordered. We checked out the American Institute for Cancer Research wwww.aicr.org for two awesome recipes, which we made and thoroughly enjoyed. Make sure you cook up big batches so you can freeze some for later – if there's any left!
Moroccan Vegetable Stew  (pictured above)
This recipe features a simple combination of winter vegetables, chickpeas, KAMUT® khorosan wheat berries, herbs and spices and you can easily substitute vegies you have or what's at your local market. Butternut and other winter squash are packed with vitamin C, fiber and cancer-preventive carotenoids. Aromatic spices like turmeric are being studied for their ability to suppress inflammation. The spices are what make this an amazingly aromatic stew. It's best after a day or two of cooking!
Makes 6 servings. (8 cups)
2                      white turnips, peeled and cut into 1" pieces
1 cup               sliced carrots, in ½" slices
1 cup               finely chopped onion
1½ tsp             ground cumin
1 tsp                ground sweet paprika
½ tsp               ground ginger
½ tsp               ground turmeric
Pinch of cayenne pepper
4½ cups           reduced-sodium vegetable broth
2½ cups           butternut squash (acorn squash works well too), in 1" cubes
1 cup                chopped zucchini, in to ½" pieces
¼ lb.                string beans, trimmed and cut in 1½" lengths
1 (15 oz.) can   chickpeas (no salt added) drained
1 cup                cooked KAMUT® khorosan wheat berries
¾ tsp               salt
Freshly ground black pepper
3                      plum tomatoes, cut crosswise into ¾" slices
¼ cup             chopped cilantro
¼ cup             chopped flat-leaf (Italian) parsley
In medium Dutch oven (or large soup pot), combine turnips, carrots, onion, cumin, paprika, ginger, turmeric and cayenne. Pour in 2 cups of broth. Cover and simmer over medium heat for 10 minutes.
Add butternut squash, zucchini, string beans, chickpeas and remaining broth. Add salt and 3-4 grinds of pepper. Cover and cook until vegetables are tender, 20 minutes. Arrange tomato slices on top of the vegetables, cover, and cook until tomatoes are just soft, 5 minutes. Add cilantro and parsley and let sit, covered, for 10 minutes to allow flavors to meld. Serve hot, directly from pot.
If desired, cool, cover, and refrigerate for up to 2 days. Reheat, covered, over medium heat.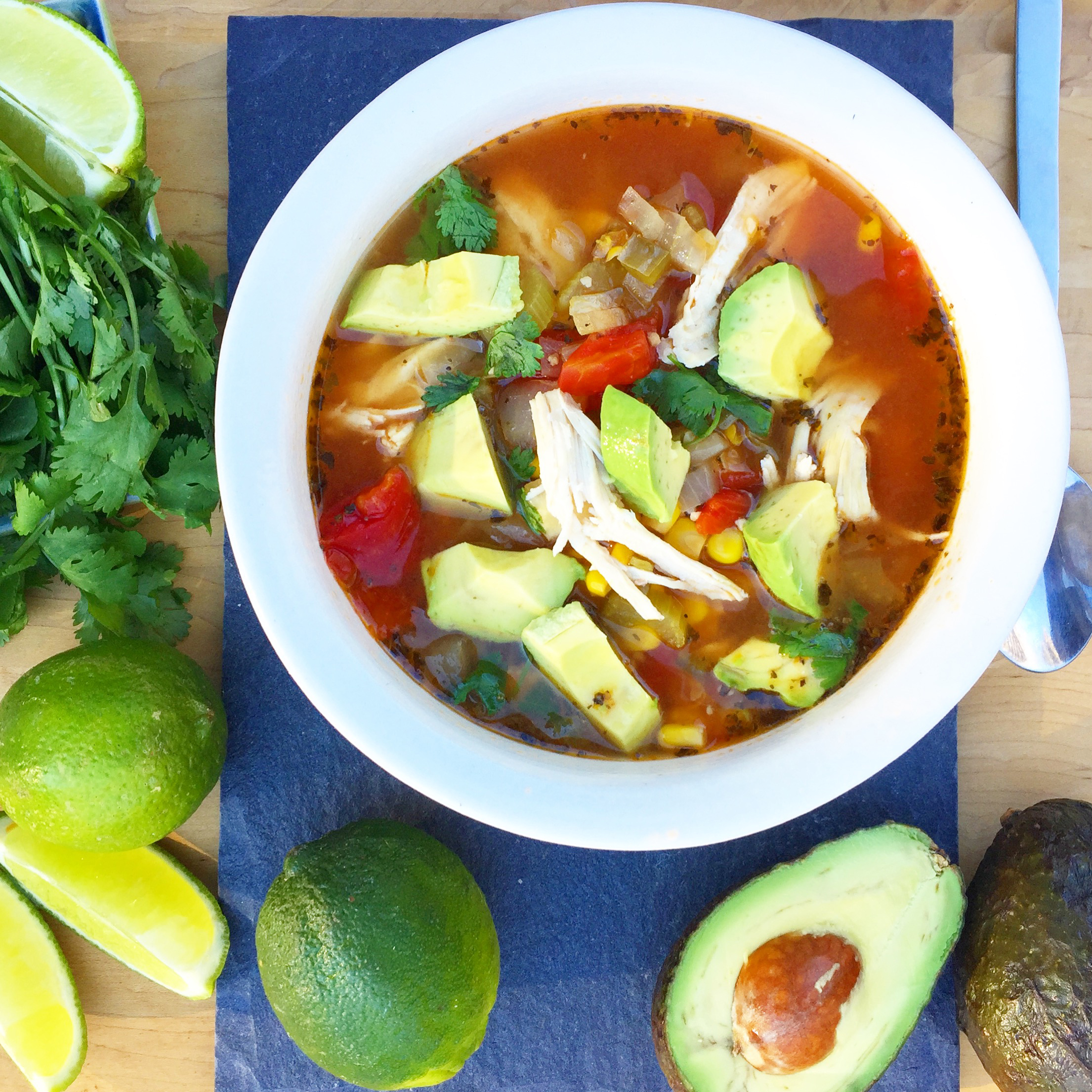 Lime and Chicken Soup with Avocado
Chicken soup may be a winter staple, but this zesty lime and fresh avocado makes it feel like a summer day! With a medley of colorful veggies, Italian herbs and juicy citrus—limes are an excellent source of vitamin C. They're also packed with phytochemicals like limonoids and flavonoids, making them an excellent part of any cancer-protective meal. It's a really great soup for any time of year.
Makes 6 servings. (8 cups)
2 Tbs                extra virgin olive oil
1                      large yellow onion, chopped
3                      stalks celery, thinly sliced
1                      medium jalapeño pepper, seeded, diced
5                      cloves garlic, minced
1 lb                  boneless, skinless chicken breast
1 cup               frozen corn
1 can (14.5oz) no salt added diced tomatoes
6 cups           reduced-sodium chicken broth
1½ tsp          Italian seasoning
1 tsp               oregano
¼ tsp             cumin
3                      medium limes, 2 cut in half, 1 cut into 6 wedges for garnish
½                    bunch cilantro Including stalks), rinsed, chopped
1                       medium avocado, cut into ½ "cubes
In soup pot, heat oil over medium-high heat. Sauté onion, celery, jalapeño and garlic for 6 minutes or until tender. Add whole chicken breast, corn, tomatoes, broth, Italian seasoning, oregano and cumin to pot. Stir to mix ingredients. Over high heat bring soup to a boil. Reduce heat, cover and simmer for one hour.
Remove chicken breast to large platter and shred using two folks. Return chicken to soup.
Over strainer to catch seeds, squeeze juice of 2 limes into soup. Add cilantro and gently stir. Ladle soup into serving bowls. Top each bowl with avocado, garnish with lime wedge and serve.
American Institute for Cancer Research wwww.aicr.org