We thought we would feature our three favorite blueberry recipes – a pie, cupcakes and a "pudding cake". All of them delicious. If you don't have much time, the pudding cake is the by far the easiest and quickest to make and is great for dessert, brunch or breakfast. The pie—my personal favorite—I love pies (must be my English upbringing). The cupcakes (with or without the frosting) are sublime. Let us know which one is your favorite.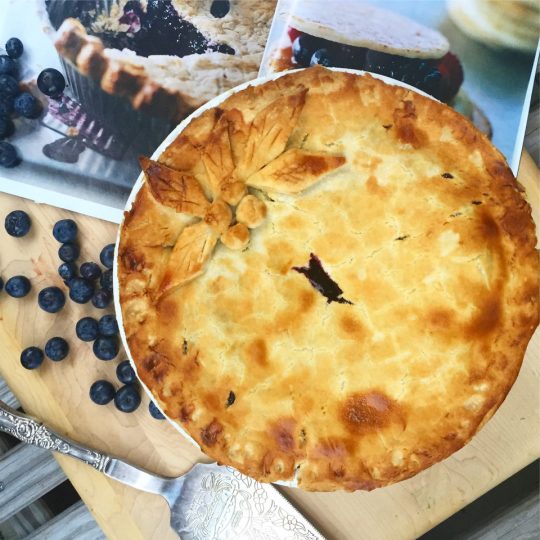 BLUEBERRY PIE
There is nothing better than fresh, plump, sweet blueberries, especially when they are wrapped in a delicious, buttery pastry crust! This pie says summertime like no other!
Makes 8-12 Servings
For the crust:
2½ cups        all-purpose flour
½ tsp             salt
1¼ cups        unsalted butter, cut into cubes
8-10 Tbs        of ice water
egg beaten with 1 Tbs milk
For the Filling:
8 cups          blueberries, picked over and washed
½ cup          raw sugar
2 Tbs            lemon juice
2-3 Tbs        arrowroot flour or cornstarch
¼ tsp           kosher salt
To make the crust, combine the flour and salt in a large bowl or food processor. Add the butter, and either use your fingers to rub the butter into the flour until the mixture resembles coarse meal or pulse the processor a few times. Gradually and lightly mix in ice water, a few tablespoons at a time, until the dough just comes together. Turn the dough out onto a lightly floured surface and gather into a ball. Divide the ball into two equal portions and flatten each into a disc. Cover tightly with plastic wrap and refrigerate for at least one hour.
Prebake the pie shell. Heat oven to 375. Roll out one of the discs of dough on a lightly floured surface and fit into a 9-inch pie dish. Trim the dough so that there is a slight overhang at the top of the pie dish, then place the shell in the freezer for 20 minutes to chill. Remove the pie shell from the freezer, cover the dough with parchment paper and fill the shell with pie weights or dried beans. Place the shell into the oven and bake until the bottom has just started to brown, approximately 20 to 25 minutes. Take the pie shell out of the oven, remove the parchment and pie weights and allow to cool.
Make the filling. Take one cup of the blueberries and combine them in the bowl of a food processor or blender with the sugar, lemon juice, 2 tablespoons of the arrowroot flour or cornstarch and the salt, then pulse to purée. Put the blueberry mixture into a small pot set over medium-high heat, and cook, whisking constantly until the liquid has just thickened, about one minute. Pour the thickened mixture over the remaining blueberries and stir to combine.
Bake the pie. Heat oven to 400. Mound the filling high in the center of the cooled pie shell and apply the egg wash to the top edge of the cooked bottom crust. Roll out the second disc of dough, and place it over the top, gently crimping it onto the egg-washed edge of the bottom crust. Place the pie into the freezer to set, approximately 20 minutes, then cut vents into the top with a sharp knife. Place the pie on a baking sheet and set it into the oven to bake for approximately 30 minutes. Then turn the pie, reduce heat to 350 and bake until the pie is golden and the filling has begun to bubble up through the vents, another 25 to 45 minutes. Allow pie to cool to room temperature cutting and serving.
Blueberry Cupcakes
Now, I have to say Martha Stewart's recipe is amazingly good. The jury is still out on whether it even needs the frosting. Now I tried to make mine look like Martha's (I didn't have an icing bag, etc., so made do with a corner cut off a small freezer bag), I did not succeed. I wonder how many they made to get the perfect ones in her photo? My frosting did not look great, but it didn't alter the taste which was amazing!! These blueberry cupcakes are breakfast for dessert!
You can easily tell which pics are mine!
Makes 12 Cupcakes
For the topping:
6 Tbs.              granulated sugar
¼ cup             dark brown sugar
1 tsp                cinnamon
For the cupcakes:
1 2/3 cups       cake flour
¼ tsp               baking soda
1 tsp                 baking powder
½ tsp               salt
1                        stick unsalted butter, softened
2/3 cup            granulated sugar
2                        large eggs
1tsp                   pure vanilla extract
¾ cup              sour cream
6 oz                   blueberries
For the frosting:
1¼                   sticks unsalted butter softened
8 oz                 cream cheese, room temperature
½ tsp              pure vanilla extract
2 2/3 cups     confectioners' sugar sifted
¼ cup            blueberry jam strained
Make the topping: Mix together granulated and brown sugars and cinnamon.
Make the cupcakes: Preheat oven to 375 degrees with rack in upper third of the oven. Line cups of a standard muffin tin with baking cups. Sift together flour, baking soda, baking powder, and salt. Beat together butter and granulated sugar with a mixer on medium-high speed until pale and fluffy, 2 to 3 minutes. Beat in eggs, 1 at a time, then beat in vanilla, scraping down sides of bowl. Reduce speed to low, and beat in flour mixture in 3 additions, alternating with sour cream and beginning and ending with flour. Fold in blueberries. Divide batter among baking cups. Add topping, pressing to adhere to batter. Bake until golden and a toothpick inserted in center comes out with moist crumbs attached, 20 to 21 minutes. Remove cupcakes from tin, and let cool completely on a wire rack.
Make the icing: Beat together butter and cream cheese with a mixer on medium-high speed until pale and fluffy, about 2 minutes. Reduce speed to low, and gradually beat in vanilla and confectioners' sugar. Raise speed to medium-high, and beat 1 minute. Spoon jam on top of the icing, and without stirring, spoon icing into a disposable pastry bag. Snip off a 3/4-inch opening in tip, and pipe swirled mounds of icing on top of each cupcake. Although best if eaten immediately, cupcakes can be refrigerated up to 6 hours and brought to room temperature 45 minutes before serving.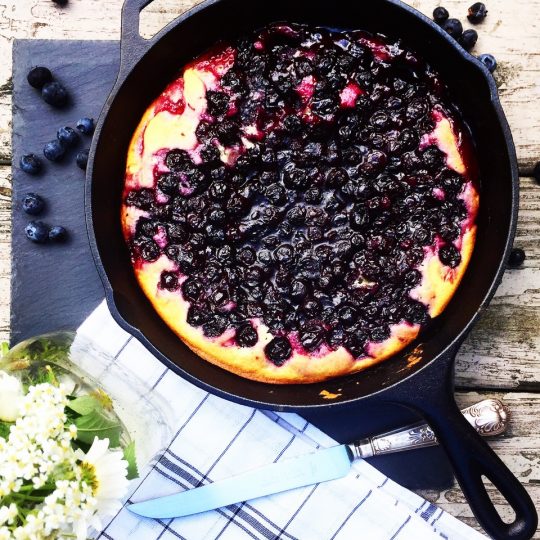 BLUEBERRY PUDDING CAKE 
Plump blueberries, cooked until juicy then poured over a simple batter, make for a delicious and moist pudding cake that's bursting with summer goodness! Cook and serve in a cast iron skillet!
Makes 8 servings
⅓+ ½cup          sugar
¼ cup                 water
1Tbs                    fresh lemon juice
1tsp                     cornstarch
2 cups                fresh blueberries
1 cup                  all-purpose flour
1¾tsp                baking powder
1tsp                    salt
1 large               egg
½cup               whole milk
1 stick               butter, unsalted, melted and slightly cooled
1tsp                  vanilla
small cube of butter to grease the skillet
Put oven rack in the middle position, preheat oven to 375 degrees. Put 9" cast iron skillet in the oven to warm.
Stir together ⅓cup sugar with the water, lemon juice and cornstarch in a small saucepan, stir in the blueberries. Bring to a simmer and cook for 3 minutes stirring occasionally. Remove from heat.
In a medium bowl whisk together flour, baking powder, salt and remaining ½cup in sugar. In a large bowl whisk together egg, milk, butter and vanilla, then add the flour mixture whisking until just combined.
Remove the hot skillet from the oven and swirl around the cube of butter till melted. This will make the edges of the pudding cake firm and golden brown. Spoon the batter into the skillet, spreading evenly and pour the blueberry mixture over the berries.
Bake until a knife inserted into the center of the cake come out clean 30-40 minutes. Cool before serving. This actually tastes better the day after!!