National Vegetarian Month is a great time for us to think about what making a few changes in our meat intake might look like.  Efforts to curb greenhouse-gas emissions and the impacts of global warming will fall significantly short without drastic changes in global land use, agriculture, and human diets, leading researchers to warn in a high-level report commissioned by the United Nations, The special report on climate change and land by the Intergovernmental Panel on Climate Change (IPCC) describes plant-based diets as a major opportunity for mitigating and adapting to climate change ― and includes a policy recommendation to reduce meat consumption.
Even if you make the commitment to replace one meat meal a week, it's a great start. So to get your veggie taste buds going, we've put together some of our favorite vegetarian recipes to make this month! They are so delicious, even meat-eaters love them!
National Vegetarian Month Recipes:
Vegetable Tian
Roasted Red and Yellow Pepper Soup
Chanterelle Risotto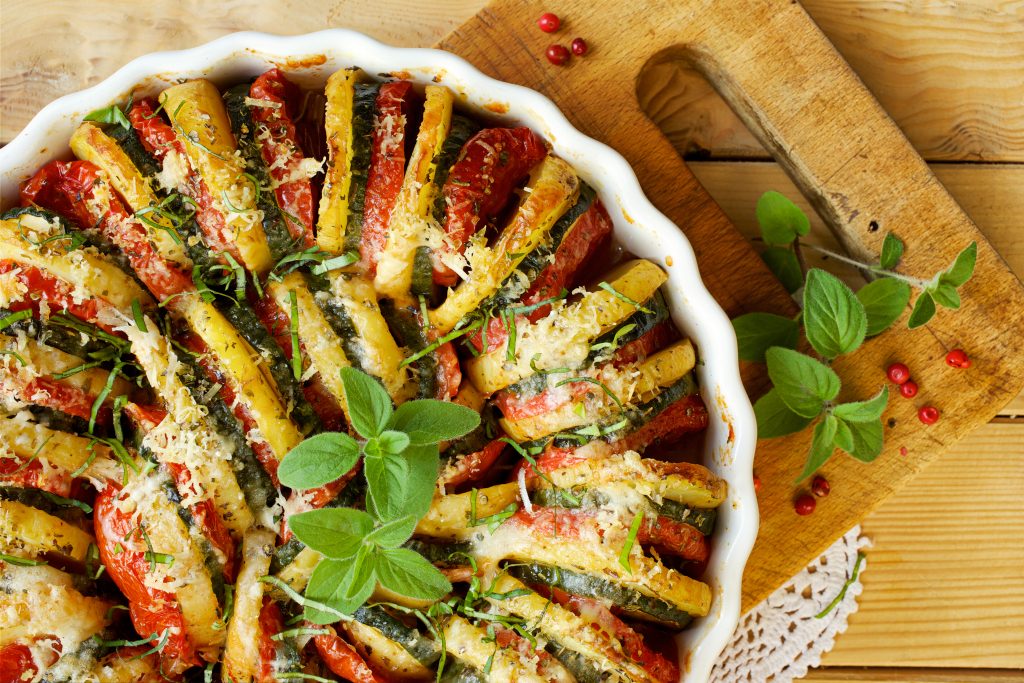 Vegetable Tian
This versatile vegetable dish is so simple to make and it looks very colorful on the table.
Serves 2:
1 medium zucchini washed and patted dry then cut into 1/4″ slices
1 Summer squash washed and patted dry then cut into 1/4″ slices
2 large vine tomatoes, sliced into 1/4″ rounds
1 tsp olive oil
1 medium sized clove of garlic pealed
2 Tbsp grated parmesan cheese
salt and pepper to taste
Heat the oven to 425 degrees
Rub the garlic clove over the base of an 8" shallow baking dish, discard the clove. Pour the olive oil into the dish and swirl it around to coat the bottom. Alternate the zucchini, summer squash and tomatoes around the dish, gradually filling into the center. Sprinkle with the grated cheese, season with salt and pepper and bake for 20-25 minutes until the cheese is gold brown and crunchy and the vegetables are soft.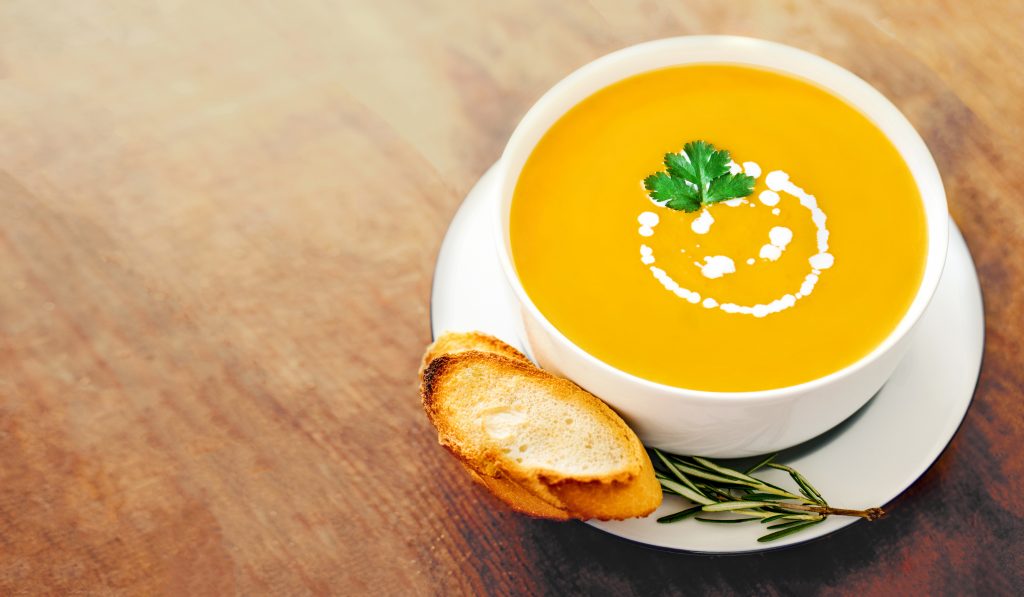 Roasted Red and Yellow Pepper Soup
Roasting is what brings out the full sweet flavor of the red and yellow peppers, you cannot skip this step. You will need a blender.
Serves 4-6:
Make the yellow pepper soup exactly the same way.
6 red bell peppers, cored, seeded and cut in half lengthwise
1 c chopped onions
1 c chopped leeks
3 s mall potatoes peeled and sliced
5 c vegetable stock
4 tsp unsalted butter
1 tsp sea salt
1 tsp fresh ground black pepper
Preheat oven broiler.
Line a baking sheet with foil, lay half the peppers with the outsides up and broil until the skins are black and charred. Work in batches and transfer the roasted peppers to a large plastic bag and seal. Allow them to "steam" in the bag for 10 minutes, remove the peppers and pull off and discard the skins. Coarsely chop the peppers and set aside.
Melt the butter in a large soup pot. Add the onions, leeks, salt and pepper. Saute over a low heat until the onions are soft and translucent – about 10-12 minutes.
Coarsely chop the remaining peppers and add them to the pot along with the potatoes, roasted peppers and stock. Bring to the boil, then lower the heat and simmer uncovered for 30 minutes until the vegetables are tender.
Transfer the soup in batches to a blender and process until smooth.
Return both soups to the pot and heat through – it makes a lovely orange color soup
Toasted croutons, a splash of olive oil , a swirl of cream, fresh herbs, whatever you like can be used as a garnish.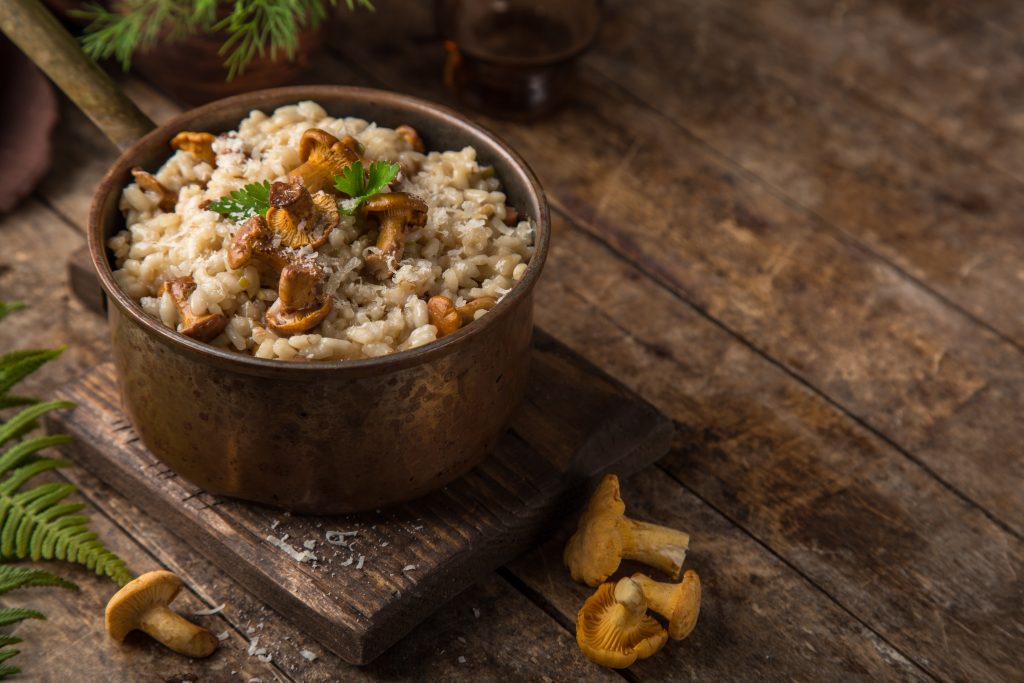 Chanterelle Risotto
Risotto's are easy, they just take a little time and patience but it's worth every minute!
Serves 8
1 c dry white wine
1 c fresh chanterelles, cleaned and roughly chopped
8 -12 small chanterelles for decorating
1 oz dried porcini mushrooms
3 Tbs Extra Virgin Olive Oil (EVOO)
1½ c chopped onions
2 c Arborio rice
6-7 c vegetable stock
Salt and freshly ground pepper
Freshly grated Parmesan cheese for garnish
Truffle oil for finishing
In a small saucepan bring the white wine to a boil. Remove from the heat and add the porcini mushrooms and set aside.
In a heavy pot, heat the oil, add the onions and sauté over a low heat until soft, approx. 5 minutes. Add the rice and cook, stirring, for another 3 minutes.
Meanwhile, bring the stock to a boil in another saucepan. Reduce the heat and keep at a simmer. Slowly add 1 cup of the hot stock to the rice, stir and allow to simmer. When the stock has been absorbed, add another cup and repeat until half the stock has been added. Now add the wine, porcini and chanterelle mushrooms. Continue adding the stock ½ cup at a time stirring constantly until the rice is slightly creamy and just tender. Altogether the rice should cook for about 25 – 30 minutes. Season with salt and pepper and mix gently.
Put into serving dishes, garnish with Parmesan cheese and drizzle with truffle oil.
Top with a small whole chanterelle mushroom.