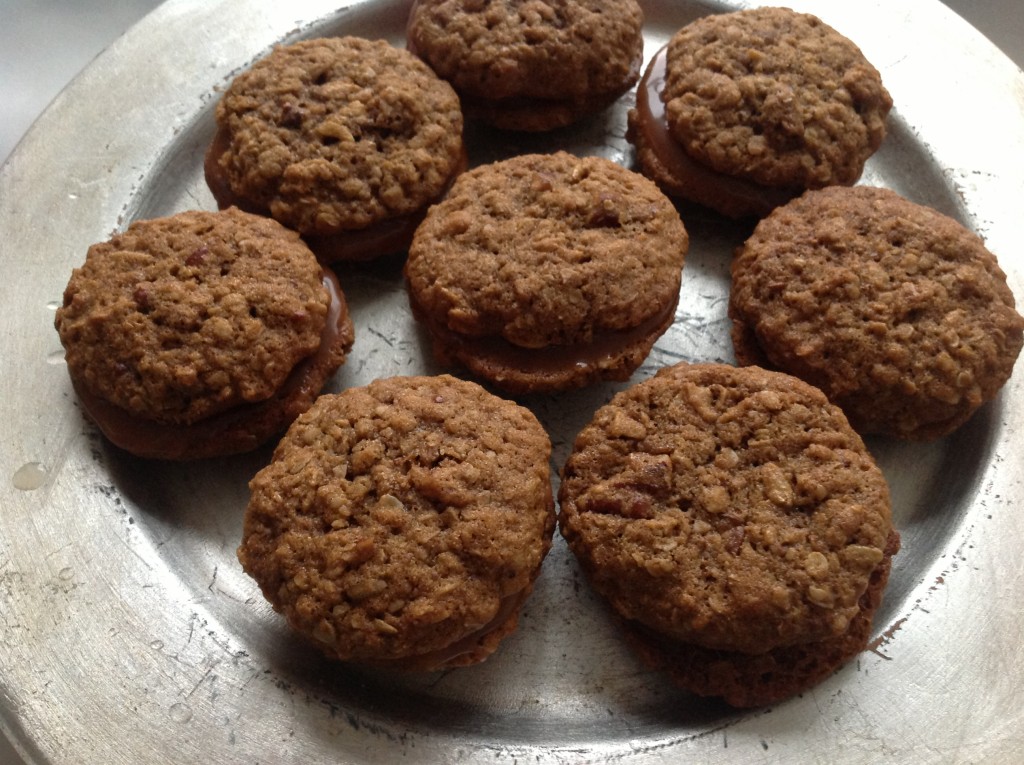 COOKIES:
1 cup               pecans
1 cup               Kamut® flakes
1½ cups         quick-cooking oats
1¼cups          Kamut® flour
1 tsp                baking soda
¼ tsp              salt
2                      sticks unsalted butter, room temperature
1¼ cups         packed light brown sugar
2                      large eggs, lightly beaten
2 Tbs               molasses
1 tsp                pure vanilla extract
FILLING:
1? cups          granulated sugar
¼ cup            water
½ cup            heavy cream
4Tbs               unsalted butter, cut into small pieces
Preheat oven to 350 degrees. Spread pecans on a baking sheet. Spread the Kamut flakes and oats on another baking sheet. Toast pecans for 7 minutes and the Kamut flakes and oats for 15 minutes. Let cool, then finely chop the pecans.
In a medium bowl, whisk together flour, baking soda and salt.
In a larger bowl beat together the butter and brown sugar till light and fluffy, then beat in the eggs, vanilla and molasses. Fold in the flour mixture then stir in the Kamut flakes, oats and pecans. Cover the bowl and refrigerate for at least one hour.
Line baking sheets with parchment paper and roll rounded teaspoons of dough into balls. Place two inches apart and bake for 10 minutes, turning once.
Transfer cookies to wires racks to cool completely. These cookies can be stored in an airtight container for at least a week before filling.
FILLING:
Combine sugar and water in a small saucepan and bring to the bowl over a medium-high heat, stirring until sugar dissolves. Then cook until dark amber in color, swirling the pan occasionally. Remove from the heat and gradually whisk in the cream and butter, be careful as it will spatter. Whisk until the mixture becomes like melted caramel. Transfer to a bowl and allow to cool completely until it stiffens.
Spoon a small level teaspoon into the center of the flat side of the cookies and top with remaining cookies.