If you can find really ripe peaches, there's nothing better for a perfect summer dessert. Here are two of our favorite recipes!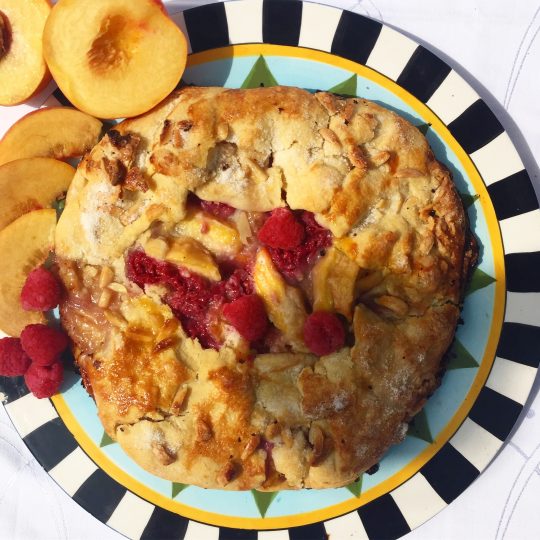 PERFECTLY PEACHY – PEACH RASPBERRY GALETTE
Picked up the most deliciously, sweet, juicy peaches at the farmers market, they were so good, perfectly ripe and just wonderful. As always with summer fruits, I got a huge bag full and decided to make one of my favorite desserts. Galettes are so easy and forgiving, the pastry doesn't have to look perfect…in fact the more rustic and ragged the better!!
Serves 8-10:
For the crust:
1 cup all-purpose flour
½ tsp salt
1 stick unsalted butter, cut into cubes
4 Tbs of ice water
egg wash
Filling:
2 Tbs flour plus more for the parchment
5 large, ripe peaches peeled and halved and cut into ½" wedges
1 tsp fresh lemon juice
¾ cup granulated sugar
8 oz raspberries
1 Tbs unsalted butter cut into small pieces
¼ cup sliced almonds
1 Tbs coarse sanding sugar
To make the crust, combine the flour and salt in a large bowl or food processor. Add the butter, and either use your fingers to rub the butter into the flour until the mixture resembles coarse meal, or pulse the processor a few times. Gradually and lightly mix in ice water, a few tablespoons at a time, until the dough just comes together. Roll out to an 18" round on lightly floured parchment.
Pre-heat over to 425 degrees.
To make the filling and assemble, combine peaches, lemon juice, flour, salt and
granulated sugar. Gently stir in the raspberries and place in the middle of the
pastry leaving a 3" border. Dot the fruit mixture with butter. Fold up the edges
of the pasty to partially cover the fruit, brush pastry with egg wash and sprinkle
with almonds and sanding sugar. Slide galette on the parchment onto a rimmed
baking sheet and bake for 30 minutes. Reduce heat to 375 degrees and bake
until pastry is golden brown and juices are bubbling. Let cool on a wire rack. Cut
into wedges and enjoy on its own or with whipped cream, vanilla ice cream or
sweetened yogurt.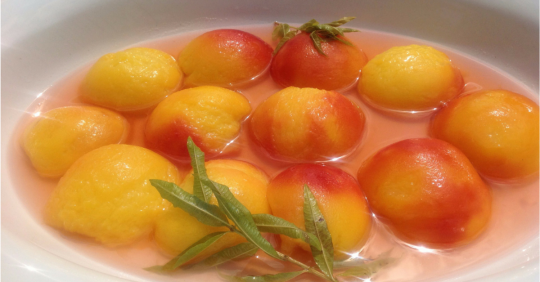 POACHED PEACHES IN LEMON VERBENA SYRUP
The hardest part of this is getting the skin off the peaches— I always make two extra peaches just in case! A delightfully light and very elegant looking dessert that is easy to make and will impress everyone at the table.
Makes 6-8 servings:
8 large ripe (but firm) peaches, halved, pit removed
1 cup sugar
4 cups water
½ cup honey
3 fresh lemon verbena sprigs
In a large saucepan combine the water, sugar, and honey and bring to a simmer. Add the lemon verbena and peach halves to the pan. Bring to the boil, then reduce heat to a simmer for 7-8 minutes until the peaches are tender. Remove peach halves and place on a baking sheet to cool for a few minutes and carefully remove the skins. Remove the lemon verbena sprigs and boil the liquid over a moderate heat until it's reduced by half. Let the syrup cool to room temperature. Place each half in a large oval dish, pour over the syrup and add some fresh lemon verbena sprigs.