These loaded veggie-grain bowls are hearty enough for a cold winter day, high in fiber and full of great textures – filling, energizing and heart healthy­ ­– plus they taste great!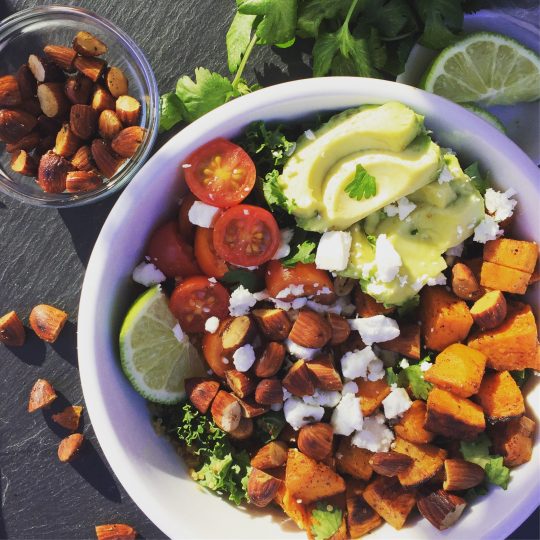 Kale, Sweet Potato and Avocado Bowl
Light, smoky flavor from the spiced sweet potatoes and the toasted almonds with chili and lime make a great snack, so double the amount in the recipe for some healthy snacking!
Makes 4 servings
3  cups peeled and diced sweet potatoes
3 Tbs olive oil
1 tsp chili powder
1 tsp  Kosher salt
½ tsp  black pepper
16  cherry tomatoes
½ cup unsalted, roasted almonds, chopped in half
2 tsp grated lime rind
½ tsp sugar
2 Tbs fresh lime juice
1 Tbs fresh chopped cilantro
2 cups  hot cooked quinoa
4 cups chopped baby kale
½ cup crumbled Cotija cheese (or feta) optional
1 ripe avocado, sliced
4   lime wedges
Preheat over to 400 degrees.
Combine sweet potatoes, 1½ teaspoons of olive oil, ½ teaspoon chili powder, ¼ teaspoon salt and ¼ teaspoon black pepper in a bowl and toss well. Line a baking sheet with aluminum foil and arrange sweet potato evenly, drizzle with 1½ teaspoons olive oil and bake until tender and lightly charred – approx. 30 minutes. Remove from pan.
In a small skillet toast almonds over medium heat for approx. 2-3 minutes. Add 1 teaspoon oil, remaining ½ teaspoon chili powder, ¼ teaspoon salt, 1 teaspoon grated lime rind and sugar. Cook stirring occasionally for another minute.
Whisk together remaining 5 teaspoons olive oil, ½ teaspoon salt, remaining ¼ teaspoon black pepper, remaining teaspoon grated lime rind, lime juice and cilantro in a bowl.
Divide quinoa among 4 bowls, arrange kale, sweet potatoes and cherry tomatoes on top. Drizzle with the juice mixture, top with almonds, Cotija cheese and avocado. Serve with lime wedges.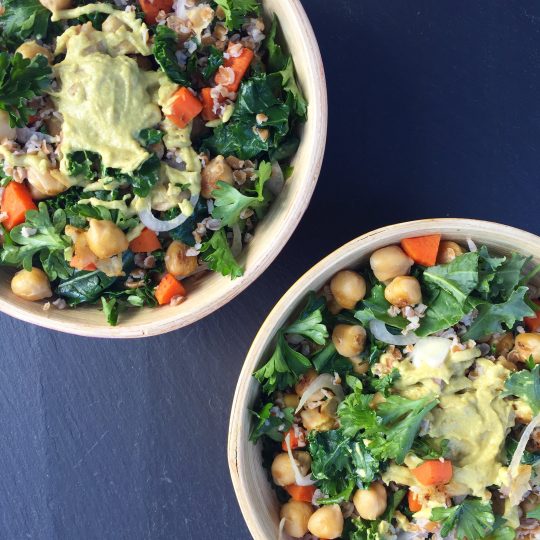 Kale and Chick Pea Grain Bowl
This veggie-heavy bowl provides more than 50% of daily fiber—key for weight loss, energy and healthy digestion.
Makes 4 servings
1 cup boiling water
½ cup  uncooked bulgur
2 (15oz)  cans unsalted chickpeas. Rinsed and drained
1½ Tbs  canola oil
2 cups finely chopped carrots
4 cups chopped baby kale
½ cup vertically sliced shallots
½ cup fresh parsley leaves
¾  tsp salt
½  tsp black pepper
½   avocado, peeled and pitted
2 Tbs  extra virgin olive oil
1 Tbs fresh lemon juice
1 Tbs  water
1 Tbs tahini paste, well stirred
1  garlic clove
¼ tsp ground turmeric
Combine one cup boiling water and bulgur in a medium bowl. Let stand for 10 minutes, drain well
Pat chickpeas dry with paper towels. Heat canola oil in a large skillet over high heat. Add chickpeas and carrots, and cook stirring occasionally, until chickpeas are browned, about 6 minutes. Add kale and cook until kale is slightly wilted, about two minutes. Add chickpea mixture, shallots, parsley, ½ teaspoon salt and pepper to bulgur, and toss well.
For dressing, process avocado, olive oil, juice, one tablespoon of water, tahini, garlic, turmeric and remaining ¼ teaspoon salt in a food processor until smooth. Divide bulgur mixture among 4 bowls and drizzle with avocado dressing.