This article was updated on February 6th, 2021
Looking for healthy super bowl recipes? We got you covered! Check out the recipes we think are perfect for game day below!
1) Pizza with cauliflower dough
Let's be honest, who wouldn't eat pizza every day if it was good for you? We know we would! Well, now you can actually make a healthier version of your favorite pizza. Starting with the crust, instead of using your typical flour-based dough, you can switch it up by using cauliflower that has been cooked and pureed into a dough-like consistency. By changing the dough, you are cutting down on those extra unnecessary calories, and it basically tastes the same. From there you can either make your pizza with sauce or without sauce, up to you. Then add any toppings you like! We recommend loading up your pizza with various types of veggies for a nutritious boost.
Another alternative –and this is our favorite – is using KAMUT® Brand Khorasan wheat flour. A recent study of people with type 1 diabetes mellitus (T1DM), who generally love pizza made with traditional flour, was conducted to see if the flour used in the pizza dough would make a difference. Turns out it does! The results indicated that the consumption of pizza with dough made from a mix of whole wheat flour and KAMUT® whole wheat flour didn't cause gastro-intestinal issues and despite their observed good taste and digestibility, resulted in lower post-meal glycemic spikes measured over different periods.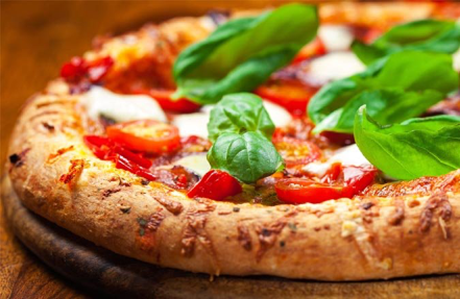 2) Ice cream made from frozen bananas
One of our favorite desserts is ice cream, and just like pizza who wouldn't want to eat ice cream every day? But the amount of cream, and sugar in a container of regular ice cream is out of this world! We found an easy alternative to make from one ingredient: bananas. All you need for this ice cream are frozen bananas! Take a couple of bananas cut them into coin size pieces and throw them into the freezer until they are completely frozen. After they have frozen, take them out and put them in a food processor or blender, and blend everything together. Scoop that ice cream out and enjoy! You can add chocolate chips, or fruit to change up the flavor but the original is just as good.
Wings are another great junk food that most people enjoy, but some people who don't eat meat and those who try to maintain a healthy lifestyle try to avoid them. But with Buffalo Cauliflower now everyone can enjoy them! It's so simple to make. All you need to do is cut the cauliflower into bite-size pieces and put them on aluminum foil that has been sprayed with nonstick cooking spray. After that, preheat your oven at 345 and stick them in the oven for about 15 mins until they get crispy. After they come out, cover in buffalo sauce and enjoy!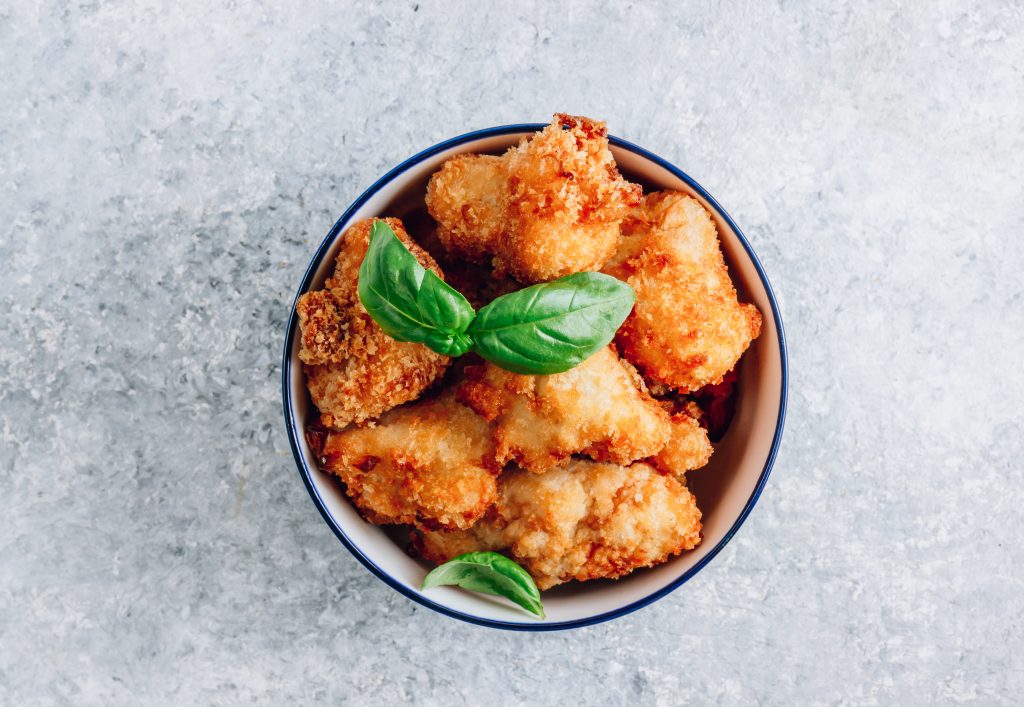 4) Swap Mac & Cheese, Nachos, Potato Skins and Mexican 5 Layer Dip for Vegan Versions with Hooray Foods' New Plant-Based Bacon
If you are planning on cooking for the big day, but you are not sure how to create a vegan, meat-free dish that doesn't break away from our traditional Super Bowl faves, here are four delicious Super Bowl Swaps made with Hooray Foods new plant-based, gluten-free, soy-free, allergy-free bacon that looks, cooks and sizzles just like the real deal, and is rolling onto 300 Whole Foods store shelves across the nation!
Swap:
Mac & Cheese
Nachos
Potato Skins
Mexican 5 Layer Dip
For:
Vegan Bacon Nachos: Made with black beans, guacamole, cilantro, salsa, Daiya Dairy-Free cheddar style cheese sauce, and Hooray Foods Plant-Based Bacon.
Vegan Potato Skins with Hooray Bacon: A simple swap with Vegan cheddar and Hooray Foods Plant-Based Bacon.
Mexican 5 Layer Dip with Hooray Bacon Layer: So easy, so fun! Five layers of deliciousness packed into one irresistible dip: refried beans, guacamole, seasoned vegan sour cream, salsa, topped with vegan cheese and crumbled Hooray Foods Plant-Based Bacon.
DF, GF Mac and Cheese with Hooray Foods Plant-Based Bacon Crumble Topping. Check out the full recipe below.
This dairy-free mac and cheese sauce uses the magic of starches to create an authentic and flavorful experience, without relying on soy or nuts.  The sauce is gluten-free, so the recipe also lends itself well to using gluten-free noodles, if you like.  The crispy bacon topping adds a welcome crunch, and a complementary hit of umami flavor.
Ingredients
5 pieces of Hooray Bacon, cooked to crispy
8 oz macaroni, elbow, or penne pasta of your choosing, cooked to recommended specifications
Cheese Sauce Ingredients
2 cups plain oat milk (or any other plain, non-dairy milk of your choosing)
½ cup nutritional yeast flakes
1 TBS Tapioca Starch
1 TBS Cornstarch
Juice of ½ Lemon
1.5 tsp salt
Pinch of cayenne pepper, onion powder, ground nutmeg
Dash of soy sauce, or any other amino liquid of your choice.
Instructions
Macaroni
Start by boiling your pasta, following recommended product instructions.
Strain, and transfer back to the pot, and lightly dress with neutral cooking oil to prevent sticking while making the cheese sauce.
Bacon Topping
Preheat a large frying pan on medium/low heat. Do not add oil to the pan.
Carefully arrange Hooray bacon strips side-by-side without touching.
Sear for 90 seconds before turning. Turn, and cook for 90 more seconds.
Continue cooking bacon, turning every thirty seconds, 4-6 more times, until evenly brown and crispy.
Transfer to a plate or tray lined with a paper towel to dry and continue crisping.
Rough chop bacon into ½" pieces and then lightly crumble with 1-2 more cuts and set aside.
Cheese Sauce
Combine all sauce ingredients in a small saucepan at cold/room temperature. Do not mix dry powders into warm oat milk, as some elements may become lumpy and not mixed evenly.
Slowly warm on medium heat, stirring occasionally as temperature rises, and sauce begins to thicken.
Turn heat down to low as sauce approaches a boil.
Stir constantly once the sauce begins to boil and turn the heat off when boiling temperature is reached. The sauce should appear evenly mixed and thicker.
Assembly and Baking
Preheat oven to 350° F.
Pour cheese sauce over cooked noodles and mix until coated.
Transfer dressed noodles to a greased half casserole pan.
Shake and spread to evenly fill the dish.
Sprinkle and spread-out bacon crumbles over the top of the macaroni. Press down lightly to set in place.
Bake for 10 – 20 minutes to further thicken the sauce, and crisp and adhere the bacon.
Mac and cheese can be served immediately from the oven.
*Leftovers should be reheated uncovered in an oven to re-crisp bacon topping, which will soften when refrigerated overnight.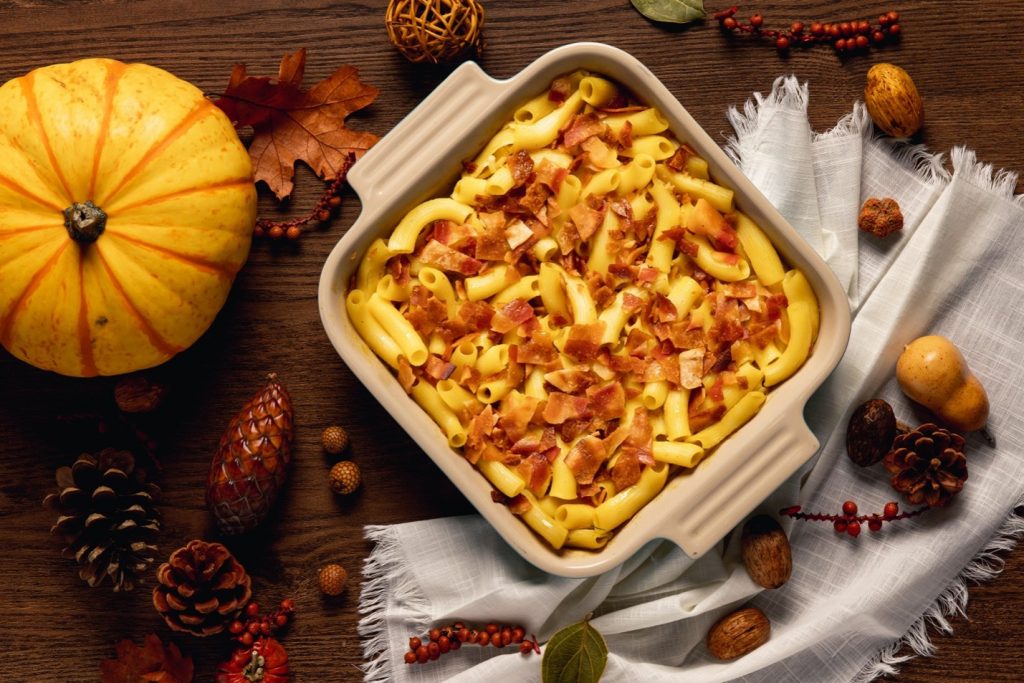 Enjoy your comfort food, minus the stomachache!