The holiday season is all about lots of things, but for many giving is a large component. Giving to loved ones or to charity are some of the things that make this season so wonderful. So why not give the earth a little something special, too? Incorporating eco-friendly gifts into your holiday shopping is a lot easier than you think — especially with more and more sustainable and eco-friendly items hitting the shelves each year! So, whether you have a tree-hugging friend, you want to be more environmentally friendly, or you're hoping to give a loved one a little nudge toward a greener lifestyle, we've come up with our eco-friendly holiday gift guide that even Mother Nature would approve of!
Eco-Friendly Holiday Gift Guide for 2020
The Zero Waste Cookbook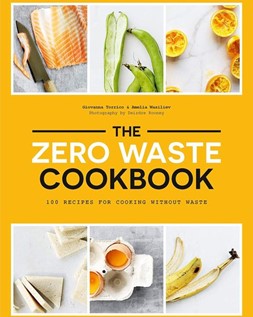 Have a chef on your list who is looking to reduce their waste? Give them a copy of the Zero Waste Cookbook!
The Zero Waste Cookbook is the complete guide to how you can make your food stretch further in order to reduce your waste. From using the husk of corn to make a vegetable stock to using lemon zest to infuse vodka and sunflower seeds to add crunch to bread, the book covers over 100 simple, waste-less recipes. With chapters are on fruit, vegetables, bread, dairy, meat, and fish, the chef on your list will learn how to fully utilize the food you have at home.
Collapsible Travel Cup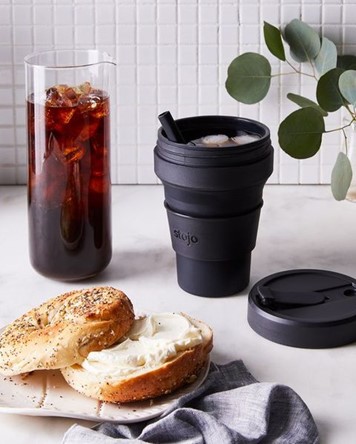 Reusable coffee cups and travel mugs are nothing new, but this one is special. Why? The silicone cup collapses, making it super easy to store or toss in your bag when you're done with your drink. It even comes with a straw and a sleeve to carry it in. Find yours here.
Cork Yoga Mats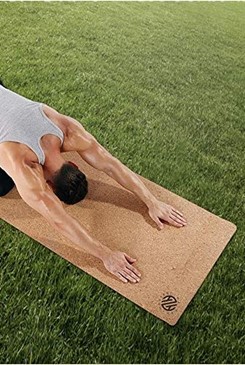 This year has been especially challenging for those who love to work out, which is why yoga is now more than ever a great option. Not only can it be done almost anywhere (cue the beach, your living room, or even a park), it's great for stress relief as well (something we all desperately need now.)
But typical yoga mats are made of unsustainable materials, which isn't great for the eco-minded yogi. That's why we suggest this cork mat from Hautest Health. Unlike typical yoga mats, cork mats are made of oak tree bark, which grows back when harvested sustainably. A win-win!
Naturepedic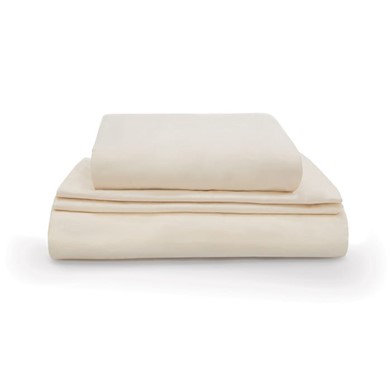 Have you tried certified organic bedding yet? If not, you're in for a treat! The Naturepedic Organic Luxury Sheet Set includes 100% certified organic cotton 400 thread count sateen fitted and flat sheets plus one or two pillowcases. This premium sheet set comes in a natural color and fits mattresses up to 15″ deep. A subtle and classic finishing touch for any decor. Soft and pure, organic cotton is grown without synthetic insecticides, herbicides or genetically modified organisms (GMOs). Compared to conventionally grown cotton, organic cotton eliminates nasty pesticides and promotes more fertile soil while helping protect our bees and songbirds. By choosing certified organic cotton, you're not only contributing to healthier sleep, but you're also helping build a cleaner, safer, healthier world.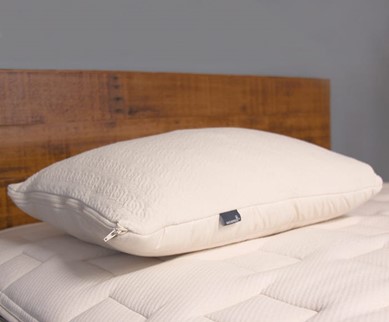 And if you're looking for a pillow, the Organic 2-in-1 Adjustable Latex Pillow: is an innovative and customizable 2-in-1 adjustable latex pillow offers everything you might want in a pillow including two distinct feels, adjustable fill and a machine washable outer layer. The pillow is comprised of two main components. The first is an organic shredded latex core with adjustable fill to provide the perfect amount of support for your preferred sleeping position. The second component is the outer encasement which features a smooth stretch-knit side and a luxuriously quilted side for two feels that are both truly amazing. The quilted side provides a fluffy cloud-like feel with dual-action compression of PLA fiber and latex. The smooth side easily stretches to conform to the unique shape of your head and neck. The outer encasement is also machine washable so you can keep your pillow clean and hygienic for years to come. What's not to love?
Living Composter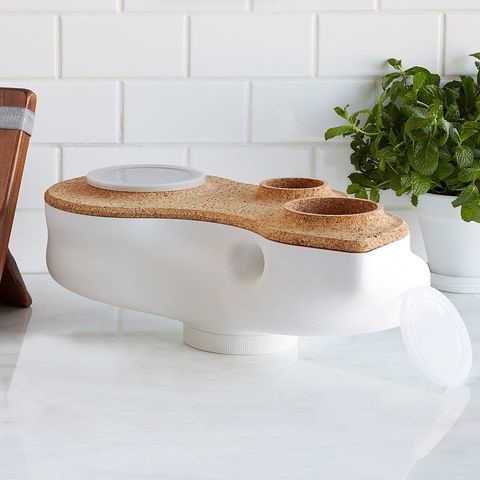 While this composter is on the pricier side, you must admit, it looks GORGEOUS on the countertop (unlike most composters).
Minimalist and modern, this model is perfect for a busy household as it can process more than two pounds of food a week. Find yours here.
Zero Waste Gift Box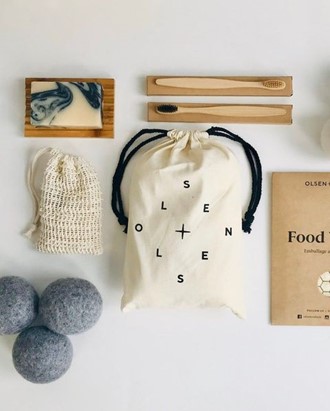 If your loved one is looking to live more sustainably, a kit like this is a great start. This one includes reusable food wraps, straws, dryer balls, bamboo toothbrushes, soap, and more. Grab your full kit here.
Travel Tote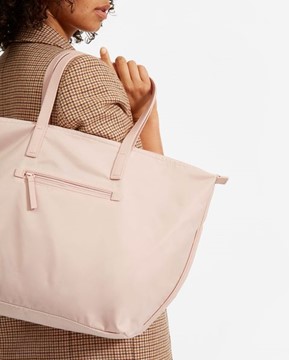 The ReNew travel tote by Everlane comes in four colors and is made from 100 percent recycled nylon from plastic bottles, so it's both green and durable. It's super roomy for all your nick knacks that need to be carted around on a daily basis!
Recycled Polyester Touch Screen Gloves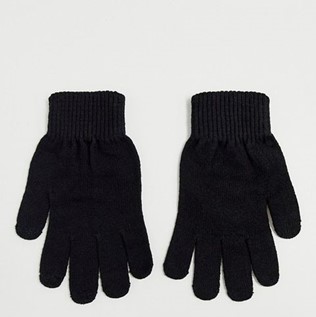 Winter is here, and nothing is worse than having cold hands while trying to use your smart phone (because let's face it, most gloves don't work with our screens!)
These soft, knit gloves from Asos are made out of plastic bottles and textile waste (and that you can text while wearing them!). A win for winter and technology? Yes please! Or a WIN-ter? No, pun didn't land? Ah, well.
BPA- Free Fire Truck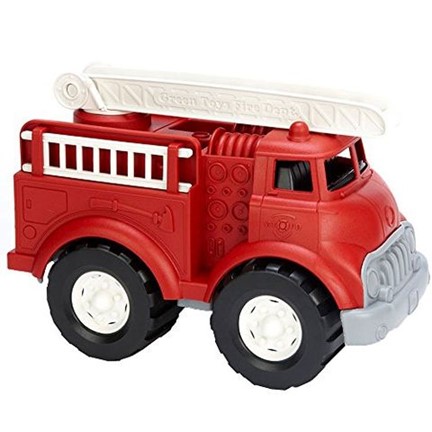 We know that a toy truck can make or break a holiday gift list. Cause come on, toy cars have been one of the most enduring toys for a reason, right? Can you believe that this fire truck is made completely from recycled plastic milk containers? Neither will the kids who get to play with it. It's also made without BPA, so you can be assured there won't be harmful chemicals.
Find it here.
Sustainable Footwear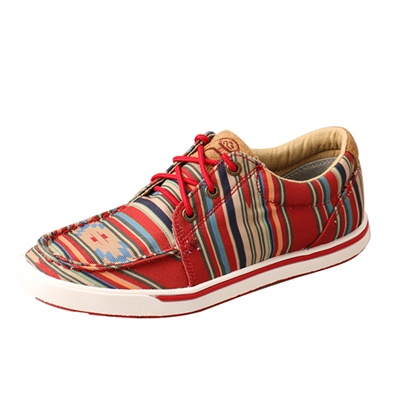 You can step outside in confidence with these shoes that are made from plastic bottles! Each pair of footwear from our ecoTWX® collection is made from an average of 13 recycled plastic water bottles. They also utilize the renewable and biodegradable natural fibers sheared from Merino Sheep, which is seriously soft, odor resistant, naturally balances body temperature and wicks away sweat. Plus, they leverage materials that grow naturally on our planet, eliminating the need for harsh chemicals that are often damaging to the environment.
Get your pair here.
Noble Oak Bourbon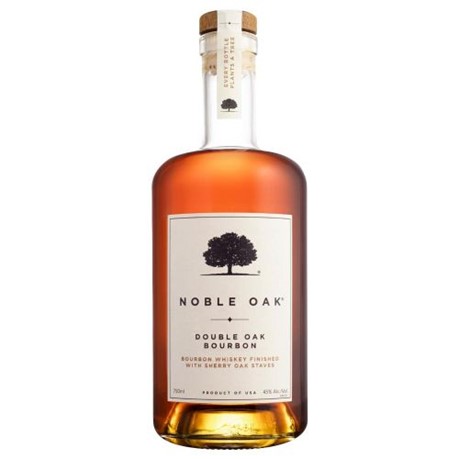 Is there a bourbon connoisseur in your life? This is one they've got to try! This incredible bourbon finished with sherry oak cask staves earned Double Gold at the San Francisco World Spirits Competition 2018 and was given 94 points at the Ultimate Spirits Challenge 2018. Plus, it's whiskey for the tree lover, as every bottle sold plants one tree. Something to feel good about.
Find it here.
No matter who is on your list this year, we hope you can find an eco-friendly product that they will love with this eco-friendly holiday gift guide!