Photo: Caranda Martin with Madame Moore, farming and community leader in Banga Region, Liberia.
By Giselle Chollett
With five generations in farming and the passion to preserve his ancestor technics to prepare tea with restorative and healing powers, Doughba Caranda-Martin III is the founder and owner of Serengeti Teas & Spices. He is an expert on African herbal medicine, tea, culinary gastronomy, and rare African coffees. At a very young age, his grandmother gave him the responsibility of becoming the "Custodian of Earth" by respecting the soil, the environment, and vegetation. An even deeper lesson for Caranda was to dedicate his life to propel the power of women, who have inspired him throughout life and prepared him to carry on with the traditions and the honor of representing his beloved Africa. His mission to improve the land and environment, along with his expertise in healing beverages, and deep motivations to reach the highest standards and ethics, made us choose him as our eco-maven of this month
1) What's your name, and what's your occupation?
My full name is Doughba Hamilton Caranda-Martin III, I have a background in Botany, Agriculture and Art.
2) How did your upbringing influence what you do now?
I was profoundly influenced by my upbringing. The most important thing about it is the influence that my grandmother had on me. She was a botanist, specializing in healing botanicals. Thanks to that, I grew up in a very holistic and conscious manner where we lived by example and by practicing discipline and compassion for earth. This experience gave me the structure by which I live and operate the business, even how we engage with the farmers and how we handle the raw materials that we use to create our products.
3) What motivated you to get involved with tea and its healing benefits?
While growing up everything was about tea. When my grandmother passed away, at 112 years old, as part of her will she left all of her botanical information, herbs, remedies, and everything related to her research to me. That was really special because it motivated me to understand something very profound; I realized that the exceptional African teas that I grew up drinking were not available, and I had to change that. So, I harnessed the discipline, the confidence and the compassion passed along by my grandmother and decided to create a company to honor her and propel all women.
4) What can you tell our readers about the African techniques to make tea?
This is really special and simple. The ancient technics that Africans use, for the most part, are based on preservation and restoring the value of herbs, botanicals and leaves. The quality of Serengeti tea technics starts with the farmer, the environment and the ecological approach that allows us to scale without sacrificing quality. We work with clusters of 20, 50, 60 women, about 3,600 in total, and within those clusters, they grow flowers, herbs and spices to specific quality levels, unique to what we want.
It's also important to mention that the way we keep and protect leaves, the botanicals or whatever we are working with, shows honor and respect. This will later translate into the flavors the consumers will experience. When it comes to flavoring, it's even more exciting because we don't add flavors, we like the real thing! To achieve those amazing flavors, we use extraction technics, barrel aging and barrel infusions, we also bury teas under the ground and all these mind-blowing things that elevate the flavor by the virtue of traditional, historic recipes. That was the way how kings drank tea!
The elements of blending technics also play an intrinsic role. The knowledge I have learned is a combination of indigenous history and the teachings of my grandmother. For some recipes that benefit from preservation, we use terracotta pots, which we leave for 6-8 weeks because the clay reacts differently and imparts a particular flavor.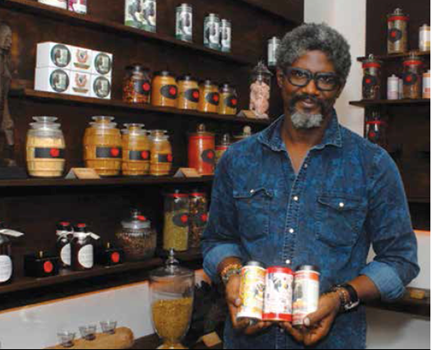 5) How do you achieve the exceptional Serengeti blends?
The exceptional blends started with "grandma's" education. It evolved into my exploration around Africa's villages where every elder I encounter becomes a tool of education, transferring their knowledge and helping me discover those nuances of lifestyle, botanicals and healing properties that make a real difference. For example, in one of my visits to a village in Nigeria, I learned that for centuries a tea called "blood leaf" has been used for those with anemia. Another property of the blood leaf is to restore the body when there's a major infection. It also accelerates the iron in the body. I would have never come across that if didn't continually discover, explore, and travel. This is what drives our blends, 50% exploration and 50% transition from exploration to bring it to market.
6) Can you talk about the remedy teas that you carry? What differentiates you from other holistic beverage makers?
What differentiates us from other beverage makers is that we use botanicals and holistic remedies that the world doesn't usually experience on a daily basis. We are using Baobab, Kinkeliba, Moringa, and we create compositions with them for specific outcomes. As a result of that, our approach is a differentiating factor. We don't believe in extensions so if something only needs 8oz of water that's all we will add, whereas another producer might extend it to 12oz of water, weakening its potency. Formulations are built on the basic flavor structure and the intensity of indigenous recipes
In terms of our healing and remedy teas, what we have done is that we go directly to the source and use some of the usual suspects: turmeric, spirulina, wheatgrass, chicory (a bitter leave use for organ health). I stay away from any kind of supply chain that has a farm with heavy machines because the machines affect the product. What we've done is that we harness the uniqueness of Africa, its people. In Africa we have a lot of people, we put them first and they are able to make their livelihood from the land.
7) Talk about the most popular teas and spices that Serengeti offers? 2021 is shaping as the year of spices, are there any new flavors that Serengeti will be including in their blends?
These are some of our most popular teas:
When it comes to spices, our best-selling spices include:
Egusi Seed Chai (Melon seed): balanced immune system, accelerate the protein intake and it also balances the carbohydrate structure, and the sugar in the body (In-store).
The Kenyan Purple Tea: Only grows in Kenya, and it's amazing because of the high levels of polyphenols (In-store).
Spicy Hibiscus Sea Salt: It's digestive and is good for the reduction of hypertension
Hibiscus Turmeric: This is to die for!
We then have what we call Healthy Pleasure Teas:
New Flavors:
African Ginger Chai: We realized that a lot of the chai teas are built on the expectation of what we already know as a chai tea. We wanted to bring a new element with crush chamomile and crush ginger. This is a soft tea.
Madiba Chocolate Chai Rooibos: This is a chocolate rooibos tea with pure cacao from Ghana, and rooibos from South Africa.
8) We hear that as a chef-curator and master blender you achieve amazing and exotic culinary creations. What's your inspiration?
The creation really started for me at the dining table as a child. We used to pick up wild mushrooms from the garden, and the meat came straight from the farm. The creation has to do with the lineage of complex experiences in African culinary archeology. I start with research, and then attempt to reinterpret it using authentic ingredients and finding ways to amplify the experience as it would be in a village: flavor, taste, color, structure and combination. At the same time, I had the opportunity to work early on with chefs such as Julia Childs, my favorite. I also had the opportunity to work with Chef Marcus Samuel on teas when I started Serengeti. His support and brotherhood have contributed to Serengeti's growth. My inspirations are the forests, the coastlands, the lakesides and the mountains; I take all those elements and then create the food.
9) What are some of the other products, aside from teas, that Serengeti produces?
At Serengeti Teas and Spices we not only create a wide variety of teas, but we also offer coffees from many different regions of Africa, premium hot cocoa, exceptional raw honey, and our flavorful blend of sea salts, spices, and peppers that add a distinctive and delicious layer to any food preparation. Sun-dried, hand-harvested, and full of vital minerals, our spices and sea salts are of the highest quality and culinary flavor and can be enjoyed on seafood, poultry, meats and salads, cheeses, and more.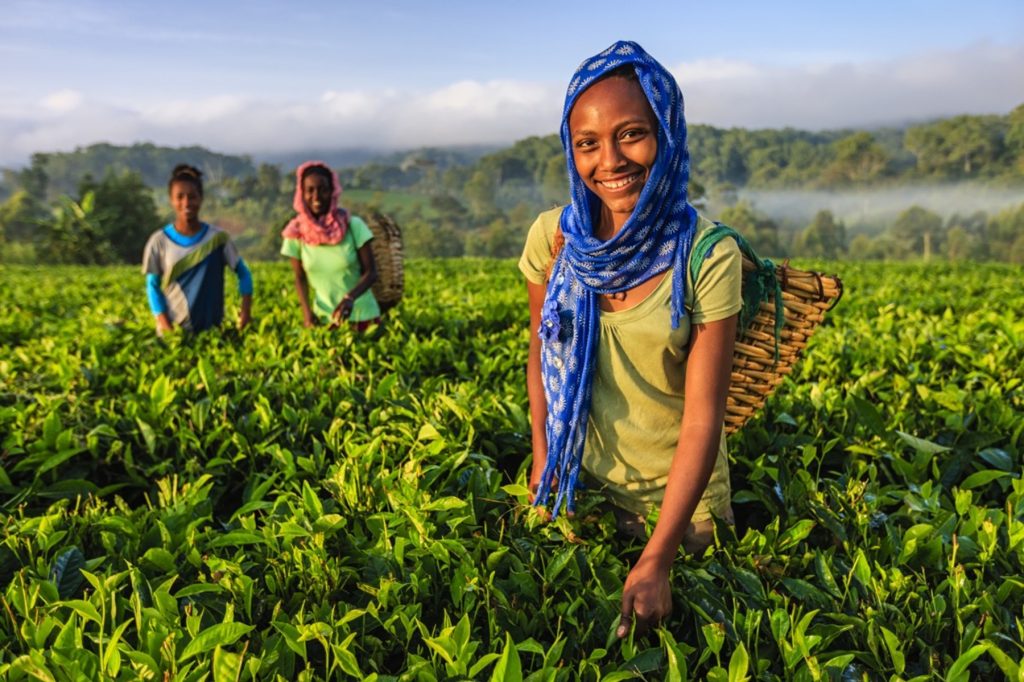 10) Can you elaborate more on your mission to support African women, the land, &the environment? Why this is so important for you?
From age 9-17, I went everywhere with my grandmother. She taught me to work with women and motivated me with love. She made me understand the complexities of civil society outside of my comfort zone and put me in the position where I had to learned things beyond my reach as a child. Thanks to her discipline, the culture of her education and the power of women, I developed the desire to carry on this power and help not only African women thrive, but every woman.
11) How has the pandemic affected your business model? We understand that you source many of your ingredients from Africa.
From the business perspective, the pandemic affected us with some sourcing delays, economic challenges and the shutdown of our tea salon. However, as a result of that, the online part of the business took off and we were able to build from there. We were innovative and like many others, we pivoted to GrubHub and Uber deliveries.
But we also witnessed first-hand people getting sick and dying and our community falling apart, it was a tragedy. We experienced panic and calls for immune boosters, so we were faced with the responsibility to help people and that motivated us to keep going and move forward.
12) Can you share any tips with our readers on beverages that they can prepare while at home during the pandemic?
Here are two Herbal Remedy Teas recipes, easy to make at home.
Ginger Immune Booster Home Remedy
Juice 1lb of raw ginger root
Squeeze 4 whole lemons
Add Juices together and place in a pitcher
Add 8 oz of water to pitcher
Add 6 cinnamon sticks
Stir and allow to sit overnight
Stir in the morning and serve 2 to 4 oz shots at a time, three times a day
Eat LITE when doing this remedy.
Place extra in the fridge and use for few days. Best to do this on a Friday evening and through the weekend. This allows 3 days of restoring the body.
Aloe Vera Immune Booster Bitter Tea Tonic
1 Green Aloe Vera. Place slices of Aloe Vera in a large pot and fill with water. Low heat steep for 30 to 45 min. Stir while steeping and move aloe vera around in the pot. Strain after boiling into a large bowl. Throw away the aloe plant boiled slices. Allow to cool. Serve from a jar or pitcher 4 oz shots with a teaspoon of raw honey eaten after each shot. Take 4 shots a day for a week. Keep in fridge while using.
13) What have you learned from the pandemic?
The pandemic has helped us reengineer the importance of our job, our role as a company, and our commitment to society, our customers and our community.
14) What is next for you and Serengeti? Are there any new products or exciting plans in the near future that you can share with us?
We built this company and have reached an amazing place; we now need to enhance and increase the agriculture sector capacity on the continent. Increase the capacity and distribution network of our product, and celebrate the ecological environment that Africa has in terms of agriculture. We need to make sure that our governance and our practices meet environmental concerns. Also, we will expand in retail, product development, and we are working on creating a remedy service platform. We will keep empowering women since this is the essence of our company.
15) How has your life evolved since you founded Serengeti?
My life became enriched with the value of being African and the remarkable ecological resource Africa offers the world. Serengeti brought me to a place of African women empowerment in the value chain agriculture systems in African societies.
16) What are the most rewarding and most challenging parts of your job?
The most rewarding is being able to carry on my grandmother's legacy and empower women, especially in Africa. The riches of the continent are only just being discovered. They are not the diamonds and precious metals, rather, the riches are the people and the complex cultural connection to the earth.
One of the biggest challenges I faced in my work is the lack of education about the power of botanical remedies. Also, people don't realize the quality of the products that Africa creates. Actually, nowadays Africa is trading the largest amount of black tea, as opposed to China, who announced that the toxicity levels of their tea are so bad that in the last 2-3 years they have bought over 200 metro tones of black tea from Kenya.
17) If you could have a conversation with anyone living or deceased, who would it be?
There's something special about Albert Einstein, who is one of my heroes. I admire him because you can't judge the book by the cover, and he is a good example of that. His contributions to society made me want to try to emulate my own contributions to society. He was an unusual eccentric and I relate to people like that because their imagination is far more ingenious than the average. I also like his hair!
18) What's your secret to balance your life between work, and family?
I provide the same drive and passion for my work at home. I include my family in decisions and ideas, and we taste and try things together. We keep a fluid environment allowing for our creative spirits to live while I am at work and home. This means when I am with family we are having as much fun as when I am in the lab, studio or Kitchen at work. It is important to include your family and partner on vision and ideas. This measure of union keeps a balance for me.
Serengeti Teas and Spices is located on22 East 125th Street, New York, NY 10035.