Crystal Dreisbach is the founder and CEO of Don't Waste Durham, a nonprofit organization dedicated to relieving the planet and its people of one of the biggest burdens of our time: trash. Don't Waste Durham specializes in implementing systemic change through programs that offer tools like reusable takeout containers and reusable grocery bags to people of all socioeconomic backgrounds. In this month's edition of 18 Questions, we learn more from Crystal regarding how Don't Waste Durham seeks to eliminate single-use goods while supporting diversity and equity.
What first sparked your interest in challenging waste production and management systems?
Twelve years ago, when I was working in public health research, my job was to ensure that research didn't just end up sitting on a shelf but was evaluated, meta-analyzed, and applied to people's real lives. I helped make sure that the very best research evidence base available was used in policy, program, and practice.
One thing that always bothered me was Styrofoam takeout containers. We had more than enough research evidence to justify NOT using them, yet we were still using them! It gave me a cognitive dissonance that kept me up at night. As I started reading more about Styrofoam, I learned how bad it is for human health, the environment, and the local economy. I thought, "There's gotta be a better way."
What did you do to address this initial issue?
Even though I was super busy at my job, I decided that one thing I could do was write letters to restaurants. Many people don't read letters, and even if they do, they might not make much of a difference. Regardless, it was an act for ME and my conscience. I wrote about 200 letters to local restaurants for two years, asking them to consider calling their distributor and exploring other options. One restaurant WROTE BACK (!) to tell me that my letter spurred them to take action and change. At that point, I knew I wanted to take Styrofoam – and plastic pollution prevention – to the next level.
One of my mentors suggested I get on the agenda of a Durham City/County Environmental Affairs Board (EAB) meeting to talk to them about my policy idea, "Why Durham Should Ban Styrofoam." I prepared a presentation and policy brief. It was well received, and they created a plastic pollution subcommittee of the EAB that I co-chaired. This led soon after to the creation of Don't Waste Durham, which not only works on policy, but also the innovations that show community members alternative solutions – specifically city-wide reuse systems.
Your bio describes you as a "solutionary." What does this mean to you?
I have led a non-traditional life because of my parents and our unique lifestyle. It has allowed me to question convention and always be thinking of radical solutions to everyday problems. Living abroad for a decent chunk of my life has given me a great deal of perspective and taught me that doing things differently is absolutely possible. A "solutionary" isn't afraid of trying hard things, doesn't see anything as a deadend, and is captivated by working toward answers to problems.
You work with a very diverse team at Don't Waste Durham; describe what values are incorporated into the hiring process.
Don't Waste Durham provides a safe and inclusive workplace for everyone, from people with PTSD to single parents! We are also dedicated to providing living-wage jobs to underemployed populations in Durham. We have a formal partnership with the local nonprofit StepUp Durham to hire people systemically challenged to employment, including formerly incarcerated people. Our certified neuro-inclusive wash facility employs autistic people through the local Autism Support and Advocacy Center (ASAC). We are also developing partnerships with organizations that provide jobs to veterans and the vision impaired.
What does an average day at work look like for you (if such a thing exists)?
There are no average days, but my main activities are ideating, planning, communicating to inform and help others, and developing and nurturing relationships.
What gets people excited about policy changes (and willing to advocate for them)?
I don't think the average person gets excited about policy change, but not because they don't care – it's just because the policy change process is known to be frustrating and often motivated by politics rather than doing the right thing. However, a passionate minority of people who know how policy change is made and know that their advocacy makes a difference will get excited.
Don't Waste Durham does its best to get people excited by developing relationships with community members. We ask them to talk to their organizations/networks (such as churches, schools, and nonprofits) about meaningful issues and how they can contribute to change. Sometimes we succeed! In this day and age, I think many people are sitting on their sofas, paralyzed with a sense of feeling overwhelmed and hopeless. If possible, I want to give those folks hope by telling them that there is something they can do, and that they can be part of our Don't Waste Durham community.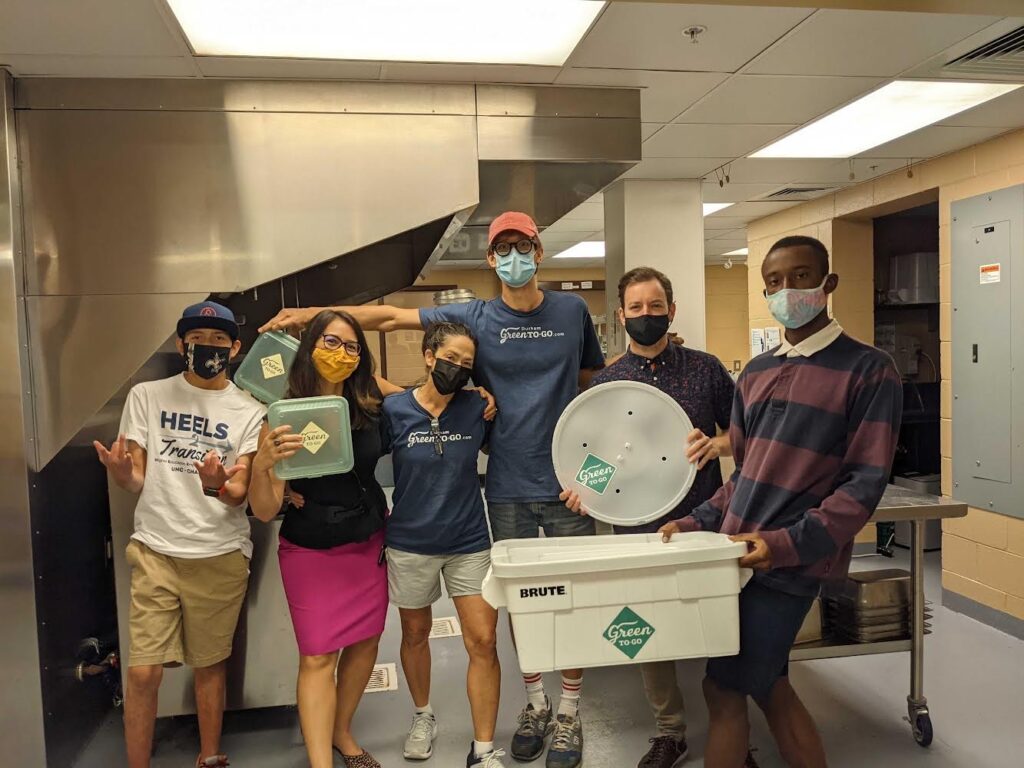 The Plastic Waste Prevention Policy is conducted in partnership with the Duke Environmental Law and Policy Clinic. What does academia bring to the table?
Free legal representation! We have also employed about 40 great interns from 5-6 universities over the years. Don't Waste Durham's innovations and other efforts often become class projects, as well as client work of university-based groups such as Duke Interdisciplinary Social Innovators (DISI) and NC State's Consult Your Community (CYC) program.
What are some of the hurdles that have been overcome in making GreenToGo a reality?
Only one! Money. One of the main differences between disposable and reusable is that reuse systems have a high upfront cost of staff and infrastructure. The question we've formed in our mind over these years of experience is: should a small nonprofit subsidize a city's infrastructure? Or should the businesses and other entities that benefit from all the waste prevention contribute to those costs?
Thankfully, there are now federal government grants for reuse system infrastructure. Hopefully, we can find creative means for local governments and corporations to contribute, such as buying carbon bonds and credits.
Describe how the Bull City Boomerang Bag program embodies and promotes equity.
Bull City Boomerang Bag is a 100% volunteer-operated effort. Since 2020, it has brought together community members to sew reusable shopping bags out of landfill-destined materials four times per month. These bags are available for free to any shoppers in two local grocery stores (King's Red & White, and Save-A-Lot), both of which are located in disadvantaged areas of the community.
Boomerang Bag helps solve the plastic pollution problem and environmental equity issues. Don't Waste Durham is deeply concerned by the overwhelming negative economic and health impacts of single-use plastic bags and the environmental damage they cause. Low-wealth communities of color are disproportionately affected by these negative impacts.

Bull City Boomerang Bag provides free and equitable access to reusable bags to people who might not otherwise own them.
We believe that a circulating bag program is the future. Phase 2 of the program will involve collection sites for cloth bags which will be picked up for washing and restocking at the businesses around Durham. Circulating durable packaging in Durham creates community resilience, builds wealth, creates jobs, and makes us independent from global supply chain issues.
How has Don't Waste Durham tapped into youth leadership?
One way we link up with youth for their leadership in this movement is by partnering with the environmental clubs in Durham Public Schools. These students are incredibly activated and have great ideas! We have also run solutions workshops for the teen leaders of the Youth Climate Summit. We gained a high school intern after participating in their Summit! Finally, we also sponsored a year-long Youth Ambassador program that taught middle and high school students how to conduct waste audits at their own schools and empowered them to use the data to create change.
What support has Don't Waste Durham received from American Underground?
We receive a wonderful start–up community and office space from American Underground. In exchange, we are helping them go to near-zero waste by the end of 2023!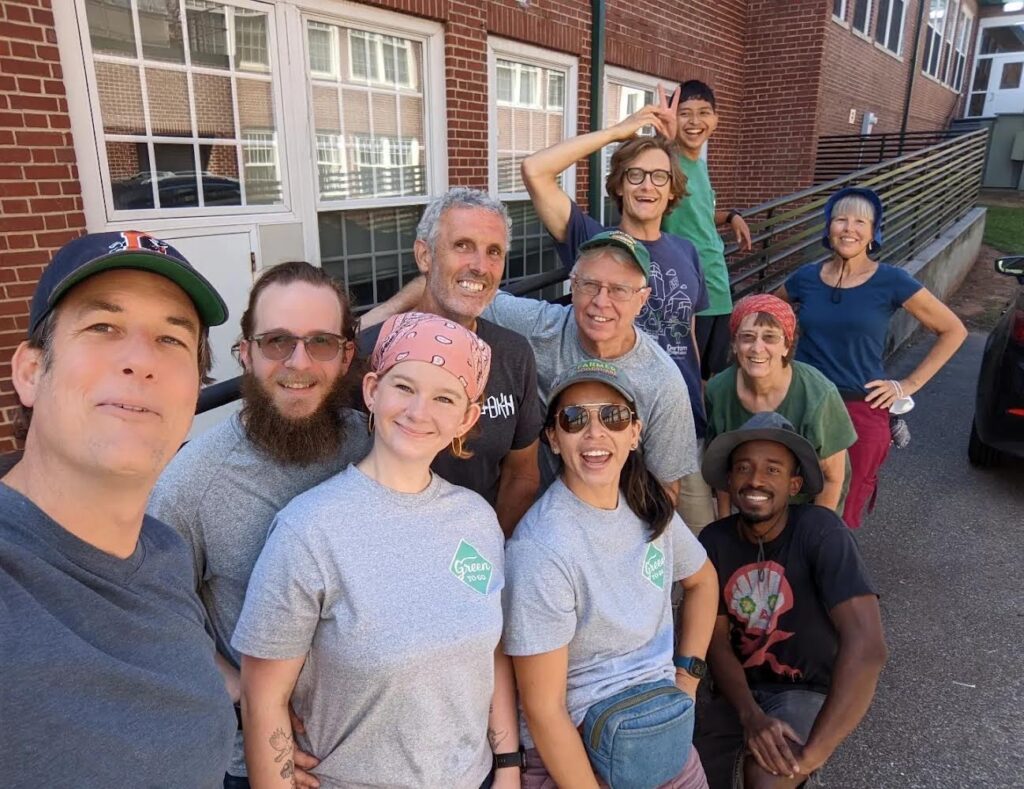 How does Don't Waste Durham interact with other initiatives and organizations in Durham?
We have built official partnerships with other groups to educate Durham's citizens and create recruitment pipelines for the living-wage green jobs we offer. It is great to ally with local conservation groups around a common cause!
What considerations would need to be made when applying Don't Waste Durham's programs in other cities and townships (i.e., unique infrastructural or social characteristics)?
I'd say the city would need a passionate group of people who have persistence and drive to create a reuse economy, as well as financial commitments from local government and corporations to support it.
What habits do you personally maintain to stay informed on food policy programs, research, and legislature?
I read email newsletters from great sources! Upstream is a very good one, as is Break Free From Plastic, and the Reuse Landscape by Perpetual.
What organizations inspire you?
I am inspired by all the other reuse organizations and companies! We are pretty much all on the same mission – to eliminate single-use from our society. Each group is working so hard to create innovation, policy change, and education that will shift our take-and-trash economy to one that is circular, regenerative, and equitable. One of the organizations that really inspires me is Upstream!
In a nutshell, why is it important for consumers to have access to programs like those provided by Don't Waste Durham?
Consumers don't have good choices available, and the Earth doesn't have time for "eco-friendly habits" conducted on an individual level. Nor do the 99% have time, energy, or money for such habits. The impact my organization and I can make is at a systems level.
How did Don't Waste Durham adapt during the pandemic?
We adjusted our wash protocols to be even more stringent, protecting our employees from any potential risk. This included visors and masks for our wash operators and contactless delivery on our routes.
What's next for Don't Waste Durham?
Continuing to build the circular reuse economy in Durham that supports a more resilient, equitable, and hopeful community.