This article was updated on November 30th, 2020. 
The holidays are full of yummy treats! I mean if there was ever a reason to wear those elastic waist pants outside of your own home, holiday treats are it. Cakes, pies, and Santa's personal favorite (trust us, he told us himself): cookies.
Unfortunately, those cookies often times contain things like milk, eggs, milk chocolate, butter, and a load of other things that vegans, and those with milk and/or egg allergies can't enjoy. We want to make sure you and all of your loved ones have enough treats to make them break out the stretchy pants this season!
Can you imagine a holiday without cookies? Don't worry! Enjoy the best holiday cookies for vegans.
SUBSTITUTIONS: 
Milk Substitutions:
Luckily, due to the rise in the manufacturing of plant-based, dairy-free milks, this is the easiest step!
Unsweetened Almond Milk
Unsweetened Soy Milk
Unsweetened Rice Milk
Unsweetened Oat Milk
Unsweetened Hemp Milk
Unsweetened Hazelnut Milk
Unsweetened Cashew Milk
Noticing a trend? Go with unsweetened! Since you'll already be adding sugar, or some sort of sweetening agent to your cookie recipe, it's best to go with an unsweetened milk to avoid an inedible "too sweet" cookie (if there is such a thing.)
Egg Substitutions:
Substituting eggs when baking vegan desserts isn't difficult. Luckily, there are plenty of easy, and a few more complex, options!
1 egg =
¼ c unsweetened applesauce
(a fun bonus to get unsweetened applesauce with cinnamon for spiced cookies)
(be careful, the banana flavor does come through other ingredients)
(if the recipe calls for more than 1 egg, try a different method–too much oil can cause the cookies to become greasy)
(combine 1 tbsp of ground flaxseeds (or chia seeds) with 3 tbsp of water. Stir thoroughly and set aside in the fridge for around 15 minutes. Once the mixture "sets" in a gooey type texture it's ready to use!)
Butter Substitutions:
Like plant-based milks, the vegan butter business is in full swing, making it easy to grab a vegan friendly butter replacement at your local grocery store!
Earth Balance Vegan Butter
(they even come in baking stick forms)
(measure out as you would butter: if recipe says solid, measure solid. If recipe says melted, measure melted.)
(around ¾ c of olive oil = 1 c of butter according to our research. You may want to make a test batch before you give them to Santa in case of any excess greasiness.)
Milk Chocolate Substitutions:
While we realize a lot of cookie recipes include chocolate chips (because that's the best type of cookie, right?) it's not always easy to find dairy-free, vegan friendly chocolate chips. If you're struggling to find vegan friendly chocolate chips, not to worry, there are plenty of other options!
(there are often sweetened and unsweetened version of this. The choice is up to you.)
Any vegan friendly dark chocolate candy bar. Simply cut into chunks that resemble the size of chocolate chips and measure out as the recipe says. Easy as that!
Now that we've got our substitutions covered. It's time to share a decadent vegan friendly chocolate chip cookie recipe that won't let even Santa down!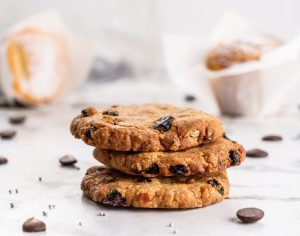 ———— Vegan Chocolate Chip Cookie Recipe ————
*The recipe below is adapted from The Simple Veganista
Ingredients:
½ cup (113g) vegan butter at room temp*
½ cup (85g) coconut sugar
¼ cup (43g) pure cane sugar
3 tablespoons unsweetened cashew or almond milk
2 teaspoons vanilla extract
1 ½ cups flour (light spelt (148g), all-purpose (180g) or gluten-free flour blend
½ teaspoon baking soda
¼ teaspoon mineral salt
1 cup (175g) vegan chocolate chips
Directions:
Heat oven to 350F.
Place a baking sheet with parchment paper or Silpat, or use a baking sheet as is, un-greased.
Cookie Dough: Combine flour, baking soda, and salt in a small bowl. Beat butter, coconut sugar, and pure cane sugar in a large mixing bowl until creamy. Add almond milk and vanilla extract, and beat until fluffy and creamy, about 1 – 2 minutes. Add ½ of the flour and mix to combine, add remaining flour and mix again. Stir in chocolate chips.
Scoop: Drop rounded 1 ½ – 2 tablespoons full of cookie dough onto a prepared baking sheet, keeping them about 2 inches apart.
Bake: Place in the oven and bake for 10 to 12 minutes (don't overbake). Cool on baking sheets for 2 minutes, move to wire racks to cool.
Makes 2 dozen cookies.
Storing:
Already Baked Cookies: Baked cookies will stay fresh stored in a covered container for 4 – 5 days. To keep longer, let them cool completely and store them in the freezer for up to 2 months in freezer-safe containers.
Cookie Dough: Store cookie dough in an airtight container for up to 4 -5 days in the refrigerator. You can keep it longer in the freezer for up to 2 months.