Sweet, juicy melons are a perfect summertime dessert. But we decided to mix it up a bit with some sweet and savory combinations. Give them a try—so easy to make and really delicious!
SERRANO WATERMELON BITES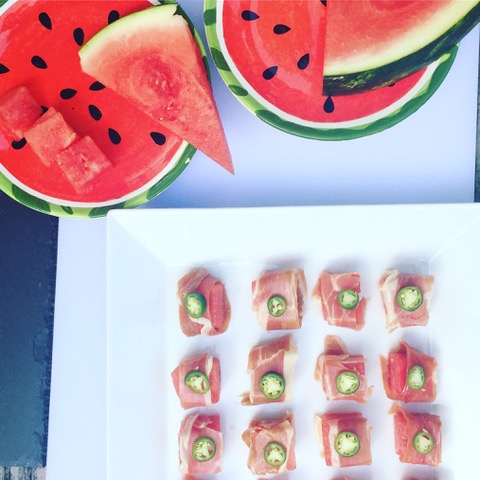 A step up from the usual melon wrapped with prosciutto. They are sweet, salty, spicy and tart all at the same time.
Makes 4-8 Servings (depending on how many you eat!)
1lb.   seedless watermelon cut into 16 (2-inch) cubes
3oz.  thinly sliced serrano ham cut into 16 strips (you can use prosciutto)
1.      serrano chile, cut into 16 round slices
1Tbs pomegranate molasses (you can also use a balsamic glaze)
 Wrap each watermelon cube with one strip of ham. Top each with one slice of chile. Place on a serving platter and drizzle with the pomegranate molasses. Serve at once.
CANTALOUPE SALAD WITH FETA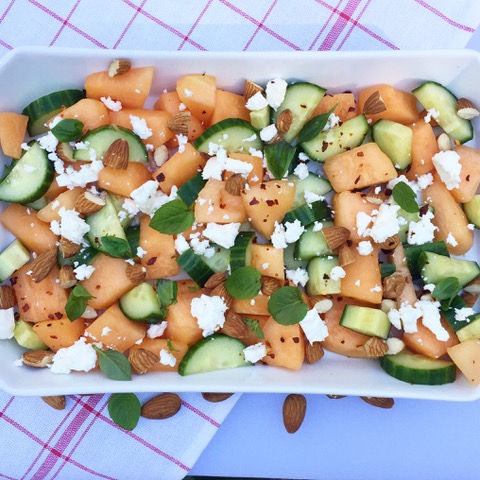 This is a perfect appetizer or great with grilled chicken.
Makes 4 servings
1  small shallot finely chopped
5Tbs  Champagne or white wine vinegar
4Tbs  extra virgin olive oil (EVOO)
3lb  cantaloupe, peeled, seeded and cut into 1" cubes
1    English cucumber
6oz   feta cheese, crumbled
½ cup   roughly chopped toasted almonds
½ cup  roughly torn basil leaves
¼ tsp red pepper flakes
1tsp   kosher salt
Stir shallot and vinegar in a small bowl and let stand for 10 minutes.  Arrange cantaloupe and cucumber on a large platter, and top with feta. Whisk salt and EVOO into shallot mixture. Drizzle over salad and top with basil, almonds and red pepper flakes.