Strawberries are really plentiful right now, and what's not to love about these luscious lovelies!
Here are three of my personal favorite strawberry recipes.
Strawberry Shortcake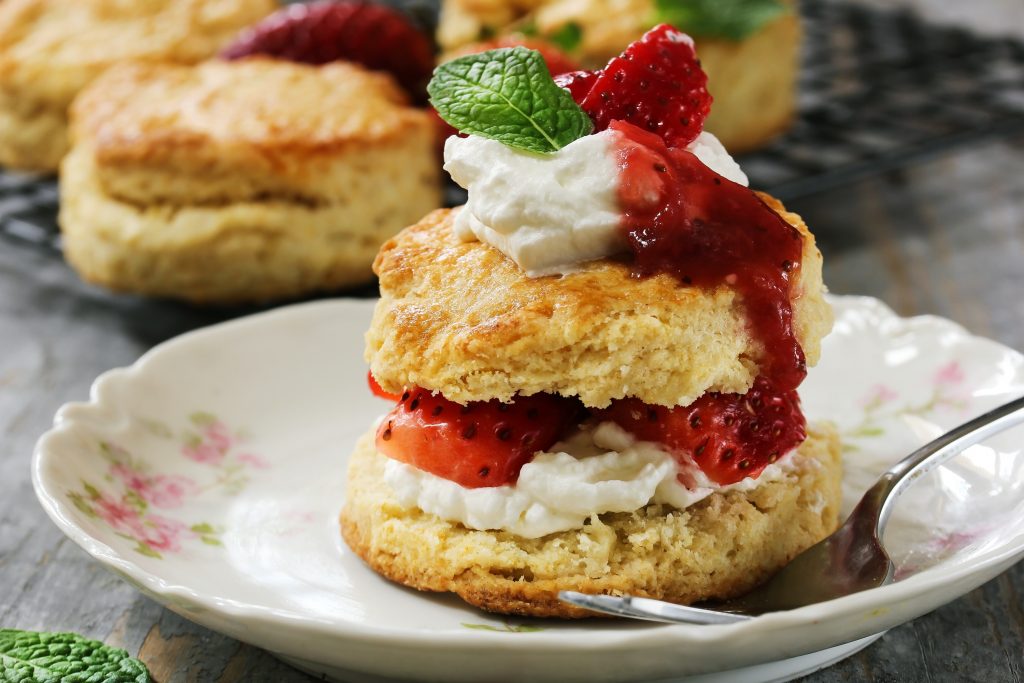 Now isn't this just special!
Serves 6-8:
For the berries
2 pints fresh strawberries, rinsed and hulled
 ¼ cup                                sugar
Juice of 1 lemon
For the biscuits
3 cups all-purpose flour, plus more for dusting
½ cup+2 Tbs                    granulated sugar
1 Tbs + 1½ tsp                  baking powder
¾ tsp                                  salt
9 Tbs cold unsalted butter, cut into small pieces
1 ¼ cups + 1 Tbs heavy cream
2 large eggs
6 Tbs coarse sanding sugar
For serving
½ cup cold heavy cream
Fresh mint for decorating (optional)
Prepare the berries: Toss the strawberries with lemon juice and sugar to combine. Let macerate at room temperature for 1 hour.
Make the biscuits: Preheat oven to 375 degrees. Whisk to combine flour, granulated sugar, baking powder, and salt. Using a pastry blender or two knives, cut the butter into the flour mixture until mixture resembles coarse meal. Mix together 1 1/4 cups heavy cream and 1 egg. Add to flour mixture and stir with a fork just until dough starts to come together but is still crumbly.
Turn out dough onto a lightly floured surface and pat into a 6-by-9-inch rectangle, about 2 inches thick. With a short side facing you, fold the bottom third up as you would a business letter, followed by the remaining third. Pat into a square. With a 2 1/2-inch round cutter dipped in flour, cut biscuits from dough and place them, evenly spaced, on a parchment-lined baking sheet. Gather dough scraps together, fold once, and gently pat into a square. Cut out remaining biscuits. Whisk remaining egg and 1 tablespoon cream, then brush egg wash over tops of dough rounds. Sprinkle each with 1 tablespoon sanding sugar.
Bake until tops are golden brown, rotating sheet halfway through, about 25 minutes. Transfer biscuits to a wire rack and let cool slightly.
When ready to serve, whip cream in a chilled bowl until soft peaks form. Split biscuits in half and place a bottom half on each plate. Top generously with berries and their juice, then top with dollops of whipped cream followed by remaining biscuit halves. Scatter a few more strawberries on top and around plates.
Strawberry and Spinach Salad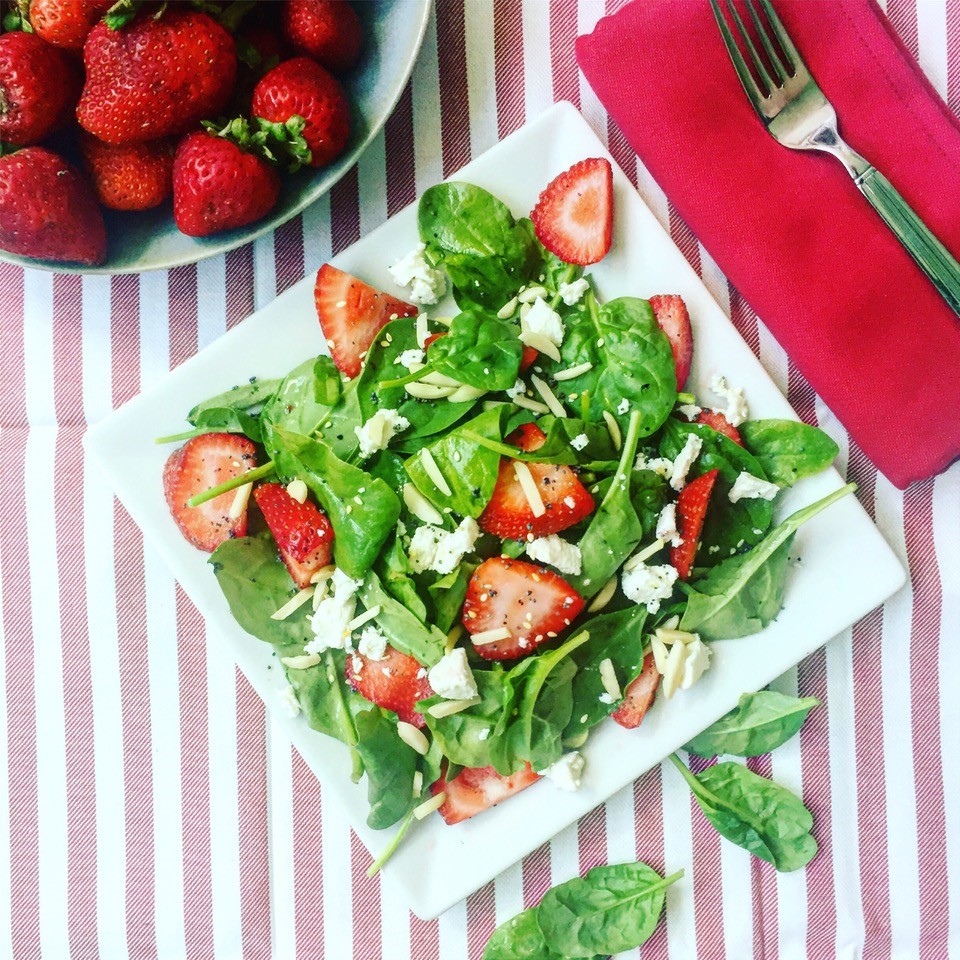 A deliciously tangy and sweet salad.
Serves 4
Dressing:
1 Tbs sesame seeds
1 Tbs poppy seeds
½ cup                               Extra Virgin Olive Oil 
¼ cup                               rice wine vinegar
¼ tsp                                 paprika
¼ tsp Worcestershire sauce
In a medium bowl, whisk together the sesame seeds, poppy seeds, sugar, olive oil, vinegar, paprika, Worcestershire sauce, and onion. Cover, and chill for one hour.
Salad:
10oz fresh spinach – rinsed, dried and torn into bite-size pieces
1quart                               strawberries – cleaned, hulled and sliced
¼ cup                               almonds, blanched and slivered
In a large bowl, combine the spinach, strawberries and almonds. Pour dressing over salad, and toss. Refrigerate 10 to 15 minutes before serving.
Strawberry & Rhubarb KAMUT® Crisp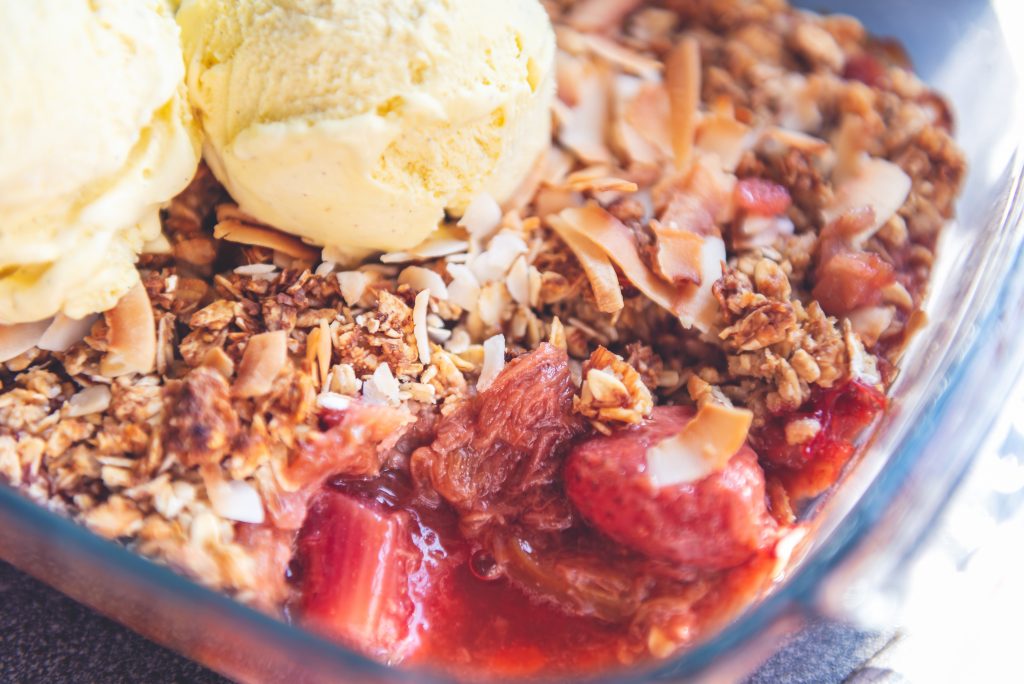 Serves 4
¾ cup                                sugar
3 Tbs                                  cornstarch
3 cups                                rhubarb cut into 1" lengths
2 cups strawberries
1 cup                                  KAMUT® wheat flakes
½ cup                                 light brown sugar
½ cup                                 melted butter
⅓ cup KAMUT® wheat flour
1 tsp cinnamon
Heat oven to 350 degrees.
Combine sugar, cornstarch and rhubarb, toss well and spoon into an 8" square baking pan
Combine KAMUT® wheat flakes, brown sugar, KAMUT® wheat flour, cinnamon and melted butter. Mix well and spoon over the rhubarb. Bake for 45 minutes until the topping is golden brown and the fruit is bubbling.
​​
Serve warm with a scoop of vanilla ice cream.
But, if you don't want to cook, you can't go wrong with a bowl of fresh strawberries or strawberry ice cream – or both together –yum!