October is National Apple Month and nothing signals the fall season like the amazing aroma of apples. A kitchen full of baking apple smells is mouthwatering and evokes memories of family dinners, friendly get togethers and wonderful fall foods. Whether you pick your own apples at a local farm or get them from a farmers market or supermarket, the end result of an afternoon's baking is the same—satisfying and delicious!
When I was growing up, produce was only local and seasonal. Fruits and vegetables were not shipped from overseas, so you looked forward to each season with great anticipation. Luckily I lived in Kent "The Garden of England", so fruits and veggies were plentiful and varied. My grandmother had her ways of preserving her favorite "Cox's Orange Pippin" apples and "Comice" pears through the winter so we were able to enjoy them at Christmas. Great quantities were purchased from the local farm in late October and each piece of fruit was carefully wrapped in newspaper and stored in a huge chest of drawers in the spare bedroom (with no heating) where it sat perfectly preserved until Christmas. Every apple season takes me back to that room—it always had a lingering sweet aroma of ripe apples and pears.
Three favorite recipes for Apple Month—that my grandmother would have loved–can be made with a variety of different apples. They are simple and will earn you an "A" grade!
•          Apple Pancakes
•          Crispy Apple Tart
•          Bourbon and Vanilla Apple Cake
1. Apple Pancakes
A perfect breakfast pancake.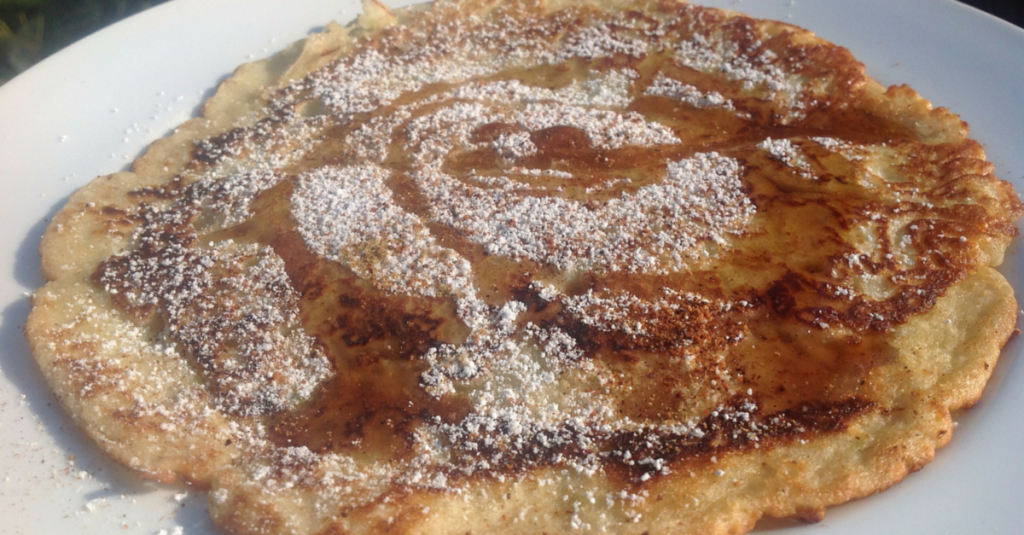 Makes 6 good size pancakes
Batter:
– 1 coarsely grated apple, use the skin too
– 1 large egg, organic or free-range preferably
– 1 cup self-raising flour
– 1 cup milk
– pinch of salt
– butter for cooking
– confectioners sugar for dusting
– honey or maple syrup for serving
Put all the batter ingredients into a large bowl and whisk until well mixed. Put a 9" frying pan on medium heat and melt a knob of butter to coat the bottom of the pan. When the butter is bubbling, spoon in a ladle full of batter so that it totally covers the bottom of the pan. Cook until the batter forms bubbles on the top and carefully flip over and cook the other side. Should be a lovely golden brown.
Repeat until you have 6 pancakes. You may have to adjust the heat as you go. The first one is always the most difficult and even if they don't look perfect they will taste amazing.
Dust with the sugar and drizzle with honey or maple syrup. For topping pancakes, an English favorite is Tate and Lyle Golden Syrup!
2. Crispy Apple Tart
Never get tired of this elegant looking and utterly amazing tart!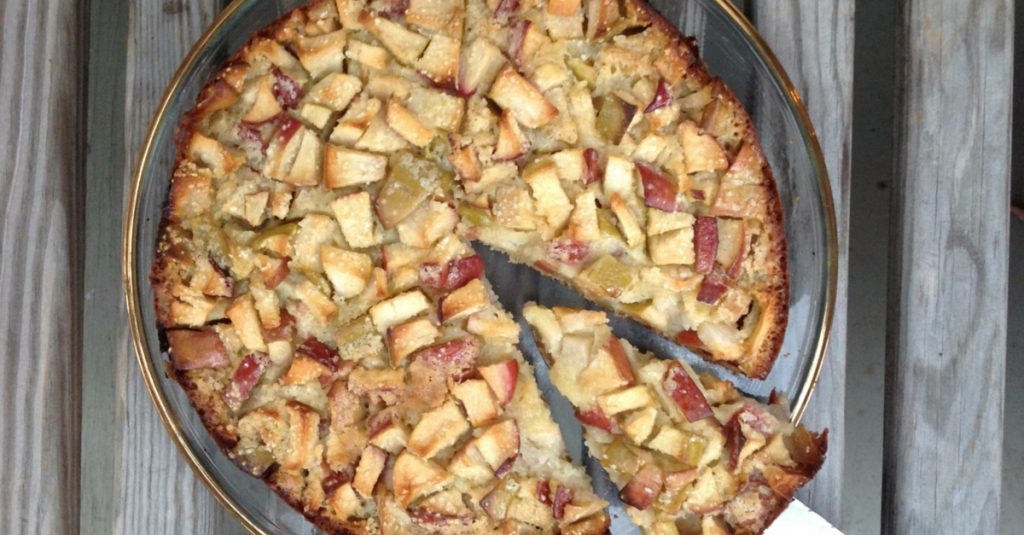 Not only do these look fantastic, they taste heavenly
Makes 4 single-serve tarts
– 225g(10oz) bought puff pastry
– 2Tbs sweet butter (additional butter for baking trays)
– 6-8 Granny Smith apples, peeled, cored and quartered
– 4tsp sugar
– 4Tbs apricot jam
– 2Tbs water
Preheat the oven to 450 degrees.
Butter 2 large baking trays.
Roll out the pastry as thinly as possible and cut out 4 six-inch discs. Lay the tart bases on the prepared baking sheets and let rest in the fridge for 10-15 minutes.
Cut each apple quarter into 4-5 thin, even slices and arrange them on top of the pastry bases starting at the outside and overlapping all the way around. Start again with the inner layer.
Chop the butter into small pieces and dot on top of the apples, sprinkle with the sugar and bake for 15-20 minutes until the pastry is crisp and the apples have started to color.
Boil the water and apricot jam and brush each tart to give a golden, glazed finish.
Serve warm. Even more delicious topped with vanilla ice cream!
3. Bourbon and Vanilla Apple Cake
The kitchen smells amazing while this cake is cooking!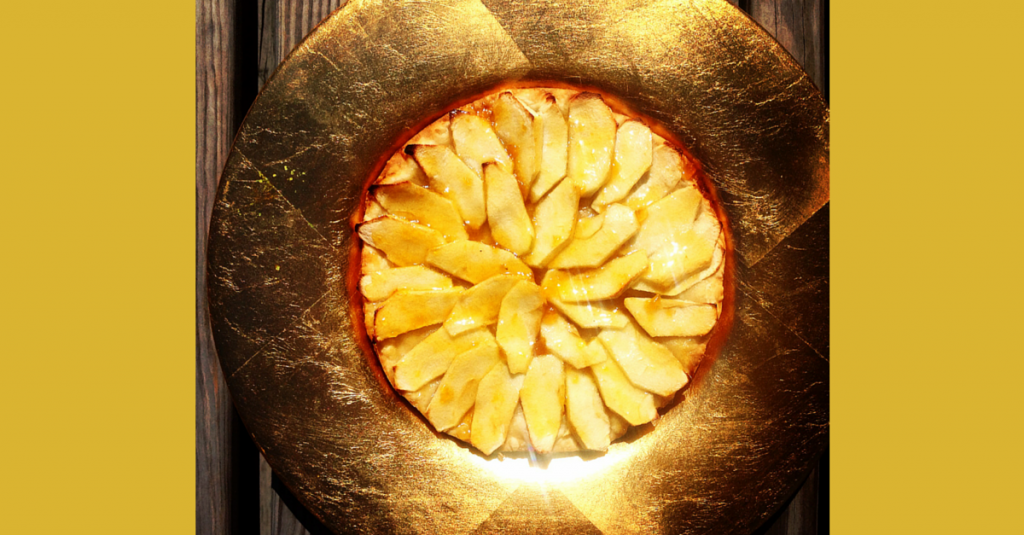 Makes an 8" cake,  8-10 servings
– 1 stick unsalted butter, melted, plus a little extra for the pan
– ½ cup all purpose flour
– 1/3 cup instant grits
– ¾ cup sugar
– ¾ tsp baking powder
– 1tsp salt
– 2 large eggs – organic or free-range preferably
– 4 apples, chopped with skin on (Granny Smith, McIntosh and Gala make a nice combination)
– 3Tbs bourbon
– 1tsp pure vanilla extract
Heat oven to 350 degrees. Butter an 8" springform pan and put onto a baking sheet.
In a small bowl whisk together the flour, grits, baking powder and salt.
In a separate bowl whisk the eggs and add the sugar, bourbon and vanilla. Whisk until well combined. To this bowl alternately whisk in the flour mixture and melted butter – begin and end with the flour mixture. Mix until combined then fold in the chopped apples.
Put the batter into the prepared pan and bake for 60 – 80 minutes (cooking time varies per oven). The edges should be brown and the center should be firm. Insert a toothpick into the center and if it comes out clean the cake is done. Cool for 10 minutes and remove from pan.
Best served warm or at room temperature. 
Make sure you keep the apple varieties going strong. At one time there were 15,000 breeds of apples in the US, now grocery stores will carry 10-11 in seasonal rotation at most. But apples illustrate a diversity success story that is continuing to unfold. As growers revive heirloom varieties and high-tech breeders create new strains to please every palate from tart to sweet, crisp to crunchy—there's an apple for every palate. And, there are still countless varieties to be found in farmers markets and orchards every fall. So get picking and cooking!