Peaches just epitomize summertime. Sweet, juicy, perfect on their own or paired with other luscious summer fruits. Here are some of our favorite ways to make just peachy desserts!
PEACH AND RASPBERRY GALETTE
Galettes are so easy and forgiving, the pastry doesn't have to look perfect…in fact the more rustic and ragged the better!!
Serves 8-10:
For the crust:
1 cup                          all-purpose Kamut®flour 
½ tsp                         salt
1 stick                        unsalted butter, cut into cubes
4 Tbs                         of ice water
egg wash
Filling:
2 Tbs                          flour plus more for the parchment
5 large                       ripe peaches peeled and halved and cut into ½" wedges
1 tsp                           fresh lemon juice
¾ cup                        granulated sugar
8 oz                            raspberries (or strawberries)
1 Tbs                          unsalted butter cut into small pieces
¼ cup                        sliced almonds
1 Tbs                         coarse sanding sugar
To make the crust, combine the flour and salt in a large bowl or food processor. Add the butter, and either use your fingers to rub the butter into the flour until the mixture resembles coarse meal, or pulse the processor a few times. Gradually and lightly mix in ice water, a few tablespoons at a time, until the dough just comes together. Roll out to an 18" round on lightly floured parchment.
Pre-heat over to 425 degrees.
To make the filling and assemble, combine peaches, lemon juice, flour, salt and granulated sugar. Gently stir in the raspberries and place in the middle of the pastry leaving a 3" boarder. Dot the fruit mixture with butter. Fold up the edges of the pasty to partially cover the fruit, brush pastry with egg wash and sprinkle with almonds and sanding sugar. Slide galette on the parchment onto a rimmed baking sheet and bake for 30 minutes. Reduce heat to 375 degrees and bake until pastry is golden brown and juices are bubbling. Let cool on a wire rack. Cut
into wedges and enjoy on its own or with whipped cream, vanilla ice cream or sweetened yogurt.
GRILLED PEACHES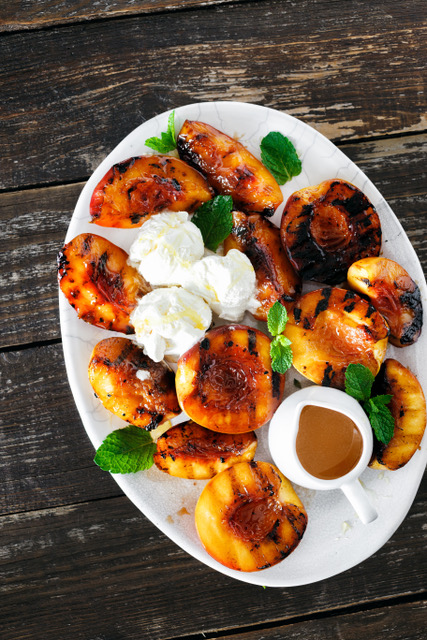 The simplest, most delicious dessert ever!
Allow one or two peaches per person, and honey and ice cream for serving.
Often, I will cook some peaches on the grill after dinner. All you have to do is halve the peaches and remove the pit. Medium heat is best when you plan to grill peaches. Grill the peaches uncovered for four to five minutes on each side. Resist the temptation to reposition the peaches once on the grill — good grill marks on peaches are the result of patience (and clean grill grates).
The finished peaches should be more tender, but not falling apart, with distinct grill marks. Most of the time the peach skin will be loose and falling away. Feel free to pull these off with tongs before serving if desired. Drizzle with a little honey if desired, and best served with a big scoop of vanilla ice cream!