I can remember when I was very young growing up in England, my dad used to go out into the fields near our home and pick the mushrooms that grew there. He loved the strong, earthy flavors and would fry them up in a pan with butter and heap them on warm slices of toasted bread. He savored every single bite.
My grandfather would love walking in the local woods and he would often take me looking for birds nests and very gently show me the tiny pale blue eggs nestled there waiting to hatch.
These memories came flooding back when I was out in the woods that surround my friend's house in the Catskill Mountains. I was there to gather the chanterelles that grow in abundance. Easy to spot with their bright yellow tops, they look like flowers peeking through the undergrowth.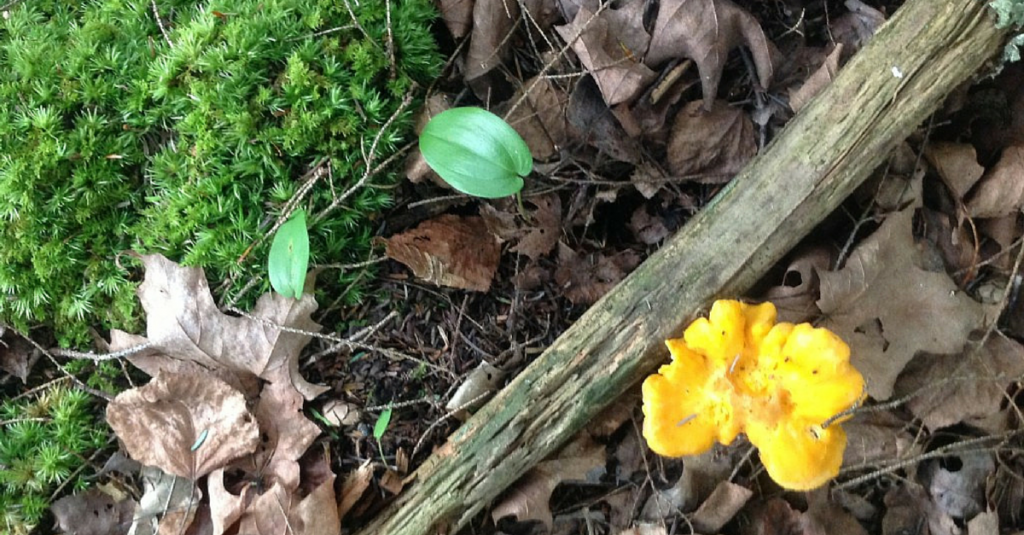 They had been gathering them all month and I was excited to pick my own to make my favorite risotto recipe. Once picked, we just trimmed off the bottom of the stalks and with a pastry brush, removed any dirt or debris off each one and they were ready to cook!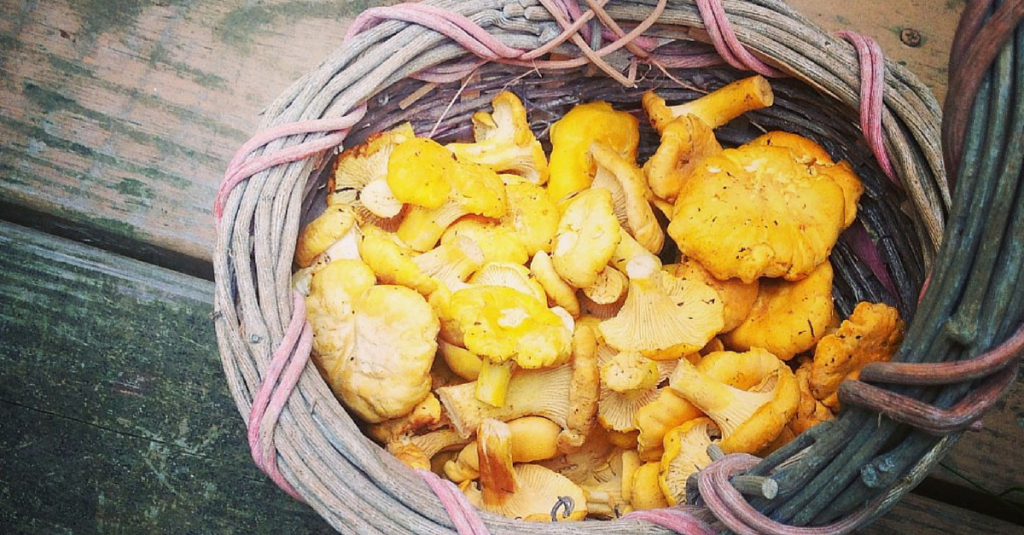 Risotto's are easy, they just take a little time and patience but it's worth every minute!
Chanterelle Risotto – 8 servings
– 1 cup dry white wine
– 1 cup fresh chanterelles, cleaned and roughly chopped
– 8 small, whole chanterelles for decorating
-1oz dried porcini mushrooms
– 3Tbs Extra Virgin Olive Oil (EVOO)
– 1½ cups chopped onions
– 2 cups Arborio rice
– 6-7 cups beef stock (can sub for vegetable stock)
– Salt and freshly ground pepper
– Freshly grated Parmesan cheese for garnish
– Truffle oil for finishing
In a small saucepan bring the white wine to a boil. Remove from the heat and add the porcini mushrooms and set aside.
In a heavy pot, heat the oil, add the onions and sauté over a low heat until soft, approx. 5 minutes. Add the rice and cook, stirring, for another 3 minutes.
Meanwhile, bring the stock to a boil in another saucepan. Reduce the heat and keep at a simmer. Slowly add 1 cup of the hot stock to the rice, stir and allow to simmer. When the stock has been absorbed, add another cup and repeat until half the stock has been added. Now add the wine, porcini and chanterelle mushrooms. Continue adding the stock ½ cup at a time stirring constantly until the rice is slightly creamy and just tender. Altogether the rice should cook for about 25 – 30 minutes. Season with salt and pepper and mix genlty.
Put into serving dishes, garnish with Parmesan cheese and drizzle with truffle oil.
Top with a small whole chanterelle mushroom.