Cherries are really wonderful and there are numerous varieties. The most well known and popular for baking is the Bing Cherry—a deep rich ruby red and deliciously sweet! They also hold up really well when frozen and for this recipe you can use either fresh or frozen.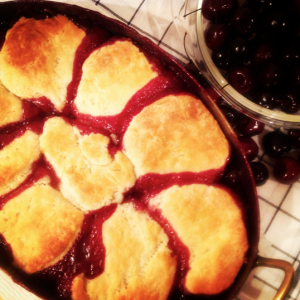 Cherry Cobbler: Makes 8 servings
3¾ cups – all-purpose flour (plus more for rolling out)
4 tsp – baking powder
1½ tsp – coarse salt
1 cup – sugar
¾ cup – (1½ sticks) very cold unsalted butter
2 cups – heavy cream, plus a little more for brushing
3 lbs – Fresh Bing cherries, pitted, or 2¼ pounds frozen cherries
4 tsp – cornstarch
1 tsp –  pure vanilla extract
Preheat the oven to 400 degrees. In a bowl, combine flour, baking powder, salt and a half cup of sugar. Using a grater (the large holes), grate the butter into the flour mixture. With a fork stir in the butter and cream until the dough just comes together. On a floured work surface, roll out the dough to ¾" thickness and cut into 8-12 squares or rounds.
Combine the cherries with the remaining half cup of sugar, cornstarch and vanilla in a bowl, put mixture into a baking dish or dishes as desired and top with the dough pieces. Brush the tops with cream or milk. Put the baking dish on a rimmed baking sheet as the cherry mixture will bubble over. Bake until the topping is golden and the cherry filling is bubbling—about 40-45 minutes.
Serve warm or at room temperature.
Delicious served with custard, cream or vanilla ice cream!