We recently attended the 37th annual Natural Products Expo West & Engredea, the world's largest natural, organic and healthy products event. This year again saw another record-setting show with more than 80,000 attendees including industry pioneers and a new generation of innovators shaping the future of healthy products. The show, produced by New Hope Network, was held March 9th-13th at the Anaheim Convention Center and brought together 3,100 exhibiting companies, including more than 500 first-time exhibitors.
Each year the eco18 team attends so we can pass on trends and innovations and our 18 top picks from the show. Some key trends we noticed were:
Transparency In Action: We were seeing shorter ingredient lists in almost every product category, including beauty and cleaning supplies. This is in response to consumer demand for greater transparency and more and more companies are providing tracking codes on products so you can trace specific ingredients back to the producers of those ingredients
Superfoods Takeover: So-called "superfoods," from beans to beets, are gaining favor in functional food and beverage formulations. Rather than having highly processed functional foods and beverages, brands are getting back to much simpler ingredient lists and using superfruits and superfoods to create inherent functionality and nutritional benefits in the products.
Mushrooming: Mushrooms are continuing to grow in popularity, particularly in the supplement category for the many functional and nutritional benefits they provide, but now they are moving into the food category and be part of these new inherently functional, very clean and organic foods and beverages
Veggilicious: Veggies are getting into everything from drinkable concoctions combining bone broth with organic vegetable juice blends in a ready-to-drink format to grass-fed milk with fruit and a full serving of hidden vegetables such as purple carrot, pumpkin and beet.
Protein for dessert: Nutrition meets indulgence in new high-protein products positioned as decadent treats. Protein is perfect for indulgent products because it's so filling and it's difficult to over eat. A perfect built-in mechanism against overindulgence!
Probiotics prevail: Peanut butter, popcorn and lollipops were among dozens of new products fortified with probiotics. There seems to be no slowdown for probiotics and more probiotic products are being launched every day!
So now let's take a trip around the show and our favorite 18 products;
FOOD & BEVERAGE:
As always, this was one of the most popular sections of the show, especially around lunchtime! The quality and innovation in this sector just keeps getting better and better, it was very difficult not to eat everything in sight, even more difficult to narrow it down to just a few products—but these are the ones which stood out for us.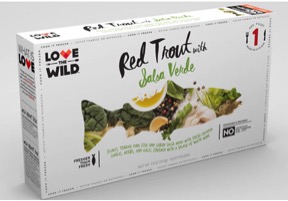 A brand on a mission—music to our ears! LoveTheWild's mission to make a real impact on environmental and population health in the US, so they empower and inspire people to love and eat more fish, with culinary driven, sustainable fish meals. And they are delicious! Their frozen seafood meal kits in such varieties as barramundi with mango sriracha chutney, catfish with Cajun crème, Pacific cod with roasted red pepper and red trout with salsa verde. What's not to love!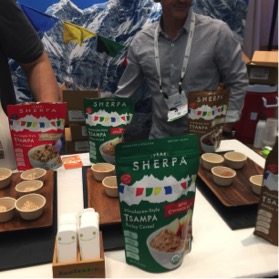 A line of Himalayan-style breakfast cereals in five flavors featuring Tampa an ancient barley of the Himalayas. This ancient grain has long been relied upon for sustenance in the extreme conditions of the Himalayas. These ready-to-eat cereals are a great alternative to oatmeal, with superior nutrition and taste. The specially sprouted and roasted premium strain of organic barley is an excellent source of dietary fiber and cholesterol lowering beta-glucan. 100% certified organic and non-GMO ingredients.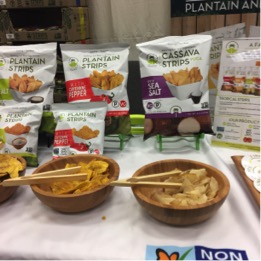 Always on the look out for a good snack, Artisan Tropic's line of plantain and cassava trips did not disappoint! Real food and simple ingredients are at the root of this family run company. Four great flavors Sea Salt Plantain Strips, Naturally Sweet Plantain Strips, Naturally Sweet Plantain Cinnamon Strips and Sea Salt Cassava Strips. No preservatives and no artificial flavors.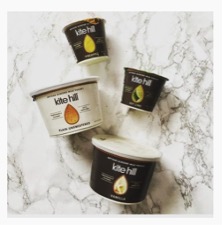 If no one had told me these were not dairy products, I would never have guessed. In fact many of them tasted even better that their dairy counterparts—sweet, buttery, smooth ricotta, velvety smooth cream cheese, amazing almond milk yogurt, each mouthful was delightful. Kite Hill is the first and only company to create plant-based foods using time honored techniques and they have done a terrific job!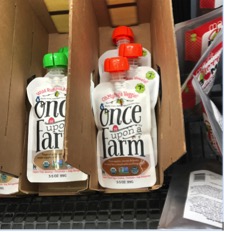 ONCE UPON A FARM – Oh My Mega Veggie "
Ready made HPP meals in a pouch. Somewhere between a beverage and a snack, this kid's juice is special because the HPP process is never heated, so it preserves all the tangy natural delicious taste of fresh fruit. Although it's for kids, we're sure parents will be sneaking plenty of sips.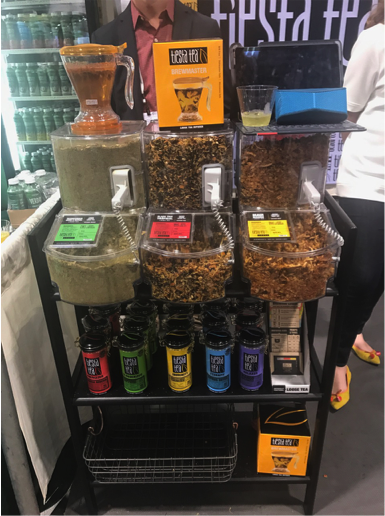 If you're a tea lover, there's nothing better the whole-leaf natural blends, and Teista Tea delivers complex and interesting blends that can hold its own amongst the best of the loose leaf teas. Their canisters are glass and reusable mason-jar style, so you can see the product and re-use the container – we love that!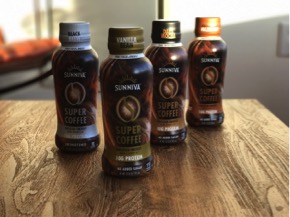 This delicious protein coffee beverage is spearheaded by a student athlete and his four athletic-minded brothers. The brand is on the move to revolutionize the iced-coffee category with MCT. MCT from coconut oil when combined with caffeine creates lasting energy and focus. The mocha tastes delicious, and full of protein. Kudos to them for having an unsweetened variety in the mix.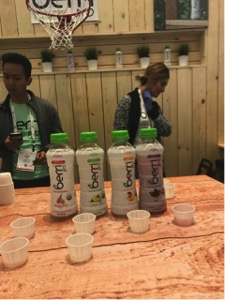 Thumbs up to Berri Pro for "naturalizing" the sports drink category. With bigger players also jumping on bandwagon, it's great to see a challenger brand bringing a better tasting, more natural product to the gatorade guzzlers of the world. Organic all the way!
BEAUTY & PERSONAL CARE:
We love this category with its subtle scents and pampering creams and lotions. Just what a girl needs after hours walking a bust trade show floor! Her are some of our favorite finds, we hope you love them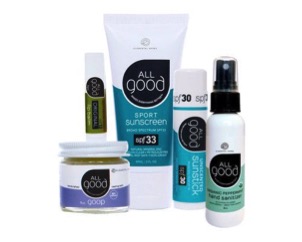 We were very happy to bump into this body care brand during because they are as good of a brand as you can get. They are b certified, use farm fresh ingredients, and are committed to creating products good for you and the environment. We got a sample of their product "all good goop" and can't wait to try it!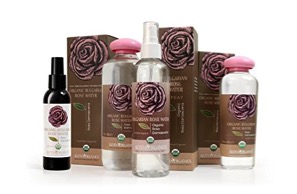 Perhaps you already know the brand – Alteya is known for their organic Bulgarian oil distillation! Did you know rose water was therapeutic, anti-inflammatory, anti-aging and moisturizing? We sure can't wait to indulge in all these benefits!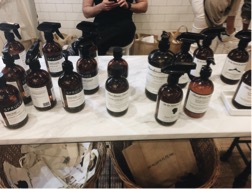 Okay, okay, so this is more a home cleaning brand but we did fall in love with their hand soap ( similar to Aesop but more affordable) – the hand soaps have a wonderful fragrance but free from parabens and phthalates and instead filled with grape seed oil, chamomile extract and shea butter! We want one of these for our bathrooms asap!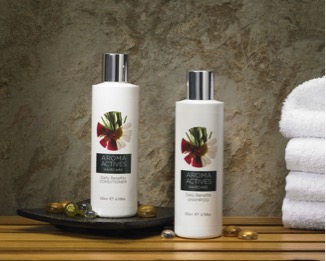 The smell of essential oils in these products really made them a stand out brand. The skin care line is made from botanical and essential oil ingredients – with products ranging from skincare day creams to shampoo's and conditioners – this lovely line really a one-stop-shop for both body and skincare.
HEALTH & WELLNESS:
We were happy to see some of our favorite brands and pick up some dietary supplements to boost our energy and help us deal with the three – hour time difference as well as loosing an hour with the clocks "springing forward".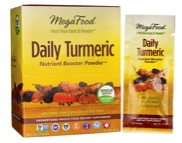 We are all about taking turmeric, but MegaFood Daily Turmeric is one of our favorites because it comes in a powder form making it easy to add to your morning smoothie or juice. This supplement also contains tart fruits and black pepper to help your body absorb the turmeric.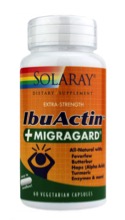 Always on the look out for natural headache remedies, so we love that Solaray makes IbuActin + Migragard for headaches and migraines. The main ingredient in this product is feverfew, which has traditionally been used to help relieve fevers and help alleviate pain. It also contains butterbur, hops, turmeric and enzymes.

There's a lot of buzz around collagen supplements this year, but our favorite was Collagen Peptides Vital Proteins. Vital Proteins sources its collagen from grass-fed, pasture-raised bovine hides to ensure a natural, high quality, and sustainable source of this ancient nutrient. These peptides are easy to stir into cold or hot beverages. Our choice is taking them with our morning coffee.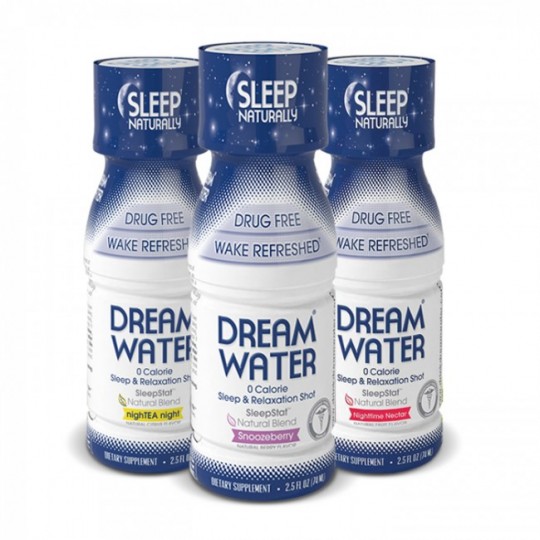 There's a water to help you sleep? Yes please! We loved this easy to drink melatonin based sleep aide. This 2.5fl ounce bottle contains a special blend of melatonin, GABA and 5-HTP to support restful sleep. We tried it, and it really did help.
We love the health benefits of raw apple cider, but Dynamic Health took it one step further with its Apple Cider Vinegar Detox Tonic. This certified organic beverage contains apple cider vinegar plus turmeric, ginger, lemon and honey – everything you need to fight a nasty cold. We prefer the taste of this tonic to regular apple cider vinegar because the ginger gives it a spicy kick.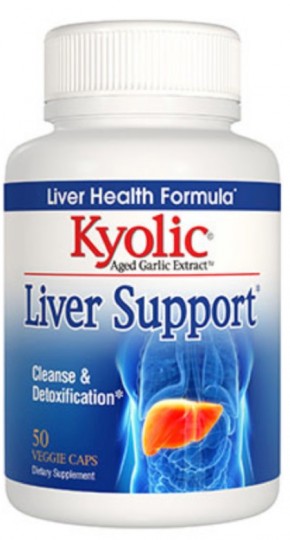 There were plenty of innovate detox products this year from teas to tonics to waters. But our favorite comes in a supplement form, Kyolic Liver Support. This supplement contains aged garlic extract, milk thistle, l-glutathoine, Picroliv®, and alma fruit extract to help cleanse and detox the liver.