Well here we are again attending the 39th annual Natural Products Expo West the world's largest natural, organic and healthy products event, and this year it seemed larger that ever! And according to reports…it was!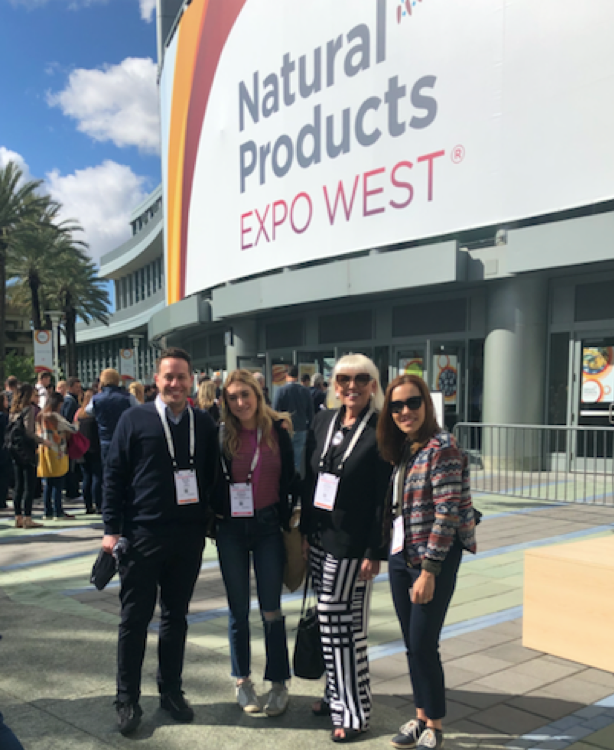 More than 86,000 attendees from 136 countries, all working to drive positive change in the CPG industry. In another record-setting year, the event brought together more than 3,600 exhibiting companies, including over 600 first-time exhibitors, shaping the future of healthy products. The event was hosted by New Hope Network and was held at the Anaheim Convention Center March 5-9, 2019.
Some of the standouts for us included, New Hope Network and the Climate Collaborative who hosted the third annual Climate Dayevent with featured keynote address by Tom Chi of Google X and Rapid Prototyping, and a conversation with Patagonia Founder Yvon Chouinard. All the speakers at the day-long event were passionate and inspiring. We will be covering Climate Day in a follow up article.
The robust conference education program included a keynote presentation by world-renowned consumer advocate and clean water activist Erin Brockovich, and a keynote panel with This Saves Lives Co-Founders Paul Yoo, Ryan Devlin and Todd Grinnell. The Natural Products Hemp and CBD Summit took an in-depth look at the opportunities and challenges that exist for the hemp-derived cannabidiol market; and A Seat at the Table for All, examined the business and social case for working toward a more inclusive natural products industry.
So, what did we see trending – overwhelming CBD! There was a whole education day on the topic and it's driving growth and innovation across all categories in the natural industry. Convenience meeting nutrition was a standout, whether it's incorporating functional benefits through food, or infusing time-saving products with the latest adaptogenic herbs. Innovation in convenience-focused brands is bringing nutrition to the forefront of the category. Plant-based was hot! Many natural brands were offering delicious solutions to help trim meat consumption with plants ranging from fruits and veggies to legumes, mushrooms, nuts and more. Healthy fats
are fast replacing fat-free with full fat dairy such as ghee, coconut oil, avocado oil, butter and more. Many of these appearing in snacks, beverages, bars and desserts. Protecting and building a healthy microbiome extended beyond ingesting prebiotic fiber and probiotics, to skincare and cleaning products! Sugar was a no show. Natural innovation featured low – or no-calorie sweeteners such as stevia and monk fruit and totally unsweetened products were popular, they were featuring carbonation or unexpected bitter or savory flavors. Responsibility echoed throughout the halls! Whether greater responsible sourcing intention and transparency or responsible packaging that can be reusable and compostable, industry stakeholders are holding themselves to higher standards.
Now, drum roll…. here are our top 18 picks.
---
PERSONAL CARE
Attitude debuted their new sensitive skin line at this year's show. Their products are 100% safe for your family and the planet. They are completely vegan, plant-based, free of cancer-causing chemicals, mutagens, and endocrine disruptors. The spotlight ingredient in the Sensitive Skin line is oatmeal, providing extreme nourishing and protective properties. The Sensitive Skin products are EWG Verified ™, meaning all ingredients used in their products have a minimal impact on your health. The brand is ready to roll out the "Bulk to go" option in cardboard packaging for their laundry detergent, dishwashing soap, bathroom cleaner and hand soap, designed to reduce the amount of plastic in homes.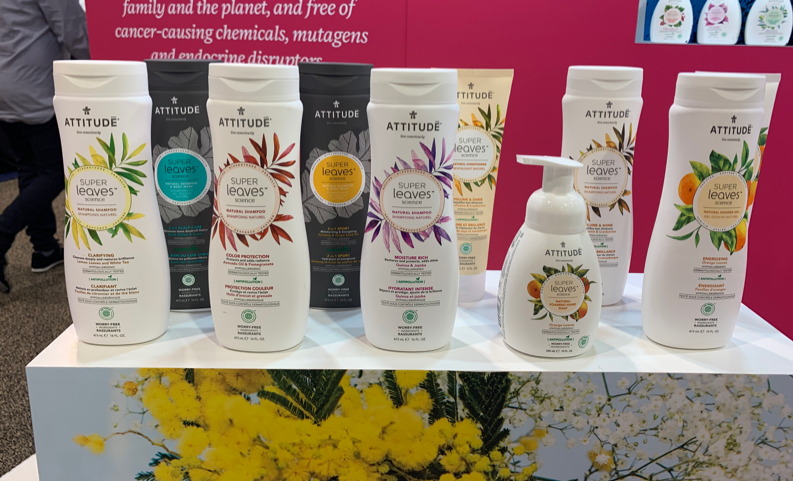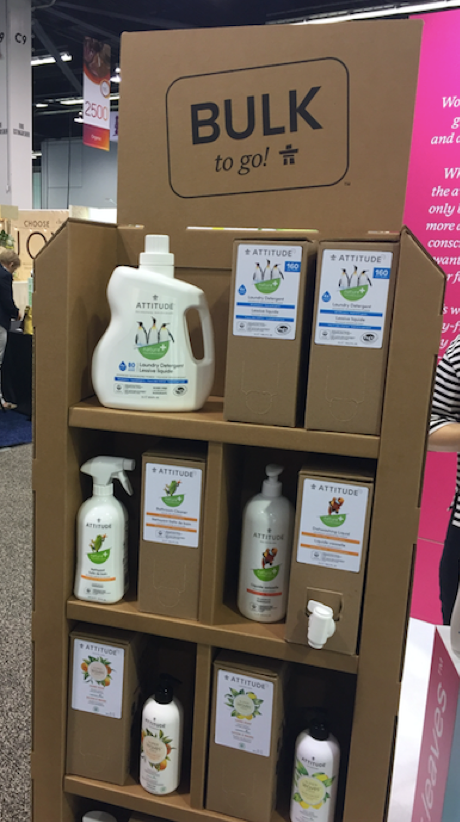 Orgaid Organic offered unique organic sheet face masks. Although sticking to the classic glow, anti-aging, nourishing, and hydrating options, their ingredients were unlike any. Their chemical-free formula is based with Greek yogurt which is protein rich and aids in cell growth and regeneration. From the packing to the mask itself, the product is entirely natural, organic and non-toxic.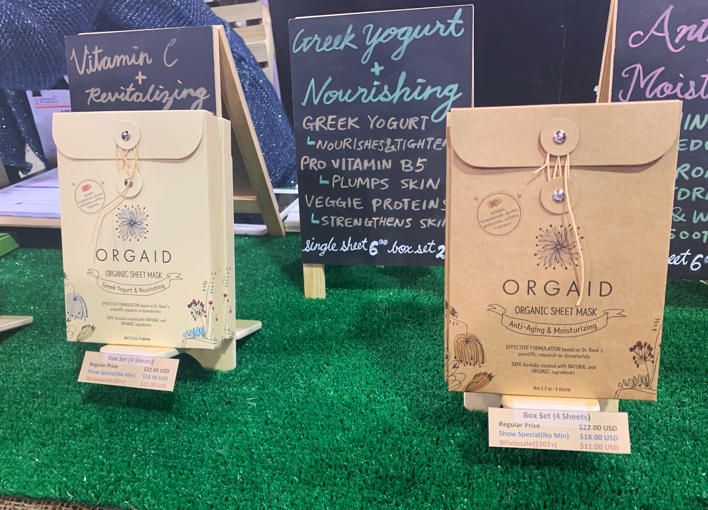 PATCH has successfully created the first all-natural bandage. Their bamboo strip Patches are breathable, hypoallergenic and biodegradable. The chemical free, aloe-enriched gauze works with your skin to provide immediate soothing. The packaging supports Nutricare's motto 'we care, we create, naturally…' by containing no plastic and being 100% sustainably sourced. These Patches are a must!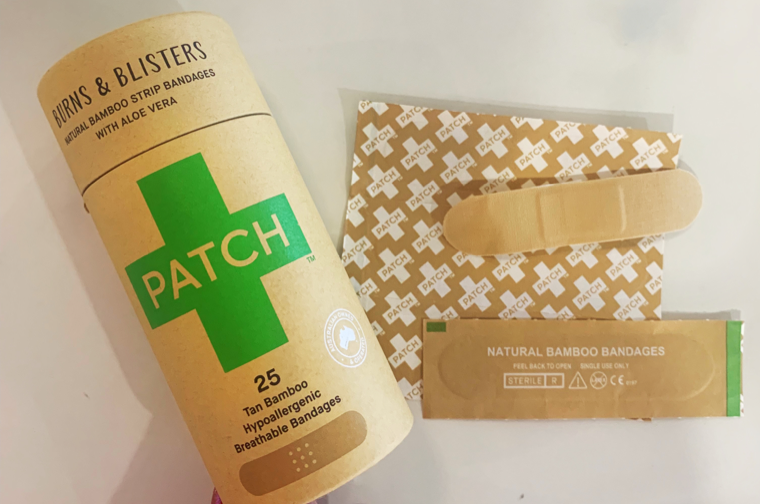 This is a line of concentrated Gluten Free breath fresheners made with organic essential oils, chlorophyll, and organic menthol. They are produced in the U.S. in Southern California and they taste good. Their liquid breath drops are Vegan formula and come in three flavors: Original Mint, Sensual Citrus, and Vanilla Cinnalicious. They also have Mint Capsules Bursts, which are Vegetarian and alcohol-free.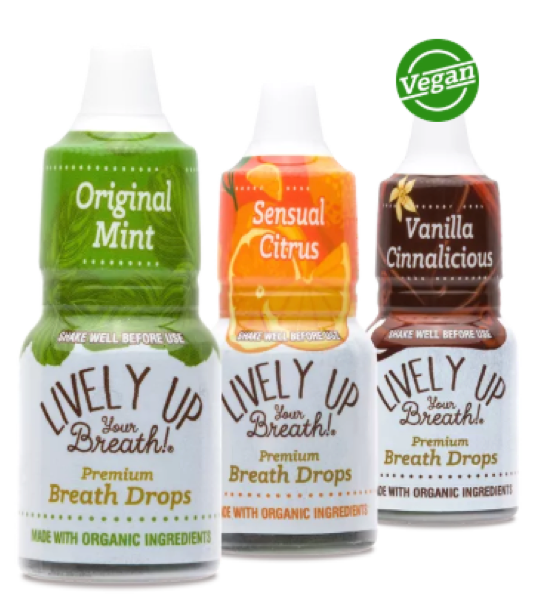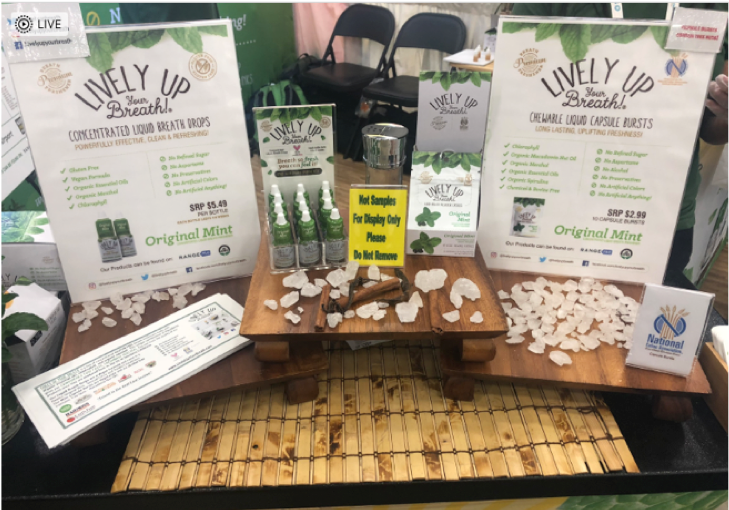 This is a company founded by two moms on a mission Dr. Sabo & Dr. Ramezani fused their years of medical knowledge with the latest in natural ingredient research to help craft Dr. Brite's safe, effective, and ultimately tasty oral care formulas. Their number one teeth whitening system is amazing…no pain or sensitivity…easy to use, no messy strips and no harmful, toxic chemicals. They love to start the day with a white, bright smile, naturally and holistically.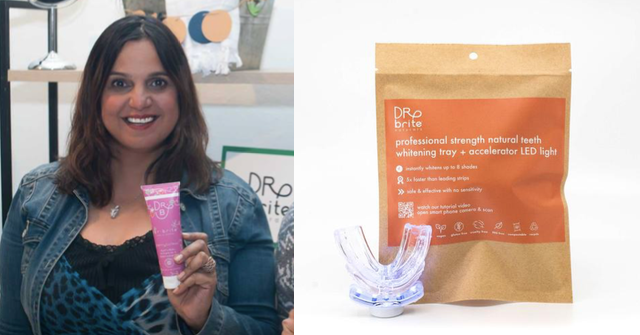 ---
DIETARY/HERBAL SUPPLEMENTS
Frunutta – Smaller Vitamin Company 
This "under the tongue"  line of vitamins and supplements really makes it super easy for kids and adults of all ages to take their daily dose. The pure formulas dissolve and disperse right under the tongue, instantly absorbing into the bloodstream and bypassing the stomach – great for on the go if you don't have water handy! The other upside, going sublingual eliminated the need for additives and fillers that most supplements need to pass through our digestive system. Plus they are much smaller, gotta love that.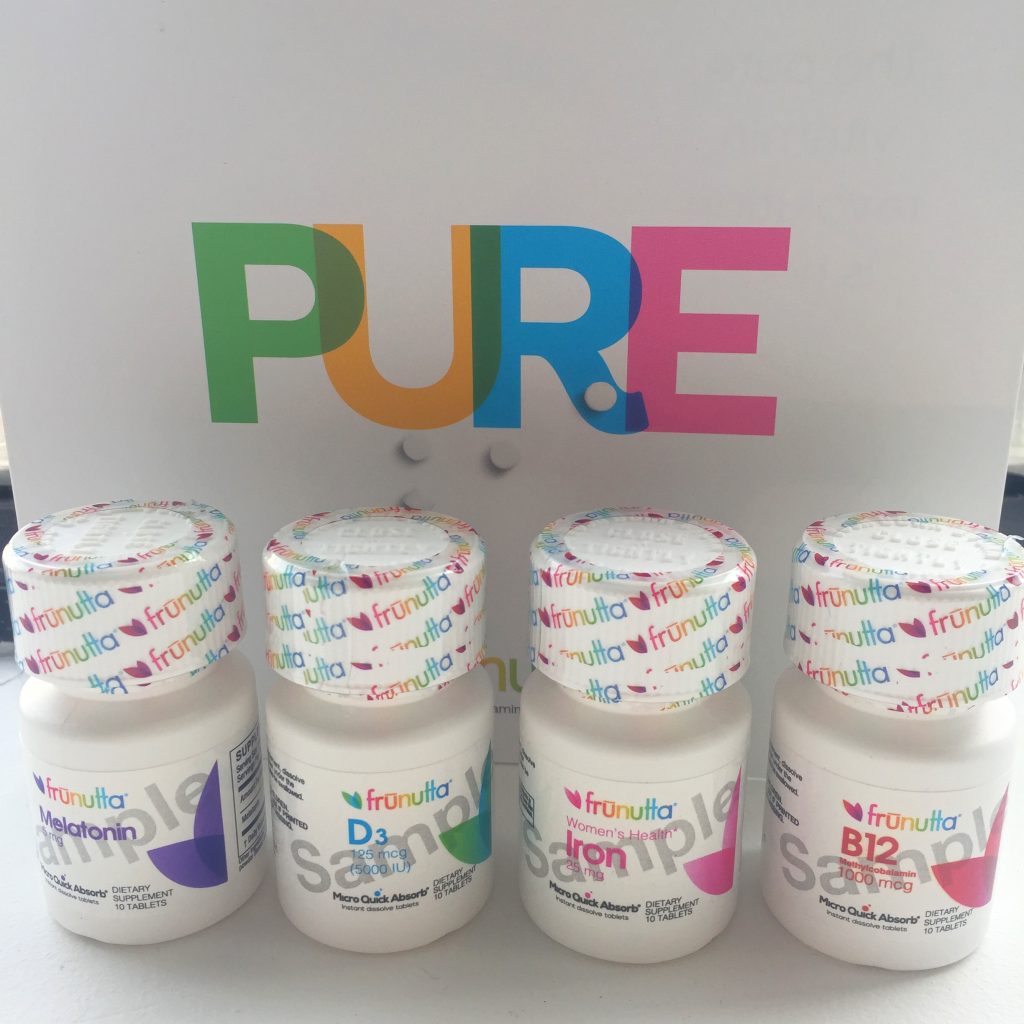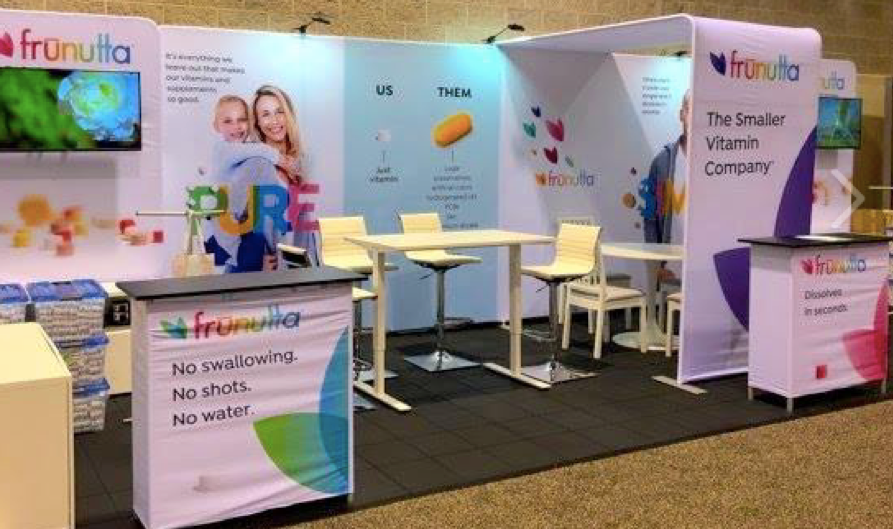 These little bite size treats make taking vitamins easy, peezy! There's nothing better than being given permission to have a healthy treat that delivers essential vitamins and minerals with limited sugar and no artificial colors, flavors or preservatives. Great for the whole family they make taking your daily supplements fun. The company founders Kate Jones and Marty Rifkin have a flair for invention, being the first, twenty years ago to create the very first gummy!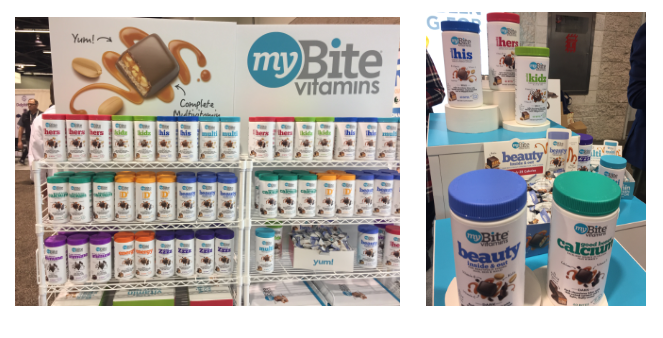 ---
HERBAL/CBD
By far one of most inviting of the wellness booths at expo. Secrets of the Tribe create a consumer experience similar to that of an herbal lab from the future. Their products are designed to be functional answers to anti-aging, detox, good mood, and health with names like "Lion's Pride Extract," which seeks to help with blood vessel flow. Their products, mostly in tinctures, do not contain CBD, but it does tout an extensive list of tongue-twisting herbal ingredients list such as Arctostaphylos Uva-Ursi (for liver detoxification) a and wildcrafted Cruptolepis which is an old African antibacterial remedy. We're curious to see what they'll come up with next.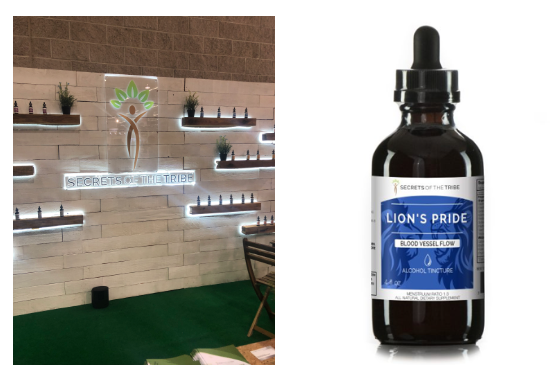 Sun God Medicinals combine hemp CBD with other commonly used herbs for functional use. Their tinctures are warm and inviting, with side panels that show what each ingredient is for and what its use is. We applaud the transparency. The line has offerings that support inflammatory response, or for relief of muscle tension. The taste of the product itself bites your tongue, but perhaps that's how you know it works.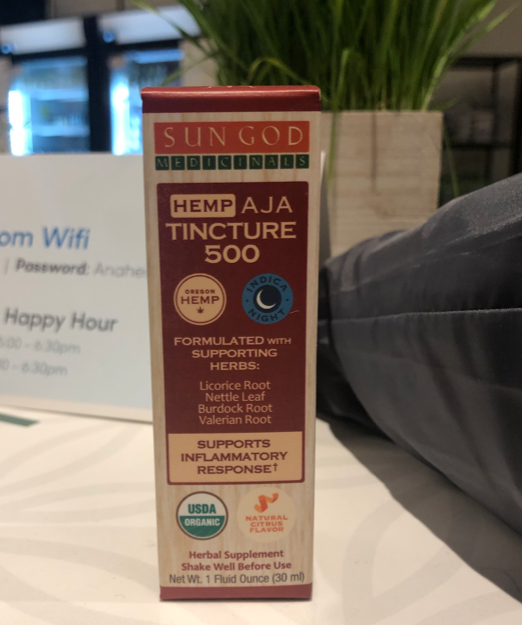 Sunsoil is from the folks formally known as Green Mountain CBD. All of their help is farmed and extracted in Vermont where the founders are from. Their product line consists of CBD oil, caps, and edible Salve. The taste is better than most for their oils, making it an appealing option for those who don't like the naturally bitter CBD experience on your tongue. We like that they utilize an extraction with coconut oil, as the olive flavor can be unwelcome at times.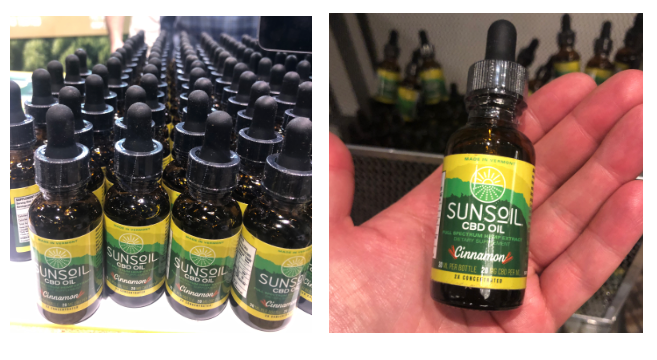 Green Gorilla has been around since 2013, which makes it a cannabis veteran. With playful packaging and an extensive product line that extends to dogs and even horses. We applaud green gorilla for their organic hemp and olive CBD offering which is infused with their proprietary formulation of full section whole plant Help CBD extract., and for being a eco-conscious company, with products made only in the USA and goo-free.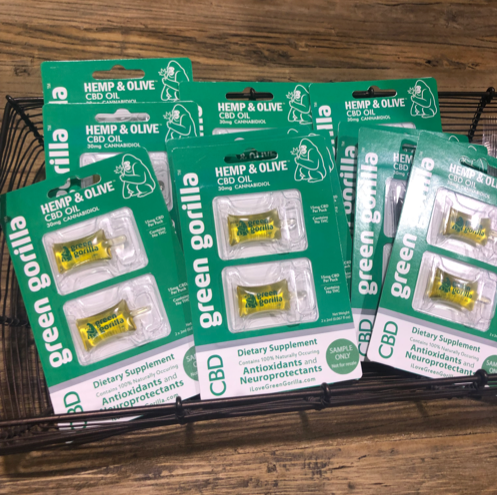 ---
BEVERAGE

For those of us who don't speak Sanscrit, Rasa means Juice. The company says that "Each flavor aligns with a specific RASA and color, supporting the body's subtle energy centers, to naturally nourish and balance you from head to soul." We are digging the design of this relatively new functional beverage with CBD. With flavors like "Strawberry Kiwi Sringara Cannabis + Coconut Balancing Beverage." The company claims that the "EndoActives™" in their product help achieve greater balance. The taste is very pleasant and the product design has an overall zen vibe. Whether the feeling you get from it is psychological or physical, we applaud Rasa for promoting positivity and for thinking about the always tired functional ready-to-drink category in a different way.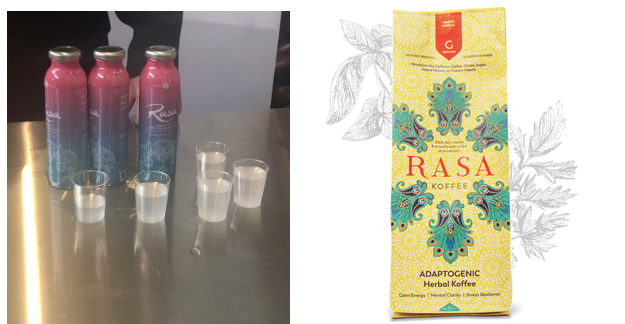 Navitas Organics – Superfood Lattes 
An organic industry leader committed to the discovery of ancient, indigenous foods, vowing to support causes that help reduce environmental burden through ethical agricultural practices. Their new superfood Latte mixes is a combination of nutrient-dense cacao, MCT-rich coconut powder and a touch of coconut sugar. Its certified Organic | Dairy-Free | Keto | Paleo | 2g MCT | Vegan. *NAVITAS won Best New Tea or Coffee at Natural Products Expo West 2019 NEXTY Award. We tried the lattes and loved every one!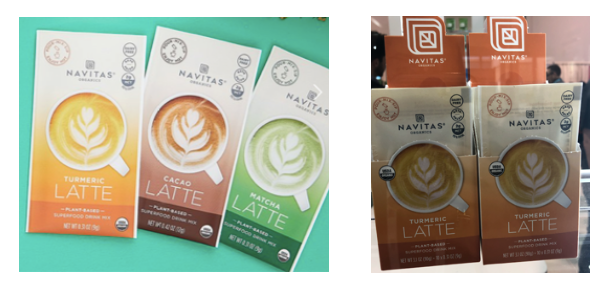 ---
FOOD
The founders of Breadlovers, Monique and Sascha, came to the United States in 2014 and after looking for ways to simplify the daily process of baking fresh homemade bread, they created a German-style sourdough bread baking kit. Six bread baking kits are now sold online and in several grocery stores in the United States and they are either named after the place they were baked at for the very first time or after a place they were inspired by. We loved the flavor of the bread, and on top of everything, they use Kamut® Wheat flour in one of the kits. 

We are such a fan of their "ice cream", with ingredients that are plant-based and organic. Now, we love them even more for their company philosophy of finding ways to support and enhance the rights and wellbeing of women and girls. They were inspired by a program called: Project Drawdown, which according to Coconut Bliss, is the most comprehensive plan ever proposed to reverse global warming. Their ethical proposition aligns perfectly with ours at eco18 .

Tres Latin Food is an American company that creates frozen food from El Salvador. They make all of their dishes with 100% organic and non-GMO corn masa, a staple in Latin American cuisine. Corn masa doesn't contain gluten, so everything is also naturally gluten-free. To maintain every flavor-packed, crave-worthy ingredient—flash freezing is used to instantaneously lock in nutrients, preserving texture, flavor, and quality every time. Frozen doesn't mean unhealthy, processed or fake anymore. With Tres, it means homemade flavor ready in minutes, so you can relax knowing you're eating well. There are a variety of options for all food preferences, all with just the right amount of heat! We tried the bitesize mini Pupusas and really liked them.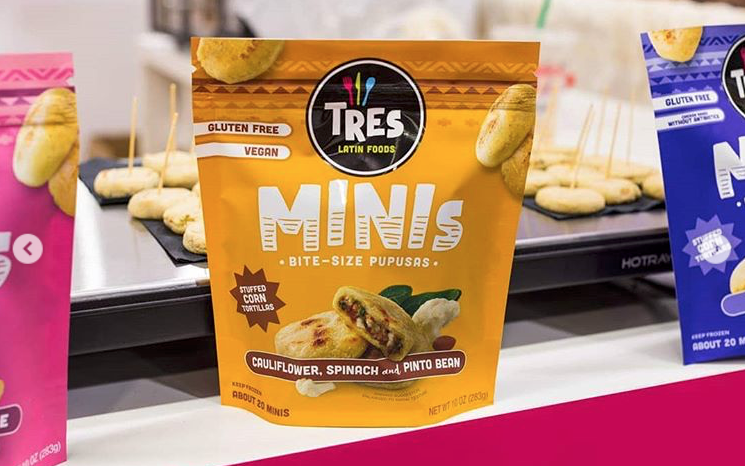 Modern Pod is a plant-based snacking that launched in 2017 out of Food Innovation Nexus, an incubator from Johnson and Wales University, with an innovative take on a frozen appetizer: a flavored hummus encapsulated in bite-sized, multigrain shells. The brand can be found in more than 2,500 stores nationwide including Whole Foods Market, Kroger, Ralph's, and King.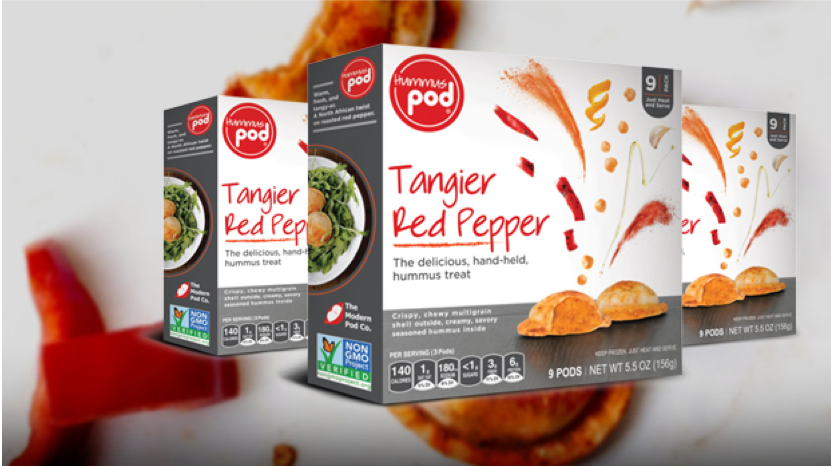 This is a certified sustainable family farm in the heart of Oregon's Willamette Valley with a commitment to soil health, water conservation, wildlife habitat and biodiversity, innovaton and a biogas plant. Operating since 1985, Stahbush is committed to producing 100% real fruits and vegetables. They believe that farming is an art and co-owner, Karla S. Chambers, a professional artist incorporates her art to the packaging of their products. The concept is to enhance the colors of health and nutrition – all the packaging is biodegradable.
(Karla's paintings are now in fine art galleries across the country, including Arnot Gallery in New York City and Gallery 444 in San Francisco.)