A few weeks ago the folks over at Acorelle were generous enough to send us several samples of there beautiful perfumes! Here at eco18, we're always on the lookout for perfumes that aren't only eco-friendly, but ones that also smell good!
Acorelle perfumes contain zero synthetic scent compounds, zero parabens and are 100 percent artificial ingredient free. The company also contains the only fragrances certified organic by Europe's ECOCERT and NSF. Talk about safe scents!
One thing we love about Acorelle perfumes is that there's an emotion based scent factor. Every perfume reads an emotion that goes along with how the scent can make you feel. How cool is that?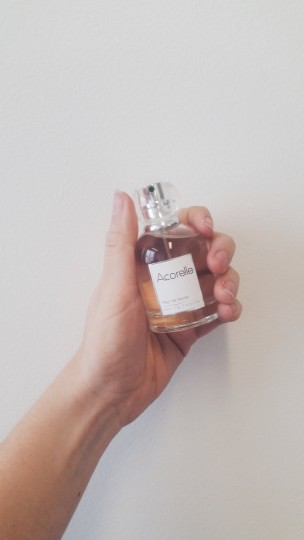 Vanilla Blossom- comforting
The first bottle we tested was the Vanilla Blosson- comforting eau de parfum. This is a deliciously sweet smelling scent, perfect for a romantic date. This scent is warm and comforting, hence the emotion labeled with the scent!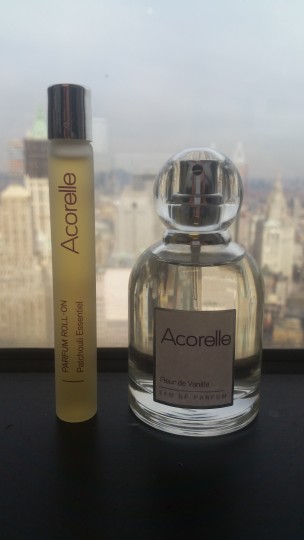 Patchouli Essential- fulfilling
This woodsy scent is perfectly unisex! Perfect for women or men and comes in a roll on for those who need an on the go freshen up!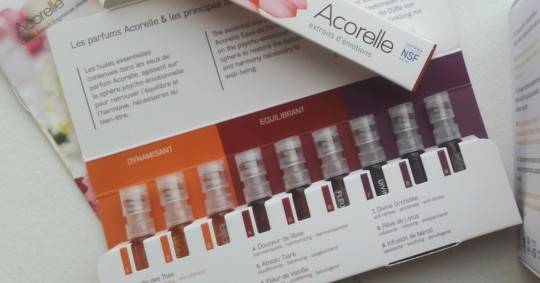 Sample Pack
The last, but definitely not the least of Acorelle perfumes we received was a 9 pack sample kit. The fragrances went as follows: (* indicates our favorites)
1.Jardin des Thés– energizing*
Citrusy and energizing this is hands down our favorite scent!
2.Patchouli Essential– fulfilling
The same in the roller, just as beautiful smelling!
3.Terre de Cédre– encouraging
Earthy with a wood undertone. Another perfect unisex scent!
4.Douceur de Rose– harmonizing*
This rose scented gem smells like your sniffing a fresh bouquet of roses. Who doesn't want to do that?!
5.Absolu Tiaré– balancing*
Sweet and beachy, with a hint of licorice smell. Almost resembling a scented sunscreen in a good way! Definitely going to be wearing this one regularly
6.Fleur de Vanille– comforting
The same as in bottle, just as comforting as ever!
7.Divine Orchidée– antistress*
Soothing and relaxing, this scent is floral and comforting all in one. A perfect scent for de-stressing.
8.Rêve de Lotus– relaxing
A beautiful, floral scent.
9.Infusion de Néroli– soothing
Soothing indeed! Definitely an at home wear, opt for the energizing perfume for work days!
Thank you again to the great friends over at Acorelle. Want to purchase some of these on your own? Head over to Acorelle's site and get shopping!