The reason we love our comfort foods so much is that they are usually buttery, cheesy, creamy, deep fried and generally high-cal, high-sodium and high-fat … which is why they are so comforting! In the depth of winter when it's freezing out, or after a very trying day, we all need a little comfort—a good hearty chili with all the trimmings, pasta and meatballs or mashed potatoes with melted butter—all sound pretty good.
So, rather than deprive yourself, give your favorite comfort foods a makeover, you might actually prefer the healthier version. You don't have to sacrifice taste, just get a bit creative in the kitchen!
1. Make over your mashed potatoes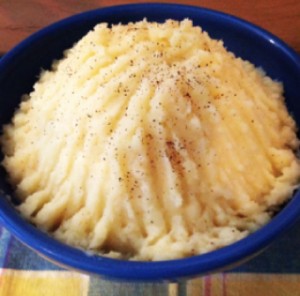 You can make your mashed potatoes healthier, by substituting vegetable or chicken stock for cream. And if you use Yukon Gold or Yellow Finn potatoes they will have that buttery-yellow look and you can use 0% Greek yogurt instead of butter. But what about switching sides and making "Parsnip Mash" instead? Parsnips have a sweet, nutty flavor when cooked, they contain twice the fiber of potatoes, six times the folate, have 20% fewer carbs and twice the amount of vitamin C.

2. Put your slow cooker to good use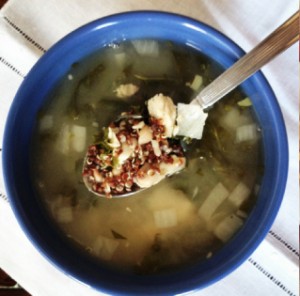 Nothing says "comfort food" like a hot bowl of homemade chicken soup. And what better than making it super healthy with the addition of quinoa and super easy by making it in a slow cooker? Slow cookers are the best…they take the stress out of soups and stews, especially when you have a crazy, busy life. So, get out that slow cooker and free yourself from the kitchen stove! Check out our recipe for Chicken, Kale and Red Quinoa Soup.

3. Upgrade your meatballs!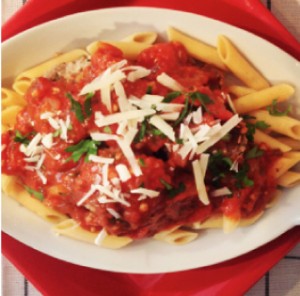 This is such an easy swap, try using oat bran instead of breadcrumbs. Oat bran adds more fiber and you will never be able to taste the difference.  Use 85% or 90% fat free ground beef to lower the saturate fat, or if you want to go even healthier swap the ground beef for ground turkey. And while you are at it, make your own pasta sauce, which will cut down on sodium and sugar. Check out our easy and quick recipe for Pasta Sauce.

4. Change the fixin's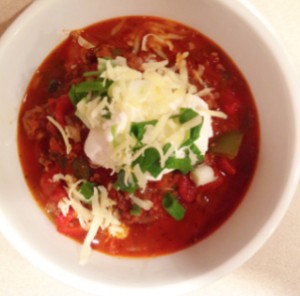 Chili just isn't chili without all the fab fixin's. Use no fat sour cream, or better still 0% Greek yogurt. You'll get added health benefits from the probiotics in yogurt and you won't even notice the difference. Use half the normal amount of grated cheese (do without if you can) and load up on the scallions, they are very low in calories and contain many noteworthy flavonoid anti-oxidants, plant fiber, minerals, and vitamins that have proven health benefits.

5. Try Japanese noodles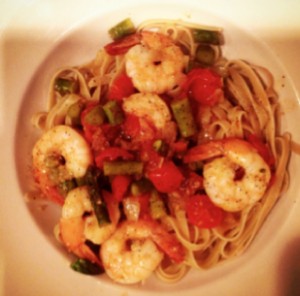 Replace rice noodles with shirataki yam noodles in a stir-fry, or swap out spaghetti or fettuccini in a favorite Italian recipe. They actually have no flavor of their own and may take some getting used to, but at 0 calories and less than 1 gram of carbs per serving, they are a great substitute.
6. Swap the top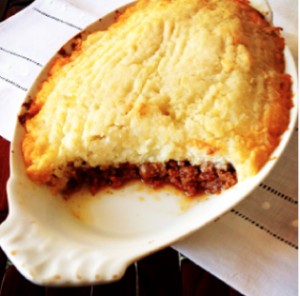 Shepherd's pie (or cottage pie if you use ground beef) is just as comforting and tasty if you swap out the mashed potato topping for cauliflower mash. Cauliflower is a cruciferous vegetable with heart healthy benefits. It contains antioxidants, and is rich in minerals including zinc, magnesium, phosphorus, manganese and selenium. By making the cauliflower mash with chicken stock and 0% Greek yogurt you also cut back on fat and calories…now that's a comforting thought!

7.   Add KAMUT®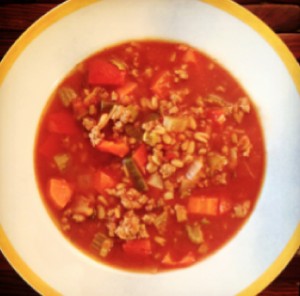 For soups and stews, you can cut down on the meat and add protein rich KAMUT® wheat. Opt for a 50/50 split and save on fat and calories, but add on the healthy nutrients. This ancient grain is rich in minerals, especially selenium, zinc and magnesium. With its higher percentage of lipids, which produce more energy in the body, KAMUT® wheat is great for anyone looking for a high-energy food.
8.  Start the day right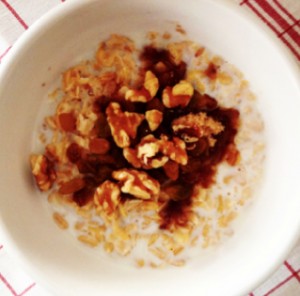 A quick breakfast can still be a healthy breakfast. Don't use instant oats, they are not as heart healthy as the rolled oats. The difference in cooking time is only 5 minutes. Step up the nutrition by having half and half—rolled oats and KAMUT® wheat flakes. Top with brown sugar, golden raisins and a handful of chopped walnuts. The golden raisins add sweetness so you can cut back on the sugar and the walnuts are packed with vitamin E, folate, melatonin, omega-3 fats, and antioxidants.