These recipes are not healthy…but they are so much a part of my Christmas tradition that there is no way I'll substitute any of the ingredients. For me, they are memories from my childhood—both my mother and my grandmother made these from scratch on Christmas Eve. The smell of them cooking in the kitchen takes me back and never fails to stir up nostalgic memories. I love Christmas–and even though I live 3,000 miles away from my mother's kitchen but when I make these traditional recipes, I'm right there. That's what tradition and good food is all about!
SAUSAGE ROLLS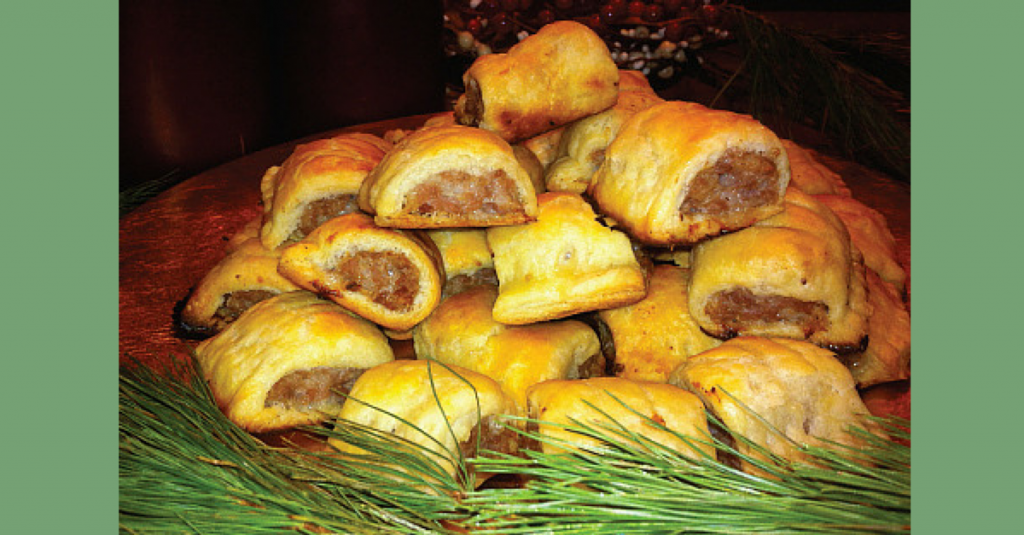 – Makes 100 2-bite size rolls
Pastry:
6 c     unbleached all purpose flour (I like King Arthur for baking)
6        sticks of unsalted butter
1 tsp sea salt
Filling:
4 lbs "banger" sausage meat
(I buy mine from a little "English" store in NYC-Myers of Keswick- but your butcher should be able to help you out. It's all about the right kind of sausage meat, "pigs in a blanket" this is not!
Finish:
1             egg yolk
2 tbsp   milk
To make the pastry, sift the flour, add the salt, cut the butter into ½" pieces and rub into the flour until it resembles fine bead crumbs (this can also be done in a food processor—I just like the way it feels making it by hand). Add ice cold water a tablespoon at a time, mix by hand until a soft dough is formed—it should not be too wet and sticky.
Grease three large baking sheets and preheat the oven to 450 degrees F. Turn down to 425 when ready to bake.
Work in small batches. Cut the dough in quarters and cover the dough with cling film and put in refrigerator until ready to use. Roll out on a floured board into a rectangular shape about ¼" thick. Roll the sausage meat into a 1" diameter long roll and place on the pasty 1" from the edge. Brush the pastry with water, roll over the sausage meat, seal along the side with the back of your hand, trim and finish with the prongs of a fork. Repeat until all the sausage meat is used. Cut into 1 ½" pieces, place on greased baking sheets, brush with egg wash and bake for 30 minutes or until golden brown. Let cool for a few minutes then put onto wire racks to cool for an hour. Best served warm.
–


MINCE PIES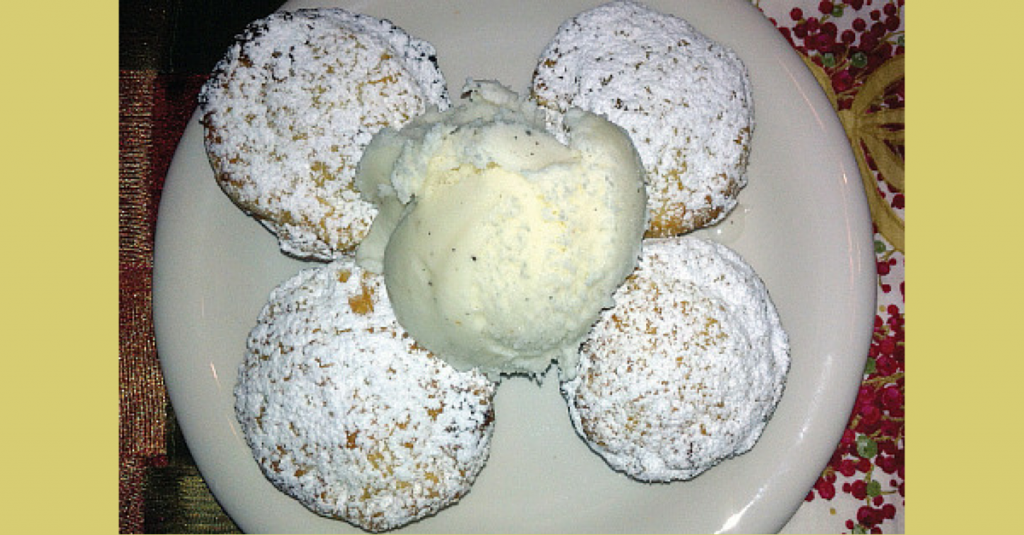 – Makes 36 mini-pies
Pastry:
5 c           unbleached all purpose flour
5              sticks unsalted butter
1/2 tsp   sea salt
Filling:
2 lb Jars Robinsons Mincemeat–easy to find in most supermarkets or you can make your own (This is a sweet treat. Mincemeat is made from dried fruits, not actual meat!)
Finish–whisk together
1            egg yolk
2 tbsp   milk
confectioners sugar for dusting
Pre-heat the oven to 425 degrees F.
Roll out the prepared pastry, line greased patty tins with the thinly cut pastry rounds. Fill with about a teaspoon of mincemeat—do not fill to the top. Cut out slightly smaller rounds for the "pie" covers. Dampen the rims of the pie bases with cold water and place the covers on top, press the edges together to seal, decorate with a fork and prick the top the a fork. Brush with egg wash.
Bake for 25 minutes or until golden brown. Let sit for a few minutes then put onto cooling racks for an hour. Dust with confectioners sugar and serve with cream, vanilla ice cream, brandy butter or rum butter. Best served warm.
These are sure to please family and friends—make them part of your Holiday tradition. They make wonderful hostess gifts packed and wrapped with a red ribbon!