Photo Source: Crate and Barrel
These days, designing a baby nursery is no walk in the park. While creating a stylish, functional room for your newborn is definitely super exciting, there are a ton of products to sift through – and how can you really know which option to trust, especially when trying to be mindful of the environment, while protecting your baby from the tons of hazardous, toxic chemicals that typically infiltrate these household products?
Rest assured, we've put together a list of the best eco-friendly products for your nursery to help guide you! You can also check out our other eco-product recommendations for moms-to-be here.
The Best Eco-Friendly Products for Your Nursery:
Crib Choice: Babyletto Hudson 3-in-1 Convertible Crib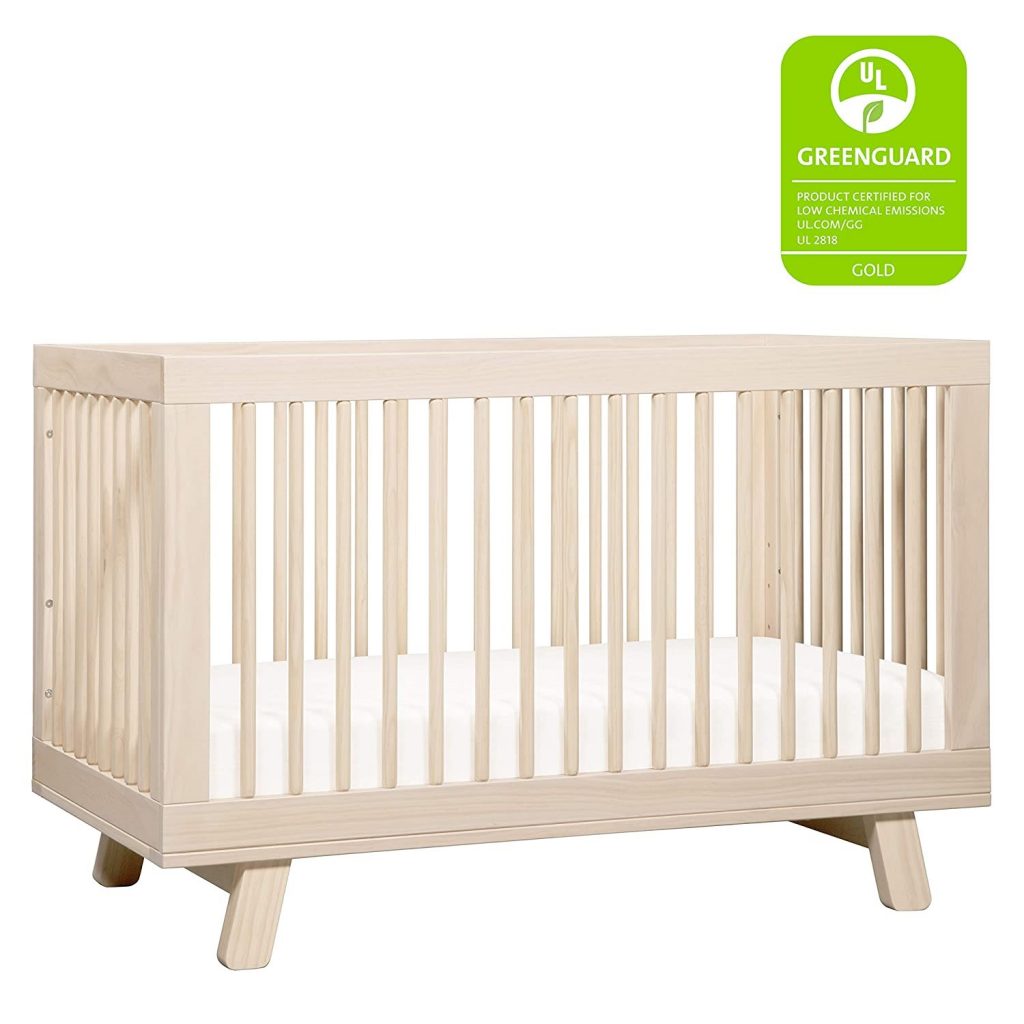 Every nursery needs a crib, but the majority of standard cribs available are typically made with cheap wood and are then painted and stained with finishes that release VOCs (volatile organic compounds), a highly toxic chemical that we want to prevent our babies (and ourselves) from inhaling and being exposed to at all costs. Luckily, there are a bunch of nontoxic, eco-friendly cribs out there that avoid this.
Our top pick is the Babyletto Hudson 3-in-1- Convertible Crib, a GREENGUARD GOLD Certified crib that, according to its site, has been tested for over 10,000 chemicals and passes the most stringent emission standards. It also contributes to cleaner indoor air, creating a healthier environment for your baby to sleep, play and grow. Taking it a step further, this crib is made with sustainably-sourced solid New Zealand pine wood, which is one of the most renewable woods around, and is finished with a non-toxic multi-step painting and staining process, ensuring it's free of lead and phthalates. That's what we like to hear! It also comes in various different color options, and converts to both a toddler bed and a daybed.
Crib Mattress Choice: Naturepedic's No Compromise Organic Baby Crib Mattress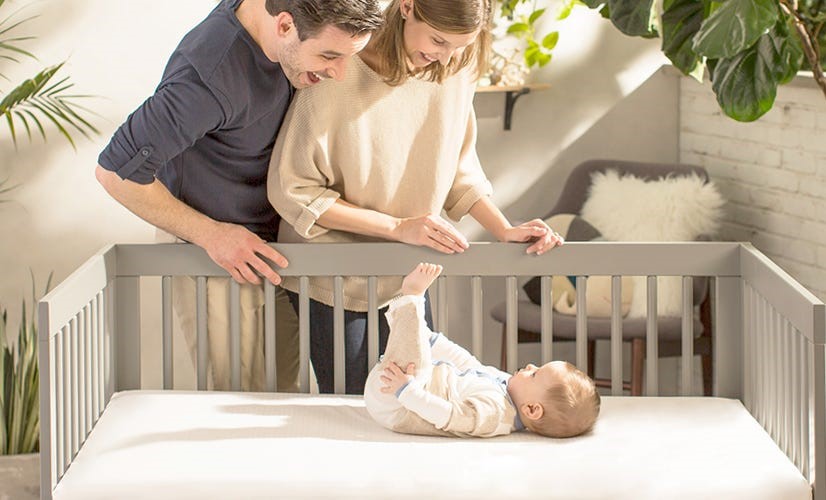 The unfortunate reality, as highlighted by the new report "The Mattress Still Matters," just released by the nonprofit organization Getting Ready for Baby, is that the majority of crib mattresses out there are filled with toxic chemicals that can jeopardize the health and safety of a baby's development, especially as they will spend 10 – 16 hours a day sleeping on them.
One of the top-rated, most transparent mattress brands out there, as highlighted by the report, is Naturepedic's GOTS-certified Organic Baby Crib mattress. This product is a must-have for parents looking for a crib mattress that is certified organic, non-toxic, safe, sustainable, and trustworthy. Naturepedic completely eliminates all flame retardant chemicals and barriers from its products, while still passing all government flammability standards, and never uses harmful chemicals such as vinyl/PVC, phthalates, perfluorinated compounds (PFCs), biocides, and others, and also never uses polyurethane foam.
Naturepedic redefines crib mattress safety, accounting for chemical, allergenic, physical,
hygienic and breathability safety in their products, while maintaining the most stringent safety certifications, recommendations, awards, and advocacy associations available in the marketplace.
Bedding Choice: MakeMake Organics – GOTS-Certified Organic Crib Sheets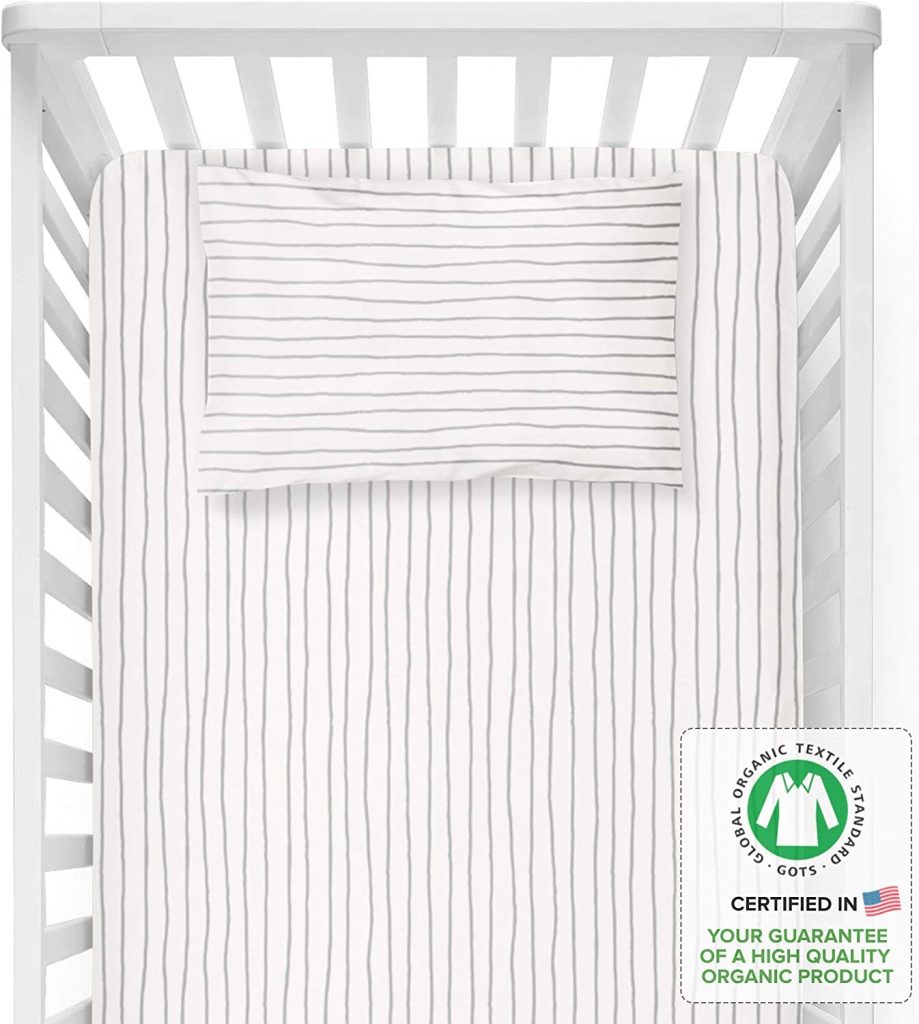 MakeMake Organics creates tons of great baby clothing, nursery sheets, blankets, quilts, and bedding designs that are both safe and nontoxic, never using toxic pesticides, or harmful dyes in their products. But some of their best eco-friendly products for your nursery are the GOTS-certified organic cotton crib sheets. Available in lots of different colors and patterns, these sheets are fitted and woven from the purest materials, and are free of harmful chemicals and toxins, meaning no VOCs or chances of off-gassing. They also provide a safer, snugger fit,
Rocking Chair Choice: Joya Rocking Chair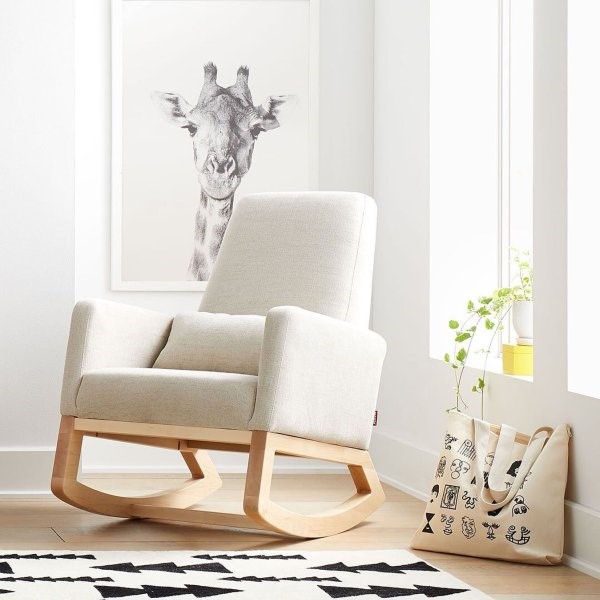 A comfortable rocking chair to nurse, read, and relax in is a nursery must-have. Monte Design is a leader in sustainable nursery furniture, and this modern rocking chair will make the perfect addition to yours. Sustainably designed and handcrafted in Canada, the Joya Rocker is made from flame-retardant free foams, water-based glues and lead-free based paints and finishes. For each tree harvested for their products, Monte suppliers re-plant an average of 3-4 trees, and their shipping boxes are made from over 95% recycled materials!
Sleep Sack Choice: Burt's Bees Baby – Beekeeper Wearable Blanket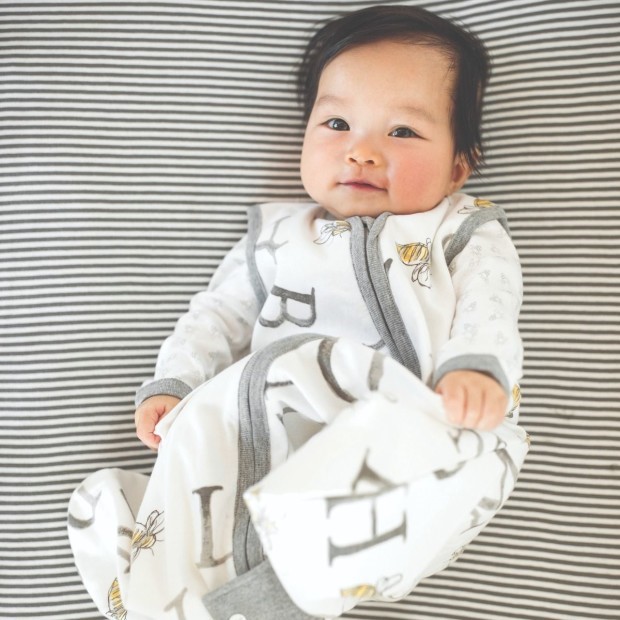 Who doesn't love Burt's Bees? The Burt's Bees Baby collection has a lot of great products to choose from, but a favorite is this GOTS-certified 100% organic cotton, breathable swaddle transition sleeping sack. Designed with safety in mind, this product is great for sensitive skin and prevents overheating, while functioning as a safer alternative to loose blankets in the crib. It's carefully sized for babies to move around freely and safely and is made without synthetic pesticides and fertilizers. This wearable blanket will keep babies warm, cozy, and secure throughout the night, and comes in a bunch of different patterns and colors!
Changing Table Pad Choice: Naturepedic's Organic Cotton Changing Pad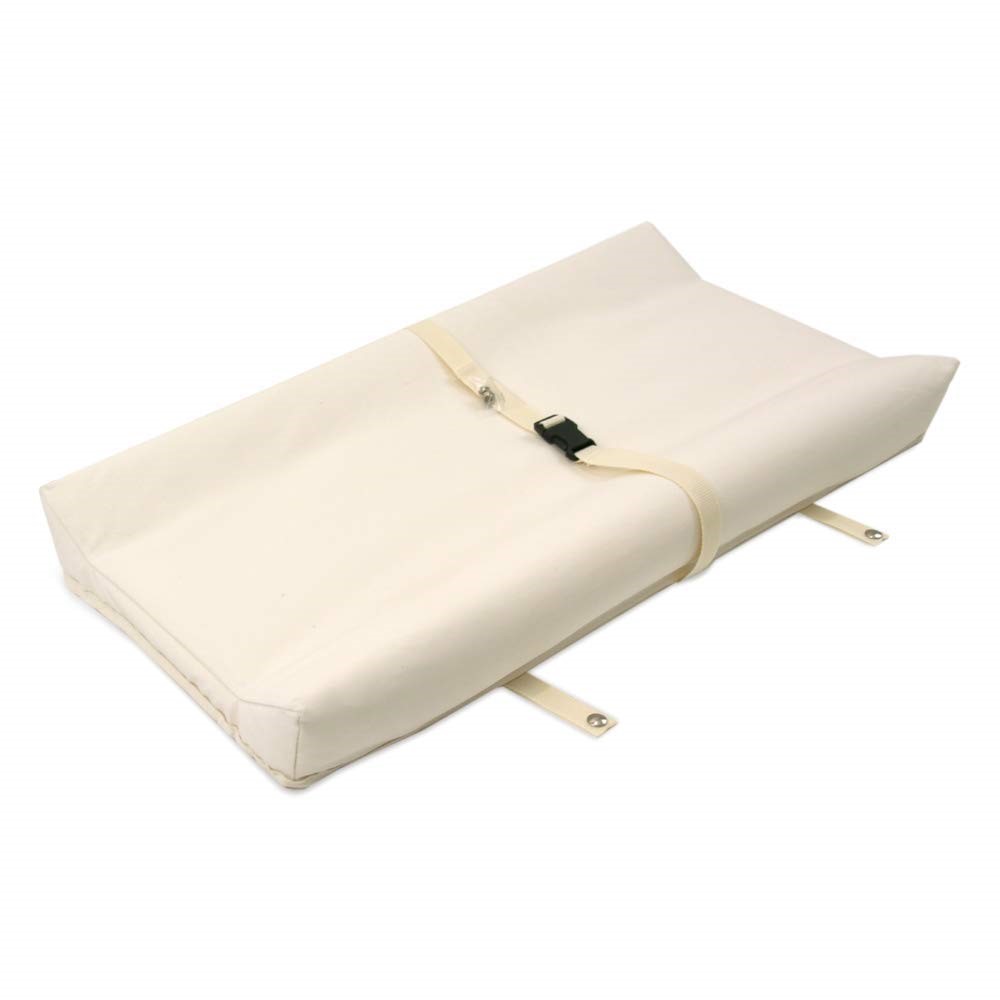 Naturepedic makes our list again with their Organic Cotton Changing Pad, featuring a luxurious organic cotton fabric with food-grade waterproof coating made from non-GMO sugarcane. This changing pad is also non-allergenic and easy to clean, both GOTS and GREENGUARD certified, and free of latex, GMOs, PVC and vinyl, and more. It also comes with safety buckles to help keep the baby secure.
Toy Choice: Cuddle + Kind Plush Cotton Dolls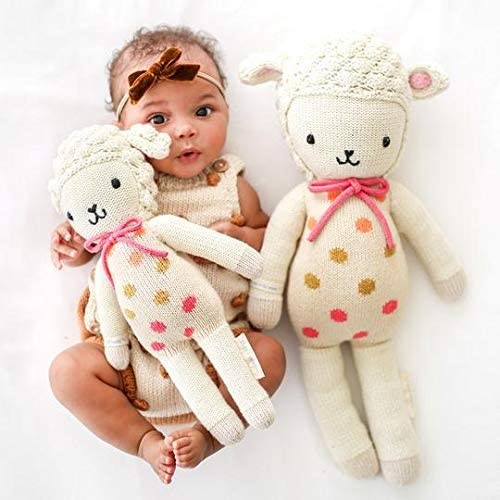 Ditch the plastic, BPA-ridden baby toys for these super cute, hand-knit dolls from Cuddle + Kind. These dolls come in a ton of different animal options, and are made with natural, high-quality cotton that are handcrafted by women artisans in Peru, providing them with a sustainable, fair trade income. Better yet, for every Cuddle + Kind doll sold, the brand gives 10 meals to children in need. Sounds like a great eco-conscious alternative to me!
Play Mat Choice: Folding Play Mat by CreamHaus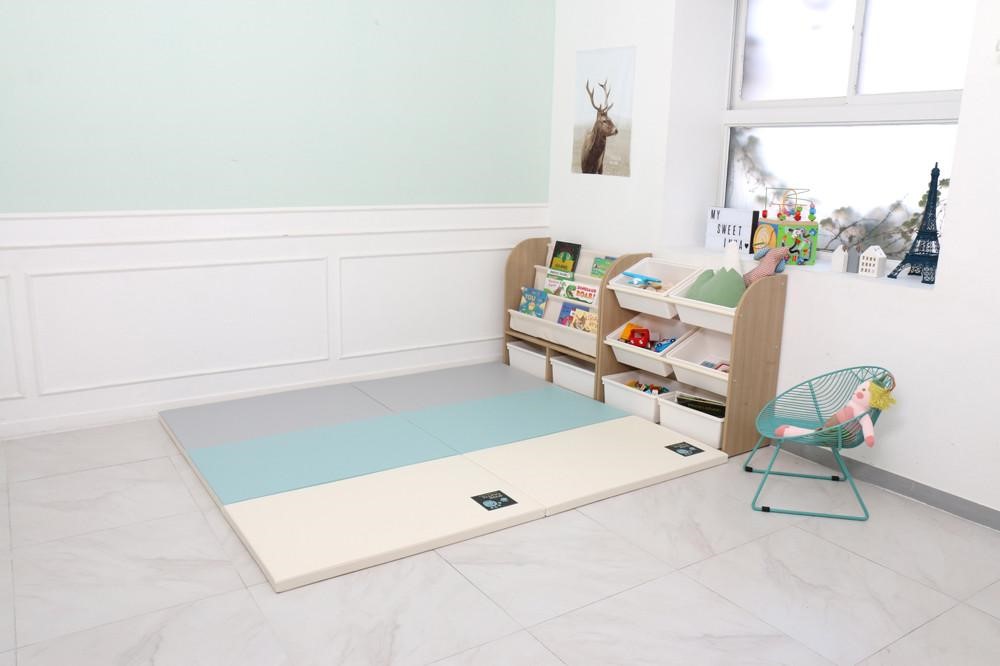 Looking for stylish play mats for your baby without the hazardous effects of PVC? Check out the Folding Play Mat by CreamHaus– these lightweight, easy to store play mats come in different stylish colors and sizes, but better yet, they are free of PVC, BPA, TPE, Formamide, Flame-Retardants, Phthalates, and Lead, and can be easily wiped clean. They use recyclable material and thick-padding to provide maximum comfort and protection.
And of course, try to be as eco-conscious as possible when choosing the painting and lighting for the nursery, too. You can find some more great tips on how to go about doing so here!