There's always a bounty of fresh vegetables in the summer that are perfect for simple, no fuss meals. Make sure to visit your local farmer's market and cook seasonally.
Chilled Summer Squash Soup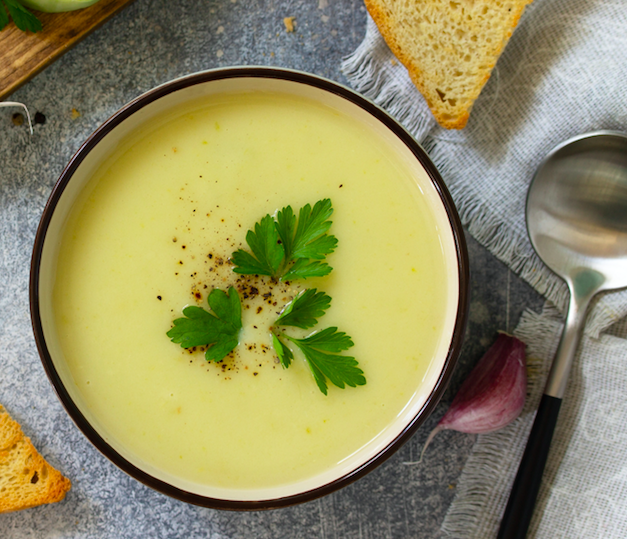 Hands down one of the best, chilled soups ever—it tastes great hot too, but the subtle flavors are really accentuated when it's chilled. It's very easy and you can get really creative with the garnishes.
You will need a blender.
Serves 6: unless you can't leave it alone!
2 tbs unsalted butter 1
large Spanish onion, finely diced
1 fresh jalapeño chili, seeded and diced
2 cloves garlic, crushed
6 medium summer squash (the yellow ones) trimmed, halved and chopped
1 Tbs curry powder
½ tsp cumin powder
3 cups vegetable stock
1 cup light cream
salt and pepper to taste
fresh parsley for garnish
Optional Garnishes: Diced tomato, ripe avocado, cucumber (I like a little mango salsa as well, Stonewall Kitchen makes a really nice one)
Melt the butter in a large soup pot over a medium heat. Add the onion, jalapeño, and garlic and sauté until soft for about 10 minutes. Add the squash, curry powder, cumin and stock, give it a good stir and bring to boil. Lower the heat to medium low and simmer uncovered until the squash is very soft, 30-40 minutes. Let it cool a little then transfer in batches to the blender and puree until smooth. Return the soup to the pot and stir in the cream. Heat gently but do not boil. Transfer to a bowl, cover and refrigerate to chill. Season with salt and pepper before serving. Ladle into bowls and garnish with parsley or other garnishes.
The soup is a beautiful velvety, yellow color and the garnishes make it look so pretty and summery!
Zesty Coleslaw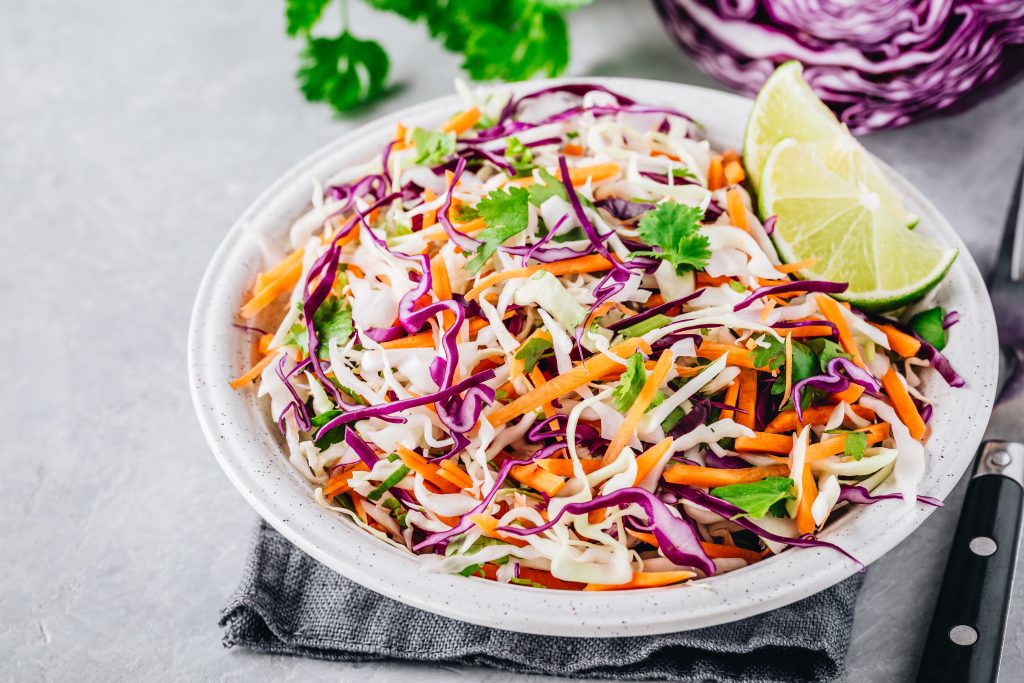 This refreshing, tangy coleslaw takes a different twist. No heavy mayonnaise, just zesty, fresh flavors perfect for summer meals.
Serves 8-10:
8 cups shredded green/red cabbage
½ cup grated carrots
1 cup thinly slide red onion
½ cup chopped fresh cilantro
2 tbs caraway seeds
1 tbs cumin
2 tbs almond oil
½ cup rice wine vinegar
½ tsp sea salt
1 tsp ground black pepper
Lime slices for serving
In a large bowl combine all the ingredients. Toss well. Let stand for 30 minutes before serving.
Corn and Tomato Salad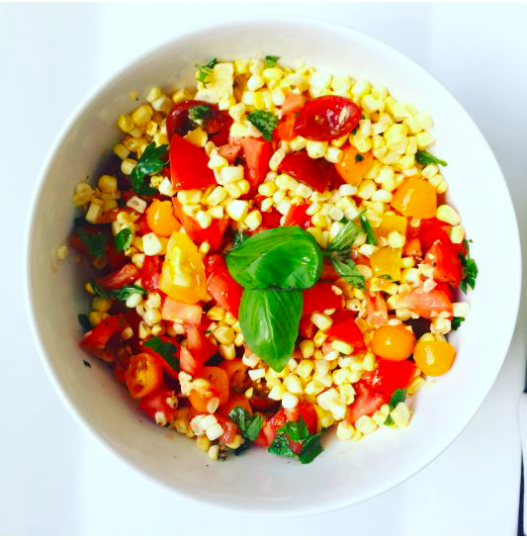 So simple and so delicious!
Makes 6 servings:
1 large heirloom tomato, cut into ½" dice

1 cup halved cherry tomatoes – mixed colors look great

½ tsp kosher salt

⅓ cup extra virgin olive oil

1 tbs fresh, chopped parsley

3 tbs red wine vinegar

1 tbs grainy Dijon mustard

1 tbs low sodium soy sauce

1 tbs white miso

1 medium shallot, minced

3 cups fresh yellow and white corn kernels

12 fresh torn basil leaves

2-3 fresh basil leaves for serving
Place tomatoes in a large bowl. Sprinkle with salt and let stand for 30 minutes. This brings out the juices and they will meld with the dressing. Combine the oil and next six ingredients (through shallots) in a screw top jar and shake well until blended. Add vinaigrette, corn, and basil to the tomatoes, gently combine and top off with fresh basil leaves!